It might be a surprise for you, but the fact is that Trend Micro is a security giant with annual revenue more than $1 billion. It's simple, yet powerful security solutions offer much more than you might expect.
Here, we have come up with Trend Micro Review to show you why it is regarded as one of the best security solutions in the world.
Probably, the best thing with Trend Micro is that it offers a full range of antivirus programs for Windows. It includes the free online virus scanner – HouseCall, Antivirus + Security, the mid-range Internet Security, as well as top-shelf Maximum/Premium Security products.
All of these security products are fast to scan and have a tremendous impact on system performance. Other than HouseCall, they come with the same underlying scanning engine, compact interface, and cloud technology.
Trend Micro HouseCall
Unfolding HouseCall, it's important to state that it is not a permanent program. Rather, it's an online antivirus scanner that needs to be reloaded every time you use it. HouseCall doesn't feature real-time scanning.
That said, HouseCall quickly detects and fix viruses, spyware, worms, and other malicious threats for free. It features an easy-to-use interface. It provides custom scan options. You can go on to choose the extent of the scan such as quick, full, or custom.
Being a stand-alone, browser-independent application, it goes on to eliminate compatibility issues. HouseCall offers enhanced detection and cleanup thereby addressing sophisticated threats – even rootkit – on all your home network devices.
Plus, there is HouseCall for Home IoT Devices that can scan all your home network devices for vulnerabilities and recommends eliminating them. Other than these, you also get HouseCall Mobile for scanning your Android device.
Other Security Programs from Trend Micro
Then, another robust security package is the Trend Micro Antivirus+. It offers the Folder Shield features which function to protect critical files from Ransomware attacks. It is studded with the Firewall Booster that complements the built-in Windows firewall.
Then, there's the Trend Micro Internet Security which comes as a midrange product and provides protection up to three PCs for $80/year. It offers parental controls together with the ability to designate key alphanumeric sequences. So text strings such as passwords will be prevented from leaving the system.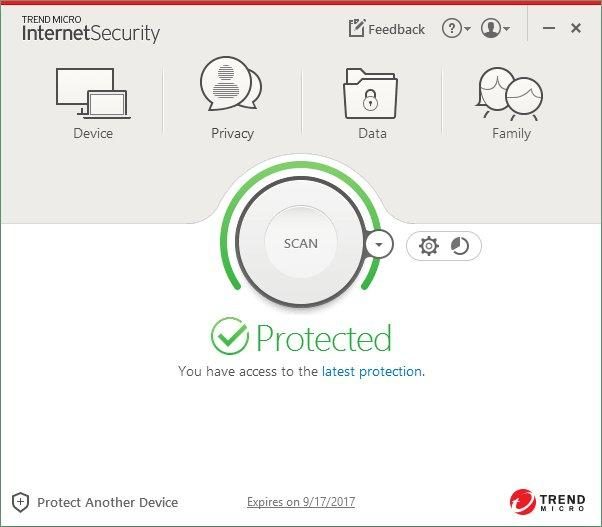 At the top end of Trend Micro's product suite are Maximum Security ($90/year for up to 5 computers) and Premium Security ($100/year for up to ten computers).
These bundles have licenses for Trend Micro's Mac, iOS, Android, and Kindle software. Both these packages include file encryption, file shredding, and a password manager for covering all compatible devices.
All the Trend's Micro's 2017 security products work with Windows Vista through Windows 10.
Let's see what all you can expect with Trend Micro Programs:
Trend Micro Antivirus Protection
All the Trend Micro security programs come with the home-grown scanning engine to detect and remove malware.
In case anything dangerous is identified, the results are immediately fed to the company's cloud-based Smart Protection Network for getting a fix as well as quick program update.
A manual scan can be easily initiated from the main page of the Trend Micro interface. You can also schedule periodic scans, as well. Quick Scan feature is provided together with Full Scan for examining the entire drive.
Security and Privacy Features
Trend Micro's security programs come loaded with anti-spam and anti-phishing technologies. The protection offered include web threat detection, a Wi-Fi scanner, as well as dedicated social-networking security.
Then, there's the anti-Ransomware Folder Shield for designating files and folders to be "immunized" from Ransomware attack. There's also Firewall Booster to stop botnets and worms.
Security features in Internet, Maximum/Premium Security
The Privacy Protection Feature
Data theft protection
Parental Controls
Password Manager
And More
Setup and Installation
The setup process is the same for all the Trend Micro's security products. Once the installation file is downloaded, the program unpacks its files and does a system check for compatibility and malware. Here, you need to pay for the program or go with a one-month free trial.
What's the Bottom Line?
So, we see that security programs offered by Trend Micro come loaded with tons of protective services. They are fast to scan and go on to deliver a near-perfect shield against malware.
They come with an interface which is built around a compact half-screen main window. You get a green check mark in the center when everything is safe. Plus, there are links to set up screens for the Device, Data, Privacy, and Family Categories.
With so many positives, the Trend Micro's security programs can slow your system a bit. However, that can be comprised when you are getting a perfect antivirus and safety program to protect the computer system.
Another good thing with Trend Micro is the fact that they offer a suite of security programs. So, you can choose the right program based on your needs.
For example, Trend Micro's Antivirus+ offers essential protection for individual PCs. Whereas with Internet Security program you can protect up to three PCs and Macs and have parental controls, a system optimizer, and social media privacy protection.
At the top end, there's the Trend Micro's Maximum/Premium Security bundle offering protection up to five and ten systems, respectively. They can also protect mobile devices.
The best thing is that all the Trend Micro's security programs are available at good prices.
So, Trend Micro is a near-perfect way to secure your PCs from malware and other cyber attacks.
Trend Micro Promo Code
The best thing to happen is a perfect security program coupled with a good discount offer.
Well, we have brought Trend Micro Promo Code for all our readers so that they can go for their Trend Micro's security program at a discounted price and save their hard earned money.
We have featured Promo Code using which you can get a "big" discount on all the security products from Trend Micro.
It's your best chance to avail discount on Trend Micro security products.
We have listed the Coupon Code below.
Simply use this Promo Code and get a good discount on your pick of Trend Micro's security program.
However, the discount offer is valid for a limited period.
So, Hurry!
It's exclusive deal available for our readers. Make the best use of it!
50% OFF on Trend Micro Internet Security 3 PCs
44% OFF on Trend Micro Maximum Security 5 PCs