IObit Malware Fighter Review and Deals find all this on this post. Know why you need Iobit Malware Fighter to protect your PC.
Now, most of us use the Internet to do a lot of online activities like reading emails, downloading software, surfing the website, etc. All these activities increase the risk of virus, spyware, Trojans, and malware, etc.
So, to protect your computer system, you require competent software that can quickly detect and remove viruses, Trojans, spyware, and malware.
Iobit Malware Fighter is one such Anti-Malware Software that can guard your computer system from all these potent threats.
Here, we have come up with Iobit Malware Fighter Review that throws light on each and every aspect of this competent and powerful Anti-Malware Software.
Everyone must have heard the term viruses which are a threat to the computer. Well, along with viruses, malware are too a big menace in today's e-world.
These programs are poorly programmed and can cause the system to be unreliable slow and unstable. They even redirect your search attempts on the web browser, keep track of what you have been doing and create nasty pop-ups.
Have you ever noticed how when you download some third party software from the internet sometimes an add pops up (like in Kazaa and iMesh)?
Well, these are bundled malware where the revenue from the ads goes to the author of that software.
Malware can also be installed through websites where they ask you to download some software so that you can view that site etc. All these methods are to trick users and infect their computers with malware.
The worst part about getting infected by malware is that once it installs on your computer, it tends to multiply itself hence making matters worse.
There are many kinds of malware, which infect a system and make them unstable;
Adware: These are programs which leave pop-up ads on monitor
Spyware: These programs send your confidential information to others.
Hijacker: These take control of various parts of the web browser.
Dialers: These connect to a 1-900 number, leaving you with heavy phone bills.
IObit Malware Fighter Review
So to protect your computer from these threats and particularly malware, you need software which can identify these threats and stop or delete them from your computer.
IObit Malware Fighter is one such powerful software which can protect your computer from malware.
IObit Malware Fighter is powerful PC protection software. It can detect and remove all kinds of spyware & malware. IObit Malware Fighter guards your PC against dangerous threats like Trojans, viruses, keyloggers, adware, bots, hijackers, and worms.
It is capable of removing deepest infections from your PC. IObit Malware Fighter uses it "Dual-Core" engine and employs heuristic malware detection to find complex malware and spyware in a very quick and efficient manner.
Iobit Malware Fighter comes as a no-nonsense Anti-Malware Tool and goes on to protect your PC in several different ways.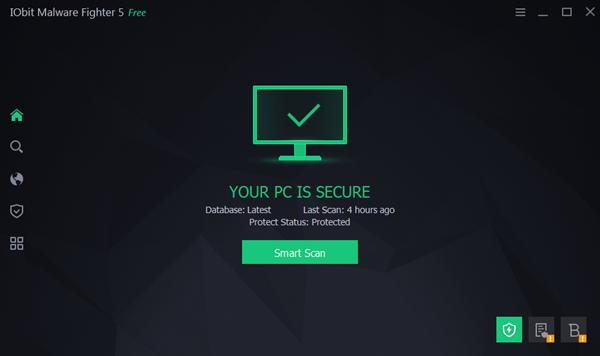 For example, it allows you to run an on-demand scan whereby you can look for threats like spyware, adware, bots, and Trojans. Its "Smart Scan" feature goes on to check the most critical areas of your PC, whereas with "Custom Scan" you can specify what exactly you would like to examine. You can even run a "Complete Scan."
Iobit Malware Fighter goes on to provide real-time protection. It rigorously monitors your cookies, startup programs, browser settings, the web page pages you view, as well as the files you access. Its user interface is neat and clean. It is easy to use and navigate.
Iobit Malware Fighter can be installed along with your Antivirus Software. The combination of both software will give full protection to your computer.
Some of the salient features of the latest release of IObit Malware Fighter Free are as follows:
Improved Engine for Smart Scan, Full Scan, and Custom Scan
Brand new & easy-to-use interface
Enhanced real-time protection
Creative Cloud Computing Technology
One-click Solution and Very Easy to Use
It functions as an anti-spyware, anti-malware, anti-Trojan, anti-adware, anti-bots, and much more. IObit Malware Fighter helps to protect your PC from any complex and tricky threats.
IObit Malware Fighter uses Digital Original Gene (DOG) malware detection process to find even the most complex security threats.
It is immensely fast in operation and Light too
It supports Windows 10, 8, Windows 7, Vista, XP and 2000.
IObit Malware Fighter Pro Review
IObit Malware Fighter comes in a free as well as a paid version known as IObit Malware Fighter Pro. The Pro version can be used if you are eyeing for deep and accurate scans.
It is also useful for running scheduled scans, protection for USB Viruses, process scanning and even for technical support. It comes with enhanced features to give you complete protection from malware and spyware.
IObit Malware Fighter Pro also has some underlying features which are hard to miss. Like finding the deepest infections, real-time protection, use of creative cloud computing technology, compatibility with other software's and also automated working in the background.
Even if you have an anti-virus installed on your system, it might miss out on detecting some malware, and IObit Malware Fighter Pro promises to take care of that problem.
IObit Malware Fighter Pro has been designed to function as a complete security package. Besides providing basic Anti-Malware function, IObit Malware Fighter Pro has been empowered with full Anti-Malware ability.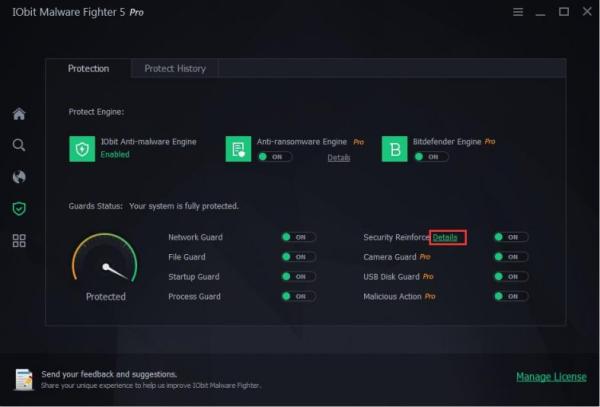 It provides advanced threat protection and comprehensive real-time protection for full PC security. It prevents virus infections, a malicious process running in RAM, and detects threats by analyzing malicious actions. It works intelligently in the background without disrupting your normal working.
Let's have a look at the main features of IObit Malware Fighter Pro:
Very Fast and Light
Complete PC Security Care
Comprehensive Real-time Protection
Creative Cloud Computing Technology
Automatic and Frequent Updates
One-click Solution and Very Easy to Use
Fully compatible with All Antivirus Products
Automatically Works in the Background
Brand new &Easy-to-use Interface
Everything about this software is created keeping in mind the ease which a user desires while accessing their PC. With simple and straightforward controls and one-click protect options, it's a breeze for anyone to use IObit Malware Fighter and get their computers protected from all kinds of malware.
IObit Malware Fighter Pro Deals
Now, you have a wonderful opportunity to get the advanced protection of IObit Malware Fighter Pro at a never before price.
A fabulous discount offer is available on IObit Malware Fighter Pro using which you can get IObit Malware Fighter Pro at a heavily discounted price.
The IObit Malware Fighter Pro Discount Offer is available for a limited period. So, you should quickly avail the discount offer through this amazing IObit Malware Fighter Pro Deals before it expires.
Simply use the coupon code listed below and get an amazing discount on IObit Malware Fighter Pro. You can give your computer the best protection that it deserves and that too at a huge discounted price.
So, hurry and get the discount on IObit Malware Fighter Pro.
IObit Malware Fighter 5 PRO (1 year/1 PC) + Free Windows Tweaks Guide eBook for $19.95
15% OFF on IObit Malware Fighter Pro 3 PC 1 Year (Coupon is added in the link)
Please Note you are buying this software directly from Iobit website not from any third party website.