Malware attacks are one of the most irritating and dreaded problems faced by computer users.
If your computer performance is low or if you are facing weird problems on your desktop or laptop, chances are quite high that you might be facing malware attacks.
Moreover, if you are using the Internet, hackers are always trying to install malware on your computer system for accessing all your valuable information.
So, you see that malware can harm your computer system in more than one ways and can be an utterly problematic issue for you. It can disrupt your computer system, and you can lose your important data and files.
But what is malware, after all?
Malware is a generic term used to define all types of malicious software that can harm your computer system in any way. It includes Viruses, Worms, Trojans, Adware, Spyware, Scamware, Scareware, Ransomware, etc.
So, Malware is a malicious software that can adversely affect the working of your computer.
It implies that you have to protect your computer from dreaded malware attacks. If you have not faced malware attacks, it does not mean that your computer is immune to malware attacks.
A malware attack can happen at any time.
Does this cause a shivering in you?
Well, if you have left your computer unprotected of malware attacks, then it does sound an alarm for you.
However, there is good news for you.
There are Anti-Malware Software or Malware Removal Software which can be used to protect your computer system from any malware attacks.
However, you should only use a best Anti-Malware Software to protect your computer from malware attacks. There are plenty of Malware Removal Software that are available on the Web. Moreover, every day new malware are being discovered. So, the important thing for you is to select a competent Malware Removal Software that can easily detect and remove all types of malware.
If you are looking for Best Anti-Malware Software, you have come to the right place.
Here, we have listed 8 Best Anti-Malware Software for Windows PC. We have taken care to include the most advanced and competent Malware Removal Software. You can use any of this Anti-Malware Software. It will make things easier for you as you can easily select the most suitable Anti-Malware Software for your computer system.
So, now let's check out these Best Anti-Malware Removal Software. We are sure that you would find the most suitable Anti-Malware Software to protect your Windows PC.
Top 8 Anti-Malware Software for Windows
Malwarebytes Anti-Malware is a powerful and effective Anti-Malware Software. It provides both free and paid options. The paid option provides you with real-time protection and automatically stops malware infections before they affect your computer. As for the free one, you have to run manual scans. With the free version, you can get anti-malware, anti-spyware, and anti-rootkit protection. It's a great option for removing any pre-existing malware from your computer system. It can remove known and unknown malware. It is safe, secure and fast.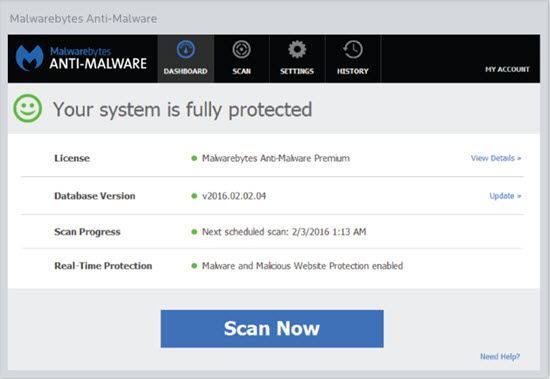 Microsoft Malicious Software Removal Tool is a powerful anti-malware utility for Windows PC. Its checks for malicious software and removes malware and any other infections on your Windows PC. It displays a report describing the outcome of malware scan, giving you details of the malware that were detected and removed. It runs in the background and reports when a malware infection is found. It comes as a free downloadable security tool. You should run this tool regularly even if your computer seems to be fine as your computer might be infected with malware.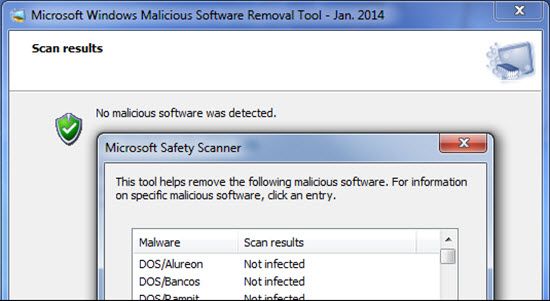 Hitman Pro is one of the best Malware Removal Software. It comes with behavioral and deep scanning technology for detecting and removing any known or unknown malware from your computer system. It uses Cloud-based scanning for detecting malware deeply. Most importantly, it is very fast. However, it is not completely free. It only provides 30-day free scanning. After that, you have to purchase it. You can also use it as a portable scanner. You can use it along with any Antivirus Protection installed on your system. It quickly removes malware, virus, adware and any unwanted program.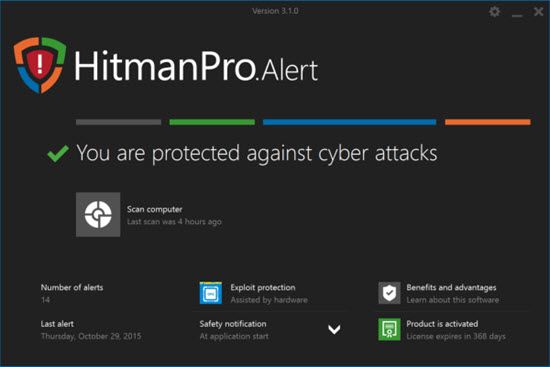 Ad-Aware brings in a new and powerful anti-malware engine for quickly detecting and removing malware attacks. It ensures complete PC protection from viruses, spyware, malware and other cyber threats. It functions smoothly and effectively to offer you the best anti-malware protection. Moreover, Ad-Aware provides real-time protection in the free version. Plus, Ad-Aware is free to download. However, they also provide a paid version which offers email protection, as well.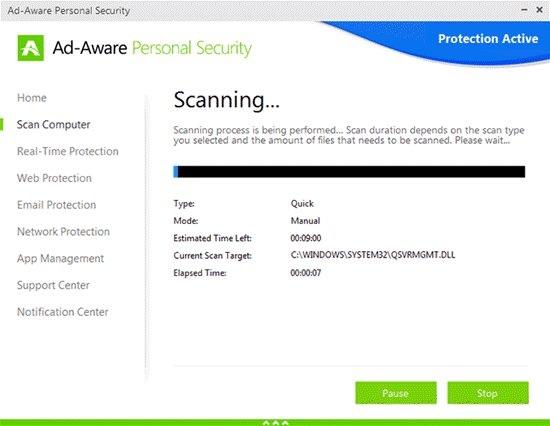 Emsisoft Anti-Malware provides dual-scanner protection for your Windows PC. It offers a 30-day full free trial. After that, you have to purchase the software. It provides triple layer protection with features such as Real-time file guard, Surf protection, Behavior blocker, etc. It provides a user-friendly interface. It is lightweight and easy to navigate. Emsisoft Anti-Malware effectively detects and removes viruses, spyware, Trojans, Ransomware, known and unknown malware, bots, and unwanted programs. It shows extended logs of detected malware. It also ahs cleaning and restoration capabilities.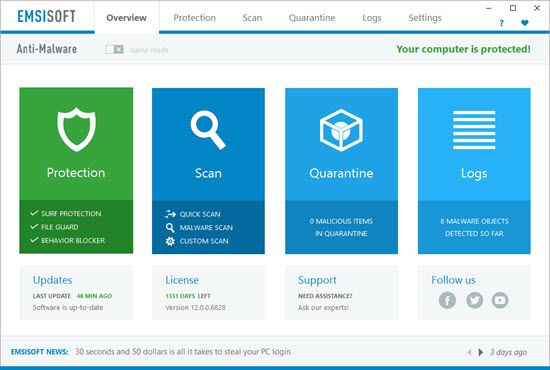 Iobit Malware Fighter is another very popular Anti-Malware Software for Windows. It is capable of detecting and removing any new and hidden malware from your computer system. Moreover, Iobit Malware Fighter provides dual anti-malware and anti-virus protection. It's dual protection effectively removes any hidden threats including spyware, Trojans, adware, worms, and Ransomware and keeps your PC safe from such attacks.
Its anti-tracking browser protection ensures that you have a better and safe online experience. Iobit's real time privacy protection leaves no room for any online threat. It comes studded with brand new UI design and is thoroughly easy to use. It is ultra fast and uses a minimum of resources for a smoother PC experience.
Iobit Malware Fighter is available in free as well as paid version. While the free version provides the basic Anti-Malware function, the Pro version has lots of powerful features. Its Pro version has been studded with Iobit Anti-Malware Engine and provides real-time protection against any malicious behavior.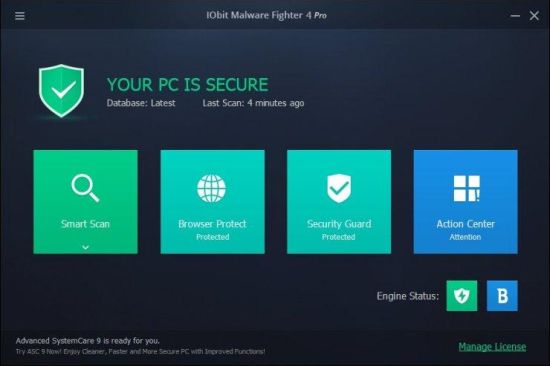 If you are looking for an enhanced and powerful Anti-Malware Software, your search may truly come to a good end with Norton Power Eraser. The powerful Anti-Malware Software is widely known for its deep virus scanning ability. It eliminates deeply embedded malware which most of the traditional anti-malware solutions fail to detect. It employs most aggressive scanning technology and eliminates any potential threat that can harm or slow down your PC. Norton Power Eraser is a lightweight tool. It quickly scans your computer system for any aggressive threats. If you wish to remove stubborn crimeware from your computer system quickly, then Norton Power Eraser can be the best tool for you.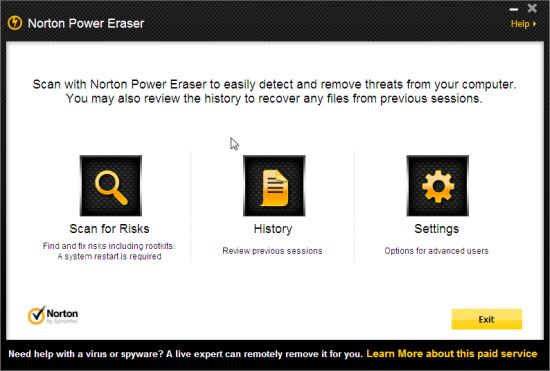 If you are looking for top-notch protection against malware, then Auslogics Anti-Malware is the tool that you should surely consider for your computer system. Auslogics Anti-Malware keeps your PC secure from any malware attack and thus provides you complete peace of mind. It is a powerful Anti-Malware Software that is capable of detecting any malicious items on your computer system.
Auslogics Anti-Malware comes with a very user-friendly interface. It is easy to set up and easy to use. Moreover, it never conflicts with your main anti-virus software regardless of the brand. It is designed to make your PC more secure. It detects and removes items that your antivirus may miss. Auslogics Anti-Malware can run three types of PC scans including Quick Scan, Deep Scan, and Custom Scan. It allows you to schedule automatic scans for continuous and enhanced protection.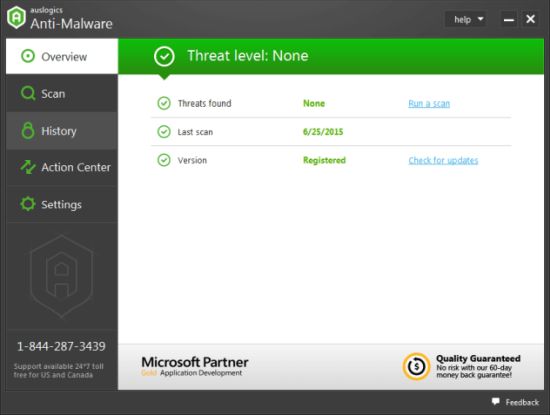 We hope that the presentation, 8 Best Anti-Malware Software for Windows, proves immensely useful to you and helps you in selecting the most appropriate malware removal software for your Windows PC.