Panda Cloud Antivirus is a free cloud based antivirus software which protects PC from various viruses, and online treats in real time.
Panda Cloud Antivirus also provided better offline virus detection it means you have an option to run Panda Cloud Antivirus without internet connectivity. With high detection rates, Panda Cloud Antivirus Free makes solid and powerful Antivirus software. Moreover, Panda Cloud Antivirus detects and removes almost all the threats coming through the Internet.
Panda Security is a company which provides computer security software for detection of computer viruses, spyware worms, hacking tools and many types of computer threats. Panda Cloud Antivirus is now also available for free downloads. Panda Cloud Antivirus is not like other traditional antivirus software.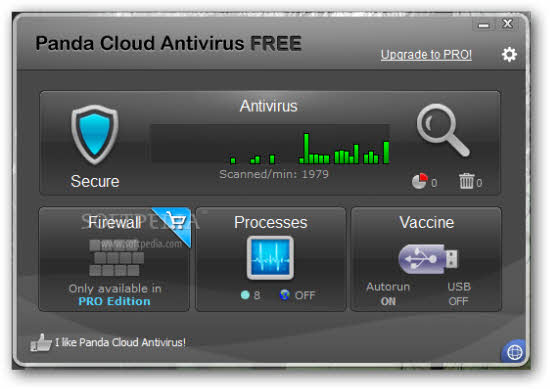 Panda Cloud Antivirus features Collective Intelligence technology which determining security threats by searching different cloud antivirus users whether a program is malicious in nature or not. It provides cloud-based anti-virus scanning which is thoroughly lightweight and is provided in a minimalist user interface. Installing Panda Cloud Antivirus is also a simple and easy affair.
The interface of Panda Cloud Antivirus comes with a gray color scheme and is thoroughly easy in navigation and distraction free too. The security status is displayed at the top of the user interface screen. It indicates a blue shield which implies that your system is perfectly safe. It indicates a magnifying glass which means scanning and shows up horizontal green bar graph meaning real time protection. In the lower right corner, the interface displays a small globe through which you can configure or establish proxy connection for your program.
The new version Panda Cloud Antivirus has many exciting additional features like:
New Interface
New cloud based disinfection engine
Improved offline protection
Compatibility with Windows 8
New Behavioral analysis engine
Community-based firewall (pro edition only)
Improved performance and 50% faster scans
Process monitor allow seeing Internet connections on a per process basis
Ability to manage different licenses
New advanced configuration options such as asking for confirmation before neutralizing and translated into 20 languages
You can easily download this antivirus. If you have the Beta installed, you will be automatically upgraded to Panda Cloud Antivirus Pro Edition, but If you don't have Beta Installer than don't worry about it because Panda Security has partnered with www.downloads.com So you can download free version.
If you already have Panda Cloud Antivirus traditional version, you don't need to do anything. Latest Panda Cloud Antivirus version will automatically upgrade with you existing version, but if you don't want to wait for automatic upgrade you can immediately upgrade new version from www.cloudantivirus.com
Panda Antivirus offer browser toolbar install during software installation, which offers security while surfing the web. Panda Antivirus is available as free and paid version. Premium version features some more security options like community firewall, protection in public Wi-Fi network and much more.
Overall Panda Cloud Antivirus is much better than before. Have a try to this amazing security software and protect your computer from different security threats.
Download Panda Cloud Antivirus