Social media consumption takes a new dimension with anonymous chatting. So, if you're looking for anonymity, then you are in the right place. Here, we present you 10 Best Anonymous Chat Apps for Android & iOS.
Anonymous chatting with strangers has caught up with teenagers nowadays. Research has revealed that talking to strangers makes us happy. Talking to strangers carry emotional benefits for even the introverts.
So, if you are feeling bored talking to your friends on Facebook and WhatsApp, then you can spice up things by using anonymous chat apps for Android and iOS.
Anonymous chatting offers a sense of excitement and thrill. You feel incredibly free from pressure and most especially judgment when you talk with strangers. It allows you to broaden your world and network. Moreover, a simple chat can blossom into something deeper such as friendship, dates, or even business partners.
However, anonymous chatting has a negative aspect too. It could lead to cyberbullying and psychological traumas. So, be cautious while giving out your details.
That said, anonymous chatting is here to stay with as much as 96% of teenagers spending an ample amount of time on social networking platforms.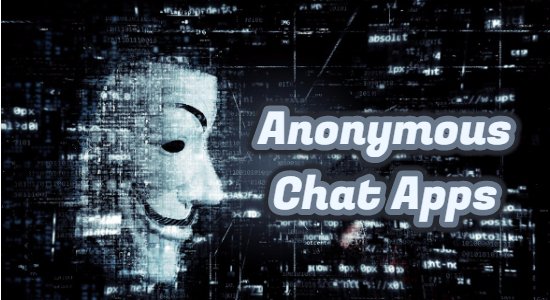 So, let's check out the best anonymous chat apps for Android & iOS. Here, we have featured Ten Best Anonymous Chat Apps.
10 Best Anonymous Chat Apps
Here's the list for you:
Tagged is a social media site that allows you to link up with new people. You can chill and play games with over 300 million other users. Tagged is the best place for all those who love anonymity and meeting new people.
Tagged is similar to Facebook in some aspects. You can create your profile with information such as likes and dislikes, age, location, and more.
With Tagged, you can chat with random people based on your interests, location, and age. Moreover, Tagged is also used for dating. You can check out the dating game it offers.
Tagged is free to use.
However, it also offers a paid VIP feature wherein you can see who checked your profile, and the messages you sent were read or not.
Here's a quick snapshot of the features you get with Tagged:
You can watch a live stream, or start your own
Chat with new friends
Build a quick connection with ladies and guys nearby
Get involved in its addictive game called PETS
Its algorithm allows you to match with people just like you
Tagged takes your privacy very seriously. It doesn't share your exact location and personal information without your permission.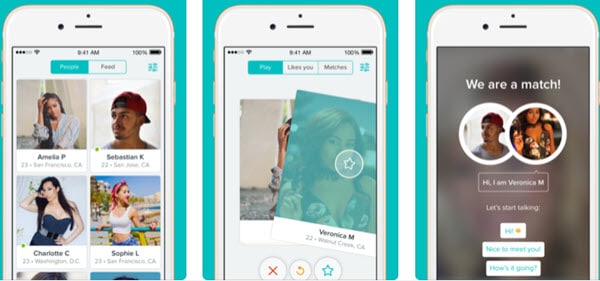 MeetMe happens to be one of the largest anonymous chat apps. It has a user base of more than 100 million. MeetMe is fun, friendly, and free!
You can find and chat with new people around you who share your interests. MeetMe is a place for video chatting, messaging, streaming, and making new friends every day. MeetMe is for all ages, all nationalities, and all backgrounds. So, MeetMe is the best app for meeting new people.
MeetMe offers features such as counting profile views that you have received, the number of admirers that you have got, as well as the gifts you have received. The app also offers some arcade and casino based games that you can play with your new found friends.
MeetMe is inclined towards dating. However, it's an amazing app for meeting new people and making new friends.
On the whole, MeetMe allows you to:
Video chat with local people
Chat with new people around you and across the world
Live stream
Find new people who share your interests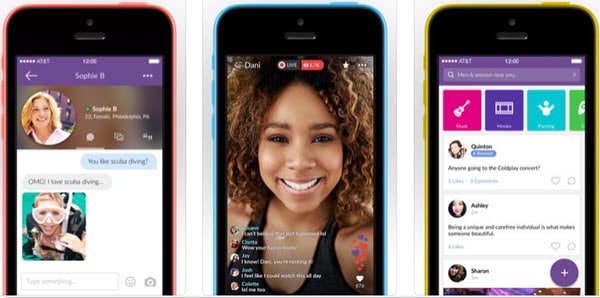 Holla is a fun and addictive video chatting app. The Holla app is more of a free dating app with which you can video match, chat & talk, and finally, meet up. The app allows you to meet singles nearby and dates live.
So, with Holla, you don't need to communicate with text and media files. Moreover, you can video chat with strangers. Holla is a very popular anonymous chat app and has a user base of more than 10 million.
Holla is a simple to use free app. All you need to do is to swipe left until you find someone with whom you want to video chat with and that's all. Moreover, Holla claims that it has "real" users. Plus, Holla does not allow offensive and adult content which means it's a good platform for genuine people.
Lovely features that you get with Holla include:
Swipe to meet new people
Allows live video chat
Free international live video call
Easy to use
Meet people from across the world
Safe local chat date & live talk community
Young dating app
Moreover, lot's more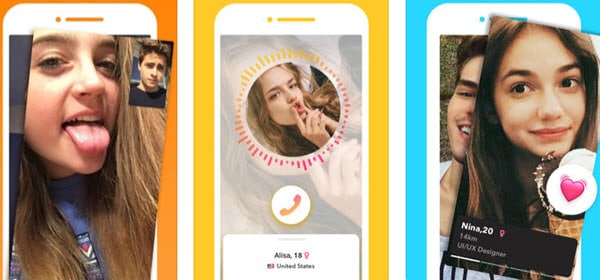 Moco is one of those anonymous chat apps that have real people with real profiles. The Moco app has a large user base which runs in millions. You can join one of the existing chat rooms based on your interests. Plus, you can also chat in a private chat room one on one.
It allows you to sign up using your Facebook account ID or Google+ account. You can even register using your email ID.
One can enter your location in your profile and can meet people nearby you. You can even add information about yourself. However, it's not required by default.
With Moco, you can chat with millions of people around you, or across the world. You can make new friends, be social, flirt, and play games and more with this free anonymous chat app.
The app offers hundreds of chat rooms and forums for private and group chats. You can make video calls and send voice messages. You can search by age, gender, location, and sexual preferences. One can customize messages with stickers, Emoticons, themes, colors, and fonts.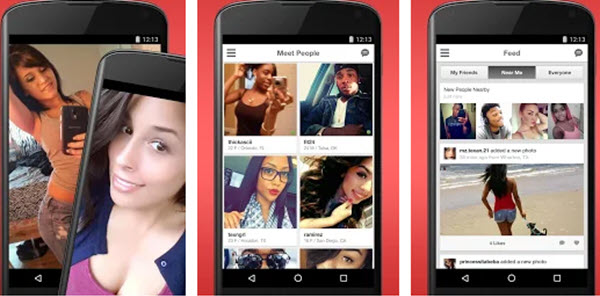 Chatous is another very popular chatting app for Android & iOS users. With Chatous, you can easily chat with new people from all over the world. It's the best anonymous chat app when you want to chat with strangers on specific topics.
In Chatous, you can find topics using hashtags just like Twitter. So, you need to use the hashtag and enter a chat room for chatting with people who share the same interest as yours. Moreover, you can exit the chat room whenever you want.
The Chatous app allows you to share audio, videos, and images. You can even share YouTube videos right inside the app. You can protect your identity through anonymity. If you want, you can even change your display name at any time. Chatous can be used on your mobile phone and also on your desktop computer at Chatous.com.
So, Chatous is all about happy chatting.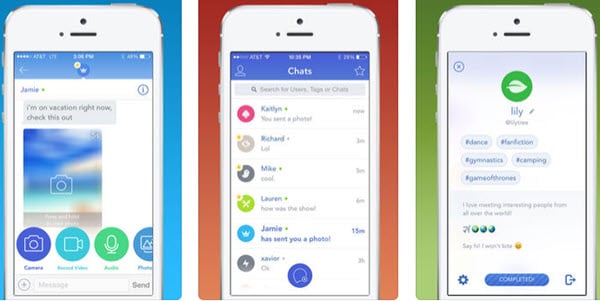 Whisper is a great way to meet new people. In fact, more than 30 million people use Whisper every month. The app allows you to chat directly with other whisper users. Whisper is an online community where you can share real thoughts, trade advice, and get the inside scoop.
Whisper has a huge user base with a thriving community. It's a place for more meaningful discussions rather than sex and adult-related stuff.
According to Whisper, many of its users have claimed to have had meaningful conversations which positively impacted their mind and behavior.
The good thing at Whisper is that you need not to disclose your real identity to share your deepest desires and innermost thoughts. Plus, it is easy to find people that share the same interests as yours. You can also find people based on your location.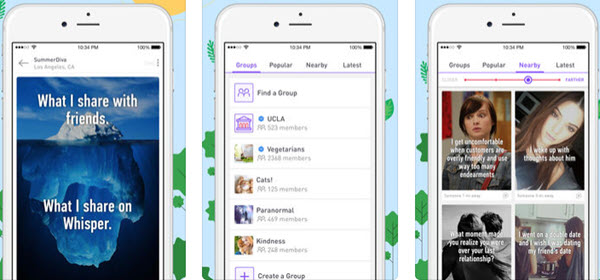 WeChat is being used by more than one billion users across the world. It happens to be one of the most popular anonymous Android chat apps.
This messaging and social media app is best for meeting random strangers.
The app allows you to indulge in chatting, make calls with friends, read the news, use local services, play games with friends, enjoy mobile payment features (WeChat Pay), and much more.
Now, let's know why more than one billion people use WeChat:
It offers numerous ways to chat: You can message friends using text, photo, voice, video, location sharing, and more. You can even indulge in a group chatting with up to 500 members.
Voice and video calls: You can make high-quality voice and video calls to anywhere in the world. The app also allows making group video calls with up to nine people.
Real-time location: The app allows you to share your real-time location with the press of a button.
Share your favorite moments: You can post photos and videos on your personal Moments stream.
Time Capsule: You can post short videos in your Time Capsule before they disappear in 24 hours.
Sticker Gallery: You can express yourself in chats with thousands of fun and animated stickers.
Mini Programs: Countless third-party services within the WeChat app which saves your precious phone storage and time.
Games: There is a huge selection of WeChat Mini Games
WeChat Pay: The world-leading mobile payment feature is included in the WeChat app.

Psst is an anonymous chat app for Android users that don't keep chat logs, store IDs, or anything else. So, it deletes all the data logs as soon as you leave the app.
Psst allows you to chat with like-minded people for free. You can share news, opinions, confessionals, daily life experiences, funny jokes, and photos openly, confidently, and anonymously with a community that's genuinely interested in what you need to say.
You can vote, comment, and message others without having to reveal you're true identity. Plus, when you feel the connection, you can go on and add them as a friend.
Only those people whom you have added as friends can IM photos. So, you don't get any random photos like other apps.
Its anonymous messaging system leaves no history and no traces. So, there's no sent or received message history. Everything gets deleted instantly, on the server as well as on the device.
So, Psst works as an anonymous secret chat app. It's best when you want to meet people with similar interests. It allows you to connect with your Facebook account.
Like Twitter, it allows you to follow other people and see what they are sharing. However, the other person will not get notified of this. At Psst, nobody is allowed to see who is following whom.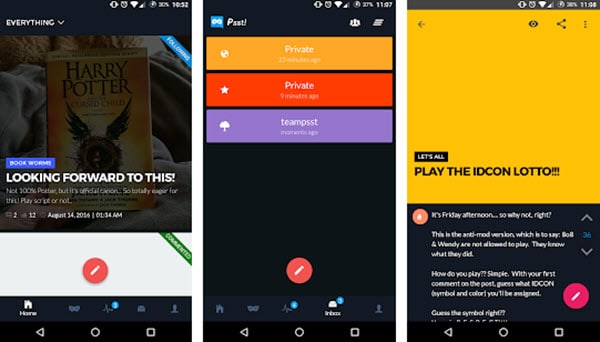 Randochat is another very popular anonymous random chat app for Android devices. This chat app allows you to meet new people who share similar interests with you.
It's very simple to use. You don't have to create any login or account. You can start one on one chat with a single tap. Simply download and install the app, launch it, and begin to chat right away with a single tap.
The messages get deleted once they are sent to the other person. You're IP, or even the connection data is not stored. However, one needs to be over 18 years of age to use this chat app. The app prohibits the uploading of inappropriate content such as nudity, adult, racial, or offensive content. It promotes a healthy and positive atmosphere.
With Randochat, you can meet and chat with new people in a truly anonymous way.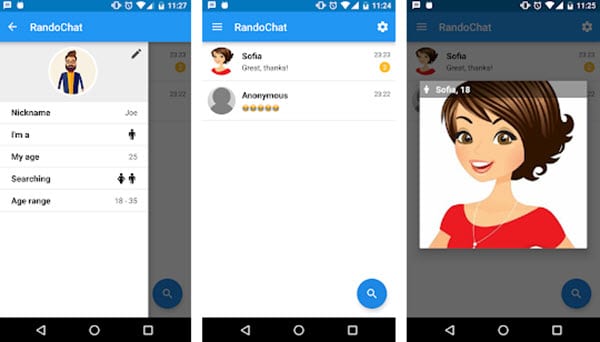 Connected2.me is an anonymous chat app for Android and iOS users developed by C2M. The app allows you to chat, flirt, and meet new people from across the world easily. It's free and easy to use chat app for meeting new people. Its shuffle option allows you to see who's online and available for chat.
So, Connected2.me allows you to chat anonymously. Connected2.me is a talk to strangers app for anonymous chat.
You can set up your profile with a photo and share some information about yourself. The app offers you a special anon link that you can share on Facebook & Twitter and invite people to connect with you. People can chat with you using a nickname that hides their identity. You can hide your identity as well when you chat with people.
One can follow your favorite friends and get notified when they're online and available for chatting. You can chat with people you already you know, and with people, you want to meet.
Connected2.me is very popular with celebrities, experts, and specialists. So, you can chat with them too. You can ask questions or share your secrets. The app is also useful for businesses as it can help them to get information from their customers about improving their products or services.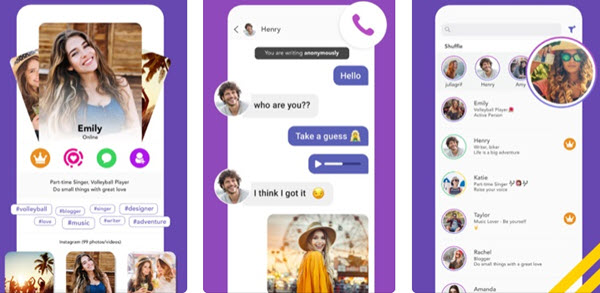 Here, we have showcased different types of anonymous chat apps for Android & iOS that meet the needs of different types of people. The apps allow you to talk to strangers. So, we are sure that you will be able to find a suitable anonymous chat app fulfilling your specific needs.
Do remember to leave your comment below to let us know about your experience of using an anonymous chat app. Lastly, we request you to share the posts with your friends and loved ones on popular social media channels. Thanks for visiting!