The article showcases you 10 Best USB Encryption Software that will protect your data stored in your external USB drives.
Go simply through the article to know about it. There are numerous occasions when you need to encrypt your files and folders in your USB.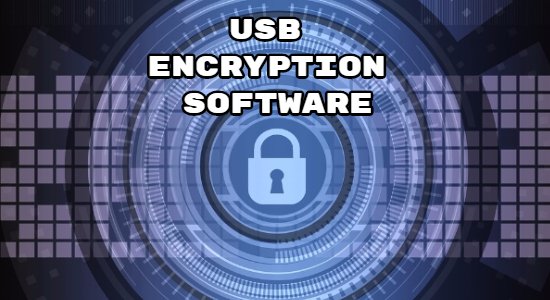 In fact, your USB carries a lot of your data. The chances are huge that it can be accessed by any unauthorized person.
Your data is openly saved on your drives and are not encrypted or protected by encryption method. So, your files can be accessed by any person.
It will endanger your privacy and can cause illegal access to your private files.
All these scenarios call for encrypting your files and folders in your USB with some encryption software that will secure your data with all-round protection.
Here, we have listed down some of the best encryption software that will encrypt files and folders in your USB.
We have offered you a complete guide that goes on to discuss the various top USB encryption software.
However, before we begin and showcase you the list, it is important for you to know that there are two types of encryption for USB Flash Drive known as hardware encryption and software encryption.
The USB Devices have been around for more than a decade now. They use the same basic protocols, and besides the hardware upgrades, there is almost no change on the security front.
Although USB storage devices are portable and easy to use, they run the risk of losing your data.
You have potentially two options for dealing with this problem:
One – you can back up the data on your USB somewhere safe.
Two – you can go for encrypting the USB drive.
The option two should be used if you are carrying sensitive information. So, you can go through this post and come to know the best USB encryption software for encrypting data on USB drives.
10 Top USB Encryption Software
Here's the listing for you:
The VeraCrypt Software comes as an extremely feature rich encryption tool. VeraCrypt is essentially for encrypting hard disks; however, it is equally good with USB flash drives.
Its working is simple and effective. VeraCrypt goes on to create password protected disk volumes.
These are encrypted with industry-standard encryption algorithms AES, Serpent, and Twofish. You can further secure encrypted volumes by using passwords and key files.
You simply need to plug-in the flash drive and follow the steps listed in the volume creation wizard. Well, you can create an encrypted volume of a designated size on the flash drive, or go on to encrypt all of it.
The encrypted USB Flash Drive can then be accessed by mounting it through VeraCrypt after you have entered the specific password or key files.
So, VeraCrypt offers top-grade encryption prowess. However, you should be ready for the learning curve.
Platform Availability:
Windows 10, 8, 7, Vista, and XP
Mac OS X 10.6
Linux
Price: Free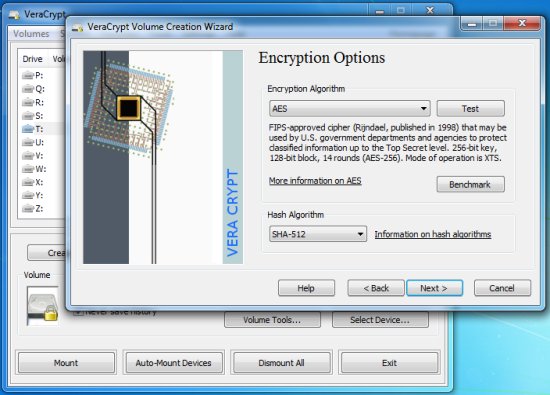 EncryptStick saves you from digital disaster. It offers you unmatched certainty to protect and secure all of your documents, photos, videos, and data from any sort of digital disaster.
EncryptStick has earned galore of praises from all around the world. With EncryptStick, you don't need to worry about hackers anymore.
EncryptStick is known for:
Stronger encryption: you get more security while carrying your files around
Intelligent synchronization: always have the latest version of your files
Automated backup: You never lose files or important data
Easy to use Interface: You gain total control of your digital life
EncryptStick is all about unmatched certainty and unmatched security. You can be ultra confident that all your files and data are safe, secure, and accessible irrespective of any disaster that can fall on your computing hardware.
EncryptStick offers military-grade protection with drag and drops simplicity. They combine the longest encryption keys with up to 1024 bit encryption thereby offering you ultimate in security and peace of mind.
EncryptStick functions as your personal digital safe. It is only you who can view or access the data. All of your business documents, family photos, and videos, spreadsheets, proprietary information remains fully secured once you have installed the software.
With EncryptStick, you can be sure that all you're vital and sensitive data remains fully secure and never falls in wrong hands.
Price: $19.99 Lifetime License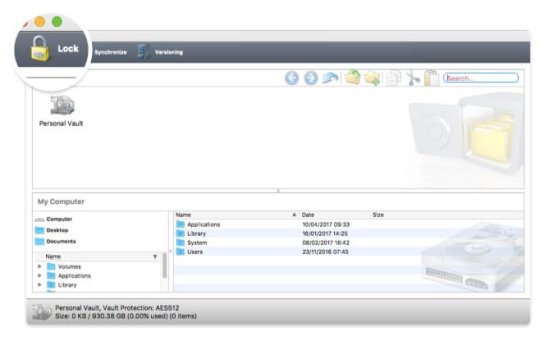 Rohos Disk Encryption is another excellent USB encryption software. It packs in some really nice extras that go on to make it even more powerful and awesome. Rohos Disk Encryption works by creating encrypted volumes.
So, when you go on to plug in the USB Flash Drive, the Rohos Disk Encryption Software determines the best size of the encrypted volume to be created on it.
You can even specify the custom volume size as well as other parameters like encrypted volume's container file location, as well as mount point letter.
Once it is created, the data stored on the encrypted volumes can be easily accessed by mounting them.
Rohos Disk Encryption can dynamically enlarge the size of the encrypted volumes, as per requirement. It also allows you to encrypt installed programs and custom folders on your computer.
It can hide encrypted disks in media container files. All in all, the Rohos Disk Encryption Software is a lightweight USB encryption software that has some useful goodies. It is fairly easy to use.
The only downside (if you so consider) is the fact that it supports just one encryption algorithm, namely in the form of AES 256.
Price: $35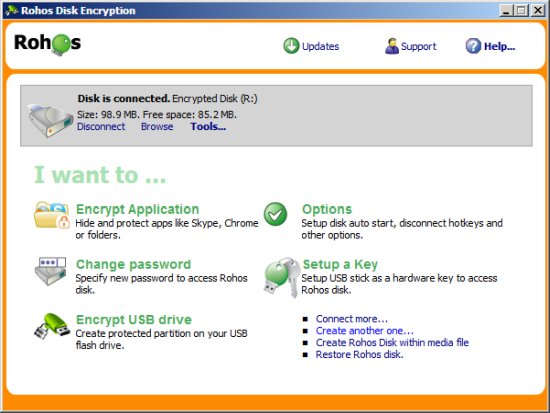 USB Flash Security is a very useful security tool. It protects the data in a USB Flash Drive by a password.
So, USB Flash Security enhances your potential and protects all your sensitive data in the USB device by preventing it from getting stolen.
It's a portable app from Japan that offers AES 256-bit encryption choices (up to 4GB) in its free version.
USB Flash Security is a very lightweight application and very efficient in saving data. It gets installed super quickly. It can work with any USB stick type. USB Flash Security requires admin rights for PC use.
Compatibility: Windows XP, Windows 2003
Price: Free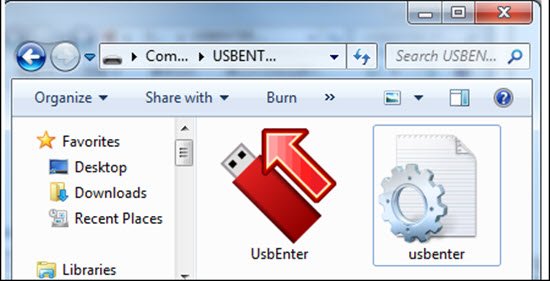 Gilisoft USB Stick Encryption has simple but effective encryption features. It turns out to be very useful USB Encryption Software.
Plus, it's undoubtedly a looker. It supports a pretty funky UI with glossy buttons and a brushed metal finish.
Moreover, Gilisoft USB Stick Encryption Software is very easy to use. You need to simply plug in the flash drive, and it gets detected automatically. Plus, you need to specify the size of the secure area that you can create on the hard drive. Then you have to enter upon the encryption password, and the application does the rest.
The secure partitions have been encrypted with the AES 256 algorithm. It is accessible once it is mounted through the program.
And you don't get any unnecessary extras. Gilisoft USB Stick Encryption simply offers great encryption goodness. In case you accidentally delete the companion secure access application (with the encrypted USB drive), it can easily be recovered.
So, you do not have to worry about anything. Gilisoft USB Stick Encryption is a no-fuss USB encryption software with no additional options. However, it comes with ten-time usage cap for the free trial. Platform Availability: Windows 10, 8, 7, Vista, and XP
Price: $49.95 for the Paid Version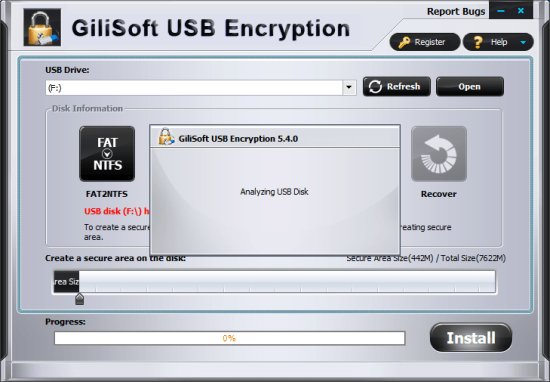 Although Kakasoft USB Security does not offer plenty of features, it still works out to be a simple and effective USB Encryption Software. In fact, it is entirely self-contained in the USB Flash Drive.
The tool can be installed on its own on the USB Drive. It functions automatically when the device is plugged in.
The good thing with Kakasoft USB Security is the fact that it not only supports USB Drives, but it also supports other devices such as memory cards and external drives.
You simply need to specify the encryption password, and the utility can encrypt the drive completely, plus any other data inside it. The encrypted data can be accessed by unlocking with the password and mounting via the app.
Compatibility: Windows 10, 8, 7, Vista, and XP
Price: $22.95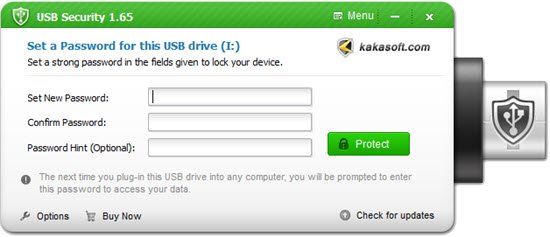 BitLocker to Go is a powerful and capable USB Encryption Solution. It offers BitLocker Drive Encryption on removable data drives. So, you get encryption of USB flash drives, SD cards, external hard disk drives, as well as other drives that are formatted with FAT16, FAT32, NTFS, or exFAT file systems.
You can open drives encrypted with BitLocker to Go by using a password or even with a smart card on another computer with the BitLocker Drive Encryption in the Control Panel.
BitLocker To Go comes built-in right into certain versions of Windows (including Windows 8). With BitLocker to Go, you can easily secure your data stored on USB flash drives. In fact, it uses AES 256 encryption algorithm to encrypt and secure data stored on USB flash drives.
In case you forget the unlocking password, you can recover the same with the automatically generated recovery key. It is saved to a file or synced with your Microsoft Account.
So, BitLocker to Go is a highly efficient solution for encrypting the USB Flash Drives when you don't want to deal with any extra software. However, it's only available with certain versions of Windows.
Platform Availability: Windows 8 & later (Pro & Enterprise Editions), Windows 7 & Vista (Pro & Enterprise Editions)
Price: Free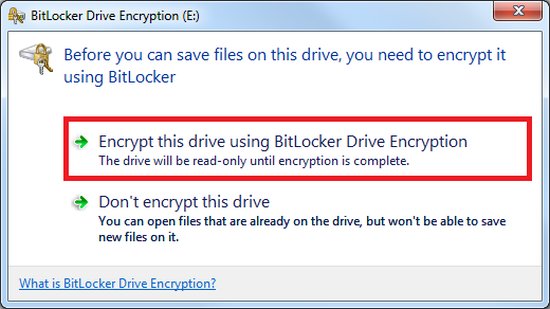 USBCrypt is another very excellent encryption software utility for Windows 10, 8, 7, XP that goes on to protect your sensitive and vital information from unauthorized access. It protects your personal, business, and financial data from the bad ones out there.
USBCrypt can encrypt your USB and other removable and fixed drives with strong encryption. It makes use of AES encryption algorithm which is the strongest protection for protecting your files.
This software has been integrated with the Windows shell. So, it works with encrypted drives easily.
USBCrypt can be used to protect your files. You can protect your confidential company information or other private information related to your clients. It can help and protect the privacy of your data.
In fact, with USBCrypt, you can have a Virtual Encrypted Disk backup your files. So, if someone gets your external drive, they would not be able to extract your backup without the password.
Another good thing with USBCrypt is that it can work with drives of any type. You name it – flash memory drives, USB thumb drives, internal hard drives, flash memory drives – USBCrypt can encrypt all of it.
Moreover, USBCrypt can handle both NTFS or FAT/FAT32 drives, automatically. Plus, it can handle drives of any size from 1 MB to 128TB. USBCrypt comes with a simple and easy to use interface.
Price: $49.95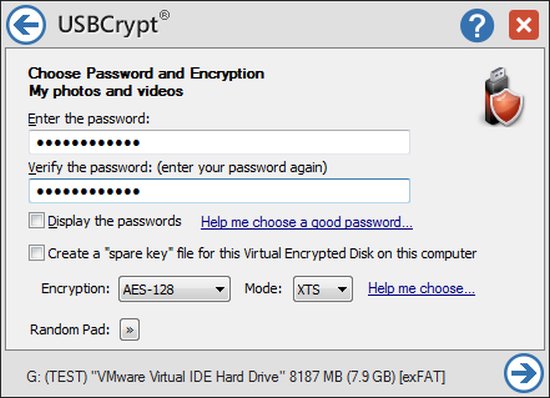 USB Safeguard is one of the best USB Encryption Application that can easily protect your sensitive files and vital data with a password.
The USB Safeguard Software comes as a freeware which offers AES 256-bit encryption to protect your confidential data on a virtual drive, such as a USB drive, memory card, SSD, and hard drive.
All of your data is strongly protected and can be only recovered with the help of the correct key. With the free edition, you get a limit of 2GB with encrypted partitions. It functions right from the drive and does not require to be installed.
Plus, there is no requirement of admin rights. It is user-friendly and lightweight with a compact size of just 535 KB.
Compatibility: Windows XP/Vista/7/8/10
Price: €19.00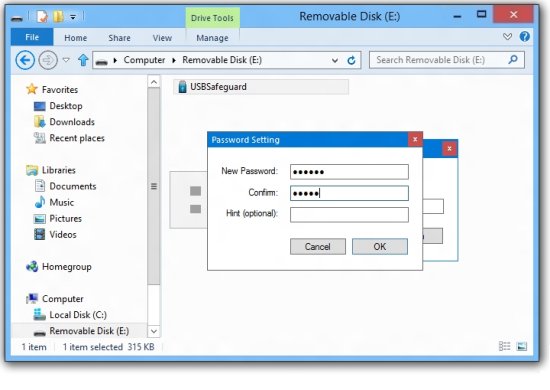 Kruptos 2 Go offers 256bit file encryption. It is a password protection tool for your USB Drive that goes on to protect the privacy and important data from being stolen, data loss, or leaks.
You simply have to drag-and-drop the files and folders to the Kruptos 2 Go encrypted "Vault." They will be immediately password protected and prevent important data from being modified, read, or even accessed without the right password.
Price: $24.95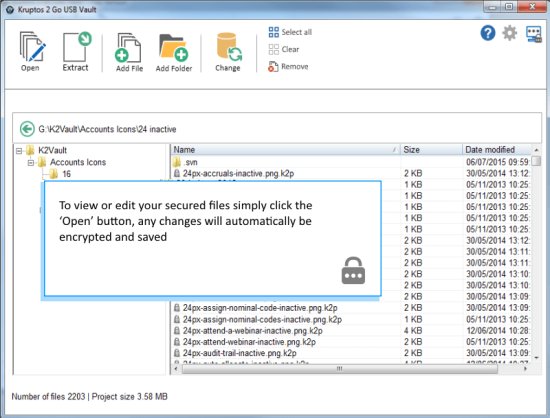 So, with this one, we have listed the top ten most popular, and powerful USB Encryption Software for you. It will make life easy for you when you decide on encryption software.
We have even listed the free encryption software. So, you can take a good look at the post and decide the best pick that suits your specifications, ease of use, and other factors.
We hope that the presentation proves helpful to you. We welcome your feedback. So, please leave your comment below. Lastly, please share the post with your friends and loved ones.