Being online invariably exposes your system to various types of threats that can prove fatal for your system's performance. The threats are many which include harmful intruders like trojans, viruses, worms, spyware and other malicious programs. You are ever on the lookout to find a suitable protection for your system which can give you a total safety, should be easy to use and maintain and in the same time should consume minimum of your resources. The problem is a common one but you require an uncommon security solution which can solve all of your protection issues. Microsoft Security Essentials (MSE) is the right answer for all of your protection needs. MSE is a security software that protects your system from all kinds of "dangerous and malicious intruders".
Microsoft Security Essentials (MSE) is available as a freeware. It is designed to give you efficient and superb performance without blocking your systems resources. Microsoft Security Essentials is easy on usage as well as on installation and gives you automatic updation. You get a real-time security solution in the form of Microsoft Security Essentials for your personal and small business PC usage. The only requisite that you need to fulfill is that your PC must run on a genuine Windows OS for Microsoft Security Essentials. The other prime features that would make Microsoft Security Essential you're preferred choice as an antivirus software have been listed underneath. They clearly showcase its advantage to you.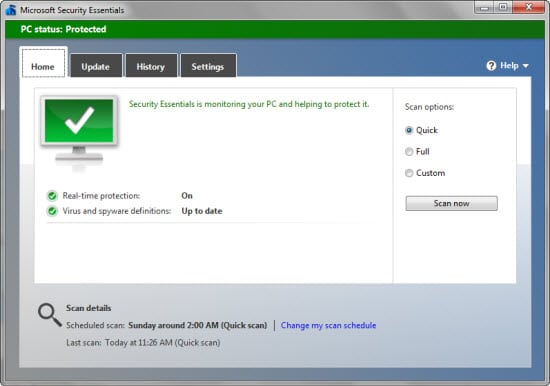 Firstly, Microsoft Security Essentials user interface comes with a superbly clean design and layout. Every functionality which has been provided on its GUI is laid out very neatly that does not confuse or bother the user for "where and how" of the security solution. The home screen gives you the options of quick, full and custom scan. The screen also demonstrates the status of your computer security with red, yellow and green color coding and check mark. You can also schedule the scanning cycle according to your choice. For any kind of aid on MSE you are provided with a help button on the upper right corner of the screen. It also shows the real time protection status and virus and spyware definition status.
Microsoft Security Essentials has manual and automatic updation to continuously improve its antimalware engine arsenal. You can use the Update tab running a manual updation. It provides you the timing and version number of the virus and spyware definitions of the last update.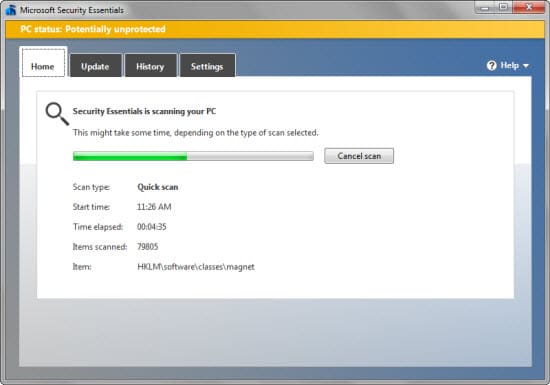 The "history tab" shows the details of the viruses and other malicious programs that it had detected. You can then decide about deleting or releasing those items based on whether they are really viruses or not. The other functionalities of the MSE can be controlled and enhanced through the "Setting tab". You can set the frequency of automatic scan and type of scan that it should run. You also have the option to set the scan when you are not using the system or when the CPU usage is below a certain percentage. You are provided with the option of deciding the default action that MSE should take when it finds a virus. You can also exclude certain file types, files or locations from scanning. One of the most unique feature of MSE is its real-time protection capacity. MSE can protect your system even before your scanning it. If any intruder software attempts to install, this unique feature of MSE immediately detects and prevents it right at that time. Microsoft Security Essentials real-time feature also prevents any suspicious file(s) from opening. This always keeps your system safe and secure round the clock and even without the need of your intervention.
As we have seen above, Microsoft Security Essentials definitely comes out as a powerful yet simple antivirus software that can protect your system from attack of any kind of dangerous and malicious intruder viruses. Microsoft Security Essentials is also one of the most lightweight antivirus software ever developed using roughly just around 4MB of RAM during scanning or updating. Its quick scan feature is just fantastic and coupled with real-time scanning powers makes MSE an absolute winner in the antivirus segment. A research study undertaken by OPSWAT has revealed that more people have started using MSE than any other antivirus software. Its worldwide usage has increased from 7.27 percent in 2010-11 to 10.08 percent in 2011-12. All in all, Microsoft Security Essentials is a fabulous security software to have for your system's complete security management.
Download Microsoft Security Essentials