Do you wish to design your next t-shirt? Or, Do you want to start your T-Shirt design business?
Or, Do you want to create a T-Shirt design for your sports team?
Well, the T-Shirt is still the most popular clothing for all ages including youngsters. It is suitable for nearly all occasions, particularly when you want to hang out with your friends or spend a great time with your family members.
With T-Shirt design software you can create different T-shirt designs of your choice.
However, the important question for you is which T-Shirt Design Software you should choose.
If you are confused and finding it difficult to choose suitable T-Shirt design software, then this post is meant for you.
You are at the right place.
Here, we go on to list down the 8 Best T-Shirt Design Software.
This software will help you to create any design for your T-Shirt. The software is loaded with clip arts, brush tools, images, text, fonts, numbers, and so on which help you to design the t-shirt of your choice.
These T-Shirt Design Software help you to get the desired look for your t-shirt.
Designing a personalized T-shirt becomes a child's play with these very powerful T-Shirt Design Software. They help you to create attractive custom t-shirts of your choice.
You can create virtually "any" design you want for your personalized t-shirt. They have amazing text features and allow you to come up with slogans and one-liners.
Best of all, you don't need to be a professional designer to get started with these T-Shirt Design Software. They are equally good for beginners and enthusiasts who want to try their hand out at designing personalized t-shirts.
In fact, they are very easy to use.
Moreover, they cater to the unique demands of a T-Shirt Printing Business. They are amazing tools and are loaded with numerous custom features together with exceptional artwork offering you fantastic outcomes of unique t-shirt designs.
You have a completely unique experience using this T-Shirt Design Software.
In fact, T-Shirt design has gained much popularity these days. It's because of the growing demand for customization and online shopping.
So, don't leave behind in the race.
Here's a fantastic collection of 8 Best T-Shirt Design Software.
It's the best place to check out some "extraordinary" t-shirt designing software.
I bet you will be highly satisfied with it.
This t-shirt designing software allows you to showcase your creativity in the best possible way.
Here's the list of 8 Best T-Shirt Design Software.
8 Top T-Shirt Design Software
InkXE is a complete online product designer tool.
It's useful for businesses that sell decorated apparel, signage, as well as personalized promotional products.
It has a rich product designer app interface and a very powerful backend admin.
Plus, it plugs into any shopping cart system.
For examples Shopify, Magento, WooCommerce, BigCommerce, 3DCart, and ECShop.
It's a 100% responsive product customizer. It works on mobile, tablet, and desktop PCs.
InkXE offers ready-to-use templates, Vector clipart designs, and fonts. There are many rich text effects: Text cloud, Word art, Text effects, Text on the path, curved text, and more.
It has an image mask, image filter, and low-resolution warning.
The product designer supports all types of products such as team jerseys, labels, stickers, banners, etc.
InkXE supports multiple file upload formats.
You get a realistic preview.
It has all types of decoration areas together with multiple sizes and colors.
Its backend admin features allow you to tweak and modify the functionalities of the product designer module.
For example:
You can manage assets such as design templates, vector clipart, fonts, and background patterns.
Decoration area configurations, configure product sides, custom product images, and bleed marks.
InkXE is a perfect tool for decorating apparel or signage or promotional product.
Price: One-Time Payment for Lifetime License
Standard: $2499
Enterprise: $3999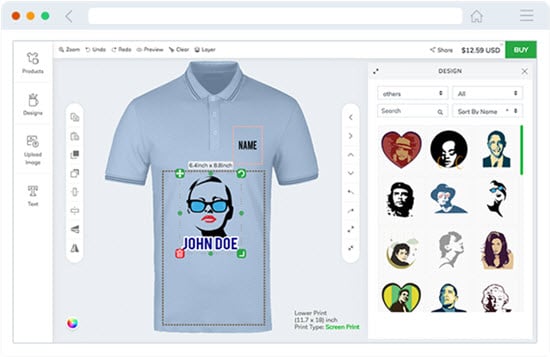 Adobe Illustrator is a graphic designing software that can be used for designing t-shirts. It offers numerous shapes, effects options, and fonts.
It helps you to create beautiful vector art. However, we must say that it's not meant for beginners. The tool requires some experience in graphic designing. That said it offers many tutorials to get inspired by the creative community.
The tool comes in handy for designing t-shirts and a whole lot of other apparel. It offers lots of features and shapes together with fonts and effects that help you in designing attractive t-shirts. You can create logos, icons, drawings, typography, and illustrations for print, web, mobile, and video.
It offers all the designing tools for transforming simple shapes and colors into extravagant logos, icons, and graphics. Its artwork is vector based meaning that it can scale down for mobile screens and up to billboard size.
With Illustrator, your t-shirt designs look beautiful and crisp.
You can add effects and edit individual characters creating typographic designs that perfectly reflect your messages.
Moreover, you can use your illustrations anywhere from printed pieces, and blogs to websites as well as social media.
All these numerous features can be combined to create beautiful t-shirt designs. It works well with designs involving shapes and layers.
Adobe Illustrator comes with a monthly subscription fee of 19 dollars. It can be run on Windows OS.
The Pros:
You get numerous fonts, effects, and images
It has "Diverse" tools for creating designs
The Cons:
Its interface is not easy to use for beginners.
Price: Paid Plans
Monthly Payment: $31.49/mobile
Annual Plan: $239.88 per year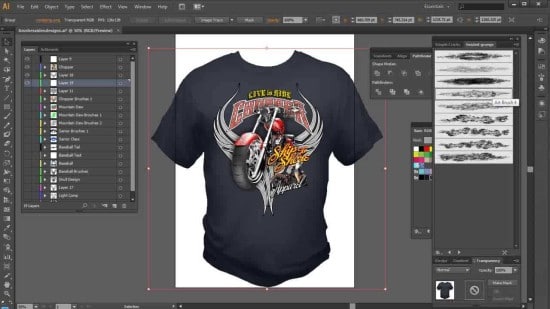 CorelDraw Graphics Suite is one of the most loved graphic design software.
So, it's not limited to t-shirts alone. You can make graphic designs for about anything with the software.
However, it can particularly be used for t-shirt designing. It offers a number of fonts, colors, and clip arts that suffice it as one of the best t-shirt design software.
If you are familiar with CorelDraw, then you can design t-shirts easily. CorelDraw is a comprehensive vector graphics program.
It allows you to design just about anything including t-shirts. The software can be hard for starters in graphic designing.
However, as you get used to the "ins and out" of the software, you go on to employ it for designing attractive and beautiful t-shirts and other products.
Salient Features
New state-of-the-art Symmetry mode
New creative effects with the Block Shadow tool
Integrated Tools: Impact tool, PhotoCocktail, and more
New quick and direct publish to WordPress
It is being used by millions of professionals, small business owners, and design enthusiasts all over the world.
You get a seamless design experience for graphics, layout, illustration, art, typography, tracing, photo editing, and more.
You can use it to produce any design or photo project.
It has a versatile and intuitive set of tools.
It has unmatched customization capabilities.
CorelDraw allows you to design with confidence and achieve stunning results. It satisfies all your design needs.
Price: CorelDRAW Graphics Suite US$499.00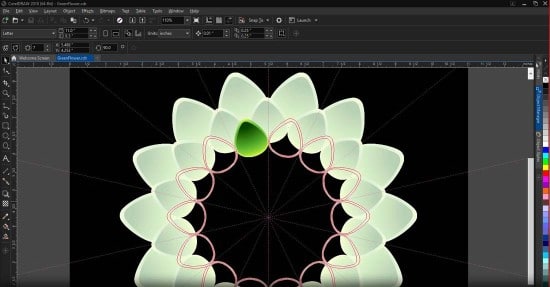 CustomInk is one of the most popular online services helping you to create custom t-shirt designs.
Its website has hundreds of clip arts with numerous sections on animals, nature, tech, parties, people, music, events, occupation, transportation, and so on.
With CustomInk, you can get the desired look for your t-shirt.
For example, You can use personalized names & numbers for creating the group jersey.
CustomInk makes it ultra easy to create a T-shirt design of your choice. You can start by adding art, text, or names on the back and front of the t-shirt. Lastly, you have to save the design.
You can even share the t-shirt design with your friends.
You can also order t-shirts with your customized designs.
In fact, CustomInk is mainly meant for selling customized design t-shirts.
It means that you can create your design and they will deliver you the t-shirts having your design on them.
All the pricing details are available on their official website if you want to go for ordering customized t-shirts.
It's fun and easy to design t-shirts with CustomInk.
And you have the choice to get them delivered to your doorstep.
CustomInk is simply great!
Price: Free to design T-Shirt
Printed T-Shirt Price for a single T-shirt cost $10.50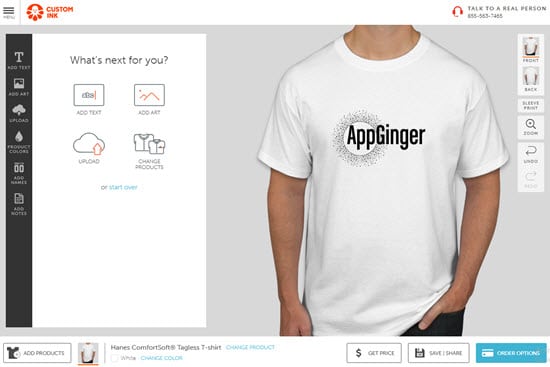 Design 'N' Buy is another very popular, powerful, and easy-to-use T-shirt Design Software.
Moreover, Design 'N' Buy has gone on to successfully implement its t-shirt design software on numerous storefronts of leading t-shirt printing companies.
Design 'N' Buy makes online t-shirt designing fun and easy for end customers.
It is particularly useful for decorated apparel businesses.
It allows for setting up products and marking specific printable design areas. This can be personalized with a visual design editor.
As an end user, Design 'N' Buy offers a very clean and easy user interface. The tool is great for beginners who want to create a great-looking t-shirt designs within a few minutes.
Design 'N' Buy can be best described as a complete web-to-print e-Commerce storefront integrated t-shirt design tool.
They also develop fully customized t-shirt design tool solutions according to your business needs.
The Design Studio is built on HTML5/JavaScript and runs on all devices and platforms. It comes pre-loaded with clip arts and font libraries.
It's available on a Lifetime License. You also get detailed user manuals and training videos. The live training facility is also offered by technical experts.
Design 'N' Buy is a feature-rich t-shirt designing software with which you can personalize the chosen product with text, clipart, or images.
The software comes in a mobile responsive layout and offers a consistent user experience across all devices.
It supports a multi-store, multi-language setup.
They offer numerous text features. It allows you to add multiple text items. You can apply text shapes and decorate with fonts, colors, and outlines.
It has an extensive selection of various clipart. You can draw shapes and freehand art, as well.
One can upload photos from the desktop, Instagram, Picasa, and Flickr. One can add a name and number to appear on the front or the back of your garments.
You get 360 degree 3D preview of your designed t-shirt. You can download print proof and can share designs on social media.
There's much you can do with Design 'N' Buy T-shirt Design Software.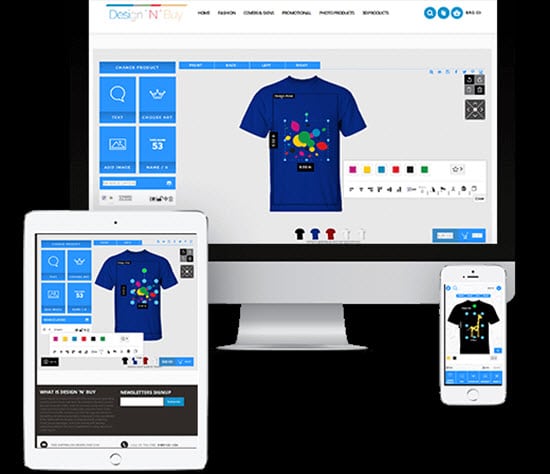 Inkscape is a completely free and open-source vector graphics editor. It brings in a unique native format which differentiates it from similar programs such as Abode Illustrator, and Corel Draw.
Inkscape offers a clean, consistent, and very stable interface.
It uses Scalable Vector Graphics (SVG) and an open XML-based W3C standard.
In fact, the SVG format enables graphic designers and other professionals (in marketing, branding, engineering, web graphics, and cartooning) to create graphics that can be scaled to any size while retaining their original quality.
Moreover, Inkscape is a cross-platform vector editing platform that can run on Windows, Mac OS X, and Linux distributions.
The program is flexible and versatile. It even offers various tooltips and useful information. Inkscape adheres to open source standards.
It's free of cost.
It facilitates object creation and object manipulation. It has fill and stroke tools, text support, path operations, rendering, and file formats.
The node editing functionality is one of its outstanding features. Nodes enable artists and designers to manipulate objects, images, and graphics that are vectorized.
The node editing tools include the insert nodes between segments, deleting the node, joining selected nodes, breaking the path of selected nodes, etc.
Inkscape also offers node editing functionalities such as node alignment and distribution options.
Another big highlight of Inkscape is its object creation functionality. This functionality provides tools such as the pencil tool, drawing tool, calligraphy tool, shape tool, and text tool.
With these capabilities, users can work on artworks and graphics that require high scalability.
Price: Free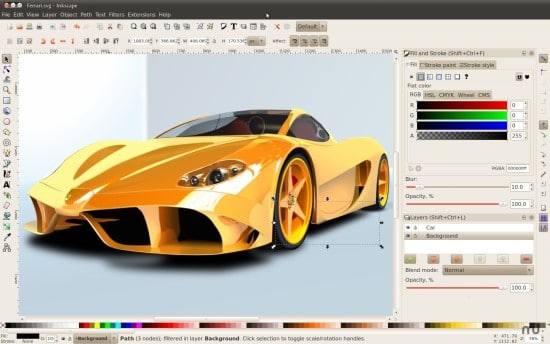 Customily is an online product designer that allows you to design & personalize t-shirts. It's one of the best software for online t-shirt design. It offers many online product customization tools for designing t-shirts of your choice.
With Customily, you can create your design in t-shirts.
This online product designer software allows customers to personalize any design on clothing and accessories.
It can upload custom designs.
Customers can go on to personalize them by adding custom text and images.
With Customily, you can design an amazing-looking product and increase the value of regular t-shirts.
It has an online preview tool that integrates into any eCommerce website. So, the customers can see what they will get while they design.
The canvas-to-print tools comes with a high-resolution file of their customer's design ready for printing.
Personalizing t-shirts and other apparel become very easy with Customily.
Moreover, Customily can be integrated into any eCommerce platform. So, your customers get the ability to personalize your products in seconds.
It's an amazing online product designer allowing personalizing your designs in an easy and fun way.
The Customily online product designer comes with an amazing list of tools such as:
Color & Pattern Variation
Dynamic Text Input
Custom Picture Upload
Font & Style Variation
Size & Model Variation
Material Variation
With Customily, you get the tools to personalize your t-shirt designs easily.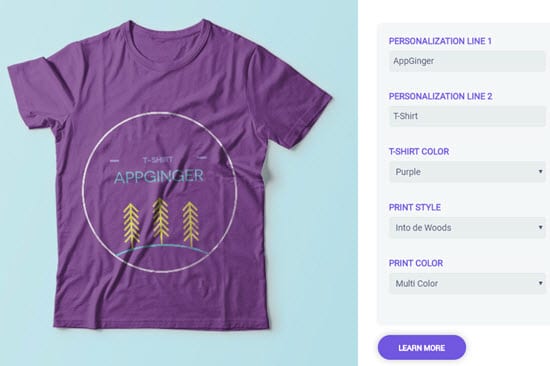 Placeit allows you to make a T-shirt Mockup or a Social Media Image. It offers T-Shirt Templates for designing your shirt. Placeit is for creating stunning mockups in seconds. It's simple and hassle-free.
Placeit is a web app tool with which you can generate self-proclaimed fancy mockups and even high-quality product images of your apps.
It has an enormous selection enabling you to create multiple mock-ups on a variety of different devices, environments, or backgrounds.
They even support screenshots of some Microsoft, iOS, AND Android products.
It's not only easy to use but also free to create images and videos and affordable to download.
It allows you to upload screenshots.
You can create mockups and videos in a matter of nearly thirty seconds. You can even add text and effects if you want.
These mockups can be very essential to marketing your apps.
You get a good idea of how it will look.
Once you are ok with your mockups and videos, you can pay to download them. Pricing depends upon the quality and number of mockups you are purchasing.
You can create mockups for free.
However, you need to pay for downloads of images and videos.
High-quality images come at $8, and super high are for $28.
For normal-sized videos, you need to pay $99 to download.
They even offer a bulk discount.
The Subscription plans start at just $12 a month.
All in all, Placeit allows you to create your unique marketing collateral easily.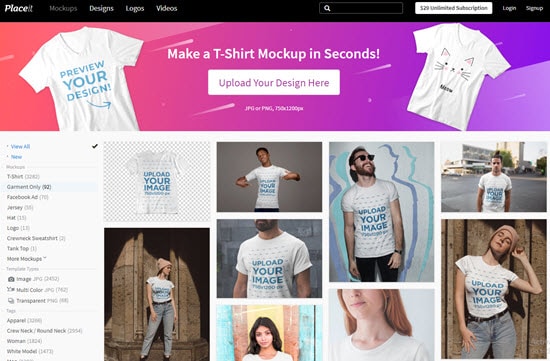 We hope that the post 8 Best T-Shirt Design Software has served you in the best possible way. Now, you can choose your favorite T-Shirt Design Software as per your needs.
We have shown even shown free t-shirt design software. You can have a quick start using any of these T-Shirt design software. Please let us know your comments. Don't forget to share this post with your friends and loved ones.