Internet technologies and protocols have witnessed continued development revolutionizing the way we connect and communicate with others. One such technology that has helped millions to connect and communicate with each other is the Internet Relay Chat better known as IRC.
Today, there are numerous IRC Clients across various platforms that enable you to chat anywhere and anytime. These are the applications used for interacting with IRC chat-rooms on Windows, Mac OS X, or Linux platforms.
If this sounds interesting to you, then you are at the right place as we have come up with a presentation showcasing 8 Best IRC Clients for Windows, Mac, and Linux. These best IRC Clients will have you chatting in a matter of few seconds.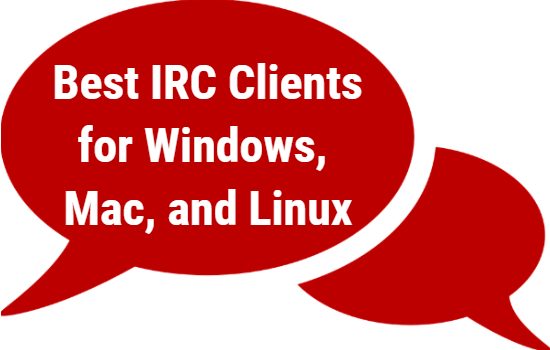 So, get ready to explore these best IRC Clients which can make chatting a pleasurable experience for you. These are all capable IRC Clients, easy to use, extremely lightweight and heavily customizable.
They are loaded with powerful features. You need to put some basic details, and server information, and you're instantly connected.
For those of you who are new to Internet Relay Chat (IRC) technology, let me quickly take you through its description.
Simply put, the Internet Relay Chat or IRC is a protocol that facilitates communication between multiple networked computers. It is a network of channels connected all across forming chat rooms.
These channels are hosted by servers which allow different individuals to talk with each other on common interests or current topics.
It offers numerous other features, including data transfers, chat rooms, and private one-on-one messages. IRC took the Internet scene somewhere around 1988 and reached its peak in the 1990s and the early 2000s.
IRC used to be a big thing in the past allowing communication with others. However, it still continues to command a big following. The fact that there are numerous IRC Clients for all platforms has made it popular with people from all across the globe.
So, let us look at the top 8 Best IRC Clients for Windows, Mac, and Linux which are popular nowadays.
8 Top IRC Clients for Windows, Mac, & Linux
Undoubtedly, mIRC is one of the most popular IRC Client for Windows PC. mIRC comes loaded with powerful features. mIRC is easy to use. You are required to enter some basic details, and server information, and you are set to go with mIRC. It provides the option to connect with one of the many random global IRC servers that are preconfigured with mIRC.
It provides many robust features, including multiple configurable buddy lists, connections to multiple servers, simultaneous file transfers, customizable notification sounds, system tray notification, and lots more. Besides these features, mIRC offers a powerful scripting language for automating tasks. mIRC is available as a shareware program offering a 30-day trial.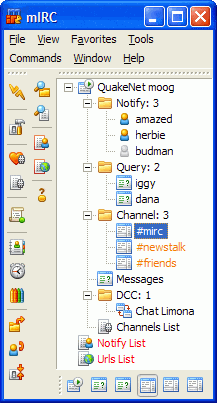 HexChat is a completely free IRC Client for Windows, Mac OS X, and Linux systems. Its ease of use, customizable interface, cross-platform (Windows, Mac, Linux) makes it one of the most sorts after and highly popular IRC Client. Plus, it is multi-lingual, open source, and in active development. It is best for those who are looking for a simple yet efficient IRC Client.
With HexChat, you get a minimal dual column UI, making communicating over IRC a pleasurable experience. When you are connected to a server, you get to retrieve the channel list by using the Server menu option and can connect to the available channels.
Plus, you can access the list of active users and can trigger individual operations like file transfer, check user info, etc. HexChat is highly customizable as it features built-in Python and Perl scripting support. Other features in HexChat include direct file transfers, proxy support, spell checker, keyboard shortcuts, and network meters.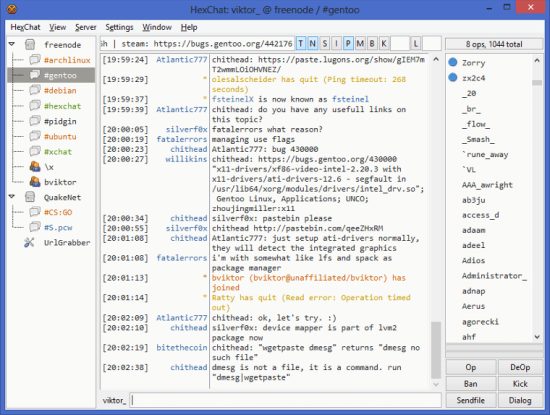 IceChat proclaims itself as "The Chat Cool People Use." And it is a claim well made as IceChat is a very popular and extremely capable IRC Client. It lets you chat in a matter of few seconds. You just have to enter a nickname, choose an IRC server to connect to, and you are ready to chat with your friends.
It offers many pre-configured global servers that you can connect with. Plus, it allows you to configure custom server settings. Moreover, it's completely free, so if you don't wish to shell out money on IRC Client, then simply go with IceChat.
IceChat is highly customizable. It allows you to tweak everything, including chat fonts, background colors, global application themes, and the nickname lists.
Plus, you get other standard features as well like custom notifications; VBS based scripting, multiple server & channel support, etc. Another interesting aspect of IceChat is the availability of many plugins for it. These plugins allow you to run Google searches, follow Twitter feeds, and lots more.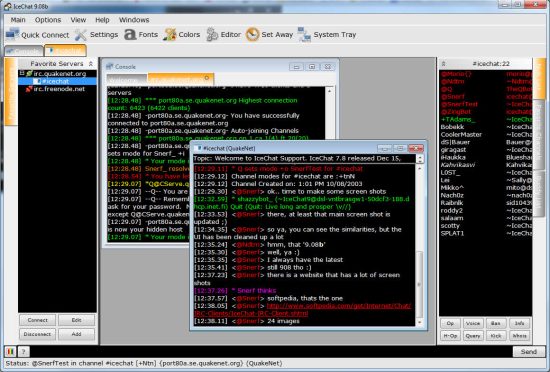 Textual has the status of being one of the leading applications for interacting with IRC chat rooms on Mac OS X. The best thing about Textual is the fact that it has been developed just for Mac, so there are no compatibility issues with it. You can download Textual from the App Store itself. Textual proves one of the most powerful IRC client applications for Mac OS X. It is a breeze to use.
Moreover, Textual has a stunningly designed multi-column UI having dark and light variants which makes it a pure visual delight on Retina devices. Textual has been studded with a stunning range of features which makes it suitable for any level of IRC user. There are basic options like Native Notification Center, Native Fullscreen support, many keyboard shortcuts, and a number of other basic features that make it a quality IRC Client.
Textual is very simple and easy to use. It is ultra clean and has features that make it suitable for both IRC newbie and power-users. It is lightweight yet powerful IRC Client having native IPv6 support, client-side certificate authentication, and full compatibility with IRCv3 specifications. It also offers full-text formatting, iCloud synchronization of preferences, ZNC integration, and auto-completion of nicknames and commands. Another very important highlight of Textual is its focus on user privacy which is catered to by using the Off the Record Messaging technologies.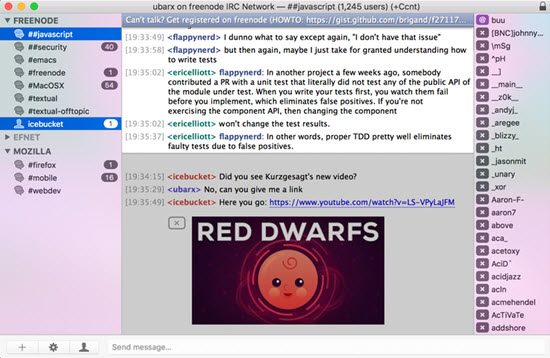 XChat Azure is another very powerful, feature rich, and easy to use IRC client application on Mac OS X. It provides an easy way to connect via the IRC networks on Mac OS X devices. It's certainly a quality IRC client application and the one that you should definitely check out if you use a Mac.
The best part being that XChat Assure is free to use. Loaded with various powerful features, XChat Assure makes it possible for you to connect with multiple IRC servers and channels thereby giving you the opportunity to have both general and private conversations easily.
Plus, there are many regular goodies such as robust SSL support, full support for file transfers, and many useful keyboard shortcuts. And that's not all; XChat Assure is an open source application. The full source code is hosted on GitHub.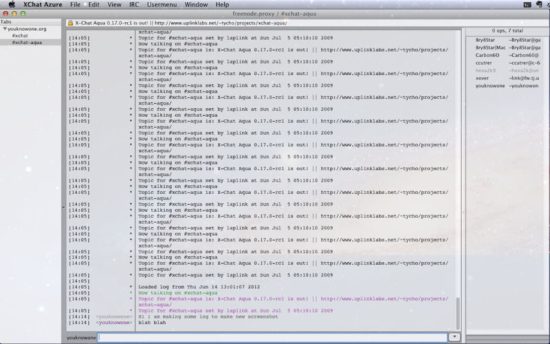 Quassel IRC has been built on the philosophy of "Chat Comfortably. Everywhere." And it does exactly what it is meant for helping you to have a pleasurable and comfortable chatting experience on all major platforms including Windows, Mac OS X, Linux, and Android Smartphones.
Quassel comes as a modern, cross-platform, and distributed IRC Chat Client based on the Qt4 framework. It is also open source IRC client application. Being graphical, Quassel IRC works more than a simple screen and text-based IRC Client. It makes communication with your peers an easy and enjoyable experience. Quassel is distributed under the GPL and is free to download IRC Client.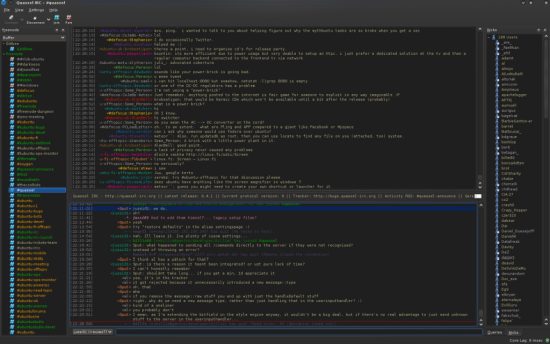 ADIIRC is a free IRC Chat Client. The best part is that ADIIRC is frequently updated, so you get added features in its every new release. It is loaded with a bunch of solid features which makes it one of the best IRC Clients for Mac, Linux, and Windows platforms.
ADIIRC is fairly easy to use IRC Client. Some of its notable features include dual column UI, multiple server connections, file transfers, proxy and SSL support, full message logging, MTS themes, spellchecker, monitor panels, IRCv3 compatible, and much more.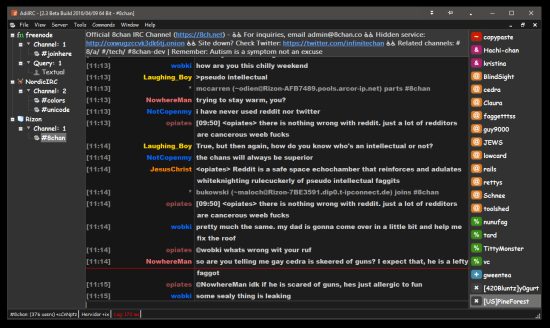 Colloquy is another very popular Mac IRC chat client that has the look and feel which you expect in a standard Mac app. Colloquy comes as free and open source IRC Client. Colloquy supports features that are usually needed by advanced users, including file transfer support, and even support for mIRC colors. Scripting is also supported via AppleScript.
Simply put, Colloquy proves an excellent solution for communicating over IRC when you are on Mac OS X. Colloquy offers auto-completion for nicknames, emoticons, as well as IRC commands.
Colloquy offers organized Colloquies showing all your conversations in a glance. It can also be configured to highlight messages when your nickname or some specific words are used in conversations. Plus, it offers a number of other handy features which go on to make Colloquy one of the best IRC Client for Mac.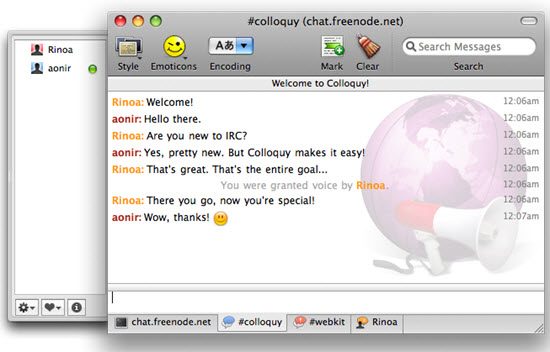 We hope that this list of 8 Best IRC Clients for Windows, Mac, and Linux proves immensely useful to you. So, what's your choice of IRC Client? Do let us know your preferred IRC Client in the comments section below. We always welcome your comments and suggestions. If you liked the post, please go on to share it with your friends and colleagues.