Here, we share with you 8 Best FTP/SFTP Client for Android that can be used for securely transferring files remotely over the servers.
FTP/SFTP is the software or tool which is used for editing or viewing the source files for any website or even web applications which are hosted on any server location.
FTP/SFTP Client works as a secure protocol for transferring files over the servers. So, you need not worry about getting things hacked. These clients work on a certain set of encryptions that goes on to protect user data.
You should be aware that there are many FTP clients for your computer device. However, there are very few FTP/SFTP Clients for Android. Here, we have analyzed and listed out the best ones available from a lot of FTP Clients on Android.
With these FTP/SFTP Clients for the Android, you can access the source code files easily. So, if you are interested in knowing the best FTP/SFTP Clients for your usage, then do read the article out.
Here, we have featured the best FTP/SFTP Clients for you.
8 Best FTP Client for Android
Let's check them out:
ES File Explorer File Manager is among the best FTP Clients for Android. With ES File Explorer File Manager, you can manage your files easily and efficiently. It's a fully featured file manager for managing your files (including documents, images, music, movies, etc.) for both local and networked use.
ES File Explorer File Manager has garnered more than 500 users worldwide. It allows you to manage your files easily over your Android phone. You can share your files without any sort of data cost.
ES File Explorer File Manager works as a powerful file manager and folder manager. It offers desktop-grade features in your pocket.
Here are a few examples of its file management capabilities:
Sender: You can transfer documents, images, music, and movies without taking the help of mobile data and cables. ES File Explorer File Manager supports Wi-Fi mode and auto-created hotspot.
File Manager: It allows you to manage your files using cut, copy, paste, and other such related operations.
Built-in Viewers and players: You can play music or videos, check out your images and documents
Built-in ZIP & RAR support: You can compress and decompress ZIP files. You can unpack RAR files. You can create encrypted ZIP files with AES 256 bit.
ES File Explorer File Manager allows remote file access. You can access your files from anywhere. It supports Dropbox, Google Drive, Amazon S3, as well as other clouds platforms. It allows you to manage the files that reside on your phone from your computer. You can manage files on FTP, SFTP, and WebDAV servers in the same way as you manage your files on your SD cards.
ES File Explorer File Manager has an excellent set of file management tools for root users. You can access your entire file system and all the data directories. It allows to copy & paste files between Bluetooth-ready devices. You can transfer files between Bluetooth devices.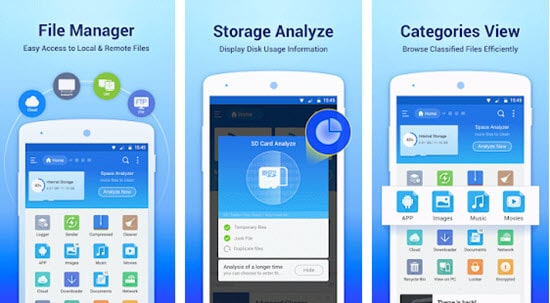 AndFTP is another very popular FTP, FTPS, SFTP client for Android Mobile Smartphones. So, with AndFTP, you can get connected to multiple protocols such as FTP, SFTP, and FTP over the explicit or implicit TLS or SSL.
Once you are connected with AndFTP, it allows you to browse through it. Now you can perform various tasks such as uploading, downloading, editing, renaming and deleting. You can even update file and directory permissions. Plus, you can run custom commands.
With AndFTP, you can do folder synchronization. You can even share from the gallery for enjoying quick sharing. Some intents enable third-party apps with which you can interact with the FTP account.
However, the AndFTP user interface is not a flashy one. On the contrary, it looks like a bit old. That said, it is still very straightforward and functional.
For adding your FTP account, you need to tap on the "+" icon on the main screen. You need to fill in all your FTP details, then select your local directory, and tap on the "Save" button. Once all these details get saved, you can tap on your FTP account icon on your home screen, and you are set to go.
The AndFTP base application is all free. However, you will not get a Folder Synchronization feature. Plus, its free version comes with ads. If you want to disable ads and enable folder synchronization feature, you need to buy the app for $4.99 by going through the in-app purchase.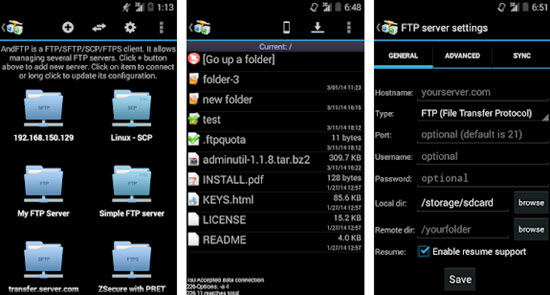 Ftp Server is a highly popular FTP/SFTP Client on Android. It allows you to read or write any folder (including SD Card) in your Android device using this FTP Server.
Ftp Server allows you to have a backup of your photos to your PC. You can copy your music and movies to your Android device easily and quickly.
However, its free version does not allow the landscape screen.
Here, we quickly run you down to some of its most salient features:
You can use any network interface in your devices such as Wi-Fi or Mobile Network. You can set the Home directory as your root directory. It allows Read Only Mode. There are passive as well as active modes. You can show the hidden files. You can run the server as a foreground service. It comes with the energy save mode. Languages supported include French, English, German, Chinese, Russian, and others.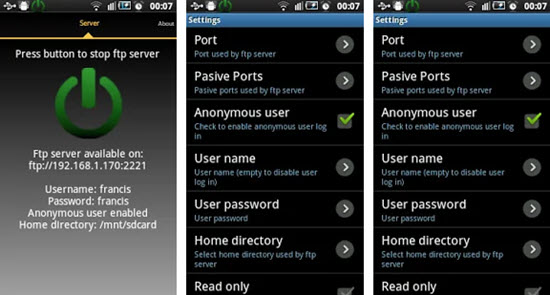 Turbo FTP Client & SFTP Client is a simple and rather straightforward FTP and SFTP client for you. It proves equivalent to its name and turns out to be a fast and snappy FTP Client & SFTP Client. Moreover, Turbo FTP Client & SFTP Client functions as the most modern FTP/SFTP Client out there and comes with the material theme.
For SFTP Connections, Turbo comes with support for both password and private key authentication. Moreover, Turbo along with its FTP and SFTP support also supports the FTPES (Explicit FTP over SSL/TLS).
Turbo comes with a rich internal editor that allows you to edit script files directly. If you want, you can even temporarily download a file to fulfill your preview purposes. However, when you close the application, any of your files that are left in the temp folder will be deleted automatically. The Turbo application supports split-screen for Samsung devices. It supports local password encryption, etc.
Some of its best features include:
It is optimized for both the Smartphones as well as Tablets
It is incredibly fast
A fantastic and powerful text editor
Passwords are encrypted
Samsung Multi-view support
Regular and rich updates
Translated in many languages
Personal and kind support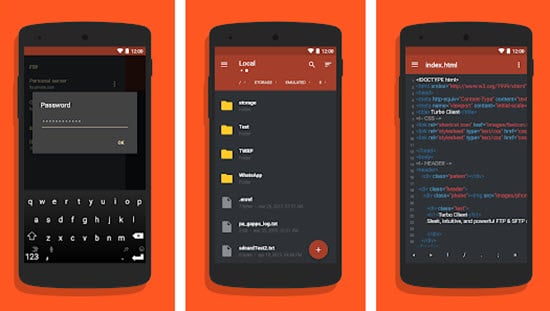 The FtpCafe FTP Client is much similar to AndFTP in the sense that supports straightforward user interface and comes with support to different protocols such as FTP, SFTP, FTPS, and FTPES. So, the FtpCafe FTP Client happens to be one of the most user-friendly FTP Clients out there. In fact, FtpCafe is one of the most popular FTP Clients out there.
Along with SFTP with a regular password, FtpCafe also supports even other authentication methods such as a private key and RSA/DSA OpenSSL key. The application allows you to transfer multiple files & directories all at the same time. You can resume interrupted download. You get the facility to set default remote and local paths. FtpCafe supports passive and binary transfers.
Moreover, using FtpCafe is very easy and involves nothing hard as such. You need to open the app, tap on the "New" file button, and key in all of your FTP account details. In case, you want to change the port number; you can do so by accessing the "More Properties" tab. Once you get over doing all this stuff, then you are finished with it, save your FTP profile, and go back to the main screen. Now, select the saved FTP account, and tap on the "Connect" button.
FtpCafe is available as a completely free application. However, it is ad-supported. However, if you want to get rid of the ads, you can go for the pro version that's available for around $2.00 only.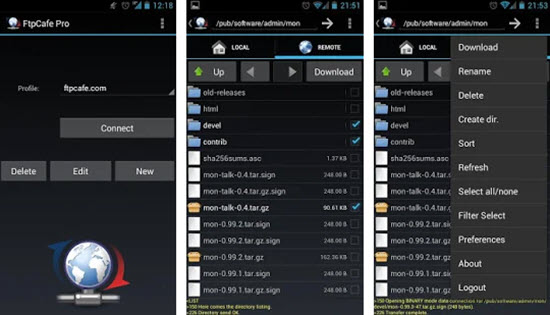 FTP Express is much more than just a simple FTP client. It functions similar to web tools app. It's one of the best Android FTP Client. Other than supporting FTP/SFTP protocols, the FTP Express also supports SMB, CIFS, and WebDAV connections for accessing the network shares.
FTP Express allows you to connect, manage, and transfer files with its resume support. Moreover, FTP Express allows you to compress and decompress Zip, tar, Gzip files. Along with these features, the FTPExpress gives you additional support for granular control with its wide range of options such as aggressive caching, transferring delay on errors, streaming buffer, streaming buffer, accept FTP Certificates, password protection, etc.
Plus, FTP Express allows you to create FTP account shortcuts directly on your home screen. So, you can connect to an FTP Server with just a single tap.
The base application is available for free with limited features.
However, it does contain ads.
FTP Express also comes with the paid version. You get rid of the ads, plus you get some additional features such as SFTP, SMB, CIFS, and WebDAV. You get the facility to compress and decompress zip, tar, Gzip files. You can even create home screen shortcuts.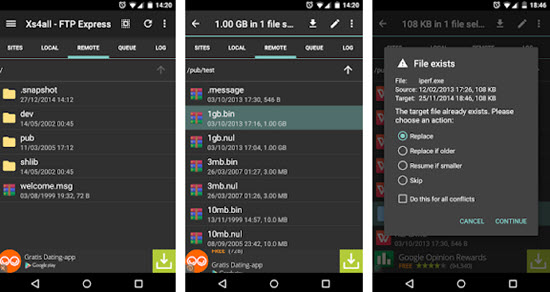 Web Tools is one of the most feature-rich applications as far as FTP/SFTP Clients are concerned. It is one of the best FTP clients for Android. It offers many useful tools such as SSH, HTTP Connection Tester, Internet Speed Tester, Rich Source Editor, Reachability Test, as well as many other useful tools. Web Tools does support FTP, SFTP, and FTPS.
One of the best attributes for Web Tools is the fact that it offers tons of features to customize a whole lot of things such as such as FTP, telnet, and SSH. It comes with a built-in browser which can be used for getting the HTTP connectivity test done. So, you did know that if you want much more than a simple FTP Client, then Web Tools are for you.
The Web tools are available as a free application, but it contains ads. So, if you want to get rid of the ads, then you need to buy the premium version at $3.00.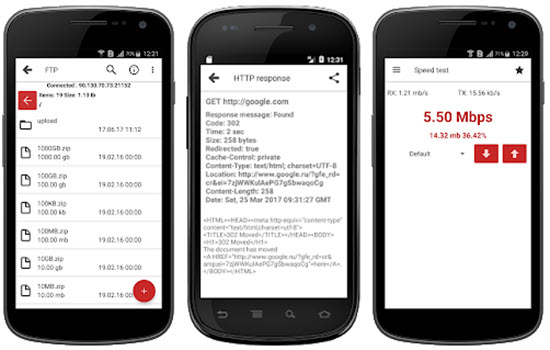 Easy FTP Client is another best Android FTP Client. It's very similar to Turbo FTP in the sense that it is very easy to use. Easy FTP Client has a very user-friendly interface. You simply need to open the app, tap on the "Add" option and enter your FTP details. You need to tap on the "Check" icon, and you are ready to go.
Easy FTP Client is one of the best and reliable FTP Clients out there for transferring files to and from the FTP Server. Additionally, the Easy FTP Client features app-wide password protection, ability to set in the root folder, set custom cache size, supporting image thumbnails, the ability for transferring files in the background, resuming uncompleted transfers, etc.
The application is ad-supported and exhibits a constant banner ad at the bottom of the screen. However, the free version comes with a hard limit of 3GB. That said, the free version with a limit of 3GB proves sufficient for general usage. The good thing that you will find here is that you can increase the transfer limit by watching ads or by making in-app purchases which cost anywhere from $1 to $5.00 only.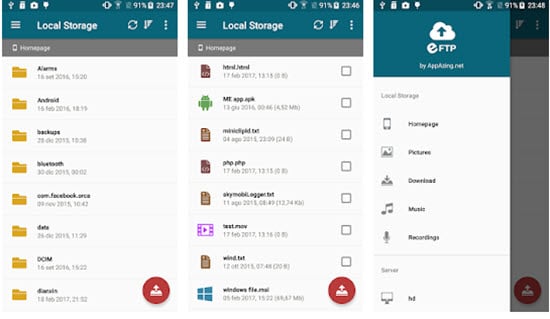 That's it for now. We have listed the best FTP/SFTP Client for Android. We hope you have found the collection much useful. Please do share the article across social media channels including Facebook. We welcome your comments.