If you are a PC or Laptop user, this post is a must for you. I say this because you always want that your PC or Laptop should perform at optimum levels and dish out top performance whenever you use them. Using Antivirus Software is the first and the essential step of getting top performance from your PC or Laptop.
In this post, you get to know about 12 Best Antivirus Software for Windows. However, before knowing the best anti-virus software, this post also answers relevant questions that ponder every PC or laptop user such as why you need to use anti-virus software and what's the difference between free antivirus and paid anti-virus software.
What is Anti-Virus Software – Why you need Antivirus?
The definition of Anti-Virus Software itself answers the query of why you need Anti-Virus Software. Moving on to the definition of Anti-Virus it is essential to understand that it is the first step of securing your PC or Laptop against malicious programs which are referred to as "viruses."
So anti-virus software detects these viruses and then works to remove them from your PC or Laptop. So to stop viruses infecting your computer system, you essentially require to install antivirus programs and regularly update your antivirus software. However, the antivirus software that I have included in this post will update automatically. It is also essential to understand that antivirus software is not the perfect solution to the problem of viruses but as I have mentioned it is surely the first step of securing your PC or laptop.
Here in I have showcased latest generation of Anti-Virus which has been equipped with powerful technology to handle easily new threats of viruses and malware. These set of Antivirus Software are better equipped to stop not only known malware but they also stop unknown viruses and malware. They include a database of known viruses and technology to handle and to stop new and unknown viruses from attacking your PC or laptop.
Difference between Free Anti-Virus and Paid Antivirus
In this post, you will find Free as well as Paid Anti-Virus Software Suites. So, what's the basic difference between them? Many of us get confused between the Free AV and Paid AV Suites. So it is essential to describe the difference between them.
The basic difference lies in the protection features and technical support. The Paid Antivirus Suites offer better protection features and comprehensive technical support than Free AV Suites. Features such as Identity Theft protection, firewall protection feature, parental controls can be seen in Paid Antivirus Software, which is absent in Free AV Software. However, to get to know the utility of Anti-Virus Software, the free AV Suites can be quite useful and then you can upgrade to the Paid AV Suite of your choice.
Reviews of Best Antivirus Software
Here I have presented the review of as much as 12 best Anti Virus Software. These Antivirus Software can either buy or download as a trail. To get the comprehensive protection, you need to run best Antivirus Software, Antispyware, and a firewall. The least you can do is to download and update free AV Software.
I have made sure that you get the best AV Software by doing a thorough research and have included only the top-notch AV Software, which detects and removes known and unknown threats, old as well as new threats for Windows-based operating system for your PC or laptop.
The basic criteria for my selection of these Anti-Virus Software have been their capability to detect and remove threats in real time. This is the critical factor for the list that I have made available to you. My sole concern is to provide you the best Anti-Virus Software, which withstands the criteria of how easy they are for you and which also does not slow down your PC or laptop.
The list of 12 Best Antivirus Software fulfill all these concerns.
So let us now review the list of these 12 Best Antivirus Software for Windows.
12 Best Antivirus Software
Bitdefender Internet Security ensures the criteria of delivering the best protection against viruses and malware. Moreover, it also ensures zero performance impact and is thoroughly easy to use. Technology wise it is equipped with latest AV Technology and provides two-way firewall security. It fights off cyber threats while ensuring that there is nil performance impact. AV-Test has rated Bitdefender as the best protection and best performance Anti-Virus Suite.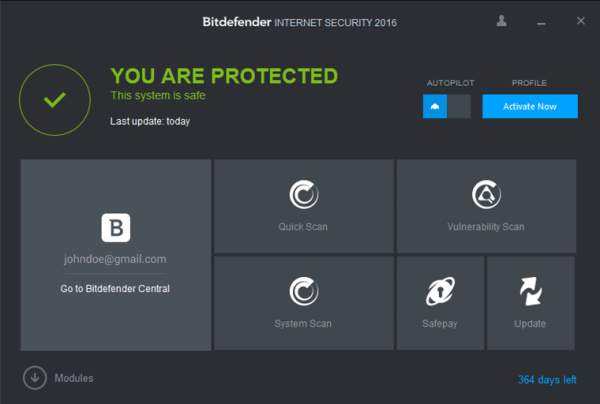 Kaspersky Total Security delivers ultimate protection against latest malware and today's threats. Its defining edge over other Anti-Virus Software Suites is its award-winning technologies which provide you real-time protection against known and unknown viruses and other malware. If you are looking for a smart Anti-Virus solution Kaspersky Total Security is the name that you can surely trust for protecting your privacy, identity, money, and family from online threats and more.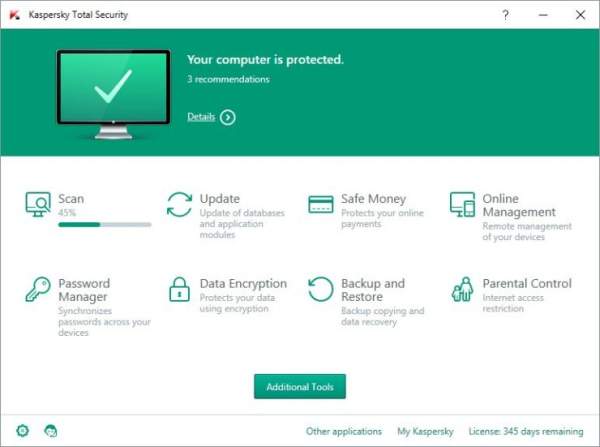 Norton Anti-Virus products promise and deliver superior protection against new online threats. It offers a variety of options to choose from such as Norton Security Standard, Norton Security Deluxe, and Norton Security Premium. If you are looking for Real-Time Protection against existing and new viruses and other malware Norton Anti-Virus Products are perfect solutions these online threats. Comprehensive Protection is what you want and comprehensive Protection is what you get from Symantec Norton Security Anti-Virus Products.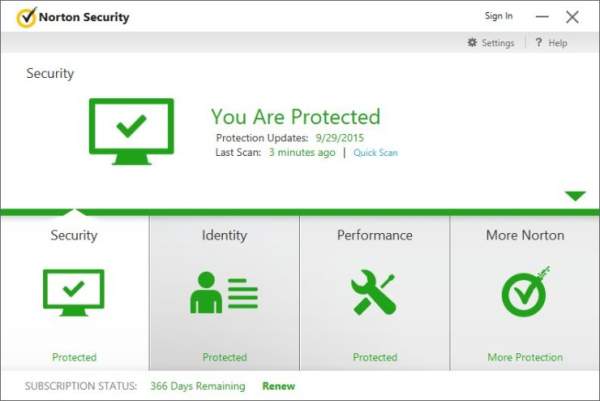 McAfee Internet Security is one of the most trusted anti-virus and identity management solution. If you are looking for best protection against old as well as new and emerging viruses, you can surely depend upon McAfee Internet Security Anti-Virus Software. It offers comprehensive features which make it a remarkable Anti-Virus Solution. If you are worried about dangerous downloads and risky websites, then you can surely go for using McAfee Internet Security, which is a top-class Anti-Virus Solution.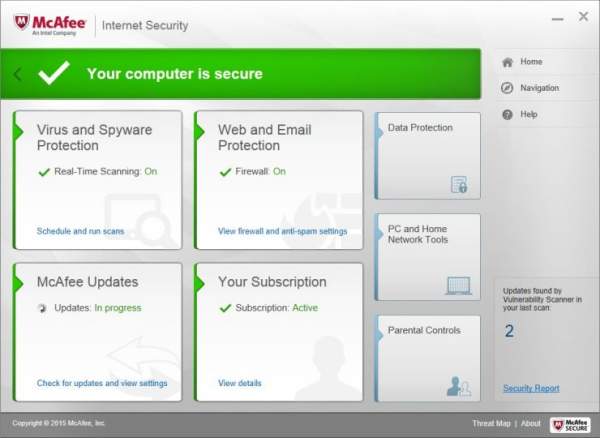 F-Secure Anti-Virus is an Advanced Malware Protection for your PC. It is one of the best Anti-Virus for your PC. It protects your PC against viruses, spyware, and other malware. Its advanced malware removal technology makes sure that your PC is always protected from viruses and other online threats. F-Secure Anti-Virus is studded with benefits that you just can't ignore. It has been designed to function as a proactive security solution. For example, it stops harmful attacks on your computer. It also makes sure that you are always protected with automatic updates. Performance wise it makes sure that your computer system works safely without slowing down.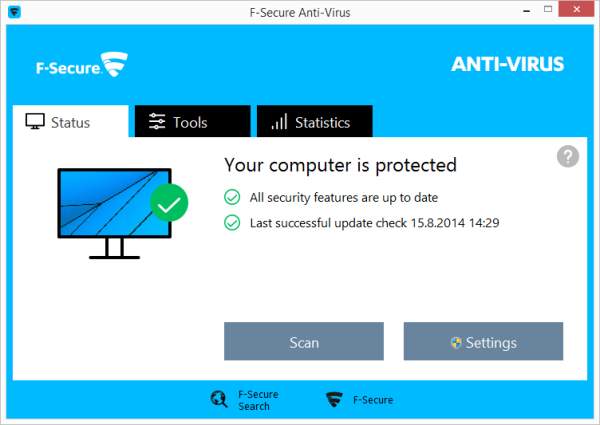 Equipped with a top class, cutting-edge technology, Avira Antivirus Pro ensures that your computer system is protected comprehensively from each and every online threat. It provides protection against Trojans, Malware, Spies, and Identity Theft. It is one of the leading Anti-Virus and employs one of the most powerful security technology to protect your computer system each and every second. Its detection technology leaves nowhere for malware to hide. Plus: it provides free support from its team of security experts.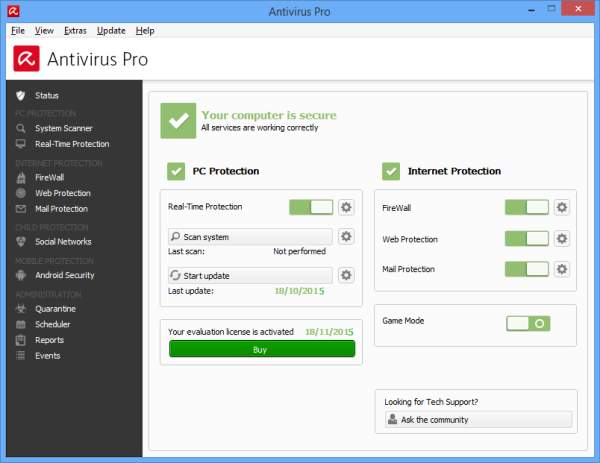 Panda Anti-Virus Pro is one of the best Anti-virus available on the Market. Panda Antivirus ensures that you stay protected while browsing online from known and unknown threats. Its features will surely impress you for Anti-Virus Software. It delivers top class antivirus protection with real-time security for your devices. It works on various operating systems such as Windows, Mac, Android, etc.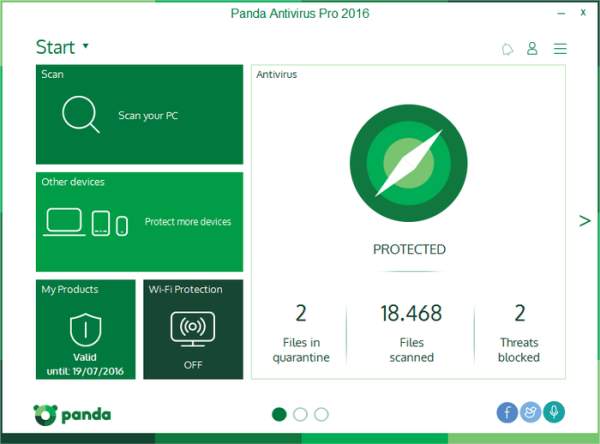 Trend Micro Internet Security delivers enhanced and comprehensive protection from Trojans, Viruses, Malware and other online Threats. It ensures that you stay protected while working online round the clock so that you have complete peace of mind. It also blocks dangerous websites and guards against identity theft and ensures that your kids are protected while browsing online. It has earned industry leadership in security software and used latest detection technology to identify and remove millions of threats online.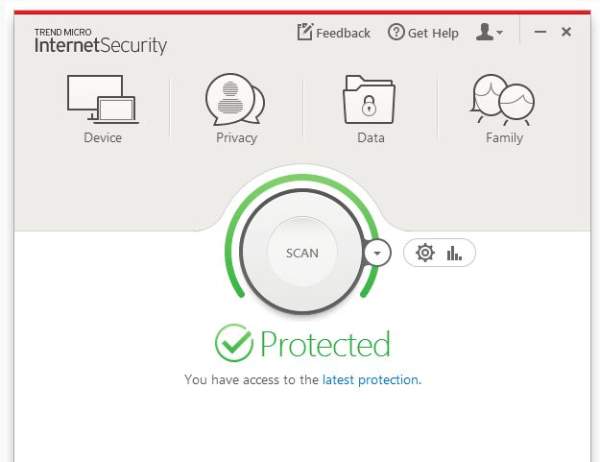 Bull Guard Anti-Virus is a comprehensive security software. It provides efficient virus catch rates with its multiple protection layers. It delivers safe browsing by detecting viruses and phishing attacks. Choosing Bull Guard Anti-Virus as your preferred Anti-Virus can be your best decision simply because it is one of the best Anti-Virus Software. It employs powerful and innovative technology to detect and remove new threats and viruses old and new.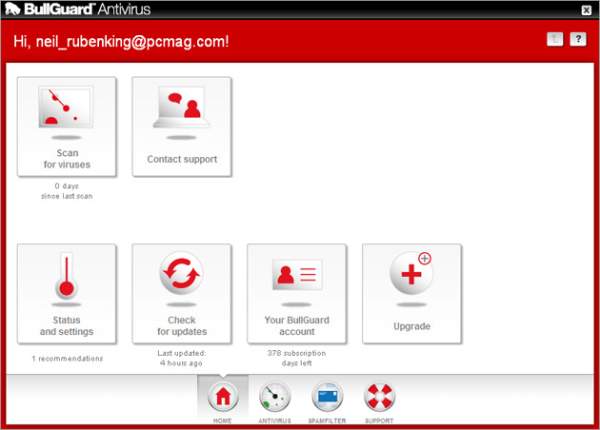 eScan Internet Security Suite is a reliable Anti-Virus Solution. Its powerful technology ensures that you get safe web browsing experience. It protects your computer system from all kinds of evolving cyber threats such as viruses, Trojans, Adware, Spyware, and phishing attacks.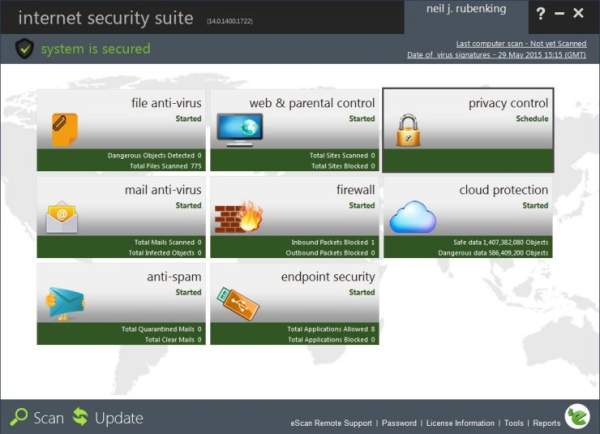 AVG Internet Security is a feature-packed Anti-Virus Solution. It delivers enhanced antivirus protection and shells out enhanced performance with no slowdowns for your computer system. It blocks viruses, malware, and other spyware. It protects you from harmful downloads and is equipped with enhanced Firewall for safe banking experience. It also delivers automatic security updates every 2 hours.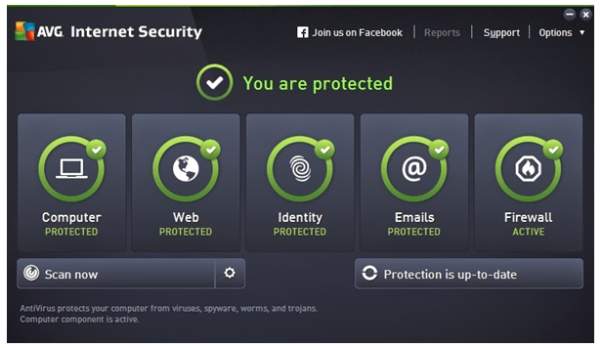 Heimdal Pro is one of the best anti-malware software that you can procure for protecting your PC from online threats. It uses Internet traffic scanning for safeguarding your PC against Ransomware, financial Trojans, data-stealing malware, and many other threats that antivirus can't detect.
Nowadays, most of the cyber attacks are unlisted in antivirus databases. So, they can sneak past your antivirus and infect your PC. Heimdal Pro specializes in detecting and preventing 2nd generation malware infections, including Ransomware, exploit kits, data-stealing malware, and financial Trojans.
Heimdal Pro proactively scans all incoming and outgoing Internet traffic to identify all malicious connections. Heimdal blocks the malicious connections and prevents malware from being downloaded and installed on your computer.  Heimdal Pro keeps all your financial data and confidential information safe. It makes the web a safe place for you. Plus, it is easy to install and easy to use.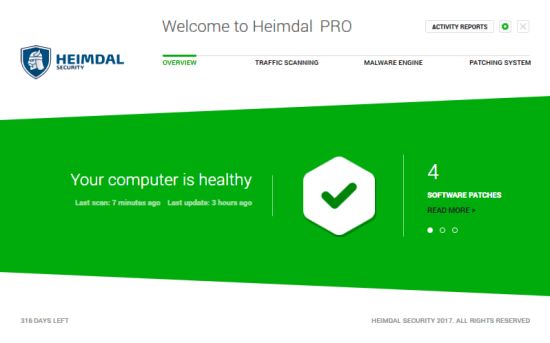 We hope that this list of Best Antivirus Software for Windows proves immensely useful to you. So, now you can go ahead and protect your PC from all kinds of online threats and malicious attacks. Don't forget to like and share the post with your friends and colleagues. We welcome your comments and suggestions.