Our online presence has increased the threat of malicious and dangerous software like viruses, spywares and malwares by manifold. These dangerous software are capable of destroying files stored in your computer and can even corrupt the Windows operating system. What's more they can also access confidential and sensitive data like credit card details, online banking password and prove a constant threat to the security and safety to your day to day activities.
Installing Antivirus software you can effectively get rid of all the online security threats and thus can protect your Windows computer. Without the use of Antivirus software you are exposing your system to the attack of viruses, spyware, malware, hackers and all other kinds of dangerous intruders. Here we introduce you to Free Antivirus Software for Windows 8 that can adequately protect your Windows computer from all kinds of online security threats.
The big question here is the adequacy, effectiveness and efficiency of Antivirus Software. As all the Antivirus Software shown here are free to install and use, you can very well check their usefulness and capabilities in protecting your Windows based system from the attack of viruses, etc. You can then easily decide which Antivirus Software has better protection strength meaning which of these Antivirus Software detects, disables and removes viruses, spyware and malwares most effectively and efficiently too.
The present article on Free Antivirus Software for Windows 8 highlights the significant features of each of the Antivirus Software showcased here. You would get plenty of options hereunder and we sincerely hope that you would definitely find the one which fully addresses your security and system protection concerns.
5 Free Antivirus Software for Windows 8
Microsoft Windows Defender Antivirus Software comes included with the Windows 8. It uses the same antimalware engine as Microsoft Security Essentials and has almost similar interface too. Windows Defender is easy to use and is very efficient in the repair and removal of malwares too. What's important is that it would come bundled with Windows 8 so the users would have protection as soon as they start using Windows too on their computer systems.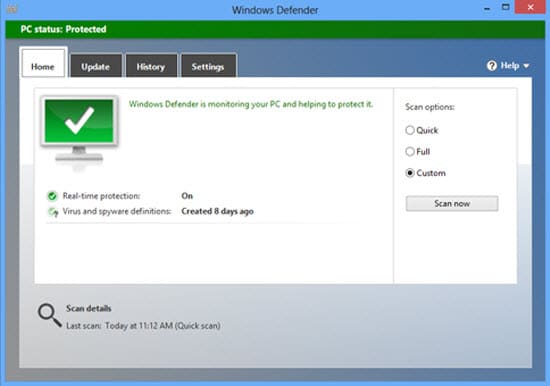 AVG Antivirus Free Software is equipped well to provide you with high quality basic protection for your computers during browsing or social networking. It gives a high detection and removal rate for malwares. It is also highly efficient in blocking brand-new threats as well. AVG Antivirus comes with an easy to use interface and provides real time protection against all types of online threats as well.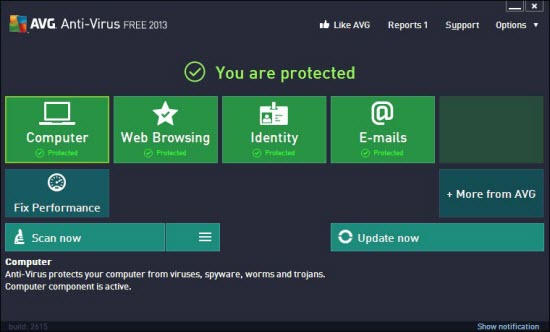 Avira's free Antivirus solution is very effective in the detection and elimination of viruses and spywares. It scans every file for viruses and other threats that you run or access. It is also capable of checking harmful sites so that you may not access them if they are affected by viruses or malwares. It has one of the highest detection rate for malwares and provides a faster scanning for all kinds of online security threats. It is easy to use too.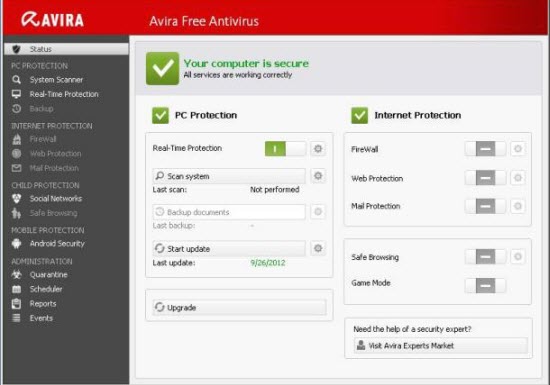 Avast free antivirus is one of the most popular antivirus software amongst the Windows users throughout the world. It comes with a strong detection rate for known malwares and provides a decent removal rate for malwares too. It also blocks all kind of viruses and spywares and allows for remote assistance. It is surely amongst the best antivirus software in business to give you full online protection against threats like viruses, spywares and malwares.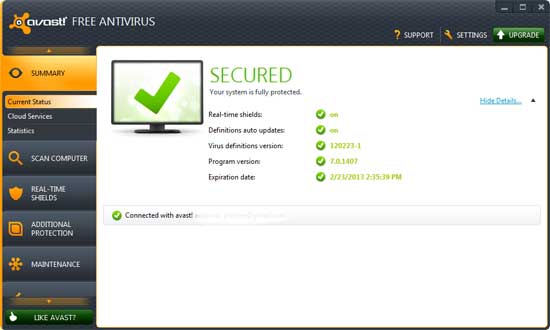 The highlight of Panda Cloud Antivirus Software is its ease of use and is thoroughly lightweight. And it's free too. It comes empowered with Device Control Technology and is the only anti software to give you cloud based endpoint protection. So if you have multiple PCs or need to look after a corporate or a SMB network then Panda Cloud Security Essentials would be a smart choice for your system security. Its free edition provides real-time protection against all types of virus and malware attack. It is one of the best antivirus software for malware detection and removal and is also ranked amongst the best for fully blocking brand new threats.