Desktop Email Clients are increasingly being preferred by users over native web-based email platforms. The reason is pretty obvious. These Desktop Email Clients support multiple email services and enable you to manage all your accounts from a single location.
So, if you prefer Desktop Email Clients, then here is a list of 10 Best Desktop eMail Clients for Windows which enable you to access all your inboxes from a central hub.
All of these email clients have a beautiful interface and are fully secure. Your login credentials are kept in an encrypted form in a secure environment.
They are flexible and feature packed. These desktop email clients can be used for personal or business email communication. Some of these email clients are free.
Email clients are have basically enhanced the form of email accounts offering accessibility of dealing with different email accounts within one interface. There are many email clients which are currently available over the web like windows live mail, Thunderbird from Mozilla, Opera and others which provide you the feature of accessing all your all emails accounts in one interface.
With email client software you not just send and receive email, you can also manage your contacts and calendar, read newsgroups and RSS newsfeeds, and even integrate with various web-based mail systems like Gmail, Yahoo, Hotmail, etc.
You can view and manage all your email accounts using the single interface. Now you don't need to sign in for different accounts to see your emails. Moreover, you can work offline too.
All the emails will be downloaded into your email client account, and you can view them afterward as it stores your emails on your hard disks.
The emails are completely organized and also provide the functionality of syncing it over the web. You can sync your all contacts, calendar events and documents in the cloud and can access them from anywhere.
We have listed below 10 Best Desktop Email Clients For Windows. Some of these Email Clients support multiple platforms while others work only on Windows.
So, let's explore these Email Clients in detail.
10 Best Desktop Email Clients
Mailbird is a powerful and user-friendly Email Client which works exclusively on the Windows platform. It comes with various unique and intuitive features such as WhatsApp Integration. It provides several pre-built themes and flexible layout customizations to suit your preferences.
Its touch-based interface enables users to process emails on mobile devices. Mailbird supports over a dozen languages and goes on to integrating task management and popular messaging apps. It also comes with calendar integration to enable you to manage your daily schedule easily. It allows management of multiple accounts through its unified inbox.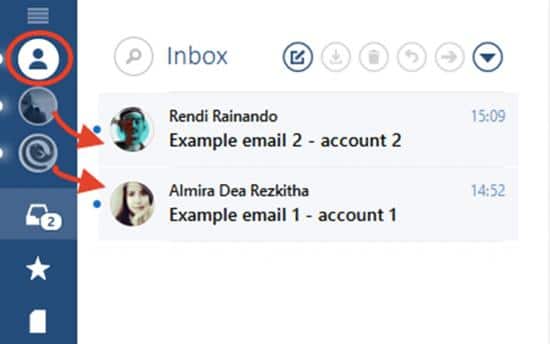 MS Outlook comes as a part of Microsoft Office. It is one of the most feature rich Email Client. It features a calendar and can store contacts. It can also make notes. It has a user-friendly interface with lots of options and settings.
It is a powerful tool and demands your attention for mastering its usage.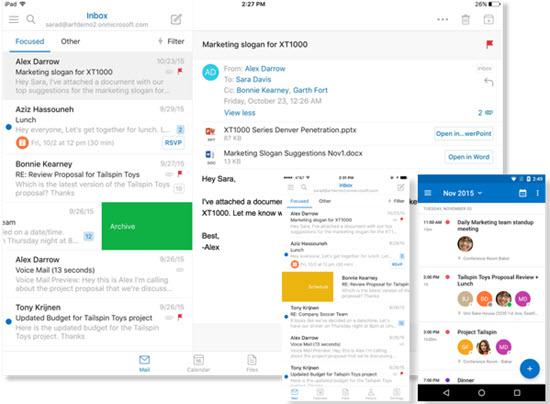 Mozilla Thunderbird is a free open-source, cross-platform email client application with easy setup and customization features. It is used for managing email and news feeds directly on your desktop. Thunderbird gives you control and ownership over your email, and there are lots of add-ons available. Thunderbird software is available for Windows, Linux, and Mac.
It provides many features like Migration Assistant, One-click Address Book, Attachment Reminder, activity Manager to record all the connections between Thunderbird and your email service provider in one place. It also has options like Quick Filtering, Message Archive, and others. Moreover, you can easily customize your application by creating folders and changing the layout.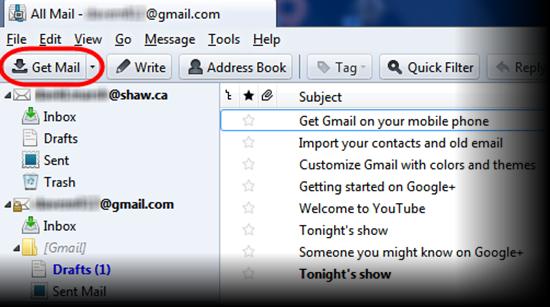 Em Client is a freeware and one of the fastest email clients which provide full support for the servers and services with a capability of importing data from various email clients like MS Outlook, Outlook Express or Thunderbird. Em Client features full secure communication (SSL/TLS) with super fast search and categorization.
It also has fully featured calendar interface and with sharing feature. You can customize contacts and share it with Google contacts and supports chat MSN, Facebook and Yahoo chat and also Skype integration. Em Client is a full-featured email client with much functionality and features. There is also a PRO version for business purposes and with added features.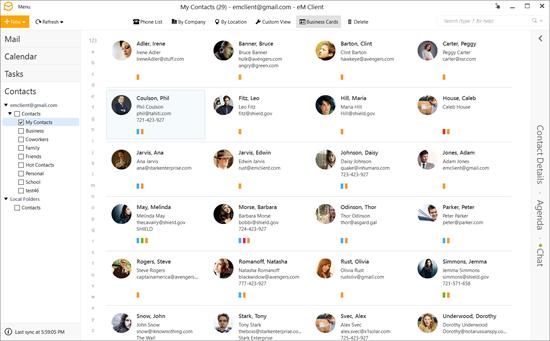 It is free and flexible email client and is an ideal application for everyday email communication. Claws Mail provides a threaded display for long email conversations. It supports color labels for differentiating between various types of emails.
It enables you to add extra features to its powerful plugin support systems such as reading RSS feeds, event calendars, and more. It has a clean and minimalistic layout. It has all the features that you need in an email client.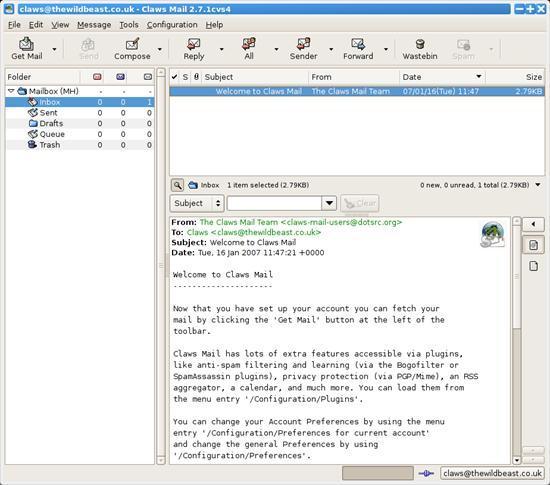 It is a promising email client for Windows, Mac, Android, and iOS platforms. It comes with cloud syncing feature which enables you to access your account on various types of devices. It enables you to add multiple email accounts all in one place. It comes with the smart sorting feature with which you can process important emails in an easy manner.
It has strong encryption feature which enables you to secure your email data from hackers. Inky has a unified interface with which you get same controls and user experience on different devices that you use.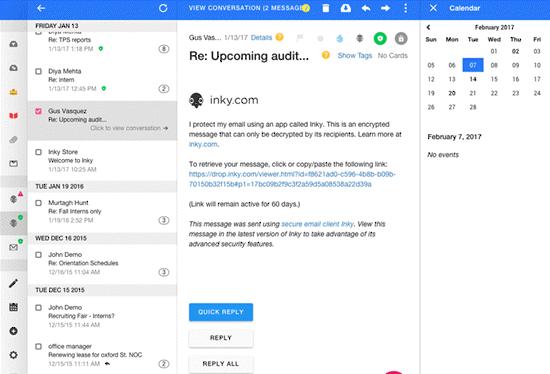 Postbox is one of the popular email clients for Windows and Mac OS Platforms. It eases out the sharing process with its support for cloud storage attachments. The interface works seamlessly and is soothing for the eyes. It enables you to add custom email signature. It comes with time tracking feature which helps you to determine writing time.
It provides rich contact cards to display vital details. It is flexible and easy to use application which has almost all the features of best email clients.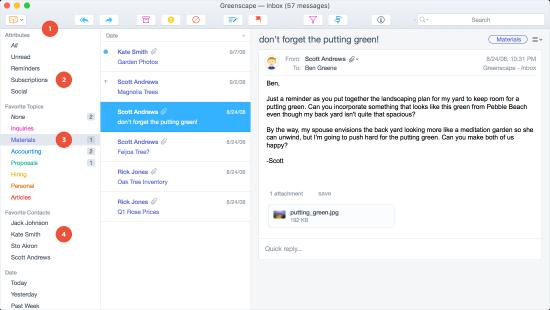 Opera Mail comes from the makers of the Opera Browser. It is a free, flexible, lightweight, open source email client. Opera Mail supports an array of customization options.
It comes with features such as labeling, message filtering, and sorting. It also imports RSS feeds. Its user-friendly interface enables you to open multiple messages at the same time easily.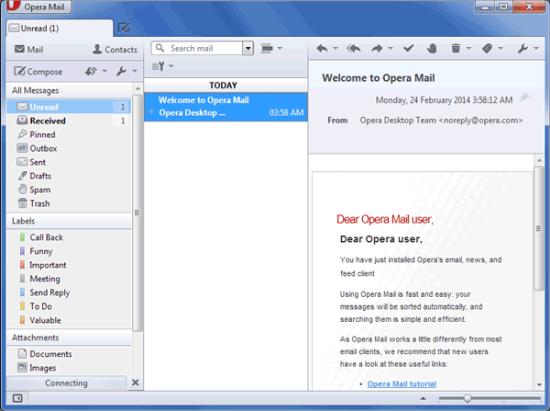 Zimbra Desktop client is another FREE mail client that allows you are storing and syncing your emails, calendar, contacts, files and documents in the cloud by aggregating information across accounts (Zimbra, Yahoo! Mail, Rediffmail, Gmail, Hotmail, etc.).
You can also gather all your tweets, Facebook posts, Digg articles and others using Zimbra. It also provides offline accessibility and works on Windows, Mac, or Linux desktop computers with unlimited email storage.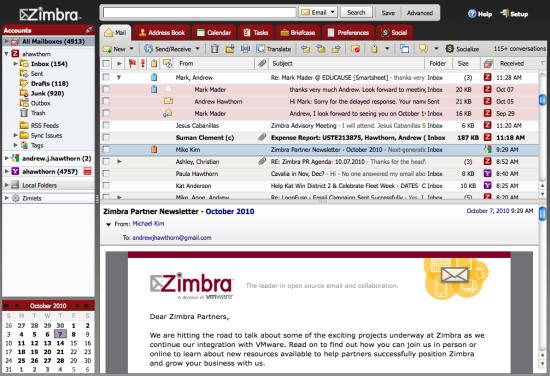 10. Windows Live Mail
Windows Live Mail a product of Microsoft is an email client which comes embedded with windows live essentials or can be downloaded separately.
Microsoft stopped supporting this product from 2012, but it is still a great product.
It allows you to manage all your email accounts under one interface along with offline accessibility of your email, calendars, and contact. You can Share your memories with all your friends by sending a photo email to Windows Live SkyDrive which shows high-resolution photos. You can also add events to your calendar from your inbox using the calendar pane.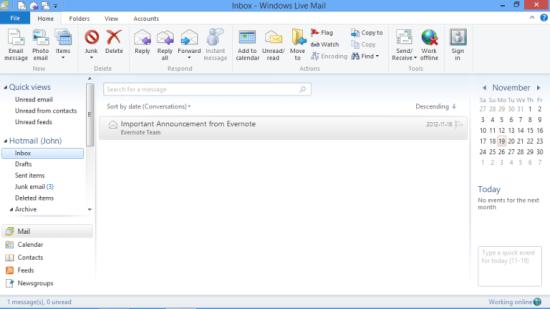 We hope that the presentation on 10 Best Desktop Email Clients for Windows proves immensely useful to you and helps you to select the best email client according to your requirements. Do share your comments with us.