Android Apps have completely redefined our lifestyle. They have made our lives entertaining, easy, fun, and more enjoyable. Now, you can do stuff right on your mobile that was hardly imaginable a decade ago.
Android Apps have proved a wonderful resource for each and every person out there. Apps have made Android devices creative gadgets that enable us to do lots of tasks easily and quickly. Today, we are sharing with you Best Spy Apps for Android that helps you to track down someone's mobile activities.
However, before we proceed to show you the list of best spy apps let us remind you that spying on someone is a bad thing. In some countries, it is even banned and termed as illegal. Moreover, you cannot justify spying on your significant other.
After all, relationships are based on honesty, mutual respect, and trust. For a fruitful and long-lasting relationship, you have to learn to honor and trust your partner or friend. A slight error or wrong action on your part can ruin your relationship forever.
Having said this, life is not a roller coaster ride. Life is full of challenges. There are times when you go through a tough phase in your life. You may have hard times with your life partner and distrust their activities. Then it becomes inevitable to keep an eye on your partner activities and go on to snoop and find out what they have been up to.
Sometimes, you are even worried about your kids' activities and want to find out whether they are being honest about using their Android phone. Freedom is necessary for any relationship but not at the cost of trust and mutual respect.
In all of these circumstances, a spy app for android is your best savior. You can use a spy app to keep track of all their activities on Android phones. They are the best way to catch a cheater.
So, let's explore the best spy apps for android.
In fact, there are hundreds of different Android spy programs available over the Internet. However, we have put together the list of best spy apps on the Internet. They are the best app to catch a cheater. We have listed both free as well as paid spy apps for android.
Now, let's move straight to the list of best spy apps for android.
Take a look at each of these spy programs and decide which is right for you.
5 Best Android Spy Apps
Couple Tracker -Mobile monitor is one of the best spy apps for android. It is available on Google Play Store and comes as an equal opportunity spying program. The spy app requires that both partners should agree to allow access and monitoring of their digital activity.
It enables you to check each other's calls, texts, GPS Location, and Facebook Activity from afar. Couples can monitor, share and exchange text messages, phone call history, Facebook likes and comments, history of GPS Locations with their partners in real time.
It helps to catch a cheating partner and goes on to reduce the risk of infidelity and affair. The only limitation to Couple Tracker -Mobile monitor spy app is that it allows access to the first 30 characters of each other's texts and GPS Locations can be tracked within a 30-minute interval.
Price: Free & Paid Version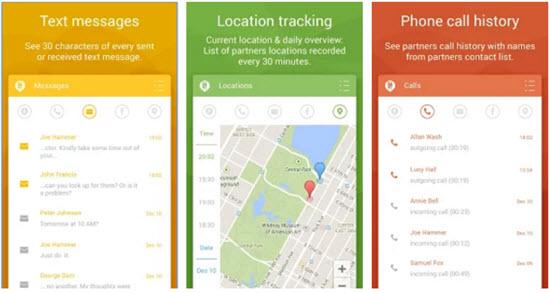 iKeyMonitor Android Spy App is one of the most powerful and popular spy apps for android devices. It functions as a keylogger for Android phones and logs keystrokes, passwords, SMS, WhatsApp Messages, calls, GPS Locations, websites, captures screenshots and sends all the logs to the designated email box.
The iKeyMonitor Android Spy App is helpful for parents, couples, and employers as it enables them to monitor the activities done on Android Cell Phones. It logs all incoming and outgoing SMS and WhatsApp messages. It tracks call history details with contacts, date, time and duration. It tracks GPS Locations, and the websites visited in Chrome and Stock web browsers. This app is compatible with phones running Android OS 2.3 and above.
Price: Free & Paid Version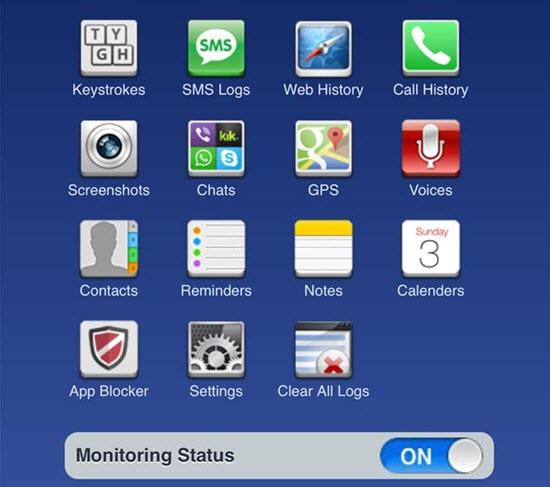 mSpy is a powerful spy app for Android. It is one of the easiest spy software for Android phones, extremely simple to use. Its customer support services are responsive and helpful. What's really outstanding is the fact that mSpy allows the monitoring of an iPhone or iPad without having to jailbreak the device.
mSpy has all the basic features of a spy phone app including the ability to spy on text messages, tracking GPS Location, and monitoring instant messages. It's even compatible with iOS, Windows, and Mac OS.
Using the mSpy spy app for Android, you can easily retrieve the call log history so as to find out whom the mobile phone user has been talking to. It allows you to block the unwanted calls. You get all the calling data details such as recipient's names, their phone numbers, time and date of the call, its duration and other useful information.
mSpy allows you to gain free access to the Facebook Messenger, SnapChat, WhatsApp, and Viber without any problems. Its Web Browsing feature allows you to spy on web browsing history and check bookmarks to find out which websites are more frequently visited by the person. Its app blocking option allows you to block undesirable sites from being accessed on the Android Smartphone.
mSpy provides an extremely effective and easy to use GPS Tracker with which you can spy on current locations and track previous routes traveled by the person. The spy app allows you to check incoming / outgoing text messages. It can even recover deleted text messages and save a copy.
mSpy has the ability to scan multimedia content. It even retrieves deleted photos and checks them to evaluate how appropriate those images are. mSpy is also empowered with Keylogging and Geo-Fencing features.
Price: Paid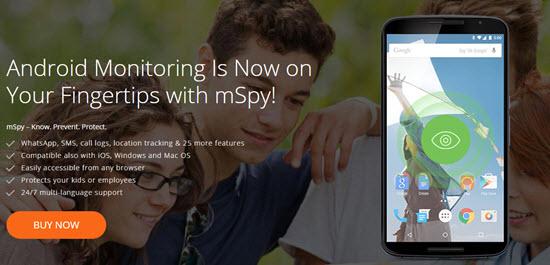 Find My Friends is another very powerful and easy to use spy app for Android devices. Find My Friends works as a premier friend locator app and helps you to find your friends, locate your friends on a Map, share news, get directions and much more. Its powerful GPS Tracker makes it easy for you to locate friends in real time.
With Find My Friends, you can pinpoint the exact location of your friend and get navigational help so that you can guide your friends to their determined destination. It's the ideal friend locator app that helps you to communicate, locate, and stay connected with your friends and the people who matter most to you.
Find My Friends functions as a friend's tracker and provides real-time location of your friends. Your friends appear as their own personal icon on the app's map, so you come to know exactly where they are located in real time. It's an efficient group communicator and makes location sharing easy. Find my Friends works with Androids, Blackberry, iPhone, and even feature phones.
Price: Free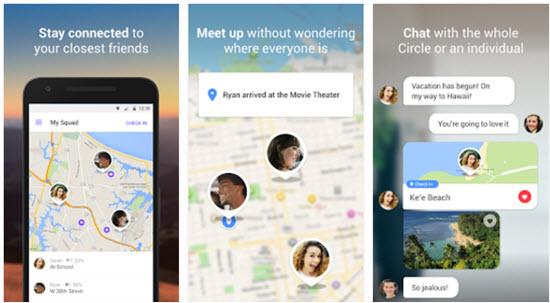 The GPS Phone Tracker is a powerful free spy app for Android. It's best for tracking your friend's locations in real time. Use the GPS Phone Tracker map for discovering your friends' whereabouts at any time. It's an easy to use spy app that leverages the latest technology so as to help you stay connected in real time with people that matter most to you.
The GPS Phone Tracker App needs to be installed on your phone and your friends' phones to get the real time whereabouts of your friends. Each of your registered friends appears as a unique icon on the GPS Tracking navigational maps so that you can instantly know where exactly your friend is at the moment. It can also be used for friends with feature phones. The GPS Phone Tracker can also be used to determine the missing phone's location.
Price: Free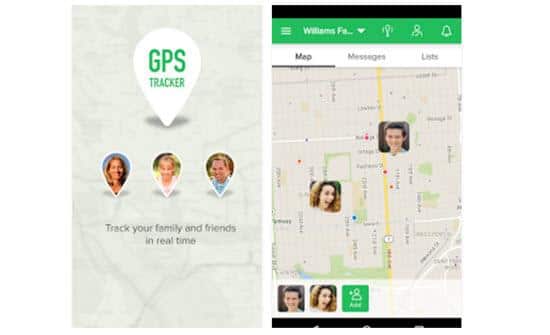 We hope that this list of Best Spy Apps for Android proves helpful to you. Do share your comments with us.