Iobit Uninstaller Pro is premium software that lets you clean and completely uninstall applications. It is one of the best Utility Software for quickly deleting apps and files from your Windows computer system.
So, if you are looking for a powerful program for quickly deleting and uninstalling applications from your Windows computer, then Iobit Uninstaller Pro can come out as a smart choice for you.
Moreover, if you are one who looks for discounts, offers, and deals on software products, then we have a fabulous Iobit Uninstaller Pro Deal for you.
Now, Use the Iobit Uninstaller Pro Coupon Code (provided below) and gets to have an awesome discount on this uninstaller software.
It's a BIG discount offer, and you get to save a good amount on Iobit Uninstaller Pro.
So, be among the first ones to avail this fantastic discount offer on Iobit Uninstaller Pro. It's a limited period offer, so you need not delay any longer.
Why should you go for Iobit Uninstaller Pro?
Although Windows' built-in Uninstaller Program allows you to remove applications and files, it has two serious issues.
Firstly, with Windows built-in Uninstaller Program, you get to remove only one application at a time, which makes it utterly tedious for you to uninstall and delete lots of software at the same time.
Secondly, the uninstall process is not comprehensive in the sense that it often leaves junk files that affect and slow down your system performance.
Iobit Uninstaller Pro gets rid of both of these issues which plague Windows' built-in Uninstaller Program.
Iobit Uninstaller Pro queues up multiple applications and even removes those stray and junk files from your computer system.
Plus, Iobit Uninstaller Pro is clean and simple to use.
It has a clean and user-friendly interface which helps you to navigate the entire application in a breeze easily.
Iobit Uninstaller Pro is composed of three main sections – Programs, Toolbars & Plugins, and Action Center.
It's visually appealing which is a welcome bonus.
Uninstalling Applications
Uninstalling applications requires you to simply highlight the software listing in the All Programs Section by clicking the large, lime-green uninstall icon.
Moreover, Iobit Uninstaller Pro allows you to delete multiple application in one go which you cannot do in Windows' Programs and Features.
You can check multiple application boxes and can queue a string of program deletions.
However, Iobit Uninstaller Pro requires you to confirm the uninstall for each app before initiating the removal process.
It's a small inconvenience, but when you realize that applications are being removed in a shorter time than Windows' built-in Uninstaller, you certainly feel overwhelmed by the ability of Iobit Uninstaller Pro to remove applications in a breeze.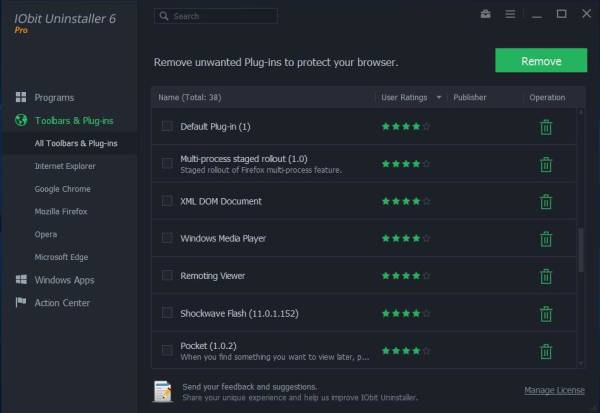 Further up, Iobit Uninstaller Pro has been provided with Force Uninstall feature which can be used to delete applications which refuse to be removed in a traditional manner.
Iobit Uninstaller Pro's full 64-bit Windows compatibility ensures that 64-bit apps are completely removed with no junk files left behind.
Toolbars, Plug-Ins, and Community
If one thing that differentiates Iobit Uninstaller Pro from other Uninstaller Programs, it is its ability to remove browser toolbars and plugins.
When most other Uninstaller Programs even fail to recognize the plugins and toolbars on your system, Iobit Uninstaller Pro not only detects them but can remove them according to your need.
Moreover, it's Toolbar and Plugin Section leverages community ratings helping users with information about items which should remain installed on their computer system. For example, Windows Media Player gets a four-star user rating.
However, before uninstalling any toolbar and plugins, you should gather all the information about what these toolbars and plugins do (before starting the removal process).
So, before heading to uninstall toolbars and plugins, you should consult your favorite search engine.
More about Iobit Uninstaller Pro
Iobit Uninstaller Pro has been loaded with features that you expect in an excellent uninstaller software:
Iobit Uninstaller Pro works with Windows 10, Windows 2000, Windows Vista, Windows 7, Windows XP, Windows 7, and Windows 8.
It shows you a list of programs that are infrequently used, and also list out programs that take a lot of disk space.
Iobit Uninstaller Pro detects and removes files that may have been left behind after the uninstall. It also tells how much free space has been recovered as a result of running the removal process.
It lists out the Windows apps as well as 3rd party apps that were installed by default.
Iobit Uninstaller Pro keeps a history of everything that has been removed. So, you come to know what files and registry items were deleted.
Iobit Uninstaller Pro can uninstall stubborn programs by using its large resource of the real-time database.
It can uninstall malicious plugins for having a more secure browser.
Iobit Uninstaller Pro provides a clean and fast online experience with adware removal.
You get an automatic update to the latest version.
24/7 free technical support on demand.
So, you see that Iobit Uninstaller Pro is easily one of the best Windows Uninstaller Program that you have for your computer system.
It's well-designed interface, 64-bit app compatibility, browser toolbar and plugin removal make it a clear winner in Windows Uninstaller Utilities.
The best thing for you is the fact that you can use the Iobit Uninstaller Pro Coupon Code to avail BIG discounts on this amazing and one of the most sort-after software product.
Iobit Uninstaller Pro Coupon Code and Deals
Use this amazing Iobit Uninstaller Pro Deal and save a lot of money.
The Iobit Uninstaller Pro Coupon Code has been listed below.
So, grab the Iobit Uninstaller Pro Deal before it's too late.
If you found the article useful, don't forget to share it with your friends and colleagues.
Save $3 on Iobit Uninstaller Pro (No coupon code needed)