Surfing the web without a security software product installed on your computer is like moving in a forest barehanded.
You are inviting security threats when you do that.
So, you need a good security solution to guard your system against all kind of cyber attacks.
Heimdal PRO is one such security solution that provides total protection against malware attacks and keeps your data safe from all types of cyber attacks.
Today, we have come up with Heimdal PRO Review.
We have also featured Discount Coupon Code so that you can have this world-class security solution at a heavily discounted price.
It's your best chance to avail Heimdal PRO at a never before price.
So, let's move on to the Heimdal PRO Review.
The security market offers numerous products to protect you against all types of cyber threats.
You get solutions for antivirus protection as well as a good firewall.
However, few security products cater to the vulnerabilities found in the third party software that is installed on your Windows computer.
Moreover, there are even fewer security products that track and stop zero-hour exploits and financial or banking data leakage.
It is here that Heimdal PRO comes into the picture and goes on to offer this kind of protection.
Heimdal PRO Overview
Heimdal PRO is a security software solution designed and developed by Heimdal Security which is a leading company focused on protecting home users as well as companies from cyber attacks by keeping all the valuable and sensitive information safe.
Heimdal PRO is a proactive security product that protects users when they are online.
Heimdal PRO is not designed to replace your antivirus. Rather Heimdal PRO complements them by adding extra security layers.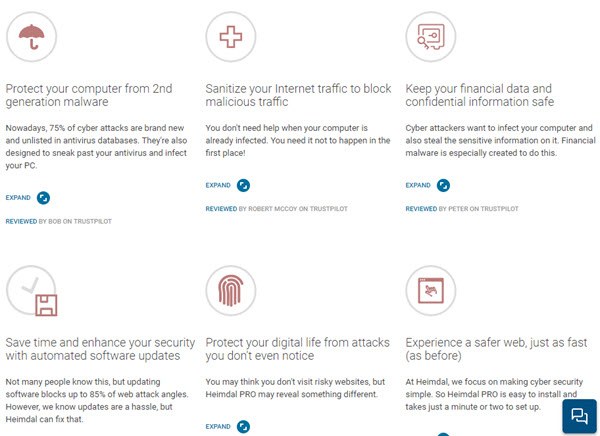 What does Heimdal PRO do for you?
Heimdal PRO provides three layers of protection against advanced malware, such as adware, spyware, Ransomware, financial Trojans, and many more threats that antivirus solutions find it hard to detect mostly because of their file-based detection approach.
Heimdal PRO is very good at stopping your personal information from being leaked and stolen online.
It is also very good for patching and keeping vulnerable software up-to-date.
Heimdal PRO provides an additional layer of protection between the internet and your antivirus solution.
Heimdal PRO is best at enhancing your security as it goes on to automatically patch many of the vulnerable third-party apps.
It comes with a web scanning engine that protects you against malicious websites before you access those websites.
In case your PC gets infected, Heimdal PRO blocks internet traffic and prevents hackers from stealing your information.
Plus, its user interface looks good and is easy to use.
It should be remembered that Heimdal PRO is not a security product that was meant for replacing your traditional antivirus and firewall solutions.
Moreover, Heimdal PRO has been designed to complement these security products. It covers the security gap that is left open by antivirus, firewalls, and other antimalware products.
Heimdal PRO takes care of your outdated software which otherwise can be vulnerable.
It blocks the access to malicious websites and cuts-off communication between financial and banking-related malware as well as hacker-controlled servers.
These are all very critical aspects when it comes to online security, and Heimdal PRO does an excellent job at these ones by filling the security gap when you are online.
The User Interface
The user interface you get with Heimdal Pro is clean and looks good. It supports a flat design that we get to see everywhere from Windows 10 to Android.
Its user interface comes with four major sections:
Overview
Traffic Scanning
Malware Engine
Patching System
The Overview provides information about the state of your Windows computer. It shows you whether "Your computer is healthy" or not. It also provides information about how many third-party apps have been patched with updates.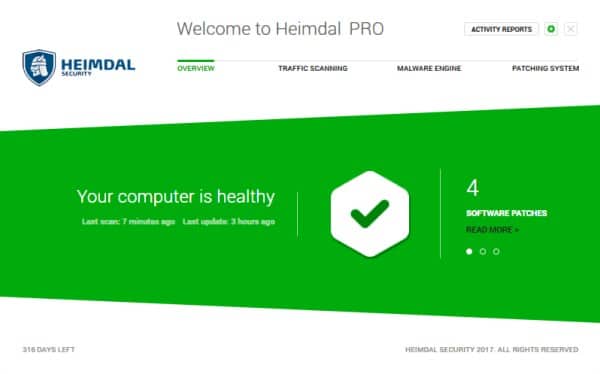 You come to know about the number of malware files that has been cleaned by Heimdal PRO with its VectorN Detection engine. You also come to know about the number of malicious websites blocked by it. Plus, it shows you when the last scan and the last updates were performed.
If you want to do a manual scan for everything we described, simply click on the big hexagonal Scan button.
The color of the Overview console changes according to your system's health state. For example, the Overview turns yellow if there are third-party apps that need to be patched with updates.
The second section in Heimdal PRO's user interface is Traffic Scanning. It allows you to enable or disable the Traffic scanning and Traffic filtering features. You can also configure your proxy, in case you use one.
The Traffic Scanning feature goes on to scan the internet traffic that goes on your computer for detecting and blocking malicious websites that could deliver Zero Hour exploits.
The DarkLayer GUARD allows Heimdal PRO to find out whether the websites you try to navigate are on its list of known malicious websites that are stored in the database of Heimdal PRO.
So, this module protects you against Ransomware attacks and data leakage.
The Malware engine section has two features: one is Malware Scanning, and the other one is VectorN Detection.
The Malware Scanning feature is used for detecting and blocking malware on your computer. It has been designed to act against Trojans, spyware programs, harmful scripts.
The VectorN Detection feature goes on to analyze the user's internet traffic patterns to identify known and unknown malware attacks.
The last module in Heimdal PRO's user interface is the Patching system. This module keeps your third-party apps up to date, patching with the latest updates available. It displays all the third-party apps that are monitored and supported by Heimdal PRO.
The Heimdal PRO protection for you
Heimdal PRO goes on to add a series of extra layers of security on top of your antivirus solution to protect you against cyber threats.
The first protection layer is the Traffic scanning engine with its DarkLayer GUARD module. It analyzes all the traffic going on to your computer and finds out whether the websites that you are trying to load do hold any malicious content.
If something dangerous is detected, it is immediately stopped before they reach your PC. So, Heimdal PRO blocks all the malicious websites that you try to access.
Heimdal PRO includes a Malware engine that protects you by detecting and blocking the communications between your infected computer and the hackers or servers that steal your information. It blocks all the attempts to connect to the remote malicious servers.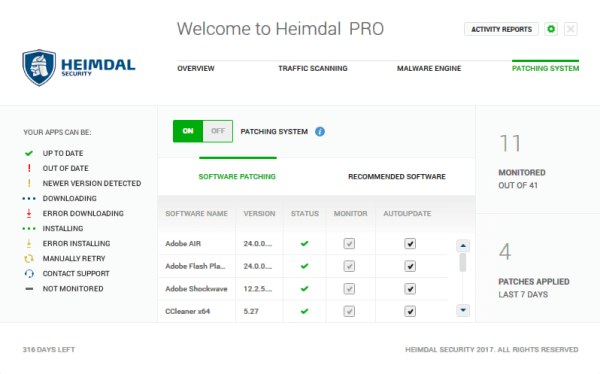 Plus, Heimdal PRO can monitor and patch more than 70 different third-party apps. The list includes programs that are known to be vulnerable and are usually targeted by malware and hackers.
So, now you know what Heimdal PRO is and does.
Well, Heimdal PRO turns out to be the best security software product that you can use for protecting your computer or PC when online. There's also a freeware version of Heimdal in the form of Heimdal FREE.
Heimdal PRO Discount
Are you thinking of purchasing a Heimdal PRO license?
Well, here's a big deal waiting to be encashed.
We are providing you with an opportunity to buy Heimdal PRO at a never before discounted price.
Here's an opportunity to get a big discount on Heimdal PRO.
Below, we have listed Heimdal PRO Discount Coupon Code.
You can use it to grab a heavy discount on Heimdal Pro.
However, this offer is valid only for a limited period.
It's your best chance to get the world-class protection of Heimdal PRO and that too by paying a small price when you avail this discount offer.
The discount offer on Heimdal PRO can make you save a lot of your money.
Heimdal PRO Winter Sale – 60% off (ends on January 31, 2018)
20% OFF on Heimdal PRO (1 Year, 1 PC) Coupon: aff20promo12