Both on the personal and professional level, each one of us would invariably require maintaining a schedule of events for the day to day activities of your life.
Google Calendar Web and mobile App provides you with one of the easiest and effective ways to manage your schedule of daily events.
Google Calendar comes as a free web and mobile calendar that helps you in tracking your own events as well as allow you to share your calendars with others.
It's the best tool that you can get for managing your personal and professional schedules.
So, the Google Calendar Web App is a free Calendar available over the internet that can be used for keeping track of your events.
It is an easy to use the tool and is efficient and a very powerful one too.
You just need to have a Google account to have access to Google Calendar.
You simply need to go to calendar.google.com or download the Google Calendar app on your Android / iPhone device to use it.
In fact, Google Calendar is one of the best Android calendar apps. It is also one of the best iPhone calendar apps.
In this post, we bring out some of the key features which make Google Calendar "a simple yet very powerful tool."
Google Calendar for Anyone and Everyone
Google Calendar Web App is an ideal scheduling application and can be used by almost anybody or everybody.
You can manage your personal schedules and other commitments.
Many users or a whole group can maintain the same calendars. It can be useful for professionals too.
They can manage their day to day tasks and can also schedule appointments or maintain a to-do list.
Its convenient usage makes it a perfect calendar solution for everyone.
Getting to Know Google Calendar – The Web Interface
The Google Calendar's interface is simply the best that you can expect from Google.
It is simple and has Google's characteristic pastel blues and yellow.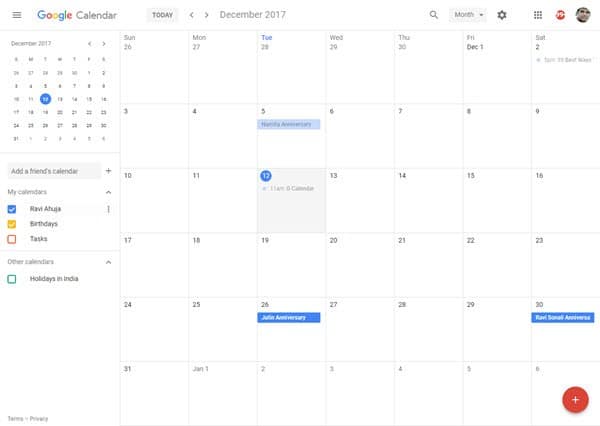 Plus, it is empowered with lots of powerful features.
You can access different sections of your calendar by just clicking on a date.
On the upper right corner, you get tabs that can be used to switch between day, week, month, and agenda views. The main area depicts the current view.
On the top of the screen, there are links to other Google services that you have registered.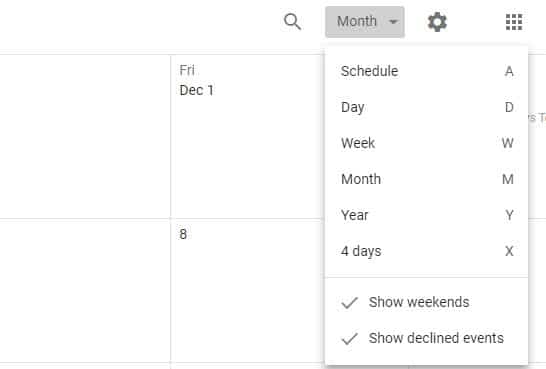 So, you get to schedule an event or check the related spreadsheet on Google Drive. You can even shoot a quick email from Gmail.
From the left side of the screen, you can manage shared calendars and contacts. Plus, the top of the screen has a Google search of your calendars.
So, it allows you to find events by doing keyword search quickly.
Salient Features of Google Calendar – An Overview
As already mentioned, Google Calendar Web App is a tool that you can use for scheduling the day to day events.
You can create multiple calendars that can be viewed on one grid or separately as well.
You can access Google Calendars with your existing Google Account.
Google Calendar has a white background which makes it easy to select specific days or time slots.
The application provides you with the list of calendars which you have already created.
You can give specific colors to each calendar which also highlight each event marked on that calendar.
You are allowed to toggle between each calendar.
The Google Calendar Interface has the options of various views. You can select between day, week, month or 4-day viewing options.
Sharing options are also available in the Google Calendar by which you can make your calendar as public, private or default.
You are also provided with the facility to share the calendar with specific people of your choice.
The shared calendars enable a group of users to add or edit events.
You can create each Event giving a date, time, name and description to every such event. Also editing options are available to update any changes which happen later on or you can even delete the events if they are canceled.
So, Google Calendar helps you to stay organized all the time, and as the application can be accessed from any computer or mobile device using internet connection, it becomes really an efficient and effective scheduling tool.
How to Add Events
For adding an event, you simply have to click on a day in month view or an hour in day or week views.
There's a dialog box pointing to the day or time and allows you to schedule an event quickly. Plus, you can click on the more details link for adding more details. However, you can add events from text links on the left.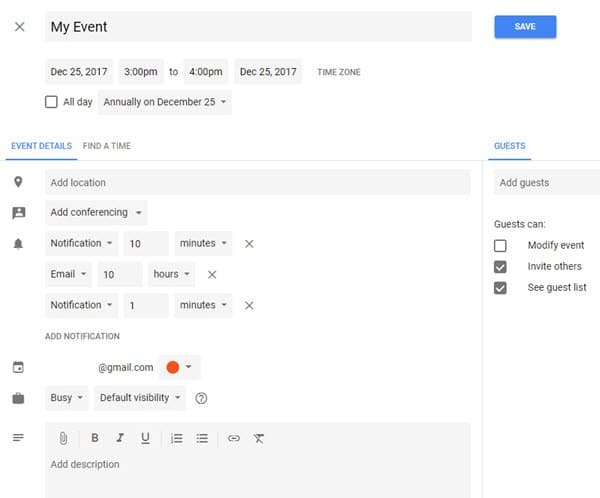 That's not all, as you can even import a whole calendar at once from your Yahoo! Calendar, Outlook, or iCal.
That said, Google Calendar does not directly sync with software such as Outlook or iCal. So, you have to keep importing events in case you use both tools.
Multiple Calendars
Google Calendar allows you to make multiple calendars.
So, you don't need to make categories for events.
Each calendar can be accessed through the common interface.
However, each one can have different management settings.
Thus, you can have a calendar for work, a calendar for home, a calendar for your local bridge club. You can have them without colliding these worlds.
The events from the visible calendar will show in the main calendar view. Plus, you can color code them for avoiding any confusion.
Sharing Calendars
It is one of the main highlights of Google Calendar.
It allows you to share your calendar with others.
You can have your calendars as completely public.
It is a very useful feature for organizations and educational institutions. It allows anybody to add a public calendar to their calendar and see all the dates on it.
You can share calendars with friends, family, or coworkers. This becomes, even more, easier if you are using Gmail as Gmail goes on to auto-complete the email address of contacts as you go on and type them.
However, you don't need to have a Gmail address for sending invitations.
You can share read-only access to event details.
You can share the ability to edit events on your calendar.
You can even share the ability to manage your calendar and invite others.
Reminders
Another very good feature of Google Calendar is that it can send you reminders of events. You can have reminders as emails and even as text messages to your cell phone.
For example, when you go on and schedule events, you can shoot an email to the attendees for inviting them to attend, much like that with Microsoft Outlook.
The email has the events in .ics format so the details can be imported into iCal, Outlook, or other calendar tools.
Registration Process
To use Google Calendar, a user must have a Google account. Those who do not have a Google account must first sign up for a new Google Account.
Once you have a Google Account, you can use the details to login to the Google Calendar. You have to fill up the email address of your Google account and the password to start with the Google Calendar.
It's Cost
The Google Calendar Web App is available as a free application. It doesn't require a subscription, and you get unlimited access to all the current features of the application.
There is no premium membership on offer with the application, and you are not required to make a purchase to maintain an account on Google Calendar.
So Google Calendar is absolutely free and appropriate online calendar service.
Google Calendar for iPhone
Google Calendar is available for iPhone.
It is the best calendar app for iPhone.
So, the Google Calendar app for iOS devices is the best iPhone calendar app.
It offers different ways of viewing your calendar. You can switch between month, week, and day view. Events from Gmail have added to your calendar automatically.
You get reminders for events. It offers quick event creation. It even syncs with the Google Calendar Web application and works with all calendars on your device, such as Exchange and iCloud.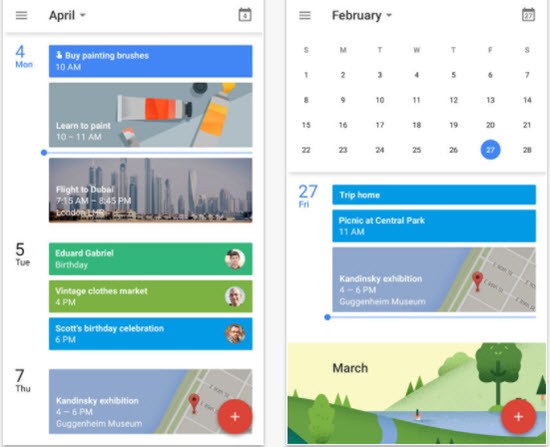 Google Calendar for Android
Google Calendar is also available for Android devices.
In fact, it is the best calendar app for Android.
It functions in the same way as Google Calendar for iPhone.
You have different ways to view your calendar.
It facilitates quick event creation.
It syncs with Google Calendar Web application.
It works with all calendars on your phone, including Exchange.
So, it is the best android calendar app.
Conclusion – Easy and Versatile
Google Calendar definitely makes the scheduling of tasks very easy. It is available as a freebie over the web.
Maintaining Events, Multiple Calendars, Sharing Calendars, Compatibility with mobile devices such as with iPhone, Android and Blackberry, seamless integration with Gmail and other services, all is possible with Google Calendar.
Google Calendar thus manages all your scheduling related activities.