Having a paperless office is a dream for many.
However, it can be a reality for you.
With Document Management Software you can easily have a system in place for managing, sharing, and archiving files in digital format.
Here, we go on to showcase Best Document Management Software which helps you to organize files in digital format.
Without a competent Document Management Software, a paperless office is hard to come by. Moreover, wrangling digital files is simply impossible without a real system in place.
You may be using a mix of services for managing digital files, but it proves a costly and inconvenient affair. Plus, it is difficult to collaborate on reports, documents, spreadsheets, and projects.
The way out is using Document Management (DM) Software for managing your files whether it is related to storage, collaboration, sharing or archiving files.
Here, we share with you some of the Best Document Management Software that will ease your work of managing digital files.
It is important to make note that Document Management Software work as online document-sharing programs quite similar to Dropbox Business and Google Drive.
More importantly, Document Management Software are used for sharing and collaborating on important documents, capturing notes and comments, and for finding and editing your important files and documents.
While making a purchase, you should consider the pricing of the Document Management Software. The pricing depends on several factors such as the amount of cloud storage it provides, the types of files you can store, editing features, add-on services, and much more.
So, depending upon your present and future requirements, you can go for DM Software which provides the best services at an affordable price. Plus, you should also focus on the ease of use when it comes to selecting DM Software.
For example, you can test the ease of downloading and uploading files, and the effort required to train your staff for using the DM Software. After all, you would not like to invest much of your time in training your staff on the usability of Document Management Software.
So, now let us check out the list of Document Management Software. We are pretty sure that you would find the presentation highly useful.
10 Useful Document Management Software
As for PinPoint, it has every feature that you require in document management software. It comes as a cloud-based solution and requires no server installation or maintenance. PinPoint can be used as a self-hosted system that is compatible with Windows and Mac computers.
It is an easy-to-use DM Software that files documents automatically. Setup and installation are fast. It also provides how-to video tutorials that help you getting started easily.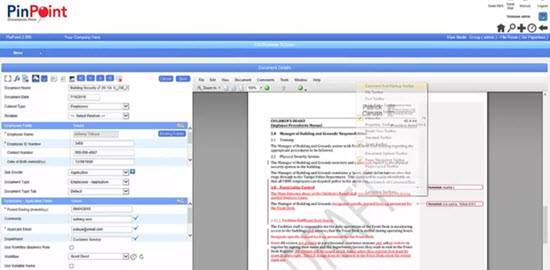 eFileCabinet is one of the best Document Management Software for any small to medium-sized business. It comes with features such as version control, retention scheduling, automatic backup and robust integration. It allows you to store or delete expired documents.
It provides functions such as scanning, tagging, workflow, and cloud storage. Moreover, it is easy to use for any end user. It integrates seamlessly with Microsoft Office Applications and provides built-in workflow.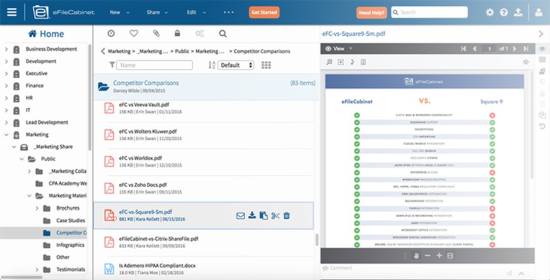 FileHold is one of the best document management software for businesses using Windows. It is full of impressive features and uses the same filing structure such as Windows Explorer. So, it makes easy for the users to adjust to this document management system.
It has a clean interface. Filing, searching and reviewing documents is all easy with FileHold. It even allows for customization. Filing of documents can be achieved in multiple ways. You can scan documents directly into the system or can drag and drop files already on your network.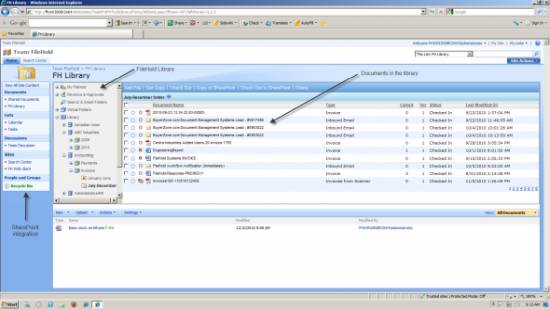 LogicalDoc focuses on fast content retrieval and business process automation. It helps organizations to gain control over their document management functions. It is one of the best self-hosted document management software for businesses employing Mac computers. It is compatible with Windows PCs as well.
Installation is quite easy. It provides a software package that can be installed easily. It can be accessed by any web browser. LogicalDoc provides a fully customizable dashboard. It uses a simple cabinet and folder filing structure. It provides several ways for finding documents stored in the system.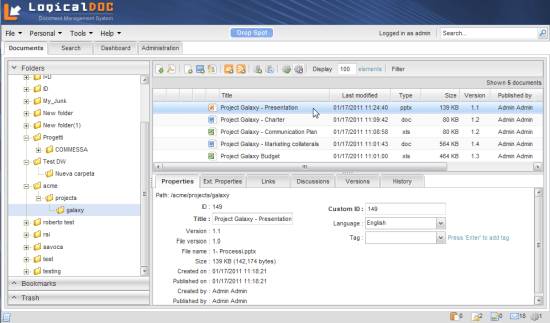 Dokmee is powerful document management software. It provides a range of document imaging and tracking tools for easily organizing your business's important digital files. It supports a user-friendly interface and has powerful capturing and editing tools.
It integrates with Office software, email programs, mobile devices, and scanners. It is one of the easiest DMS solutions and has numerous file workflow version-control tools for speeding the workflow process. It works with most scanners and supports import of files from a word processor and email programs. It provides a large selection of features which can quite overwhelm for first-time users.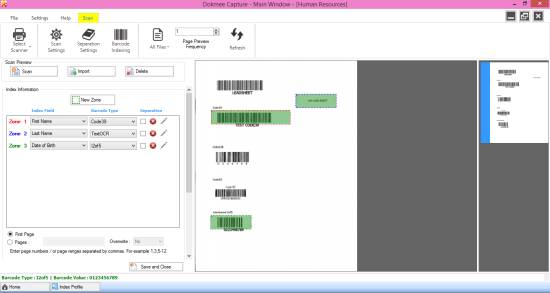 PaperPort is a popular DMS Solution which can be used for document imaging and digital file tracking. It is empowered with intuitive folder structure. Once you launch the software, it shows you the existing Windows Explorer folders. It allows you to drag the folders which you want to organize into the program.
It allows you to scan new documents or add files from external sources. It enables you to specify unique security permissions for each user or employee. It even provides version controls and is capable of saving old as well as new versions of the document.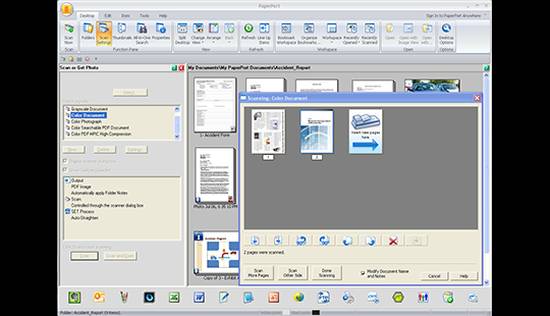 Alfresco One is one of the best open source alternatives for enterprise content management. It manages and synchronizes content across cloud and on-premises repositories. It enables users to collaborate on content as and when they require doing it. It also offers customizable search capabilities and connects users to relevant files.
Alfresco One supports integrated analytics which makes content discovery easily accessible. It is easy to use with a user-friendly interface. It works as absolutely secured software.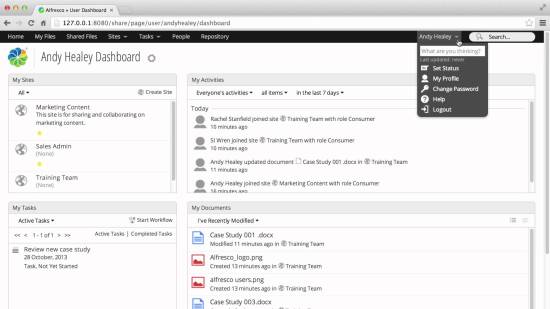 Box is a highly robust DMS Solution which enables businesses to securely store, manage, and share all the company files. It supports the collaboration of any kind of document or media file.
The supported file types include PowerPoint, PDF, image, spreadsheet, video and audio files. With Box, businesses can easily organize files. It is easy to use and secure solution.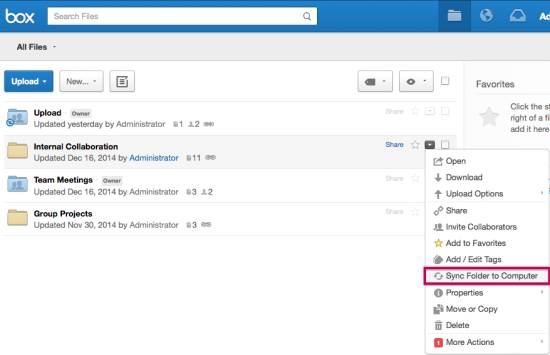 Zoho Docs is an online document management system which enables you to store your files in a centralized location and access them at any time from any device.
It allows you to store, upload, create, edit, view and share files such as pictures, documents, spreadsheets, music, presentations, and videos. It provides powerful collaboration tools and allows you to collaborate on documents in real time.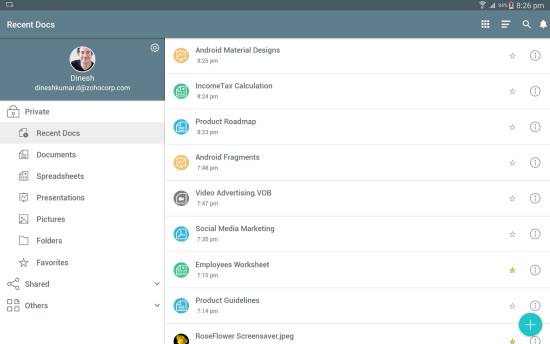 Google Docs is an online Document Management Software which allows for the creation, editing, storage, retrieval and sharing of files such as documents, presentations, and images. It is easy to use and a secure solution.
It has all the essential features of the best word processing software. The best part is that it is available for free. All you need is an internet connection and a Google ID for accessing Google Docs.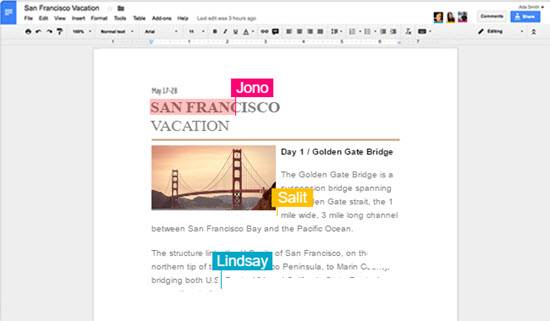 The presentation on the "Best Document Management Software" was designed to ease your work in selecting the most appropriate Document Management Software for your business requirements. We hope that we succeeded in our efforts.