You have so many digital devices updating those devices all the time like you captured a photo in your now transferring it to your desktop than laptop or downloaded an important note which you want to read on the go so you are transferring it on your mobile phone and sick of doing this all the time.
Looking for the software which will enhance the productivity of all your devices like PC, Smartphone, Tablets and web than Evernote is an application which available in all the platforms and offers a Evernote account which synchronized between all the available platforms so it means everything you do on your desktop or mobile devices it will automatically synchronized among all your devices where Evernote is installed.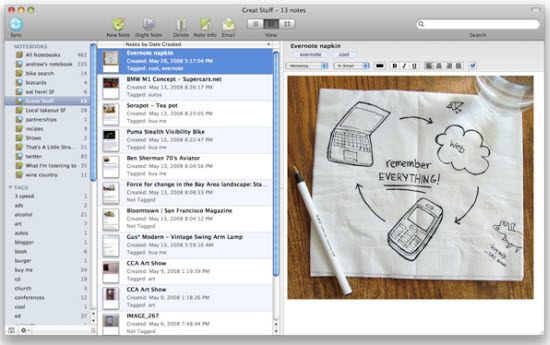 Evernote Features
OCR Scanning: if you have Evernote installed in your camera phone it will sync your photos to your Evernote account automatically and create archive of them its key features is also does OCR of your images so it from now on you don't have to type anything from your notebook just click the image and your notes are ready.
Audio Notes: what if it is not a notebook? Then Evernote have feature which will record the audio and you can listen to it afterwards in any device Evernote installed device and even share it with your friends.
Save, Sync and Share files: Evernote offers you Evernote Account in which you can keep all your notes, photos and many more and you can easily access this account from anywhere like from your mobile Evernote app, Google Chrome extension, Firefox or Safari Add-on and you can easily sync and share these files via facebook, twitter or between Evernotes accounts.
Organizing: Organize the content is pretty easy in Evernote you can create different archives for different files you can easily tag the files and with the option called Note Titles you can easily classify the multiple projects. All these option helps you to organize your content on Evernote so, it will be easier to find them afterwards.
Web Clipper: Evernote web clipper is comes as an add-on to your browser(Chrome, Safari, Firefox and Internet explorer) and allow user to save the HTML on the webpage as a note with a single click so you don't need copy the text and save it on your WordPad. Web clipper is a very important tools for student so they just browse through the information they need don't have to worry about making notes of it because Evernote wed clipper is doing all these for them.
Encryption: Evernote also offers the encryption facilities to the user if you have some important text, photos or any information. For encryption you just need to right click on the text, photo or the information and click on "Encrypted Selected" it will ask for encryption password it will decrypt only if you entered the same password for the decryption.
Evernote is not a must have application for students it is equally important for everyone. Evernote helps you to organize you day-to-day life and makes you remember each and every task keeps you updated in all your digital devices.