Online Plagiarism in simple terms is duplication of content present on the web. It may be intentional, or it may happen accidently that your content has similarities to already published material on the web. Presently Plagiarism has become a gigantic online problem. It is causing big economic damage which is considered to be in billions of dollars. With Plagiarisma's Desktop Plagiarism Checker, which is a web-based plagiarism search tool, you can easily check for plagiarism in the content that you wish to publish over the net.
What it is?
Plagiarisma.Net provides you simple and effective software tool – "Desktop Plagiarism Checker" to scan your content for any kind of similarities so that you are able to edit it if in case any duplication exists before making it live on the web. Plagiarisma's plagiarism checker software is being offered as freeware software.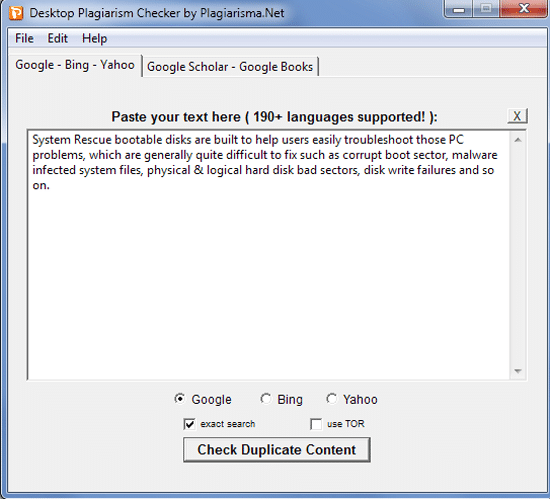 How it is effective?
It is effective in the sense that it has the capability to check large documents without putting any cap on the word count of the content and also without any limitations on the frequency of the scans. Plagiarisma.Net has access to large sources of databases so that you get more comparison for your content and hence more accuracy in the check runs of Plagiarisma's Desktop Plagiarism Checker. Desktop Plagiarism Checker software is fast in its check runs and can complete the whole scanning process in few minutes only. The plagiarism scanner also generates a report after scanning your document. This report clearly highlights duplicated sentences so that you can do required corrections and any sort of improvements if you need like grammar check and other content editing.
Other Highlights and Usability of Plagiarisma's Desktop Plagiarism Checker
Plagiarisma's Desktop Plagiarism Checker supports more than hundred languages and many document types. It is available for free though you need to create an online account to access it services. It has an extremely easy interface. It provides a blank field where you can paste the url which you want to check or can also select the file on your system by clicking on the Choose File option. You are also provided the option to paste or type in the text you wish to scan and then use the search engines such as Google, Yahoo or Bing on one tab and Google Books or Google Scholar on the other tab. There are check boxes for exact search and TOR network search. So you can simply paste some content to scan, select the search engine, deselect the exact search feature and click on the "Check Duplicate Content" button to get the scan report within minutes.
Concluding
Plagiarism can prove detrimental to your website reputation, and you can even lose the faith of your online visitors too. So make sure that your text or content is plagiarism free before you make it live on the web. Plagiarisma's Desktop Plagiarism Checker can be a simple yet effective tool for scanning your content for any type of duplication. Intentional or Accidental, you can check and rectify your content from these types of plagiarisms by using Plagiarisma's Desktop Plagiarism Checker software.