Are you looking for best Download Manager for your Windows PC?
Well, then you are at the right place as here I am going to share with you best internet download manager for Windows PC.
As a matter of fact, we usually download a lot of stuff from the Internet. It includes downloading stuff like software, games, applications, videos, documents, images, movies, and so many other files.
However, managing all these downloads is a daunting task.
Although every browser has its own default option for download , these default download system come with limited features and never make downloading files an easy task for you.
On the contrary, you have to face scenarios like, "downloading failed" and you have to resume downloading all over again.
Moreover, the download process is slow, thereby making downloading an utterly disgusting experience for you.
In such times, a download manager comes to your rescue.
With an internet download manager, you can manage all your downloads easily and smoothly. A download manager enables you to resume broken downloads and makes the download process fast.
You may like: 11 Best Antivirus Software for Windows
Download Manager Software comes with enormous capabilities. They are capable of resuming all types of failed downloads. They accelerate the downloading process by utilizing your maximum internet speed. They can schedule your downloading file to download later.
Internet Download Manager Software can easily download videos and music from streaming sites. They integrate into your browser and make the downloading process easy with a click of a button. They automatically organize your downloads in different folders and also define file extensions.
So, now let's take a look at this collection of best download manager for Windows.
We have included free as well as paid internet download manager for Windows.
10 Paid and Free Download Manager for Windows
Internet Download Manager (IDM) is one of the most popular and powerful download manager software. It integrates with all popular web browsers and provides fast and stable downloading. It comes with the drag-and-drop system and command line support for easily managing your downloads.
IDM also provides you the capability to schedule your downloads. It organizes downloads by keeping different files in different categories and queue support. It comes with powerful resume ability that enables you to resume any failed or paused downloads. Moreover, IDM is capable of downloading any file from any webpage with a single click.
Price: $24.95 Lifetime License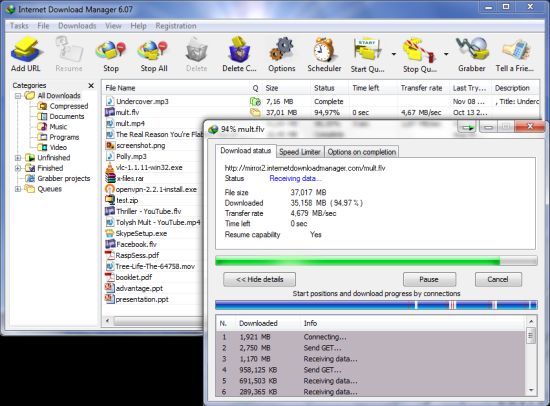 Download Accelerator Plus (DAP) is one of the most powerful free download manager for Windows. It is particularly known for providing super fast downloading speed. It offers superb downloading speed by breaking a file into parts and then downloads them from different servers.
With its video download and convert option, you can download a video and convert it into any format. Download Accelerator Plus also provides the facility to download a video from different video streaming sites quickly. It has the video preview feature which lets you view your file as the download starts.
Price: Free, as well as Paid Version $24.95 Lifetime License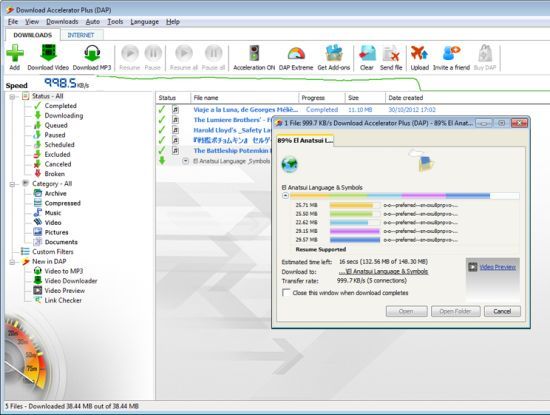 If you are looking for an awesome download manager for Windows, then you should surely check out Internet Download Accelerator. It comes with convenient user interface and shells out superior overall performance.
Internet Download Accelerator comes with lots of impressive features. It is a super fast internet download manager. It has the capability to resume broken downloads and effectively manages all downloaded files.
Some of its notable features include ZIP Preview, FTP Explorer, and lots of other features as well. It enables you to watch videos even when the download is halfway. It also enables you to download and save video from popular video services. It integrates with all the popular browsers including Chrome, Firefox, Internet Explorer, Mozilla, Opera, Netscape, Safari, etc.
Price: Free, as well as Paid Version $9.95 for Lifetime License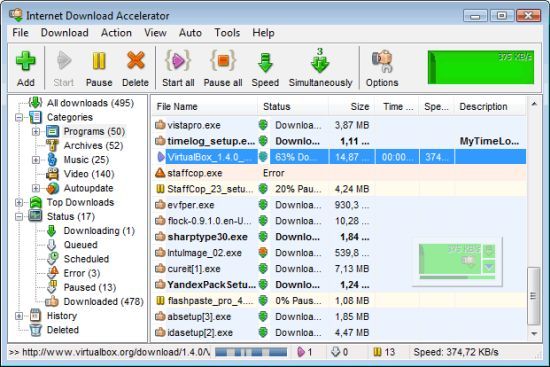 Simply speaking, Free Download Manager is a superb internet download manager for Windows. It's an open source and free download manager. It has an easy-to-use interface and comes with a powerful set of features. It provides fast download speed and can pause and resume downloads anytime. It has an excellent file management system. Free Download Manager can store different files in different folders. Plus, it has an integrated media player which enables you to view downloaded files without opening another tool.
Price: Free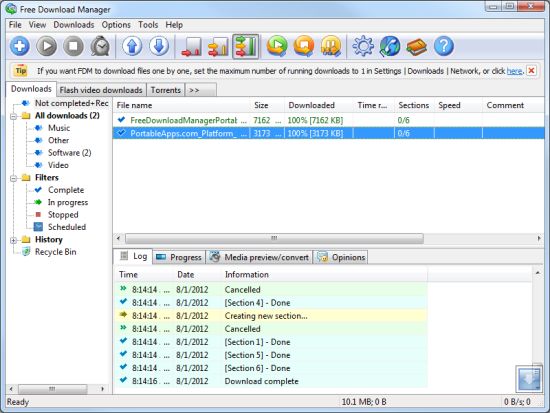 JDownloader 2 is the new version of the popular JDownloader download manager. It comes with many new features and a modern interface to give you superb downloading experience. It comes with all-new advanced search filters and has a better integration with the most popular web browsers.
It has also been empowered with a much more refined and regrouped settings menu. Plus, JDownloder 2 comes with enhanced compatibility with social networks. It enables you to download entire albums from Facebook or Flickr by simply logging to your user account.
Price: Free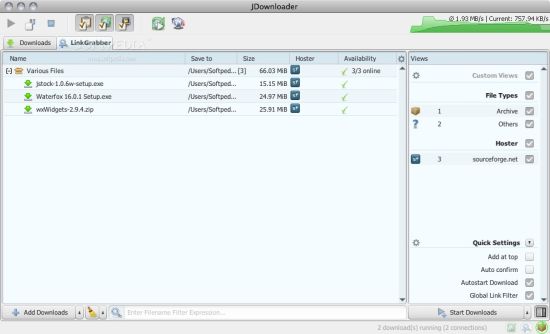 Ninja Internet Downloader (NID) is one of the top internet download managers for saving and converting media files. It has a simple and modern interface. NID is capable of providing 10x acceleration. It comes with a sequential downloading capability which is useful for downloading media files such as movies or music. It enables you to preview files well before they are fully downloaded. It is also empowered with a built-in video downloader and media converter.
Price: Free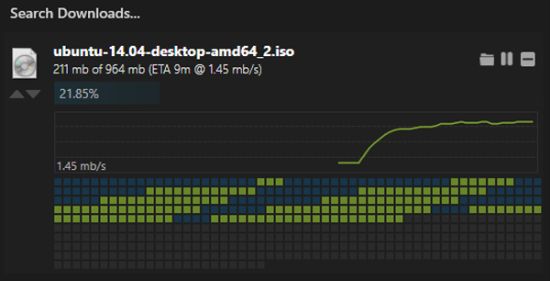 FlashGet is known for its download management features and simple User Interface. Using FlashGet, you get impressive download speed. Moreover, it uses the least amount of resources. It supports various downloading protocols such as HTTP, FTP, BT, and eMule. Plus, FlashGet enables you to manage downloaded files easily. Above all, it's free to use.
Price: Free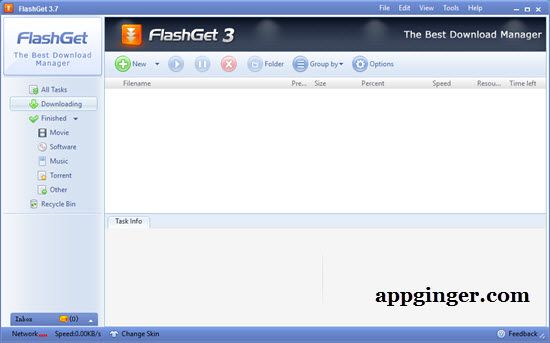 Orbit Downloader is yet another powerful download manager for Windows. It enables you to download files at an optimum level of speed. Orbit Downloader has a simple user interface and uses the relatively small amount of resources. It supports a variety of protocols such as HTTP, FTP, MMS, RTSP, etc. It also offers RapidShare support. All in all, Orbit Downloader is a minimalistic yet powerful internet download manager for Windows PCs.
Price: Free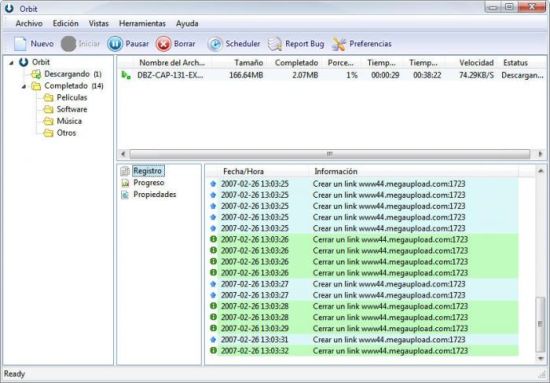 GetGo Download Manager is also one of the best free download manager for Windows PCs. It integrates with all modern browsers such as IE and Mozilla. Its UI is simple and easy to navigate. Plus, GetGo Download Manager provides you super fast download speed. It can download videos from streaming sites. You can schedule your downloads as well as resume broken downloads easily.
Price: Free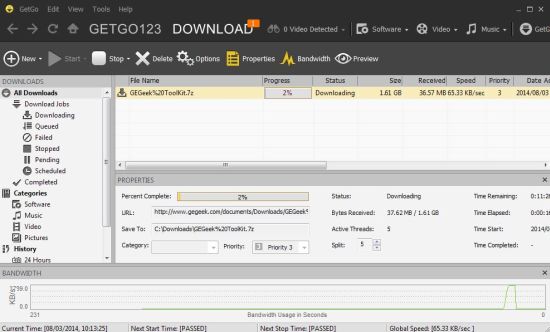 FlareGet is a fully featured internet download manager for Windows. It provides amazingly fast downloads. FlareGet has been empowered with enhanced file management system. Downloaded files are grouped in different folders as per their categories. It supports almost all the browsers including IE, Firefox, Chrome, Safari, Opera, etc. It also comes with resume support.
Price: Free, as well as Pro Version, is available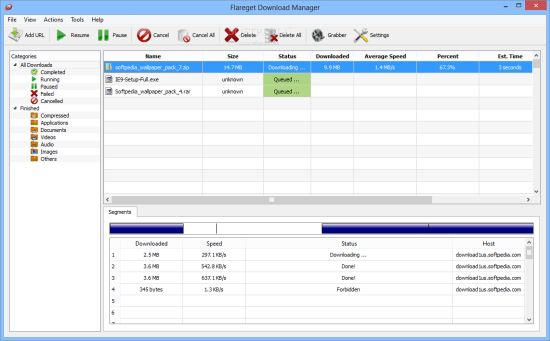 So, if you are looking for powerful and enhanced download manager for Windows PCs, the above presentation will surely prove a valuable guide for you.