Well, there are times when you just lost customer information.
At other times, you might have found it a hell of a task to jot down your customer details in multiple different places.
And sometimes you might forget to follow up with them.
In fact, you must have experienced these scenarios at some point of time or the other.
Haven't you?
It means that you are losing on your customers.
All this is really a pathetic situation.
As a proactive business person, you don't want to be in either of these situations.
But the "Big" question is – How do you get over and avoid these scenarios?
The answer lies in using Customer Relationship Management (CRM) Software.
In fact, a CRM Software is the perfect answer to most of your sales issues.
Today, we have featured 10 Best Free CRM Software.
So, if you are looking for the best free CRM Software, this is the place that you must surely check out.
However, before we go on to list the free CRM Software, here's a quick overview of what CRM Software is? What does it do?
What is CRM Software?
Well, a CRM Software is designed to help you manage your relationships with customers.
It keeps track of your customers and all their information in one place.
So, when you use a CRM Software, you get to know your customer's name, their phone number(s), address, email address, as well as all the interactions you or your company has ever had with them can all be known easily.
Plus, CRMs allow you to enter the dates when you want to interact with a customer, and the CRM Software will alert and notify you on that day.
So, a CRM Software helps you to get all the information related to your customers.
The best thing, it is all that you require for supercharging and streamlining your sales activities.
Well, it's not all that a CRM can do for you.
In fact, it can do a lot more than just these basics.
Nowadays, many CRM tools come integrated with accounting and email marketing solutions.
They allow easy tracking of client's payments as well as enable you to send out email blasts and newsletters.
Plus, these CRMs can also track clients on social media thereby enabling you to see everything that they talk about you.
Moreover, these CRMs are also able to track your interactions with them.
These types of CRM Software are often called as CXM (Customer Experience Management).
So, CXMs help businesses to deal with their customers on multiple channels.
They help in tracking email, social, phone, and website interactions with your customers.
In fact, CRM comes out as important tools for a company.
Firstly, they alienate the need to track customers across multiple platforms.
Using a CRM Software, salespeople get alerts when they have to contact leads next.
Secondly, CRMs help managers to handle the sales team easily. Managers get to know whether the sales team is keeping up with all possible leads or not.
In fact, this comes out as a reason why most salespeople are seen resisting CRM implementation.
Thirdly, CRMs are also beneficial for the marketing team. They provide a single location to the marketing team for all the emails for their campaigns.
Moreover, a CXM that integrates with your email marketing can help you to get rid of tasks such as uploading of contacts list and more.
That's a Major Win for sure!
Moreover, the best thing about CRM Software is that it is available as freemium – free.
Free CRMs have a cap on a number of free users, contacts, storage, or extra features.
However, there's another category of Free CRMs known as Open Source. These are unlimited, fully functional CRM to users.
In fact, Open Source CRM is extensively customizable. And they go on to render installation and support for a price.
Here, we have featured some of the leading free (as well as Open Source) CRM Software solutions. We have provided the details of Best CRM systems.
So, simply check them out and choose the one that interests you the most.
They are valued tools for getting every bit of information about your customers, suppliers, and each person that your team interacts with.
These free CRM Software are perfectly suitable for startups and small businesses for organizing all the customer information in one place.
Here's the list of Best Free CRM Tools for you:
10 Top Free CRM Software
HubSpot CRM is one of the best CRMs that you can have for your company. It would be not less than a surprise for you to know how much it offers for free.
HubSpot CRM comes loaded with full CRM features. It allows you to have as many team members you want. Well, with HubSpot CRM, you can manage up to 1 million contacts.
It's powerful yet very easy to use.
You get to add contacts simply by entering their name and email address. HubSpot CRM works automatically to pull in the details about their company. Moreover, you can track all the info about your contacts with custom fields.
Plus, you can connect it with Gmail or Microsoft Outlook 365 for scheduling and tracking emails. You can even install its Sidekick add-on for seeing contact details alongside your email inbox.
And that's not all.
You can even preview your contacts easily.
Its free account has all the core CRM features.
You can manage contact info, create deals and track the progress of a final sale. You can list down tasks and appointments with contacts.
You can even build signup forms for your website for gathering new contacts. HubSpot CRM is even studded with marketing features as well. It allows you to send automated emails.
HubSpot CRM has everything you require for managing your contacts and turning them into customers, all for free.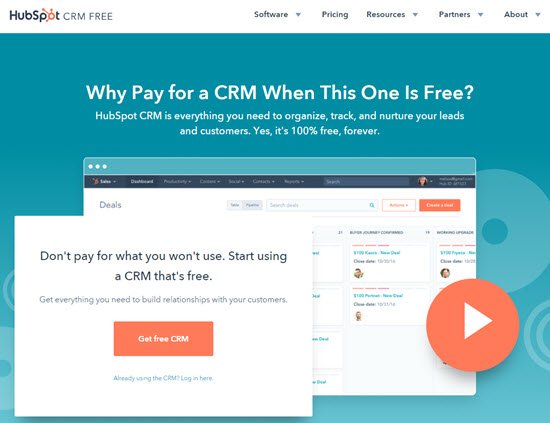 Zoho is one of the big players in business software, so it isn't unusual that you see it offering a free program in the form of Zoho CRM.
In fact, the Zoho CRM is free for 10 users and 25,000 records.
It also features a mobile app and social CRM among other things. Plus, their first upgrade with more users, features and 100,000 records is available only at $12/user/month.
You can look up to Zoho CRM for making a presentation to your client. You can come up with a detailed proposal document or crunch numbers about their project in a spreadsheet.
Zoho CRM enables you to do all that with its extensive integration with Zoho Workplace. Its Documents tab allows you to upload existing files. You can even create a new document or spreadsheet in Zoho's office apps.
The Zoho form feature allows you to gather new leads. You can merge that data into a Zoho document. Further up, you can add both to Zoho CRM and send it to the new lead for signature.
Moreover, Zoho CRM is a highly customizable CRM allowing you to track every detail of your contacts. Another big highlight of Zoho CRM is that it works best together with other apps.
It has been integrated with other Zoho tools and provides options to sync events to Google Tasks and Google Calendar. It's a CRM that fits well with other tools as long as you use Zoho software.
Zoho CRM can be upgraded to its Standard plan from $15/month/user for bulk emails, website visitor tracking, and marketing campaigns.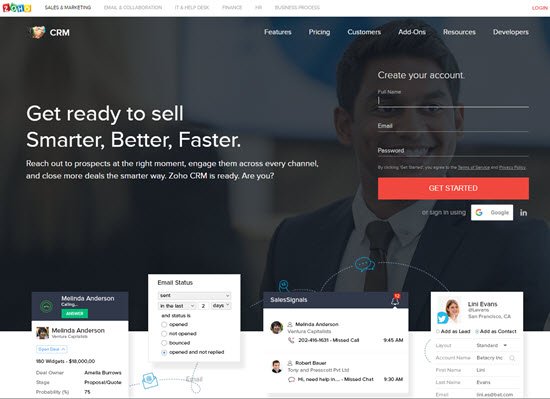 SuiteCRM is an open source and free CRM Software.
It's really a Game changer for anyone interested in CRM.
SuiteCRM proves multi-faceted CRM Software is delivering actionable insights to customers, boosting conversions, helping in increasing sales, as well as providing ultimate in customer care and innovation.
With SuiteCRM, the CRM implementation costs get reduced by as much as 80%. And you have to pay no license fees ever. There are also no exorbitant per-user charges either.
SuiteCRM gives you complete freedom.
You can deploy in your private cloud on your own servers, in Amazon, a public cloud or can go for SuiteCRM: OnDemand service. So, there is no vendor lock-in. With SuiteCRM, you enjoy absolute freedom.
Another good thing with SuiteCRM is the fact that it can scale to thousands of users.
Plus, you get enterprise-class support too.
Moreover, SuiteCRM has proven its class in the world of CRM Software. It is used and trusted by many organizations all over the world.
SuiteCRM offers as much as four releases every year. All free and all open source.
It's one of the best Free CRM Software for streamlining sales processes and customer interactions.
SuiteCRM is the winner of BOSSIE Award 2015 and 2016 for being the best Open Source CRM Software in the world.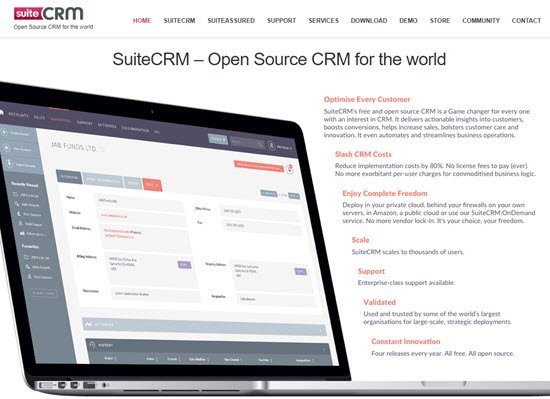 CapsuleCRM is simple yet smart Online CRM Software.
It's a CRM for building strong customer relationships and for pocketing more sales.
With CapsuleCRM, you will be more organized, collaborate better and make more sales.
So, let go the days when you have to deal with customer info in spreadsheets and emails across your organization.
With CapsuleCRM, you get one complete view of your customers. Thus, you save more time, take better care of your customers, and make more sales.
CapsuleCRM offers a complete view of your business.
You get to store all your business contacts in one place.
Moreover, you can manage contacts, leads, customers, vendors, and more.
CapsuleCRM allows you to create tasks that can be shared with co-workers. You know the proposal deadline or when to make the customer call.
It allows you to work on routine tasks. You can even create a reusable process that matches with your business workflow.
Well, you can also capture emails and go on to attach notes, docs, and files into a contact's history so that it is easily available.
Thus, you are able to share a single view of your contact with the team.
Best of all, CapsuleCRM is easy to use. It was designed with usability in mind. It's simple and intuitive so that you can focus on tasks at hand. Plus, their friendly expert support team is there for you, helping you every step of the way.
They also have a FAQs section and many helpful articles posted on their page.
CapsuleCRM comes free for up to two users and offers 10MB of storage with 250 contacts.
Plus, you can upgrade at $12 per user per month. Its upgrade offers 2GB of storage, 50000 contacts, and integration with applications such as MailChimp and FreshBooks. Moreover, CapsuleCRM can integrate with many other software programs, including Gmail and MailChimp.
CapsuleCRM is a CRM that works for you helping you to capture the right information at the right time. CapsuleCRM is being used by thousands of customers worldwide.
It's surely one of the best CRMs to run your business smoothly.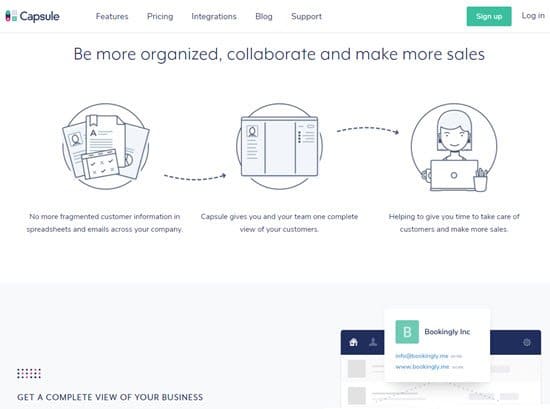 Bitrix24 is a thoroughly flexible and easy-to-use Free CRM Software.
Let's have a look at its pricing.
With Bitrix free account, you get 12 users, 5GB storage and the freedom to do anything you want with that storage.
So, it's really good deal. You can upgrade to get unlimited users and 50GB storage at $99/month.
However, if you needed a few more users or little more storage, then Bitrix gives you additional 12 users at $39 per user per month. It also has an unlimited plan for $199/month. You can even have an installed CRM by paying a one-time fee of $2990 that suffices for 50-500 users.
Overall, you will find Bitrix to be a very easy-to-use system.
Plus, it has well integrated and extremely useful document management feature.
Moreover, Bitrix is extremely feature-rich. That's why it easily stands above the crowd.
It is loaded with Project Managemenemailt features like Gantt charts, time tracking, and tasking. Bitrix comes with built-in email marketing. It also offers telephony features like call recording and dial-out from within the CRM.
Then, Bitrix has invoicing capabilities for billing customers once you've got a deal.
It also facilitates Sales team management and sales-reporting together with sales automation.
On the CRM side, there are the standard contact and deal tools. You can add a contact, sell them your services, chat about the ongoing project with your sales team, and track everything on the customer's contact page.
Bitrix turns out to be a perfect tool to keep track of everything that goes on across all your contacts.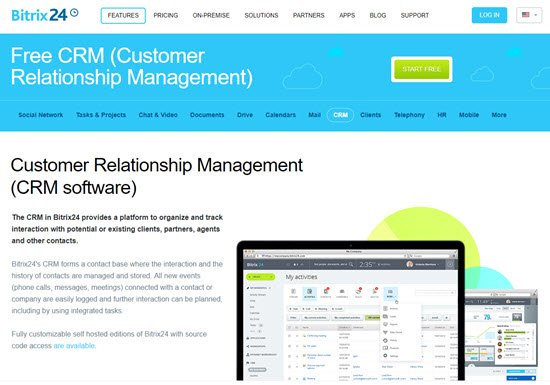 FreeCRM is one of the best free CRMs around.
It's one of the best tools for organizing and managing contacts.
Go on to increase your sales with this #1 free CRM Software.
Its free version has all the basic features you look in a CRM. It comes with 100 free users and 10,000 contacts. However, it's only free for one year, and there's no customer support.
Plus, you can upgrade to its Pro version at $29.95/user/month and get additional features, more storage, and support.
So, you see that its upgraded version is most affordable CRMs that you can have for your mid or large sized business. Moreover, the FreeCRM is a web-based solution, so you don't need to have an expensive infrastructure for hosting it.
It's easy to get it running in no time whatsoever.
Free CRM makes it easy to track everything from the Company or Contact level. You get to have quick access to all critical account data, including communication history, shared documents, key contacts, partners in the account, and much more.
Free CRM helps you in developing targeted marketing campaigns based on customer profile and history. You can track marketing in real-time and focus on improving the quality of your lead generation.
Free CRM works great on phones and tablets. So, you can access the CRM from anywhere on any device.
Free CRM comes with deals tracking tool & sales pipeline dashboard enabling you to have a comprehensive view of all your sales activities.
It offers task & event tracking giving you complete visibility on any given deal or issue. Then, there is reporting feature that lets you know how well your sales staff is completing the sales cycle.
Well, there is certainly much more to FreeCRM.
It comes with document management, offers Group Calendar, has import & export feature, provides form builder, supports direct mail, gives alerts and reminders by email, SMS, or screen pop-ups, and much more.
All in all, FreeCRM is truly a powerful, feature-rich, and easy-to-use CRM Software.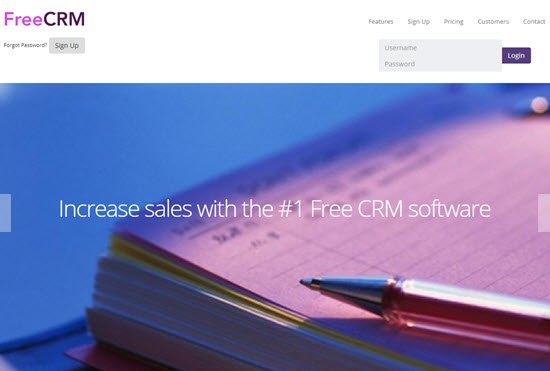 It is undoubtedly one of the Best Free CRM Software out there.
Insightly has come up with a great free program and a very friendly website.
Its free system is available for two users, 2500 records, 200MB storage, and two custom fields. The free version is also studded with advanced reporting and offers ten emails a day.
Well, there's also a Pro version for $12 per user per month. It will get you 25000 records, and 1GB of storage.
However, the biggest highlight of this free CRM is its built-in email marketing system.
Insightly is greatly suited for small businesses.
They are currently used by more than 25,000 companies across industries, worldwide.
And they claim this as being, ""#1 online small business CRM." For small businesses, two users would surely suffice their needs.
Insightly is one of the best CRMs for building lifelong customer relationships. They offer Contact Management, Email Tracking, Lead Management, Opportunity Management, Workflow Automation, Project Management, Advanced Reporting, and much more.
However, Insightly is not ideal for very large businesses as they lack the functionality of handling the demands of a larger business.
And they offer support only via the online community.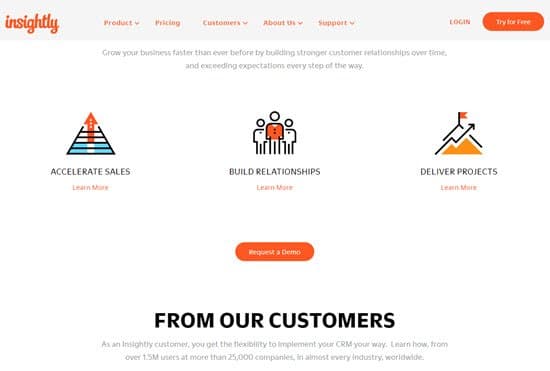 Really Simple Systems is one of the best CRM systems for small businesses.
Its free version is available for two users and includes 100 accounts (businesses you deal with), unlimited contacts within those accounts, 100MB storage, tasks, and free full customer support.
And there are Pro versions as well.
In fact, Really Simple Systems brings three different paid plans for your growing business needs.
The biggest highlight of Really Simple Systems is the fact that it is really very simple. Users also love Really Simple Systems for their excellent customer support. There's hardly any problem with this system.
However, Really Simple Systems offers limited functionality. So, it's more suited for small businesses than large or enterprise ones.
Really Simple Systems has recently launched a new version (Version 5.0) in March of 2017. It has a redesigned interface and is studded with many new features.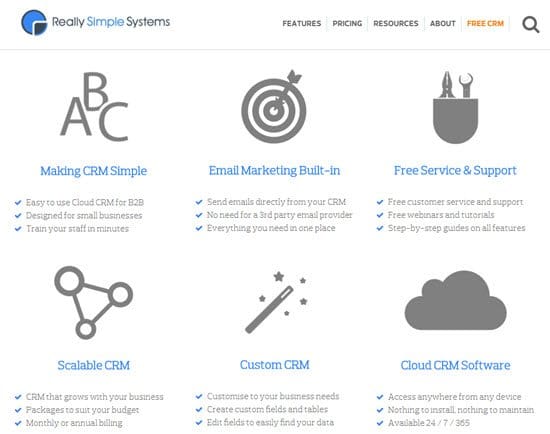 Freshsales is another very potent, feature-rich, and easy-to-use CRM Software. It's probably one of the best CRMs that you can have for your sales force.
Freshsales CRM offers AI-based lead scoring, built-in phone, activity capture, email, and much more.
Freshsales allows you to send targeted emails, make calls, and for staying in touch with your prospects, all in just a click.
Freshsales makes it easy for you to find the best sales leads. It delivers lead scoring enabling you to focus on high potential leads – those who show sales-ready buying behaviors and signals.
Freshsales helps you to get actionable insights. You can go deep into a prospect's engagement level thereby getting context and planning your conversations.
Then, Freshsales offers email notifications. Get real-time alerts on email opens, and more.
Freshsales provides options for managing your sales pipeline better. You get to track the progress of your deals, set up meetings, add tasks, send emails, and can even make calls from the deal card.
Freshsales offers a refreshingly clean UI, and there is no difficulty in integrations.
Freshsales comes with a simple, honest, and affordable pricing.
It offers a free version (SPROUT) and three different Pro plans (BLOSSOM, GARDEN, and ESTATE) for meeting your varied business requirements.
Their Pro plans start at $12/user/month and top at $49/user/month. They are suitable for small teams as well as large teams.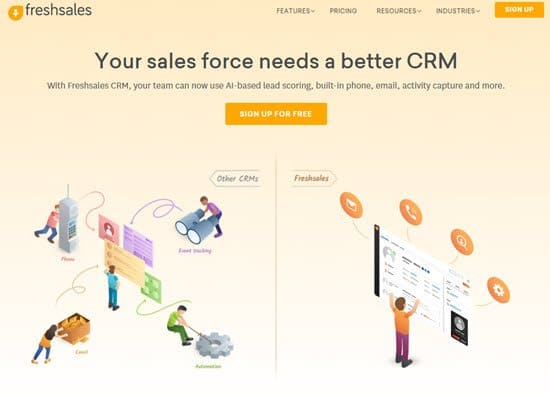 Streak offers customizable CRM right inside Gmail.
So, if you often use your email inbox for making conversations with your business contacts, then Streak should prove immensely useful CRM for you.
You need to install its Chrome extension.
It will attach a new Pipelines link alongside your Gmail tags.
You also get a Streak button inside your emails. It helps you to add messages to a pipeline.
In fact, pipelines are CRM workflows that are required to follow for converting an interested lead to a satisfied customer.
You can do that for free. Plus, you can share up to 50 CRM deals with your team and track almost 200 emails/month for free. Streak offers tools to track emails and for writing them quickly with templates, and for sending them later.
So, Streak allows you to devote more time on your contacts and less on handling your communications.
Streak offers a free version for unlimited boxes and pipelines, 200 tracked emails per month, and 50 shared boxes for team use.
Its Corporate plan with full CRM features and integrations starts at $39/month.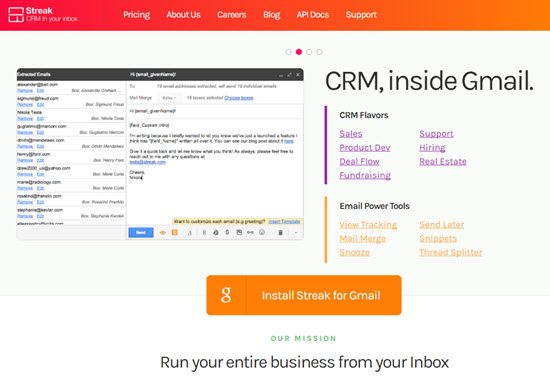 So, that's all from us in this presentation of 10 Best Free CRM Software.
We hope that it proves an immensely useful resource for you. Choosing a free CRM can be a hard task. However, this post will surely ease out much of your work and help you to select the best free CRM for your business.
Please don't forget to share this post with your friends and colleagues. We look forward to your comments and suggestions.