Most of us want to keep track and have contact information of all our friends, colleagues, clients, customers, business partners, associates and may others in all our major e-address books. You may require contact information from a professional point of view, for business purpose or for your personal sake.
But having them can be a little frustrating as it is never easy to copy and paste contact info from email signatures. Even vCards too works for only few address books. We require a simple and quick solution so that we can have whatever contact info we desire easily across all major address books and that too on any of our devices including mobiles and tablets. This can now be done by sharing contact information with ContactMonkey.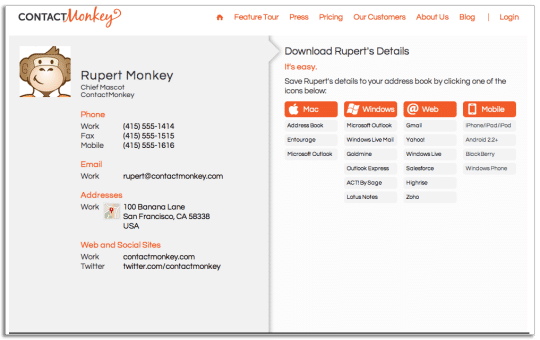 ContactMonkey provides you with one of the best way to share, store and update contact details. ContactMonkey is a web application that provides a cloud-based business card that you need to fill in with your details and then share it with your contacts as a URL or QR code. You will be provided with a Web page where all your details are listed once you fill them on ContactMonkey.
Your associates then have to use this URL that you have provided to view your contact information and can even easily download your contact card details to any of the 19 address books supported by ContactMonkey.
ContactMonkey supports Windows, Mac, Web and Mobile address books. The contact details can be downloaded in iPhone/ iPad/ iPod, Android, Windows Phone and Blackberry mobiles as well. So ContactMonkey ensures that your information is available to everyone, whatever kind of user it may be. It also gives an option to receive a notification whenever the contact info is updated.
ContactMonkey is free for individuals. It is chargeable for companies at the rate of $3 per user per month. Users also receive notification telling them exactly who all have downloaded their details which is a useful feature for generating leads. Thousands of people from various backgrounds are presently using the services of ContactMonkey which include professionals, business people, service firms and many others.
So with ContactMonkey you can quickly grab the contact details and communicate with people easily and that too irrespective of what device you are using. You may use Gmail, Outlook, iPhone or Android, ContactMonkey helps to grab the details for virtually any sort of device or operating system. So keep track of contact info with ContactMonkey.