Among many other things required for the success of a website, there is one such dimension which is usually ignored by many website promoters, designers, bloggers and e-entrepreneurs. And that is a well managed marketing campaign of your upcoming website in the form of "launching soon" page. LaunchRock is just for that very purpose.
LaunchRock is a powerful Web Application Platform for implementing "launching soon" page for your upcoming website. All you need is an attractive high-resolution image, a logo and some text to start working with LaunchRock to quickly and effortlessly create the social "launching soon" page. Its takes about just an hour to have your landing page in place and running on the web.
Getting started with LaunchRock for building your landing page is really easy. LaunchRock provides a step by step detailed procedure on the "Site Builder" Tab once you enter your email after clicking on the "Get Started" button.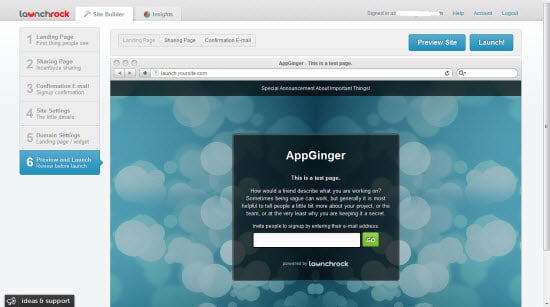 You start by creating the landing page. You can set up the box theme and the background of your landing page. You are given the option to select the theme of your choice from the already provided set. You can also set the background of your choice by importing the required file. You can then give a project name, follow it up with a unique coming-soon punch line and provide a short but clear description about the upcoming website purpose and other relevant details. You also have the option of inviting the people to sign-up by providing a space for entering their email.
Then you can create the Sharing-page by configuring the settings for Facebook like, by posting a Twitter Message and entering your Twitter Account, by posting Tumblr message and a related project image on it and also set up E-mail subject and content so that people who sign up for your LaunchRock page are able to invite their friends by using e-mail. You can also provide links to your site related Blog, Facebook and Twitter accounts. You can save all these sharing settings if you like to give them on your landing page and can continue further.
Thirdly you can edit the contents of the sign-up confirmation e-mail the people will receive when they sign up for your web page. In addition to this you can also do other site settings in the fourth step such as give the business address of your website, set up the Google Analytics ID. You can define a primary as well as secondary category that suitably defines your website and tag it simultaneously. You also have an option to use LaunchRock distribution channels to make your site discoverable. As for the fifth step, you are required to define your domain settings. You can have a hosted landing page or can have LaunchRock as a widget by integrating it with your website that you have already created and are hosting it also.
Finally after doing the above steps you can preview the "launching soon" page before actually launching it for the people over the web. LaunchRock also provides Insight features such as total e-mails registered and total domain views and is working to add new insight features as well.
So if you want to quickly and easily build a "Launching soon" page for your upcoming website then probably there is nothing like the services of LaunchRock. It provides a powerful built-in method for running a viral marketing campaign when you couple its affiliate link feature with an incentive program. It is suitable for various types of users including non-technical users and also for promoting various types of products and services including promotion of mass-produced product. So effectively and efficiently build you're launching soon page with LaunchRock.