With everything going online and becoming digitized, it's an old-fashioned practice to have business cards in the pocket.
Moreover, what would you do if you have 1000 business cards?
It becomes all messed up.
Nowadays, a new trend has emerged wherein you scan and save business cards in your e-devices.
So, to help you out in digitizing your business cards we have come up with a post wherein we show you the best business card scanner apps for Android and iOS.
The utility of business cards remains intact even up to the present day.
It is a small piece of paper or cardboard that has the details about the concerned person or company. It is useful because you cannot remember details about someone, such as the name, email, contact number, address, and designation.
As a business card has all these details imprinted on it, you can easily refer to it when the need arises. In fact, a business card is an integral part of the sales games.
However, you don't want a whole lot of business cards piling up at home. Moreover, it can happen that you misplace a business card or lose one. So, all the details are lost forever. It's the last thing you want to happen with your business cards.
So, what's the best thing you can do with your business cards?
After all, you want to keep them safe and use the details on your business cards as and when you require.
All thanks to the smartphone world.
Now, you can digitize your business cards using best business card scanner apps.
In fact, there are multiple business card scanner apps for Android and iOS platforms that enable you to save information by scanning business cards.
Once the business cards are digitized and synced with the contact details, you can find everything at one place and go on to use it whenever required easily.
In this article, we have listed some of the most popular and best business card scanner apps for Android and iOS platforms.
Let's have a look.
5 Best Business Card Scanner Apps
1. CamCard Free
If you are one those who are fed up with the chaos of business cards, then CamCard Free business scanner app is for you. In fact, CamCard is the most powerful business card scanning app for Android and iOS devices. It is the best business card scanner app used by as much as 100 million users worldwide.
The best part, it comes for free. CamCard comes with easy functionality for scanning the business cards and saving them onto your Android and iOS devices. It's a perfect fit for sales people, marketing experts, entrepreneurs, and business developers.
Features
Scan and store your business cards
Add notes & reminders to contacts
Exchange e-cards with people nearby
Get contact updates
Navigate to contact addresses in Map
Access contact information across multiple devices
Comes with 17 recognition languages
Scans up to 200 cards in free version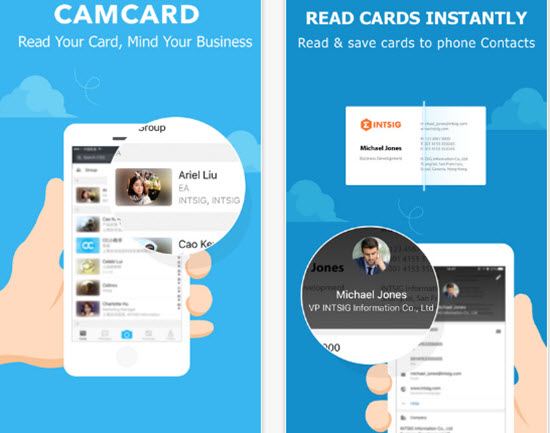 2. WorldCard Mobile
WorldCard Mobile is one of the leading business card scanning apps for Android and iPhone users. It employs OCR technology for instantly transferring information from business cards to user's native contacts. WorldCard Mobile eradicates the need of manually inputting contact info from business cards.
Why WorldCard Mobile?
Capture business cards anytime & anywhere.
Capture business card images with the iPhone or Android Phone's camera.
Support interface in different languages
Recognition of 25 languages such as English, French, Russian, Spanish, German, Japanese, and much more.
Sort recognized information by name, position, company, contact number, address, or other fields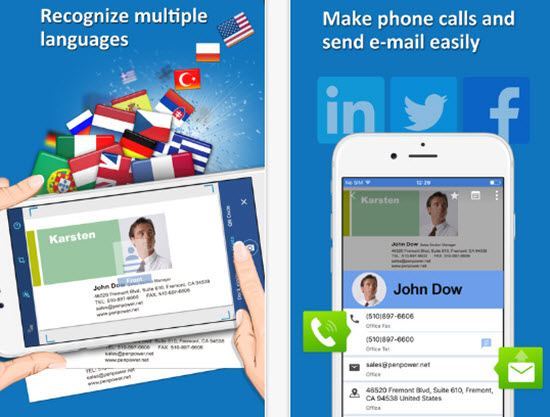 3. ScanBizCards Lite
ScanBizCards is one of the most popular and versatile business card scanner and reader apps for Android and iOS devices. It's the only business card scanner app that lets you scan your business card on your phone OR and submit the card for manual transcription. It comes with cloud backup and sync across multiple devices. You can have access to cards from any browser. ScanBizCards is an ideal app for sales persons as it can export your business cards to multiple CRM platforms.
Using ScanBizCards, you can convert your business card to phone contact in four easy steps:
Take a Snap or import a photo of your business card
Scan the card
Edit and review the results
Add to the address book or else merge with an existing contact
ScanBizCards supports 22 scanning languages including English, German, French, Spanish, Swedish, Russian, and much more.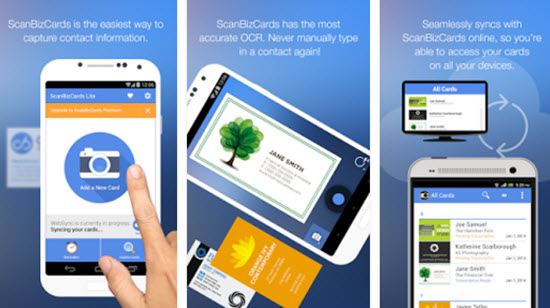 4. Card Scanner
Card Scanner is another very popular and powerful business card scanning app for Android and iOS devices. The best thing is that it is available for free. Moreover, Card Scanner delivers the greatest standard of accuracy.
It extracts information from business cards and enables you to save that information to Zoho CRM as a contact or lead. It employs a simple scanning process. Card Scanner can extract data from business cards in multiple languages. It extracts the address information and includes it in a map.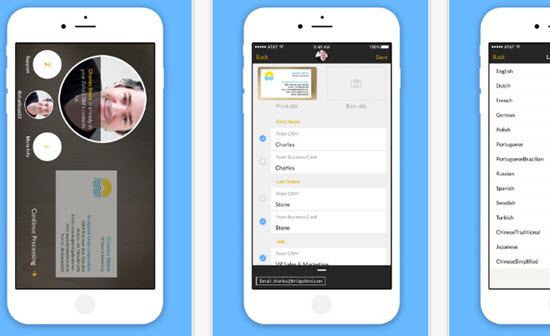 5. FullContact Address Book
FullContact lets you to easily manage and access the contact information you need for making connections on the go. With FullContact you can import and sync contact information with up to 5 Gmail and iCloud accounts. Moreover, it even lets you add social profiles to your contacts. Your connections are always in sync.
FullContact lets you combine Google Contacts, Phone Contacts, and Social Media accounts. You can add tags and notes for organizing contacts. You can even move contacts between iPhone and Android. It lets you to backup your contacts to the cloud. Automatically merge duplicate contacts.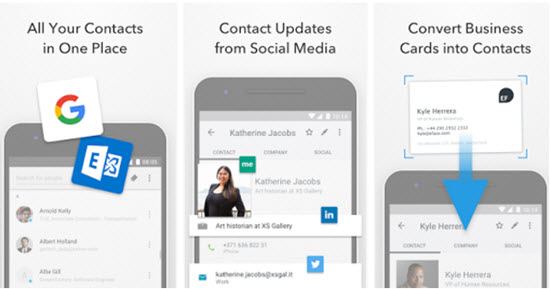 We hope that the list proves comprehensive enough to help you choose the best business card scanner apps for your Android or iOS device. Do share your comments and suggestion with us.