Businesses worldwide are becoming competitive day by day.
For succeeding in such a competitive environment, businesses require tools that foster communication and collaboration between employees.
This demands more efficient workplace solutions that can enhance the workflow and improve communication between the employees.
So, if "performance" matters to you, then your business needs to use tools that go on to streamline communication and collaboration between your employees.
Google G Suite is one of the most affordable, scalable, and professional solutions for businesses (and even for individuals) looking to meet their sophisticated email, collaboration, storage, and other digital communication needs.
G Suite offers a set of tools to boost productivity, enhance workflow, and improve communication and collaboration between your employees.
G Suite is a complete package of powerful tools for managing all of your business tasks online. It is an intuitive set of applications that are not only easy to set up but also simple to work with.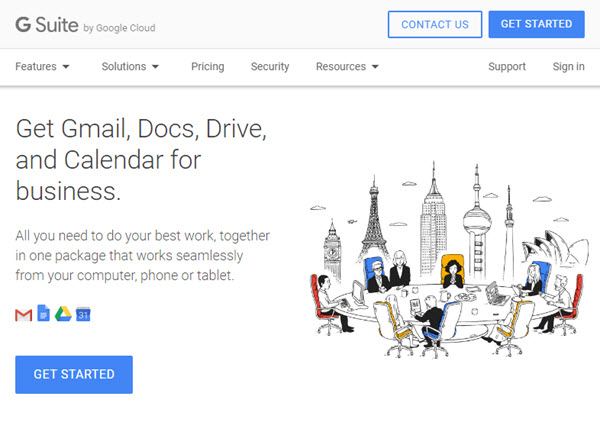 About Google G Suite
Formerly it was known as Google Apps for Work and Google Apps for Your Domain, G Suite is a brand of cloud computing, productivity, collaboration and communication tools developed by Google.
It was launched on 28th August 2006.
G Suite consists of Gmail, Calendar, Google+, and Hangouts for communication; Drive for storage; Docs, Forms, Slides, Sheets, and Sites for collaboration; and also provides an Admin Panel and Vault (depending on the plan) for managing users and the services. G Suite also offers the digital interactive whiteboard Jamboard.
While you may argue that these services are free to use for consumers, the important thing to note here is the fact that G Suite provides additional enterprise features. It includes custom email addresses at a domain, the opportunity for unlimited cloud storage, additional administrative tools, advanced settings option, and 24/7 phone and email support.
As G Suite is based on Google's Data Centers, it ensures that data and information are saved instantly and further synchronized with other data centers for backup purposes.
Another important highlight of G Suite is that users do not see ads while using the services. Furthermore, the data and information in G Suite accounts are not used for advertisement purposes. Plus, G Suite administrators have the option to fine-tune security and privacy settings.
As of January 2017, there are three million paying businesses which are using G Suite. Plus, there is 70 million G Suite for Education users.
Benefits of using G Suite
Here, we list out the reasons why you should move your business from free Gmail to G Suite. So, here are the benefits of using G Suite.
Custom Business Email Addresses
With G Suite, you can have custom business email addresses (like @yourcompany.com) and get the same Gmail user experience that you and your staff is used to work with. Furthermore, no training is required for current Gmail users. Plus, you need to go through straightforward one-time setup procedure for using your domain for the G Suite email addresses.
Email Account Ownership
If you use G Suite, then all your employee email accounts are owned by your company. So, your employees don't own them. When someone leaves your company, the G Suite administration panel allows you to change that person's password immediately.
You can forward any emails which are sent to their address to someone else. Furthermore, you are allowed to access all the email history of that person.
File Ownership
Another big benefit of using G Suite is that all Google Docs, Sheets, Slides that are created by any employees are owned by the company. You can come up with a company policy that mandates employees to back up their local PC or Mac work folders & files to the Google Drive of your company.
So, if any employee leaves your company or decides to terminate an employee, you would still have full access to all of their business files.
Document Sharing
G Suite makes it easier to share documents with your team when you all are using the same G Suite account. For instance, you can easily give all employees view-only access for a Google Doc using G Suite with just a few clicks.
Group Email Addresses
With G Suite, you can create group email addresses at no additional cost. You can add as many as you want. Furthermore, you can easily route emails sent to ([email protected]) to multiple people or even to a customer service system like Zendesk, Salesforce, or Freshdesk.
Multiple Email Aliases
You can create multiple email aliases for any G Suite user.
For example:
[email protected]
[email protected]
[email protected]
With email aliases, it becomes easy to tell someone that your email address is [email protected], even when your business card has the more formal [email protected].
G Suite even allows multiple domains associated with each user's email account. So, you can have multiple domain aliases, as well.
Ability to use Outlook as an Email Client
For employees who want to use Outlook as their email client, Google offers Google Apps Sync for Microsoft Outlook.
More File Storage
For free Gmail accounts, the default storage provided is 15GB. However, with G Suite Basic it is 30GB per user. G Suite also provides options for increasing the storage beyond the 30GB per user.
Other Benefits Include:
• With G Suite, you have 24/7 phone, email, and chat customer support.
• You can display your company's logo within all of G Suite.
• Comes with CRM Integration.
• Extra Security with 2-Step Verification
• Single Sign-On To Other Business Applications such as DocuSign, Marketo, Salesforce, and Slack.
• G Suite offers a new online meeting experience with Hangouts Meet.
• Cost effective

Google G Suite Pricing
G Suite offers a Basic plan at $5 per user per month and includes email addresses with custom domains (@yourcompany.com), calendars, video and voice calls, 30GB storage, spreadsheets, collaborative documents, presentations and sites, security and privacy controls, and 24/7 phone, email, and chat support.
Its Business Plan comes at $10 per user per month and includes Vault for eDiscovery, a number of additional custom features such as advanced admin controls for Drive, audit reports for tracking user activity, unlimited cloud storage, and lots of other features.
The Enterprise option is also available which comes with a premium office suite with advanced controls and capabilities.
Google G Suite Promo Code
Here, we will be giving you G Suite Promo Code through which you can save your money. You can use the G Suite Promo Code to get an additional discount. It is applicable where Google is selling G Suite packages. It works for Basic as well as Business Plans.
However, it is only for the first time registrations, and you will not be able to redeem it later. So, go on and use the G Suite Promo Code and get 'Big' discount on this best platform for cloud computing.