Running a successful Online Business means in the first place having a website up and running that fulfills your requirements. It also invariably means that you are able to have all the elements like web content layout, navigation bars, images, photo galleries, attractive theme, user subscription forms and excellent hosting with unlimited web space for your websites. Weebly provides you an easy, quick, free and powerful web platform for building your site. Weebly is particularly useful for those people who have little or no HTML programming experience and want to build a simple yet effective websites.
What it is?
Weebly provides one of the most successful platform for website building. It was founded in 2006 and has completed 6 years of successful business. Millions of businesses now a day's take Weebly services for building feature-rich powerful website in no time what so ever and that too absolutely free. Weebly provides a complete solution in terms of website domain registration, site building and web hosting. With Weebly you can easily create a website or a blog by just using a simple drag and drop interface.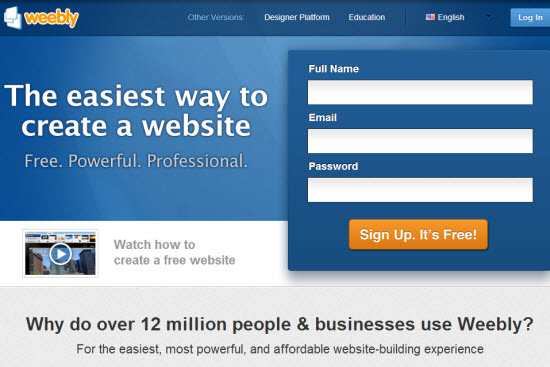 How to get started with Weebly?
You can start on the journey of building, hosting and running a fabulous and successful website just by filling up the registration form provided on the main page of Weebly site. You are required to fill up 3 fields only namely – username, password and email. Submit this information and your account will be activated instantly. You can then start building your website immediately. It is a great platform for new entrants into the web business or blogging world. Its "Builder Interface" is really cool and easy to operate. You can just drag and drop all the elements to view the changes immediately.
Rich and Extensive Features of Weebly
There are several reasons which make Weebly a world class platform for building excellent and effective websites. It has extensive list of superior features to its credit which makes it one of the best platforms for web designing.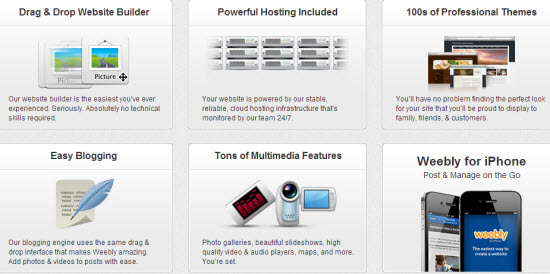 It is a powerful Drag and Drop Website Builder: Weebly has an extremely easy drag and drop website editor. You need no HTML or technical skills. Just dragging the elements such as texts, images, videos, maps and pictures, you can add them to your websites. And it is really very easy.
You get 100+ Professional Themes to choose from: The Weebly Editor offers numerous design templates from which you can select your preferred theme for your website. You can use the already available themes or even customize them to suit your needs.
Gives Powerful Blogging Features: With Weebly you can include unlimited number of blogs within your website. It also provides comment moderation features.
You can use your own Domain: Weebly lets you use your own domain name and still host your website for free.
No Forced Advertising: Weebly doesn't place advertisements on your website forcefully. But if you want to place AdSense advertisement on your website, you can easily accomplish it.
The other notable features of Weebly include Easy Form Builder, powerful hosting of your website with no bandwidth restrictions, facility to view detailed visitor traffic statistics and many more features as well.
Conclusion
So if you want to build a simple yet powerful and professional website, Weebly is an quick and effective way out. It is a complete web designing and hosting solution and moreover perfect for beginners in the world of web as it is very easy to operate and requires no prior technical knowledge. And on top of it all, it comes for free. So you can efficiently build and host your website through Weebly.