Are you looking for Best Password Manager? Well, you are certainly at the right place as we go on to showcase a compilation featuring 9 Best Password Managers.
In fact, Password Managers are for everyone.
Even you need a Password Manager.
They make life easy for you by fortifying you against online vulnerabilities.
They go on to generate strong random passwords and sync them securely across browsers & devices thereby making them accessible everywhere and fill them automatically when the need arises.
However, finding a suitable password manager is not easy at all. The simple reason being that there are quite a many of them. Moreover, no two password managers are created alike.
In fact, we did an extensive research to jot down the most popular options.
We have listed out their features so that you can pick the most suitable one from the list.
So, it's a post featuring 9 Best Password Managers.
If you are not a tech-savvy person, there's a good chance that you may not be familiar with password managers.
For you guys, here's a brief overview of password manager.
To start with, we must say that installing a password manager is important when you want to make your data safe and secure.
It's not only required for security exports and the paranoid: it's must for everyone – including you.
Moreover, most of the time your passwords aren't very strong and chances are quite high that you use the same one for different sites.
From a security point of view, this is bad. It's an open invitation for hackers to get at your data.
On the other hand, a strong password is long, complex, and invariably different for every site visited by you.
However, remembering a strong password is a big asks particularly when we have to deal with many passwords.
Herein, comes the role of a good password manager.
In fact, by using a good password manager, you are able to generate and manage all the complex and unique passwords easily without putting a strain on your head.
Further up, a good password manager has many extra features such as security assessments, random-character generation, and other tools, as well.
Features in a Good Password Manager
At the core, every password manager generates secure passwords in a matter of few clicks. It is saved in a database encrypted behind a "master password."
It enters them automatically on your favorite websites, so you don't have to bother about entering them on your own.
Plus, there are many extra features that make life easier for you. It includes features such as:
Online and Offline access: Online password managers sync between your computers and other devices, while the offline managers store the password database on your computer.
Two-factor Authentication: It uses two factors for verifying your identity. One is the master password. The other is usually a code texted to your phone to verify that it is you.
Browser Integration: A good password manager interfaces with your web browser and automatically enters the password for you.
Automatic Password Capture: Most good password managers will prompt you a message signaling that would you like to save the password (in your database) that you entered on a new site.
It also detects any changes you make to your password and update it in your database. It's a very useful feature tied into browser integration.
Automatic Security Alerts: They offer automatic notification served by email, in-app, or both whenever there is a breach occurring on a service you use. It helps you to stay on top of any password changes.
Portable & Mobile Support: Usually a good password manager is portable and offers a smartphone app for managing the passwords on the go.
Security Audits: It's a handy feature that performs an audit on the password database pointing the use of weak passwords and even the same passwords across services.
One Time Use Passwords: It allows you to pre-designate a password for one-time use only. However, it cannot be used again in the future.
Password Sharing: Allow sharing of passwords within or outside the framework of that particular password manager.
Now, that you know the important features of a good password manager, it's time when we check out the best ones in the industry.
So, here's the list for you. These are the 9 Best Password Managers:
9 Best Password Manager
Dashlane comes with a host of powerful features including password auditing, syncing, assisted automatic password changes, and even security alerts in case of breaches.
Dashlane has a slick Web 2.0-type interface. It allows you to reset your passwords at once in the event of a major data breach.
It's a simple and secure way of managing your passwords. It generates unique passwords for protecting your accounts and passwords.
However, its relatively high premium price ($40 per year) and the read-only web interface are the only two major drawbacks of this otherwise good password manager.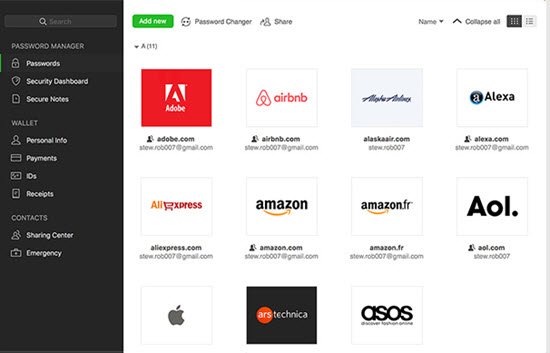 LastPass is a very popular password manager. It is regarded as one of the best password managers. It goes on to simply your life by remembering all your passwords, so you don't have to remember any of them.
LastPass can be downloaded for free. However, you can also go for its premium version for just $2 per month. It's useful for both personal as well as business purposes.
Take it everywhere. Just save a password once, and its instantly available on all your devices.
With LastPass, simply log in and go. Once you have saved the password in LastPass, you get it whenever you need it.
It simplifies online shopping filling all your payment & shipping details for you. With its built-in password generator, you get strong, randomized passwords protecting you against any hacking attack.
With LastPass, you can keep all your memberships, Wi-Fi passwords, and notes safe and easy to find. It even allows for sharing of passwords.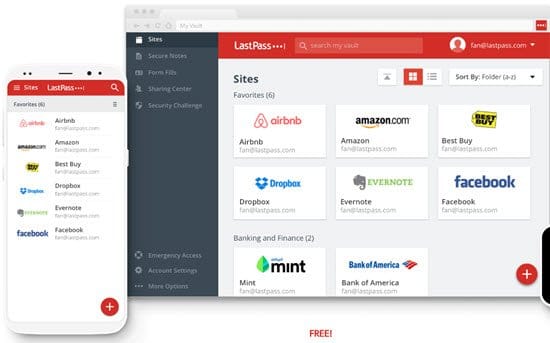 KeePass is a free, open-source, easy-to-use and light-weight password manager. It helps to manage your password securely. All the passwords are kept in one database which is locked using a master key or a key file. So, you have to simply remember one master password.
You have to select the key to unlocking the whole database. The database is encrypted using the best encryption algorithms.
It's best if you don't want to put your password data in the cloud. Moreover, its fully open source, extensible, and portable. Technically, KeePass is an offline password manager. It offers total control over your password system.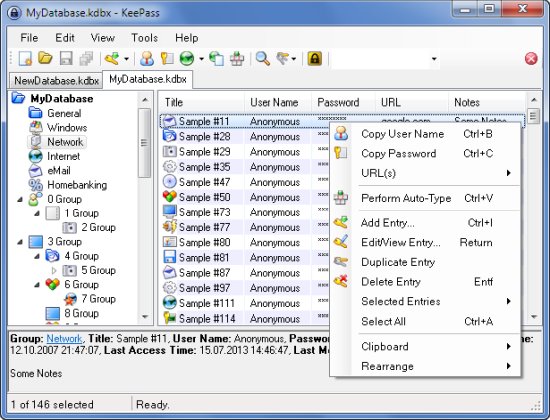 1Password was originally built as a premium password manager app for Macs only. However, now it offers a Windows App together with iOS and Android companions.
However, its price is something that throws first-time shoppers off.
Desktop versions of 1Password are trial only while the mobile versions are free. Its desktop apps come at $49.99 each and can be bundled at $69.99. The iOS app comes at $9.99 premium upgrade while the Android app comes at $7.99 premium upgrade.
That said, its license can be shared for with up to six people living in the same household. Best part, it offers a handy wizard to help you pick the best product based on your needs.
Essentially, 1Password is an offline desktop password manager. However, it allows you to sync your passwords to your Smartphones manually. 1Password also features very polished browser integration.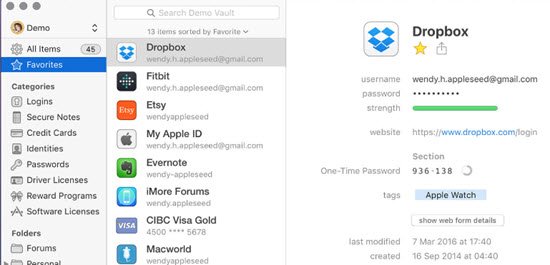 RoboForm is a top-rated password manager. With RoboForm, you never have to remember or key-in your passwords again. Besides being a secure password manager, RoboForm also serves as smart form filler thereby enabling you to save your precious time while surfing the Web.
It's pretty hard to remember lots of usernames and passwords. Let RoboForm do the hard work of recalling for you. With RoboForm your work efficiency increases.
You just need to remember one Master Password and leave the rest for RoboForm. It allows you to automatically log in to all your favorite websites with a simple click.
Best part, RoboForm Password Manager offers secure access to your passwords whether on PC, Smartphone, Mac, or Tablet. Its advanced syncing technology works across all your devices.
Plus, it encrypts data using AES256 bit encryption with PBKDF2 SHA256. And it's available for personal as well as business use. It offers free as well as paid options starting at $19.95 per year.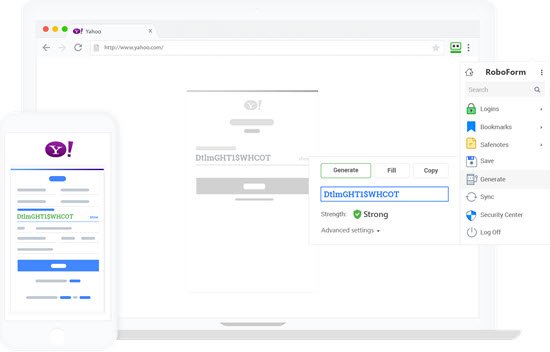 Sticky Password is another very popular Password Manager. It comes as a secure password manager and form filler. It frees you from the headache of remembering passwords.
With Sticky Password, you can login automatically. It comes in free and paid formats. It manages all your passwords and personal data. You simply need to remember one password that is the Master Password. It also works as automatic form filler for you.
Sticky Password secures all your data using AES-256 encryption. Best part, it is convenient to use. It supports synchronization via local Wi-Fi. Sticky Password works on your PC, Mac, as well as iOS/Android Smartphones and tablets.
It offers encrypted password database backup in the cloud, in case there is device loss or data stored on it. All in all, Sticky Password is an excellent password manager and more.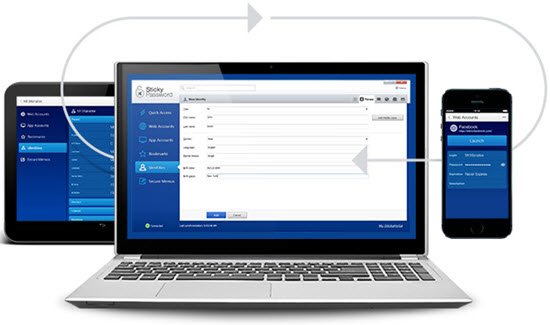 True Key is another very popular and unique password manager. It lets you to sign in without passwords simply by using your unique features.
True Key lets you to sign in using your face or fingerprint.
In fact, they have added several "factors" to sign in. You choose how you want to sign in. You can pick one of the several ways to sign in – Face, Master Password, Fingerprint, Trusted Device, or Email. They use at least two factors for verifying it's you.
Moreover, you are in control and can add additional factors if you want more security. True Key delivers automatic password management.
It auto-saves and enters your password. They securely store your passwords giving you instant access so that you can use them everywhere. They use strongest encryption algorithms to protect your passwords. So, True Key is truly simple and secure.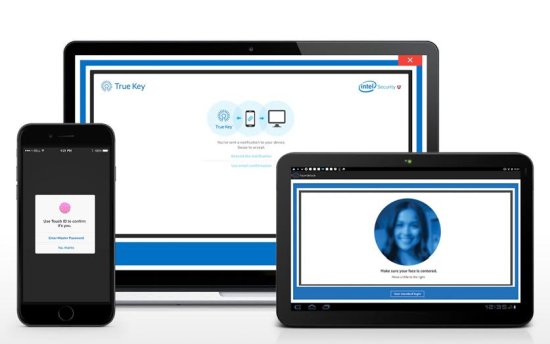 Keeper is another top Password Manager and Digital Vault for Businesses and Individuals. It delivers impenetrable security for your passwords and digital assets.
Keeper employs world-class security for safeguarding your information from hackers and cybercriminals.
In fact, Keeper offers a simple and intuitive way for managing your passwords. It generates strong passwords, auto-fills passwords across apps and sites, and organizes passwords on all devices and platforms.
Keeper offers secure and effortless file storage & sharing. Its Cloud Security Vault helps you to securely store, manage, and share your digital assets. Moreover, Keeper is simple and intuitive to deploy. Businesses can easily manage user access and can enforce security policies.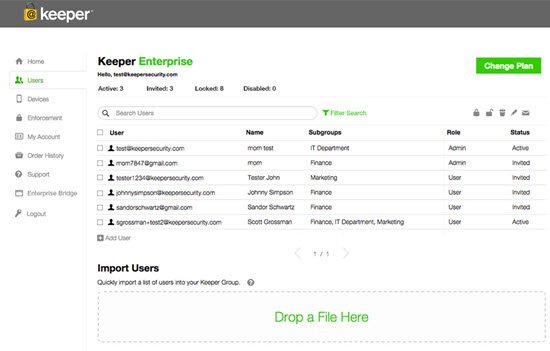 Avast Passwords is a free, powerful, unique, and secure password manager for Windows, Mac, iPhone, and Android.
It protects all of your accounts with just one Master Password. It auto-fills login information for all of your accounts so that you can login faster and without any hassle.
Avast Passwords can be synced across all your devices making you secure wherever you go.
Avast Passwords also offers a Premium option at $19.99 a year for giving you the ultimate in password protection.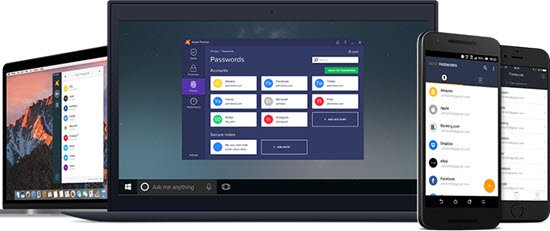 Now let's have some Comparision.
Common Features in Dashlane, LastPass, and KeePass
Encrypt Password – Yes
Two-Step Verification – Yes
Device Compatibility – Yes
Auto Login – Yes
Browser Extension – Yes
Dashlane and LastPass integrate with Google Authenticator while this feature is absent in KeePass. Both Dashlane and LastPass are Cloud-Based while KeePass is not.
Here are some more features of Dashlane, LastPass, and KeePass:
Dashlane
Incredibly easy to use
Offers Digital Wallet securely storing all your financial information.
'Form Filler' included.
LastPass
Import and Export your passwords
Create multiple identities
Syncing between all devices
Offers 'one-time passwords.'
Also, offers a virtual keyboard.
KeePass
Free and open source
Available for Windows, iOS, Mac, and Android platforms.
All the password information is stored locally on your PC or mobile device.
The Winner
There is no single winner among these best password managers. It all depends on your preferences. However, among these 9 best password managers, Dashlane, LastPass, and KeePass come out to be the most popular choices.
We have provided a good overview of their features. So, weigh your options before choosing any of these password managers. It's really important to you that you get serious about managing your passwords. This list of password managers will surely help you out.