Nowadays, most of us are glued to our Smartphones. We spend a lot of time working on our Smartphones which includes sending and receiving SMS.
When viewed from a different perspective, it means that we tend to focus on our Smartphones rather than being involved in our work.
This results in lost productivity especially when you have to do tasks on your PC which require much of your time and concentration.
Well, if you are one of those who are plagued by this dilemma of lost productivity by spending too much time on your Smartphone, there is a way out for you.
Now, you do not have to devote your precious time sending and receiving SMS through your Smartphone.
Herein, we show you a list of 10 Best Free Sites to send and Receive SMS without Phone.
It's much of a headache when you use your Phone's tiny keyboard to reply to the messages, which is no way supports fast typing at all. Moreover, you have to turn your attention away from your work and get involved with your phone.
It becomes a pathetic situation when you are frequently receiving messages and need to reply to them promptly. These messages might be from your office or from your near and dear ones. You have to stop doing your work and focus it entirely on your phone so that you can read the messages and can send out befitting reply to them.
However, things can become pretty easy for you when you use a web-based SMS service that goes on to connect your PC to the smartphone. Then you get the text messages delivered straight to your PC so that you can quickly read and reply to them without putting much of your time.
Moreover, as SMS apps or SMS services are free for sending SMS, you go on to save a lot of money. They help you send and receive SMS online through your computer instead of by using your real phone number.
So, if you also want to get rid of the nuisance of receiving and sending SMS from your phone, here is a post just for you. Here, you can find 10 Best free sites to send & receive SMS without a phone.
Let's go ahead and check out these free sites for sending & receiving SMS online without using your phone.
10 Send & Receive SMS without Phone
Pinger Textfree Web allows you to send SMS to any phone number for free. However, you need to sign up for a new number on their website which is free. So, you go on to text using the number provided to you on Pinger. You don't need your phone for using Pinger Textfree Web. Pinger turns out to be a good resource for sending and receiving SMS online for free.
With Pinger Textfree Web, anyone can sign up and use it for free. The sign-up requires you to provide a valid US zip code which in turn can be searched using Google. On sign up, you are presented with a list of US phone numbers which you can prefer to use. The phone number you choose in showed on the first line where your account information is displayed and can be accessed by clicking on the Options tab.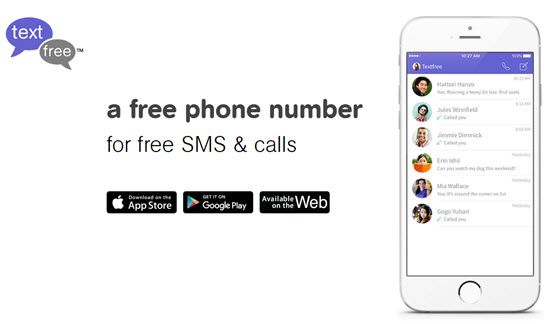 The MightyText service works like a remote control and enables you to send and receive texts, photos, and emails using your PC or through a tablet. You have to install the MightyText app on your Android Smartphone and have to sign into your Google Account.
Next, you have to sign into the same Google account using the MightyText website. The app will then send SMS to your PC using the MightyText server. You can read these SMSs on the MightyText website or through the MightyText extension.
The MightyText allows you to text from your computer using your current Android phone number. It is synced with your Android phone and number. You get phone notifications from apps like WhatsApp, SnapChat, and Instagram right on your computer.
Using MightyText, you can store your photos and videos taken from your Android phone to your PC or tablet. It offers 1-click photo sharing. It even serves call notifications, phone battery alerts. You can even send web pages, photos, and more from your computer to phone.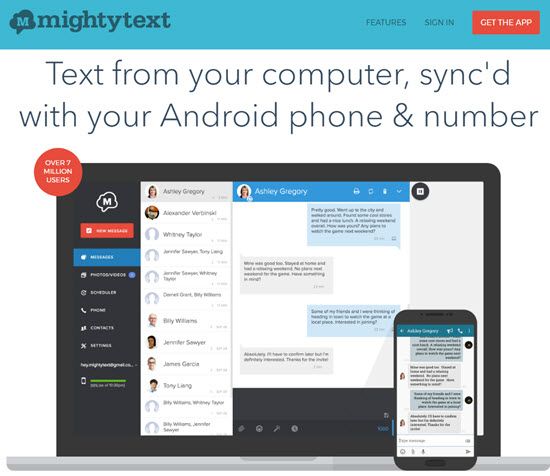 MySMS is one of the best free websites for sending and receiving texts on your computer or tablet – just as you do on your Android phone. MySMS is available for both Android as well as iOS. However, it does not support SMS in iOS.
You can install MySMS on Windows desktop, Chrome, or Mac. When you send SMS through MySMS, it will be charged against your plan unless the person to whom you send SMS also has MySMS installed on the computer.
MySMS makes it easy for you to send detailed messages from the comfort of your laptop. You will simply love to text using MySMS. It works perfectly well as is synced with your phone, tablet, and computer. What's even more amazing is the fact that MySMS is available in 180 countries. Currently, there are over 1 million MySMS users, and it has synchronized as much as 1 billion messages.
MySMS uses your existing phone number and can be used for sending text through your Android phone. Moreover, MySMS is safe and secure with messages being encrypted and saved securely in the cloud. You get notified when a call reaches your smartphone. It can also be customized with your favorite colors.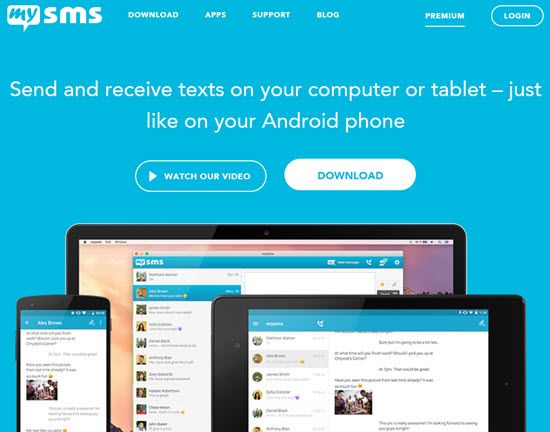 Pushbullet is another very good free service for sending texts from the comfort of your PC or tablet. It connects across all devices, making them feel like one. Pushbullet allows you to send and receive texts on your computer easily.
Pushbullet offers phone notifications served right on your PC. So, you never miss a call or text while working on your PC. It goes on to show phone calls, WhatsApp messages, texts, and more.
Pushbullet allows you to follow interesting things, including new free games, Google acquisitions, and more. You can even share links across any of your devices. It makes sharing and chatting with friends even more convenient. It also makes sending files between your devices easy.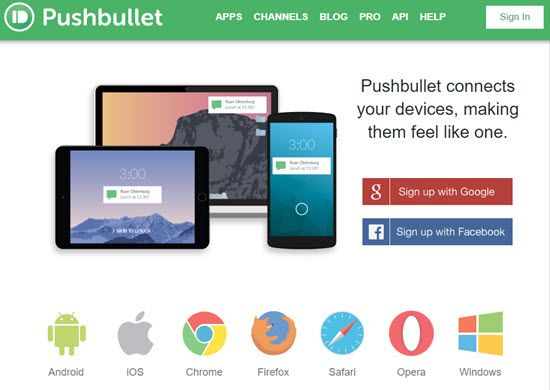 Receive-SMS-Online is an amazing service for sending and receiving text messages online when you wish to have your real phone number to yourself. You can pick a number from a list of numbers for the service. Receive-SMS-Online is free to use. You need not do any sort of registration.
It can be used to get a message in case you want to have the real phone number to yourself. It is best to use when you have good access to the web or when your phone has stopped working or even when you do not carry your phone.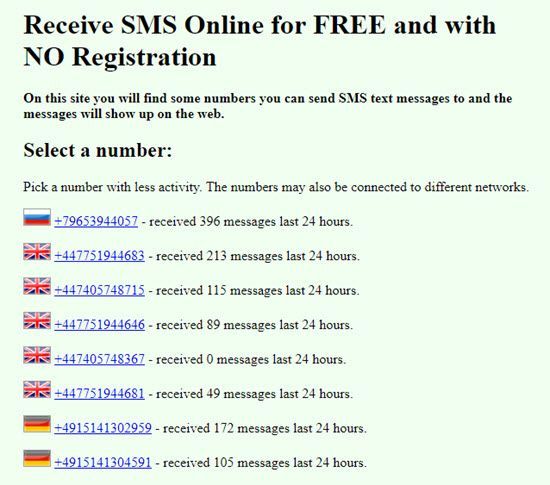 Free Online Phone is an excellent service for sending text messages through your computer. It provides a list of numbers from various countries including United States, Canada, United Kingdom, and Sweden. You just have to use one of these numbers, then go on to select one of the numbers and see the SMS reach that number.
It puts no limit on the number of accounts that can be attached with one number. You need to reload the web pages for seeing new messages that are received. A message is shown in less than one second after it is received. All messages received are shown, and nothing is blocked.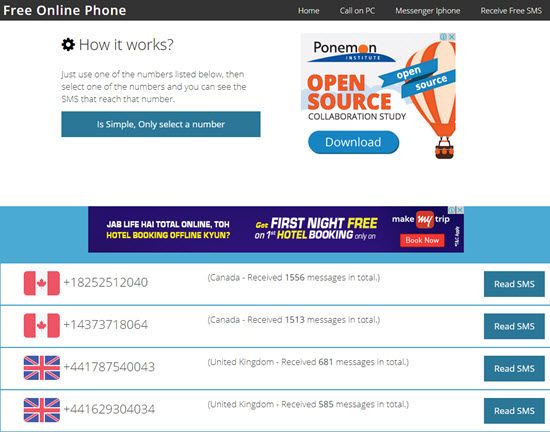 Google Voice is a free service for sending and receiving text messages, making calls, and for checking voicemail. You need to sign up for a Google Voice number first. It is available for both Android as well as iOS users. Google Voice can be used on all the devices so that you can connect and communicate as you want.
Google Voice can be used for managing and organizing all your conversations. It offers simple navigation and time-saving features such as voicemail transcription. You can forward calls and messages across your devices and have spam filtered them automatically. Google Voice gives you the liberty to decide who can reach you and how.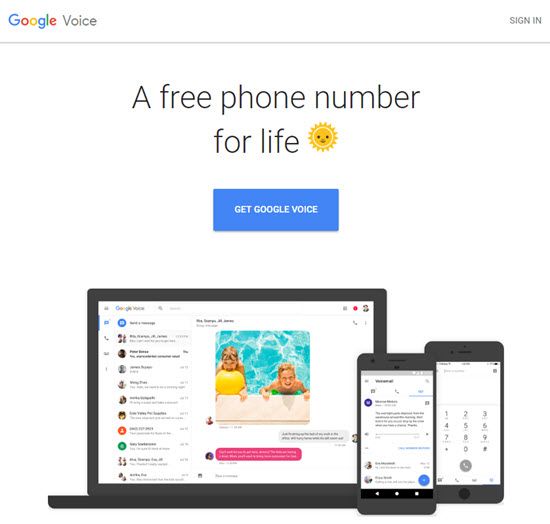 Receive SMS Online has been created by the company called as "Clicklow." It offers virtual numbers from Canada, United States, United Kingdom, Sweden, and more. You just have to use one of the numbers that have been provided on their website, then select one of the numbers and see the SMS reach to that number.
A message is shown in less than one second after receiving it. All messages received are shown, and not a single one is blocked. It is free to use, and you don't need to register on it.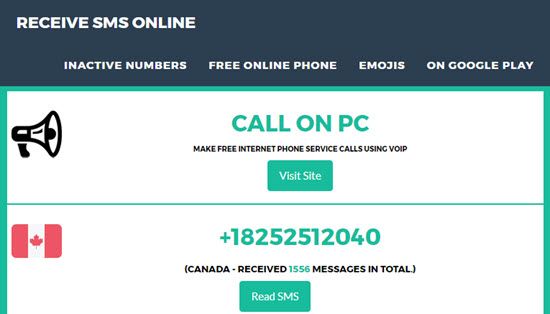 You can use Text'em for sending text messages to any of the major United States cellular services. The messages that are sending and received through Text'em website are free. It allows you to block your number if you receive unwanted messages from its site.
Using Text'em is very easy. You have to enter recipient's mobile number, select the mobile carrier, and type in your message. It allows you to create account.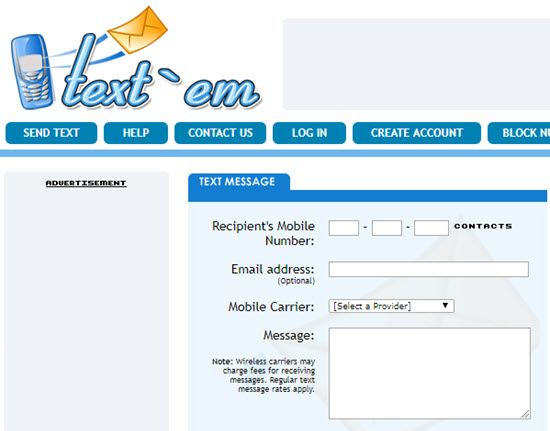 Textme offers unlimited free texting and calling to any phone. It allows you to share rich content including pictures, videos, voice messages, and more. Textme offers a free personal phone number and voicemail. You can do video calls and group chats.
It has become a leading application offering SMS, voice, and video calling on both Android and iOS. You can send text messages for free. It also offers domestic and international calling to any number in the world.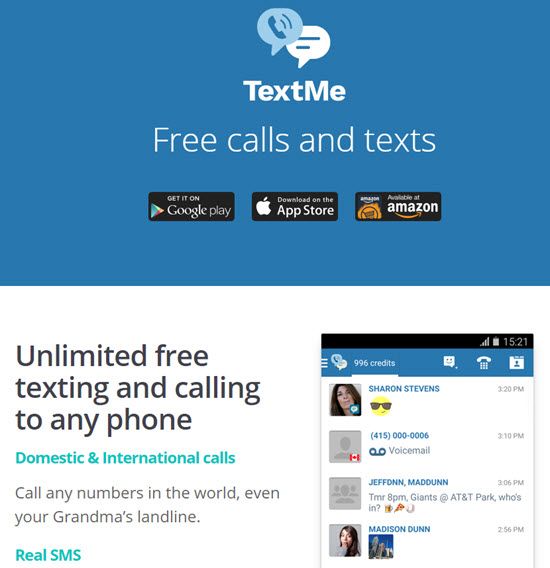 We hope that this presentation on 10 Best free sites to send and receive SMS without phone proves immensely useful to you. If you liked the post, don't forget to share it with your friends and colleagues.