If you a web designer or developer you must know the importance FTP but this FTP is fading away for most of the people. As a web developer I have used so many FTP clients but none of them was as good as FileZilla. FileZilla is still one of the best FTP client because of its easier interface and usability.
FileZilla is an open-source free FTP client available in almost every platform and bundled with lots of features.
Getting Started With FileZilla
FileZilla is pretty easy to use to once you installed the software it would be pretty easy for you to send or receive files from it you can download the installer from http://filezilla-project.org
Run the application and click on the site manages a window will appear in the screen ask for your FTP information and this site manager will save your FTP login information so you don't have to provide it again and again so you can easily connect it later.
FileZilla also comes in portable version you can keep the portable version with you on a flash drive, or use on a regular PC without spreading out the app data files. The portable version works just as well as the regular version and is also free.
Easier Interface
Even if you are a novice user it is pretty easy for you to use it because all of the icons at the top have tooltips that pop up quickly when you hover, telling you what each button does. And if you are at all familiar with FTP, you should be able to use it right away because it is intuitive and simply designed.
One thing that I really love about FileZilla it gives us the detailed information and creates a separate window for queued files, failed transfers and successful transfers, letting your see where FileZilla is exactly in processing your files.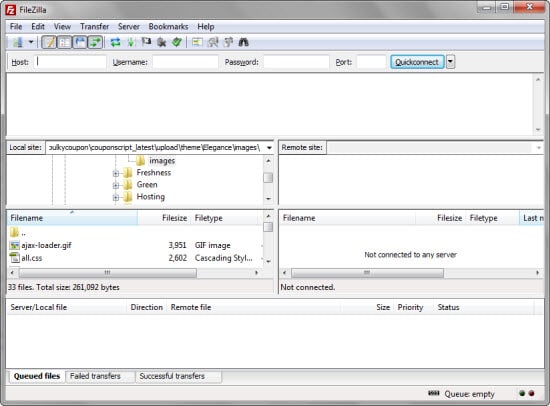 FileZilla Features
FileZilla Support pause and resume function for your uploads and downloads and you can even simply Drag and Drop files to upload or download with FileZilla. There is also an option of comparing files so you can easily compare files on your website and local directory of your computer with directory comparison feature of FileZilla.
With FileZilla you can even edit files remotely you don't need to download the file then edit it and then upload it. All you need to remotely edit the file and then save changes into it.
Customizable Personas
You can customize you interface because FileZilla support themes and it comes with 6 themes and you can download more if you want to you can even increase or decrease the icon size as per your requirements.
Language Support
FileZilla supports multiple languages which makes it even easier to use. You can use it in your own language FileZilla supports Spanish, Chinese, French, Russian and many more. You can easily switch to one of the 50 languages available in the settings.
There are lots of FTP clients available on the internet but FileZilla is one of the best it is very easy to use and comes with lots of features like tabbed interface, bookmarks and large file transfers. That all makes FileZilla best among others FTP client.