Are you fed up of receiving call and messages from strangers?
In fact, it's absolutely a mess and totally a waste of time when you go on to entertain strangers over your phone.
Sometimes, it can be threatening, as well.
It turns out to be one of the biggest problems of phone users.
However, there is an easy solution to this problem.
There are Call Blocker Apps which can efficiently block calls or unwanted text messages from strangers.
Here, we go on to list 10 Best Android Call and SMS Blocker Apps which help you to get rid of unwanted calls or SMS from strangers.
If you are an Android user, you simply need to download, install, and configure the Call & SMS blocker app and stop all unwanted calls and messages in their track.
The Android Call and SMS Blocker Apps are loaded with call blocking and SMS blocking features and provide full control over who can contact you and who can't.
Moreover, these Android Call Blocker Apps are just not limited to blocking calls; you can even go on to block spam or unwanted messages using filters.
Furthermore, you can also choose how you would like to stay away from unwanted calls.
In fact, Google Play Store has many call blocker apps.
However, we have selected and compiled a list of the best Call and SMS Blocker Apps. Using these Android Apps, you can block unwanted calls for free. If you want more features or control, you can even upgrade to the pro version.
Let's see the list of Best Android Call and SMS Blocker Apps.
Note: For all Android devices which run on Android 4.4 (KitKat) and above, you cannot use an SMS Blocker App along with the default text messaging app. You need to replace the default messaging app with the SMS Blocker App.
10 Free Android Call and SMS Blocker Apps
Calls Blacklist works as a call blocker and an SMS filter Android app. It is very lightweight and easy to use, yet a powerful call blocker. It helps you to block calls and messages from any unwanted, private, or unknown numbers.
Calls Blacklist turns out to be the perfect solution for getting rid of unwanted calls or messages such as telemarketing, spam, and robocalls. Use Calls Blacklist for blocking numbers from your contact list, calls, and message logs. You can even add them manually.
It blocks numbers from the blacklist, without any signs of a call. You can even block a range of numbers using the "Begins with" option. It is very effective against robocalls. It even blocks alphanumeric numbers used for SMS spam.
All blocked calls and messages are saved in the "Log." It's "Schedule" function helps you to set specific times for blocking calls or messages to your Android phone. It's "Whitelist" feature helps you to stay connected with calls or SMS from numbers of this list.
Last but not the least; the call blocker app does not consume any battery power of your device, CPU, or memory resources.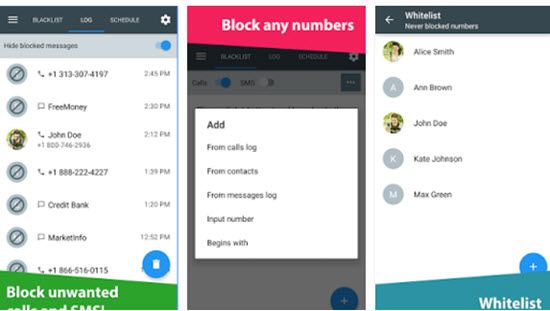 Safest Call Blocker is a free and easy to use Android Call Blocker App. It keeps everything simple without sacrificing features. It lets you create your own call blacklist quickly. You can block any number in your contact list, from your call log, or add unwanted numbers manually.
Safest Call Blocker is an ad-supported call blocker. However, its premium version removes those ads. It's logging feature helps you to view the history of blocked calls without cluttering your phone's history.
With its wild card blacklist feature, you can use the character # for creating broad ranges of blocked numbers. It blocks calls from blacklisted numbers. You receive notification of your blocked calls. It keeps blocked numbers out of your call log. And blocked calls don't ring. Safest Call Blocker has been rated as the #1 Call Blocker by many websites.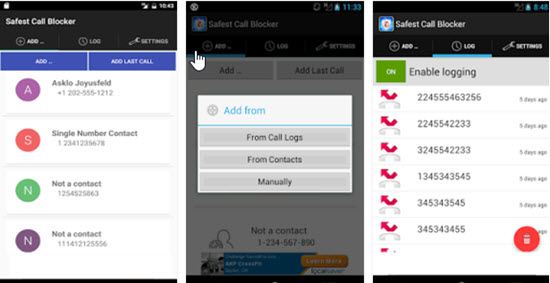 Mr. Number is a powerful call blocker on the market. It helps you to block calls and SMS texts from a person, business, hidden numbers, or the entire world. You can choose to pick up and hang up on callers or send them to voicemail.
With Mr. Number, you can easily block unwanted calls, as well as identify and stop spam, scam, or fraud. It provides automatic caller lookup for all numbers in your phone's history. You can keep the content of blocked texts, or trash them. You can Add 'Suspected Spam' to your blocklist, and Mr. Number blocks them all automatically.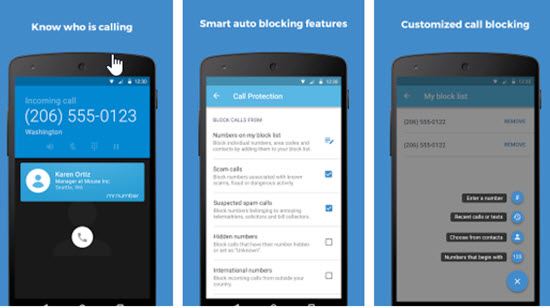 Should I Answer is a powerful and free mobile security application that protects you against unsolicited, unwanted, or unknown calls. It's completely free and as subtle as possible in its working.
The call blocker app helps you to get peace and quiet from your phone. It offers a community database of known nuisance callers and spam numbers. The app rates unknown numbers, so you get to know if a number is worth answering or not. Should I Answer is still in its inception? However, it has great potential for becoming a leading call blocker app.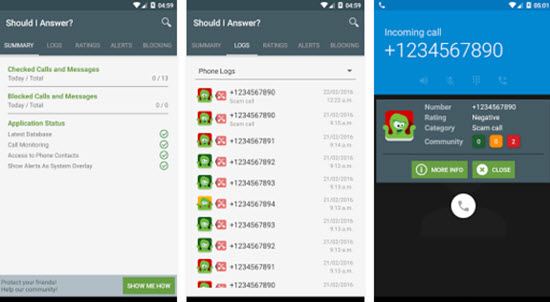 SMS Blocker turns out to be the true savior from unwanted and spam SMS & MMS. It's a free SMS blocker Android app. SMS Blocker automatically blocks spam messages. It blocks SMS on the basis of number, content word, sender phrase, or even by Series.
The blocked SMS is set in a separate folder. However, you get the option to restore to Inbox. It allows exporting of blocked SMS in Notepad format. Plus, there is no limits on the number of blocks/Allow list entries. Superior performance is all that comes with SMS Blocker. Premium version is also available. Use SMS Blocker to get rid of irritating spam SMS.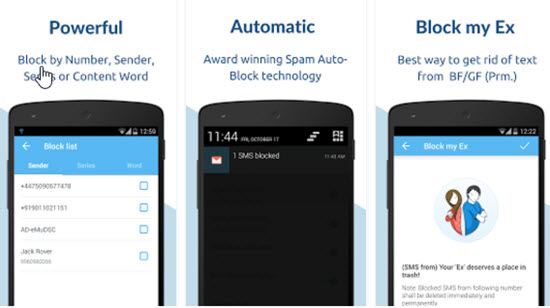 Truecaller is an Android app for identifying unknown calls or blocking spams SMS. It filters out the unwanted callers and enables you to connect with people who matter. It's the best app for making your communication safe and efficient.
It has a community-based spam list supported by 250 million users. Truecaller has an excellent database of numbers that are known to be spam or unsolicited numbers. They use this data for identifying the person who is calling you. They also use this database to block calls, as well. Its spam blocking system stops all spam messages.
It's a free and one of the most popular call blocker app. Truecaller provides Caller ID and details information. It blocks unwanted numbers and telemarketers. However, you need to register your number for using its services.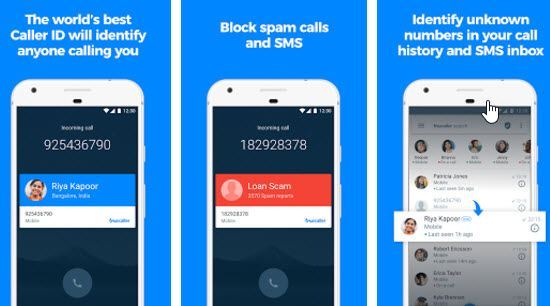 SMS blocker, call blocker an easy way to get rid of unwanted calls, spam messages, advertising messages. The application frees you from unwanted calls and unwanted messages.
It is studded with some great features.
The app lets you add the number to the blacklist, store the unwanted messages in the blocked history, and much more. It even lets you send messages, chat, and send MMS picture.
SMS blocker, call blocker comes with a password-protected mode that enables you to protect your privacy.
All in all, the app functions as a powerful call blocker and SMS blocker.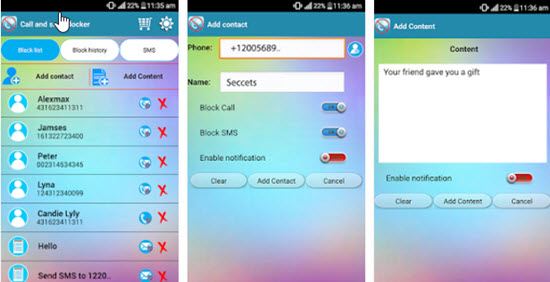 Caller ID & Block is a powerful and easy-to-use call blocker app for Android devices. It lets you block calls from known spammers and unwanted callers. With Caller ID & Block, you will never have to answer an unknown number again.
The app has a worldwide database of over 1 billion numbers. It reveals the name and photo of all incoming and outgoing calls. The application can perform Reverse phone lookups. Some of its top markets include the US, UK, France, Canada, Japan, Australia, Egypt, India, Spain, Italy, Holland, and More.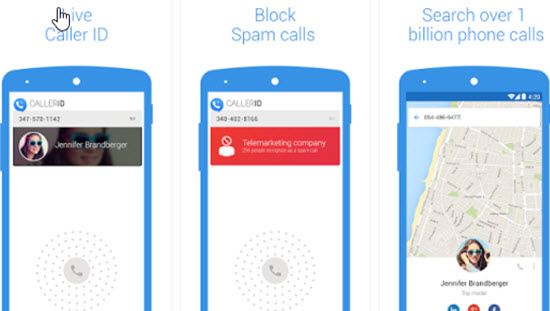 Call Blocker is a completely free call and SMS blocking app with no ads at all. It comes as a full-featured app and blocks both SMS and Calls. It enables you to specify numbers for blocking from your contacts, call logs, and message logs.
For blocking calls, you just have to add the number to the blacklist. Rest is done by Call Blocker itself. Moreover, Call Blocker can reject calls automatically. The app is thoroughly lightweight and uses very little memory and CPU resources.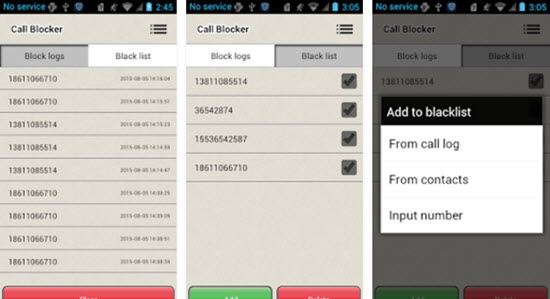 Call Blocker is among the best apps for preventing unwanted calls or texts. It is thoroughly lightweight and easy to use with low power and CPU consumption. It's Blacklist feature helps you to add unwanted numbers to the blacklist. You can even create a whitelist so that important numbers can always reach you.
The application provides multiple blocking modes at your disposal. It offers different methods to block calls including hang up, hang up and send a message, and mute. It provides blocked calls log so that you can keep track of which numbers got blocked. The app is completely free without annoying ads.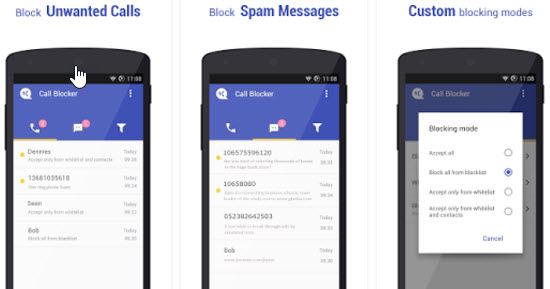 These were the 10 Best SMS and Call Blocker Apps. We hope that the presentation helps you in selecting the best Android Call and SMS Blocker App. If you liked the post, don't forget to share it with your friends and loved ones. We welcome your comments and suggestions.