There is rarely anyone who doesn't love to listen to music. Music lovers are found in every corner of the world.
Whether we are enjoying our free time or doing any work, we do not let go the opportunity to tune into our favorite music score.
People are invariably seen searching new music, downloading MP3 music, streaming music online, or playing music offline.
So, here's a collection of Best Free Music Download App for Android which helps you to download your favorite music on your Android devices easily.
Earlier downloading music directly on your Android phones was not possible. You had to download music on your computer and then transfer that music files to your Android devices.
But now things have changed for the better.
Now, you can directly download music from the Internet to your Android phone and can listen to music online, as well.
There are dedicated Android Music Apps which help you to download music/songs on your Android phone or listen to music online for free without downloading.
The evolution of technology has provided us with lots of innovative gifts. One such innovation comes in the form of Music Downloader Apps for Android devices.
So, take a look at this compilation which shows you top Android Apps for downloading music directly on your Android devices.
Now, there is no need to waste your precious time in transferring music from your PC to your Android device. You can instantly download MP3 music to your Android device by using any of these music download apps for Android.
Is MP3 Downloading Legal or Illegal?
It is the biggest question that lurks in the mind of every music lover. And so, you need appropriate answers to ward off any confusion that you might have on this important issue. Let me remind you that often it happens that whatever is popular is not right, and what is right is not popular.
In fact, an MP3 file is any type of downloadable music file, including liquid audio, real audio, etc.
The Copyright Law has made it explicitly clear that distributing or obtaining a copyrighted work (including a music file) without proper permission of the copyright holder is against the law.
Having said that, some music files are copyrighted, some are not. Moreover, some artists freely give away some copyrighted music files and provide the music files for download on the internet.
So, it is Illegal:
To download music files which are copyrighted
Burn compact discs of music that you have not purchased
What is Legal?
To download copyrighted music and songs, which have been made available by the artist for free download.
To download non-copyrighted songs which are freely available.
Downloading copyrighted music which is owned by you.
So, you see that there's a lot of stuff (music) that you can download from the Internet legally by using Android Music Download Apps. You just have to take care not to download music files which are copyrighted.
Now, let's get going and see the Best Free Music Download App for Android.
Here's the list for you:
10 Free Music Download Apps for Android
SoundCloud is one of the world's biggest music and audio streaming platform. As much as 150 million tracks and growing. It has a buzzing community of artists and musicians constantly uploading new music. It's the perfect place for next big artists alongside chart-topping albums, live sets, and mixes for every occasion.
At SoundCloud, you get to discover amazing hip-hop, rock, classical, electronic, jazz, audiobooks, podcasts, sports, and much, much more. SoundCloud is a free service where you can get thousands upon thousands of free tracks, mixes, and live recordings. It covers every genre, making it a great place for discovering new music. Moreover, at SoundCloud, you have suggested tracks based on your likes and listening habits.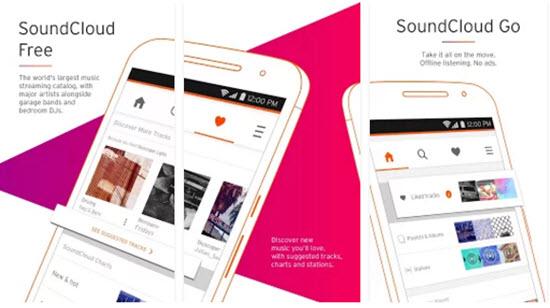 Google Play Music is one of the best MP3 music downloader and overall music application for Android. With Google Play Music, you can upload as much as 50,000 songs from your personal collection, and store them for offline listening. It's a user-friendly app and offers on-demand streaming music for a monthly subscription. Plus, you get a radio stations service, podcast Suite, and a selection of millions of paid downloads.
Features:
Radio curated by experts for anything you want to hear
Discover and subscribe to podcasts
Store up to 50,000 songs from your personal music collection
Listen on Android, iOS, and the web
Smart recommendations based on your taste
Subscription-only features:
The family plan, use the same subscription with six family members and enjoy Google Play Music
YouTube Red membership
On-demand access to over 35 million songs
Ad-free, uninterrupted listening
Download music to your device and listen offline when you're not connected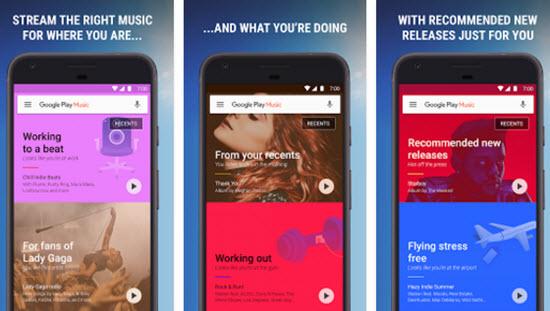 Free Music is another very popular and powerful free music download app for Android. It is a powerful third-party free music player client for SoundCloud®. It allows you to listen to free mp3 and free song freely without any subscription limit.
The app is pretty good as it offers good song selection. It offers trending music by genres. It even allows search by song name, album name, or artist name.
You can also create a playlist from favorite songs. It offers the opportunity to listen to your favorite music from millions of free songs.
However, FreeMusic does not work as a music downloader. It is unable to download music and cannot play offline except local music.
You can install Free Music from the Google Play Store. Best of all, FreeMusic is totally free and simple to use.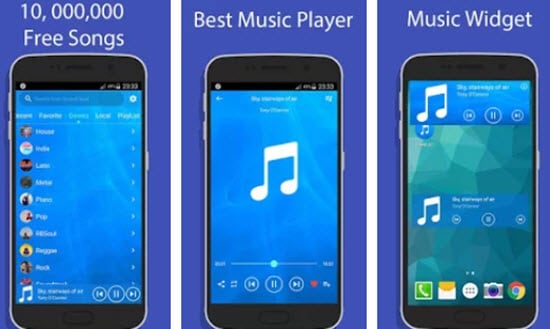 Mp3 Music Downloader is one of the advanced and powerful Android Apps for downloading mp3 music. It allows you to search, listen, and download free mp3 music on your Android device. Plus, you get millions of songs to listen or download. The App also recommends you the hottest songs by different classification.
You can search music by tracks, albums, artists, genres, instruments, popularity, and more. The app contains millions of mp3 music and different categories of music such as rap, classic, pop, jazz, rock, and much more. You get fast download speed. It's a high-quality mp3 music downloader.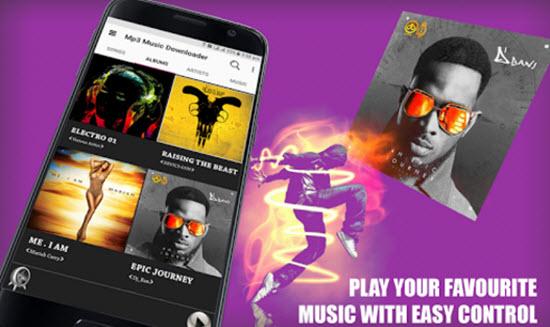 Free MP3 Download is one of the most popular and powerful mp3 music downloaders for Android devices. Using Free MP3 Download, you can search, listen and download songs that are licensed as "free to use." It is a user-friendly Android App for MP3 downloads.
As you enter your search query and hit the download tab, you get many mp3 songs appear in the search results. You just have to tap on the song that you want to download, and the song gets downloaded to the 'mp3 downloads' folder on your SD card.
It has a collection of over a million free songs. However, you can only listen or download legally allowed songs by using Free MP3 Download application.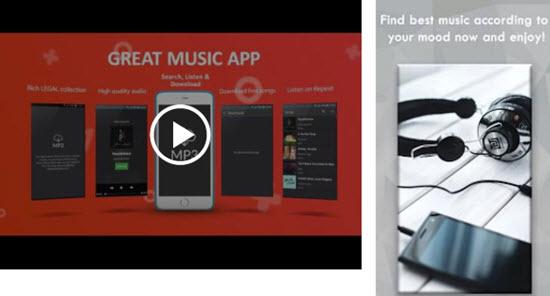 Advanced Download Manager (ADM) is one of the best Android Download Manager for you. It functions as an all-around download manager app and obviously can be used as a music downloader app for Android, as well. ADM supports accelerated downloading by using multithreading.
It has a clean interface and easy to use. It is a free Android application and shows ads. So, if you like to get rid of the ads, you can go with its pro version.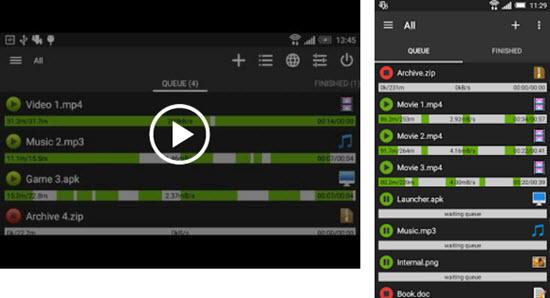 Free MP3 Music Download is another very highly rated free song downloader app available on Playstore. It functions as a superb mp3 downloader app and lets you search and download millions of free music and mp3 from the public search engine.
It allows you to search music by title, artist, or album. You can even listen to songs in streamlining. So, no download needed. Your downloaded songs are available in 'Download' folder using any file manager.
You get hundreds of genres such as jazz, rock, classic, pop, funk, rap, reggae, and more. All music available to download is under Creative Commons License. Plus the license links are always available to app users.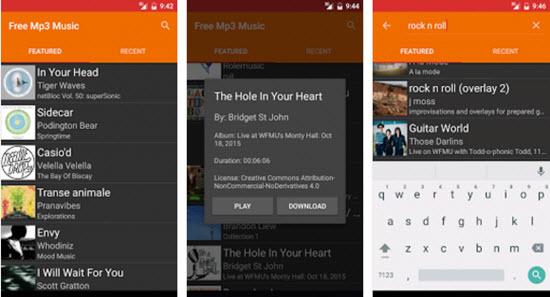 4shared is yet another top class and one of the most popular mp3 downloader apps. It provides a huge list of songs that you get to choose. It has over 5,000,000 tracks, and you can search its database for anything you need. Your downloaded music is added to the 15GB storage available in its cloud folder. It provides a huge library of music and other files.
You can add files to your account or download for offline use. It offers instant sharing of files from your 4shared account via the app. With 4shared, you can easily copy, move, delete, upload, download any files from your account on your Android device, and share them with your loved ones.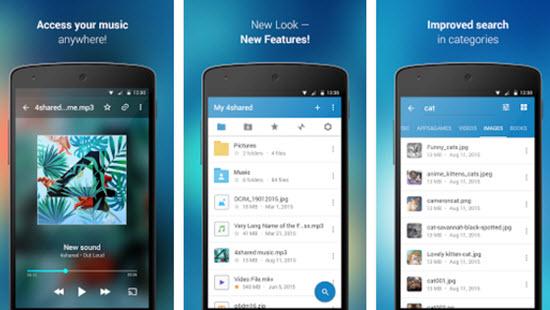 Songily is yet another very popular music downloader Android app. Using Songily, you can search and play music online. You can also download mp3 files for free. The app allows you to share your downloaded mp3 files with your friends and loved ones.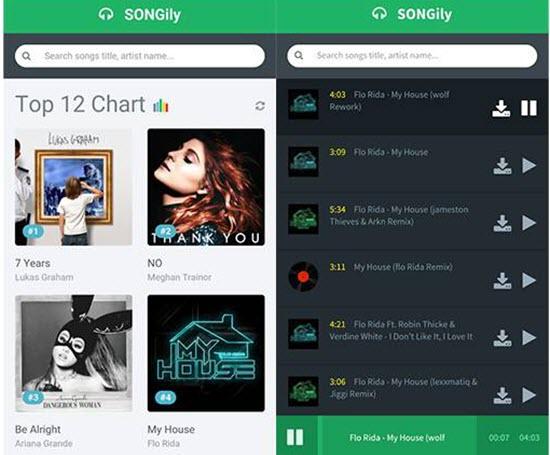 RockMyRun allows you to download music for offline playback. You can even cache it, which is just as good. It turns out to be one of the best downloaders for your workouts or walking/running sessions. It has collaborated with top DJs for producing best running music that goes on to enhance your workout.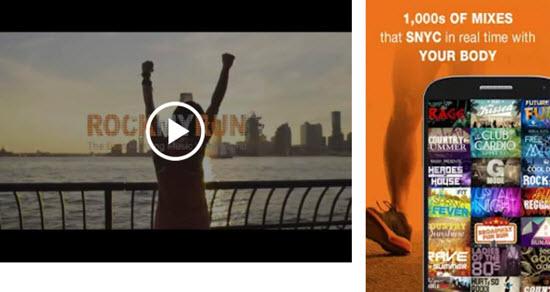 We hope that the list of best free music download apps for android proves an extremely helpful resource for you in selecting the most suitable downloader app for your Android device. If you liked the post, don't forget to share it with your friends and colleagues.