Text to Speech Software (TTS) and Online Services are used for converting written documents to audio files easily. Here, we go on to showcase 10 best Text to Speech Software and Online Services that will help you to have audio files out of your written documents.
Nowadays, most of us spend quite a good amount of our daily "computer" time in reading some sort of digital textual content. People are drenched in reading online stuff such as blogs, news articles, or offline content such as eBooks, general documents.
However, this demands proper reading and takes considerable time and effort, as well. At times, it may involve long hours of time in front of the computer. You may feel stressed out, or simply can't focus on your computer screen.
Moreover, if you have taken up an eLearning course, it might require you to read long volumes of texts. All this can lead to learning issues. Then there are people who are visually impaired or have a condition like dyslexia that makes reading on screens difficult for them. People also face language barriers when they are in the process of learning a new language.
This is where Text to Speech Software (TTS) can be highly useful. With text to speech technology making a lot of progress in recent years, the use of TTS applications has seen a dramatic increase these days.
Nowadays, there is much excellent text to speech services that can be used for converting written documents to audio files easily. You can just sit back, relax, and listen to the stuff you wanted to read.
Text to speech software is the perfect way to encounter a considerable number of learning issues. It makes learning an enjoyable experience for you.
So, simply explore this post and get to know the best Text to Speech Software and Online Services. Using this TTS Software, you can convert text documents and even web pages to human sounding audio files in multi-languages.
Here's the list for you:
5 Best Text to Speech Online Services
iSpeech makes it really simple to convert text documents to audio files. You simply require to cut and paste the text that you want to convert to speech into the text box and click on the "Convert Text" button. You can even upload any supported document, website, or blog, and click on the converted file or the listen button. iSpeech does all the work for you. You just have to sit back and listen.
Once your text document is converted to an audio file, it will auto-play. You can download the audio file, podcast it, or can even embed it as an object on any web page that supports HTML such as Blogger, eBay, MySpace, etc. It supports lots of file types, including DOC, DOCX, PPT, PDF, PPTX, XLS, XLSX, RTF, and HTML. It offers the best quality, natural sounding voices. iSpeech is a free service for bloggers.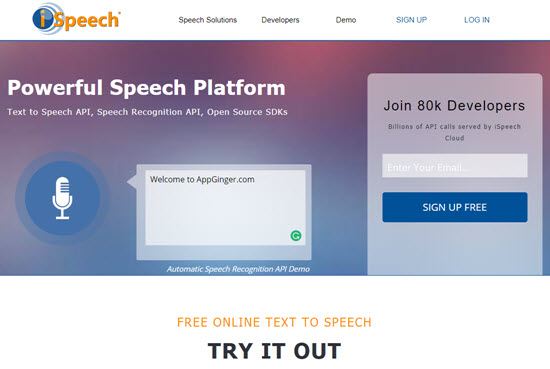 SpokenText is another very competent and easy to use Text to Speech Online Service. Moreover, with SpokenText the possibilities are endless. It provides the facility of recording text content which you can listen using the playback system of your choice. For instance, you can record your notes, or if you wish you can record a classic novel.
SpokenText provides the facility of downloading the recording and burning it to a CD and listen to it on your favorite playback system. SpokenText supports English, French, Spanish and German languages. It enables you to record Word files, PDF, Plain Text, and RSS news feed, PowerPoint files, emails etc and convert them to speech automatically. Moreover, it has a simple and intuitive interface. It offers a free trial account with one-week validity.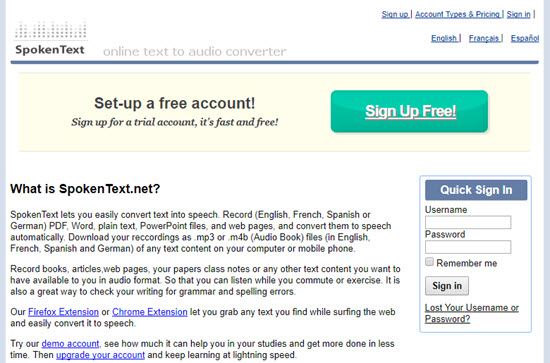 ImTranslator is one of the most versatile TTS websites in this list. Although you may find ImTranslator not as best looking Text to Speech Online Service, that doesn't mean it is less useful than other TTS Services. Moreover, ImTranslator comes out as an easy to use TTS Service. It goes on to translate text in any language and can be used for reading out to you in the desired language.
In fact, ImTranslator covers more than ten languages for Text to Speech Service. It offers an online translator that can translate text in real time. It can then convert to speech for reading out to you. The text is read in most realistic human-sounding voices in a variety of languages, including English, French, German, Italian, Japanese, Korean, Portuguese, and other languages, as well. It even offers a spell checker tool. You need to register (free registration offered) for using the services.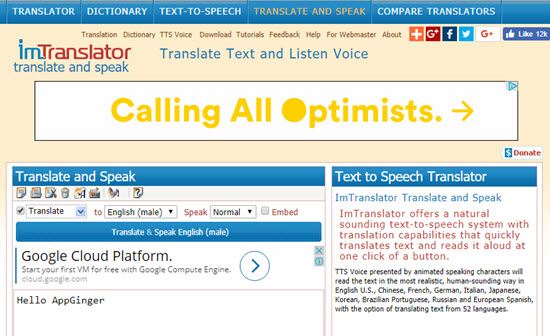 ReadTheWords is a free, and easy to use, web-based service for converting text documents to audio files. They use Text to Speech Technology and go on to generate a clear sounding audio file from almost any written material. ReadTheWords has an extremely simple user interface. It can convert text, PDF, Word, RSS, Web Pages, and HTML to speech.
The created files can be podcasted, embedded, e-mailed, or downloaded. It provides as much as 15 readers in various languages. You can also go on to adjust the speed of the readers. You can use available Avatars or can go on to create one for your profile. A browser toolbar is provided. You need to open an account for using its services.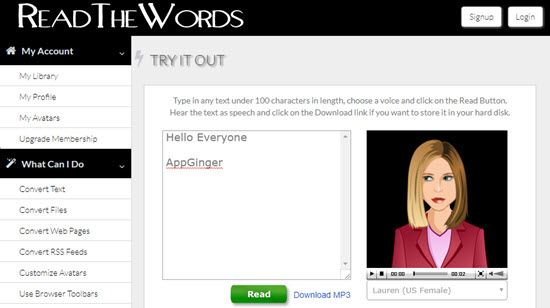 YakiToMe is another very useful TTS web service for converting any type of text documents to audio files easily. It gives you free access to AT&T Natural Voices(R) TTS technology which is licensed from Wizzard Software Corp as well as Windows voices from the Microsoft Corporation. It functions as a free text reader. It can convert Word documents, RSS feeds, PowerPoint presentations, emails, web pages, HTML, blogs, etc.
YakiToMe does all the work while you enjoy listening to the converted audio files. It's great for e-learning, proofreading documents, learning a new language, multi-tasking, and entertainment. It can be used for converting text documents to audio files in English, French, German, and Spanish with male and female voices. YakiToMe requires registration for use. It even maintains a podcast library.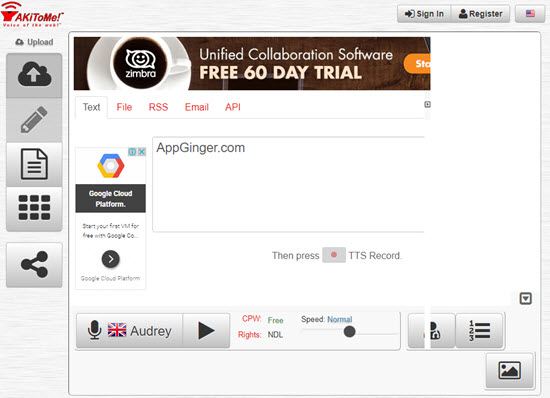 5 Best Text to Speech Software
NaturalReader is a highly competent TTS Software supporting a wide array of textual file types for converting them to audio files. It can be used for reading aloud textual content as well as text on web pages. You just have to enter the source web page URL, and then NaturalReader does all the work for you.
However, the main highlight of NaturalReader is its ability in reading aloud text from images and scanned documents. It makes use of its built-in OCR functionality. NaturalReader provides many natural sounding voices. You can even purchase additional voices in various languages such as German, Japanese, and Italian.
It includes a number of other notable features such as voice speed & pitch control, support to batch conversion for multiple documents to MP3 files, and lots of other features. NaturalReader comes in both free as well as paid versions. It is compatible with Windows and Mac OS X platforms.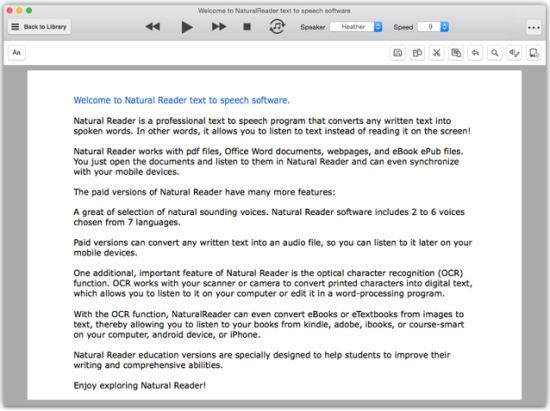 Balabolka is a must have TTS Software for all those who do much reading on the computer. One remarkable feature that makes Balabolka stand out from rest of the TTS applications is its ability to read aloud from a huge array of file types. The various text documents supported, include DOCX, PDF, DJVU, EPUB, and RTF just being a few of them.
Balabolka also supports standard voice parameters such as speech, pitch, and volume that can be adjusted in real-time. It can batch convert files, extract text from audio files, and even more. It can even read aloud the text copied to the clipboard.
Balabolka supports many languages, including English, Greek, Finnish, Romanian, and Spanish. It's also available as a portable application, as well. Balabolka is compatible with Windows Vista, XP, 10, 8, and 7. Best of all, Balabolka is available for free.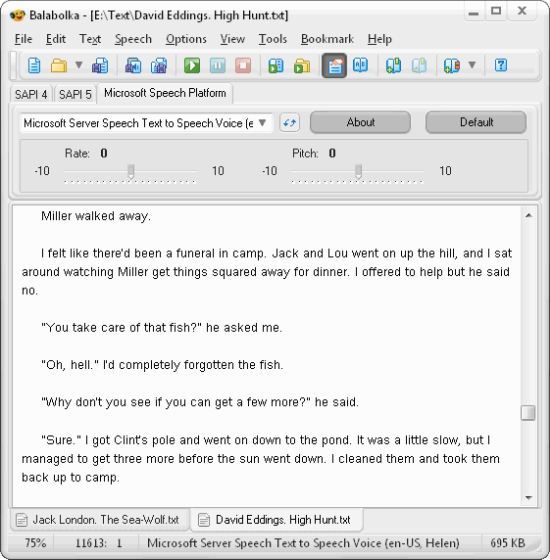 TextAloud stands as one of the best TTS Software applications on the list. Besides being a competent Text to Speech Software, TextAloud also functions as a sort of textual content aggregator. TextAloud can be used to read a single textual piece, and even a number of them together for building a reading playlist. It automatically grabs copied textual content from the clipboard.
Besides having multiple format support, TextAloud has the ability to save text as audio. It supports hosts of other features, including spell checking, hotkeys, custom audio tags, insertion and skipping prompts for sections, and much more. It has robust text management options and makes reading out the text a breeze. TextAloud is compatible with the Windows platform. Besides the paid version, you even get a free trial version.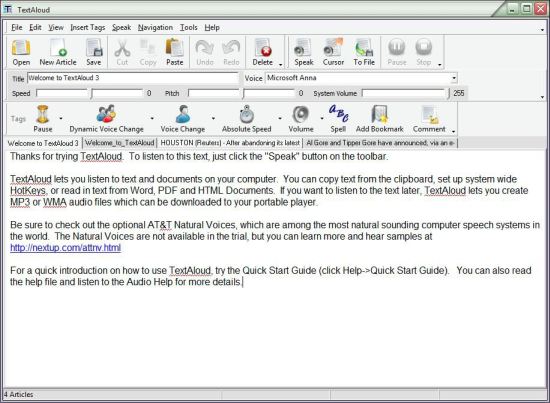 eSpeak is the perfect example of a powerful yet lightweight and easy to use Text to Speech utility. It works perfectly well as a TTS Software application. eSpeak is free and available for both Windows and Mac OS X operating systems. eSpeak supports TXT and XML file formats from which it can read aloud texts. It offers a handful of selectable voice choices and provides the facility to alter the pitch and volume.
eSpeak also includes all the basic voice control and reading options, like pause, skip, and reset. It even supports a wide array of languages including Norwegian, Latvian, and Swedish.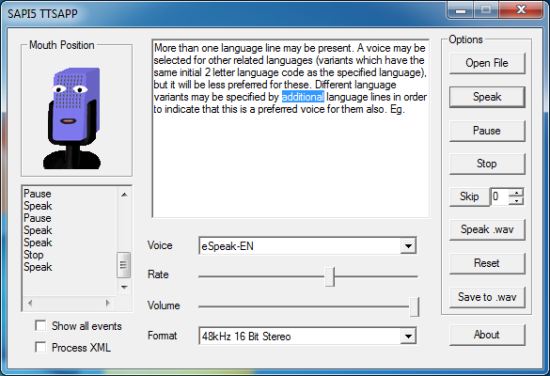 At its core, the Zabaware TTS Reader reads out (aloud) textual content that is copied and pasted into the application itself together with accepting textual files as input too. So, it is a pretty useful TTS Software application for converting textual content to audio files.
The Zabaware Text to Speech Reader offers quite a collection of voices. Plus, more can be purchased online. It can also monitor and read clipboard, as well as emails and web pages. It offers the facility to save the read text as WAV files.
The main highlight of Zabaware TTS Reader is its ability to automatically read standard window dialogs like pop-up boxes, alerting you when they need attention. So, Zabaware TTS Reader functions as a personal assistant which in itself is quite a useful feature for users.
However, format support is quite limited. Zabaware TTS Reader is available for Windows Vista, XP, 10, 8, and 7. It's a free TTS Software application.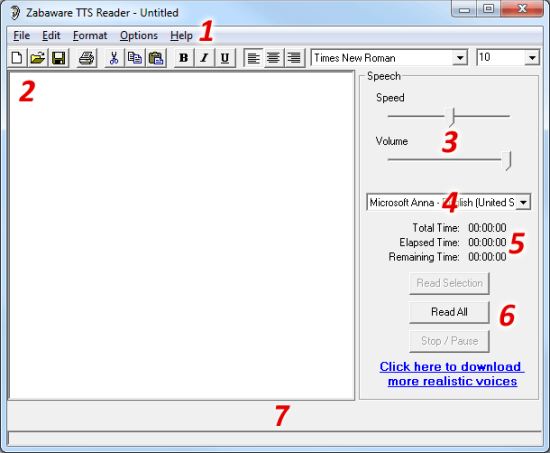 Text to Speech Software and Online Services make it easier and faster to consume digital textual content. We hope that the presentation, 10 Best Text to Speech Software and Online Services, proves immensely useful to you as you go on to select the most fitting solution according to your requirements. If you liked the post, don't forget to share it with your friends and colleagues. We welcome your comments and suggestions.