CD or DVD burning is almost a daily job as it is used to backup your data like photos, videos or any important files on CD or DVD. Listed below Free CD-DVD Burning Software can easily and quickly burn your CDs, DVDs and Blu Ray into the required formats.
Most of the DVD burning software are paid, but here we have featured 5 Free CD-DVD Burning Software, which can do all work as paid software. With these CD, DVD burning software you can burn CD, CD-RW, DVD-R, DVD-RW. You can create bootable, data, MP3, ISO image CD and DVDs. Not just that you can burn Blu-Ray and HD-DVD too with these free CD, DVD burning software.
All these Free CD-DVD Burning Software are easy to use with simple and clean interface. Each one of these has unique features which can burn your CD or DVD in the required formats.
5 Free CD-DVD Burning Software
CDBurnerXp is free software that helps in burning your CDs and DVDs quickly and easily. It can also burn your HD DVDs and Blu-Ray. It is compatible for all Windows, XP and Vista.
Some of the features of this CD BurnerXP are that it burn and create ISOs file, ability to burn all kinds of discs, create bootable disc, its interface supports many language and verifies your data after the burning process. In addition to this, with CDBurnerXP you can burn audio CD's with or without any gaps between the tracks.
CDBurnerXP may use the internal browser to add your files or it may also use drop box directly to drag and drop your files from Windows Explorer.
Everyone can use this CDBurnerXP for free as it does not contain any malware, adware or any suspicious components.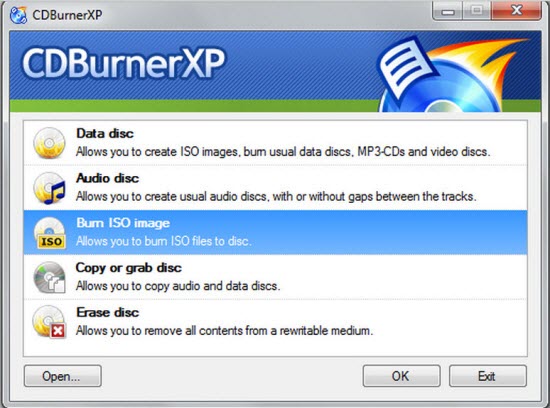 ImgBurn is free, lightweight software for burning your CDs, DVDs, HD DVD and Blu Ray easily. This CD burning software supports all the Microsoft Windows OS and Linux.
ImgBurn burning software is very easy to use as there are different modes of performing several tasks which makes it easier to use like burning a disc to any image file format, writing an image format to disc, build for creating an image file into a disc and at last you can also verify to ensure that all the data has been transferred or not.
This software can burn any file supported audio CDs via ACM or Directshow, which includes MP4, MP3, WV, WAV, PCm and many more. It also supports many image file format like ISO, DVD, PDI, BIN, CUE, IMG and many more.
ImgBurn is widely used as it is easy to use, burn your CD, DVD quickly & easily and is completely free.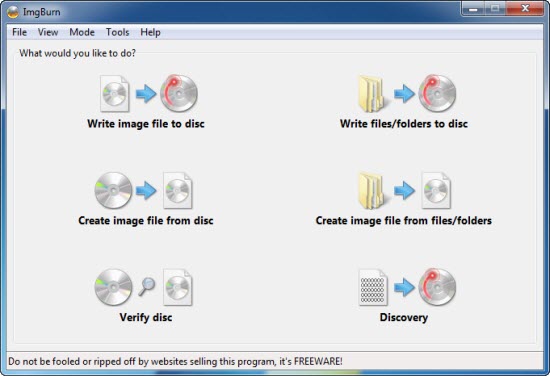 Express Burn is free burning software for both Windows and Mac. It can burn your audio files, videos and data to CDs, DVDs and Blu Ray discs. This software is very easy to use and saves your lot of time you just have to drag and drop the file you want to burn and click Burn CD.
With Express Burn you can easily record a CD without affecting the quality of the audio, create a CD for your old or traditional CD player. Even if you pause the recording or slow down the volume then also you get a perfect audio quality.
This burning software is perfect for writing your data into CDs, DVDs and Blu-Ray and creating backup. The ISO burner of this software will record the ISO images to disc. Express Burn software follows command run operation for integration and automation with the other programs.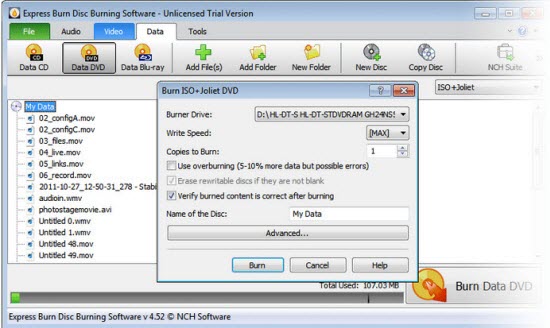 Nero Kwik Media is a free to download and use CDs and DVDs burning software. It is a media manager through which you can organize all your photos, movies and songs arranging your memories and collection for lifetime.
With just one click, you can organize all your media content, even you can synchronize all your videos, movies and images to your Android phone and tablet. It supports all the formats, so you need not to worry about the format of your media content.
Nero kwik Media helps you to find the images and video as it automatically make the keyword tags of the folders and sub folders, just tag people once in your media player and then next time you save images of the same people it will separately place the photo of that person in the folder you have once created.
Even you can make a slide show of photographs with the required affects with Nero Kwik Media.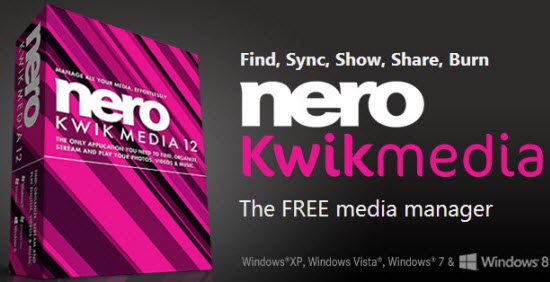 Ashampoo Burning Studio is free CD or DVD burning software through which you can easily burn your CDs and DVDs without wasting your time. It gives you maximum feedback with minimum hassle.
Ashampoo Burning Studio can burn folder and files of your computer or drop box, burn your MP3 CDs into MP3 files and burn audio CDs of various formats.
Some of the features of Ashampoo Burning Studio are it can add multidisc file backup and restoring it into CDs and DVDs, creating backup archives with password protection, archives content can be restored to the original locations, support for Blu Ray format up to 25 gigabytes per layer, integrated audio CD ripper, verifying your disc without even ejecting it and burn the CDs and DVD into numerous copies.