Instagram is the most popular social photo sharing app by which users can capture their amazing photos, give effects on images and share them on this popular network Instagram. This application can be installed free and was launched in Oct. 2010.
Instagram is just available for Smartphone like iPhone and Android based devices. If you want to share your images you can upload them to Instagram from your phone and you can also share those images on Facebook, Twitter etc. Recently Instagram has been acquired by Facebook for approximately $1 billion on 12 April 2012 due to its clientage. The number of registered users for Instagram keeps on growing year after year. It already has millions of registered users worldwide.
If you are not a Smartphone user or you want to use it on your computer desktop, then Instagram is not available for desktop.
However, you don't need to worry as there is an app which can bring Instagram on your desktop named Pixsta.
In fact, Pixsta is a free, slick application which lets you browse Instagram on your desktop computer. So next time when you want to browse Instagram, you don't have to necessarily turn to your Smartphone as you now have the option of accessing it right from your desktop using this miraculous desktop application called Pixsta.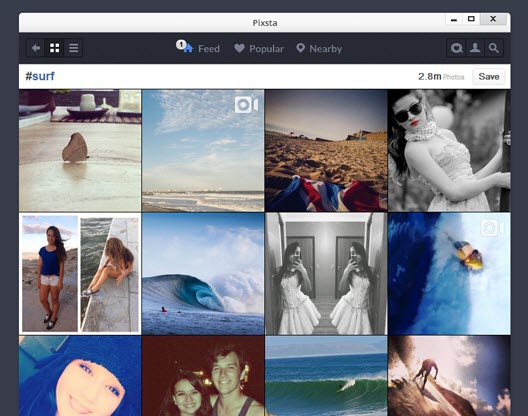 It can be perfectly described as a mash-up between a web app and desktop app. Pixsta uses a free platform named Pokki and runs in its own windows. You are not able to post any new photos on Instagram, however; upon login you are allowed to browse popular photos and also your timeline. And that's on all. If you want to get an enlarged view of a photograph, you simply have to click on it.
As illustrated, you can use Instagram on your Windows PC by Pokki Pixsta. Pixsta is a third party Instagram viewer which provides you a platform to use Instagram on the desktop and share your images with popular social sites like Facebook, Twitter etc. So you can do almost anything with Pixsta except uploading photos because Pixsta play as (API) Application Programming Interface and Instagram do not provide photo uploading through API.
With Pixsta, you can view images, like images and comments on those images. You can manage follower's right from your desktop; get real-time notifications on Windows taskbar. Using Pixsta, you can even share photos and images on Facebook, and Twitter. Once you click on the Share Buttons, you get to have a Facebook, or Twitter pop-up as a built-in dialog which you can use to share the Instagram Link. That's not all as Pixsta allows you to save individual images onto the hard drive as PNG files of 612×612 pixels size.
However, Pixsta does not allow posting new photos to Instagram. So, with Pixsta you get an easy and enjoyable way to surf for the Instagram feeds without having to necessarily reach out for your Smartphone. Thus, Pixsta offers you with a great platform to view the awesome virtual art gallery of Instagram on a bigger monitor of your computer system.
Now Pixsta brings new features, which normally Instagram apps don't have. With Pixsta you can save images on your computer in one click, you can share photos from your Facebook, Twitter feeds. You can search users nearby you all such features are not available in Instagram phone App. Pixsta is available for Windows XP, Windows Vista, Windows 7 and Windows 8.
To upload photos on Instagram, you have to depend on Instagram phone app. We hope uploading photos can come in a future release. So if you want to view and share Instagram photos you should defiantly download Pixsta for using Instagram on your desktop.