Today you cannot imagine life without the use of varied Mobile Apps. The Mobile Apps offer extensive functionalities and solve several of our day to day requirements hence making our lives easy and smart. As such Mobile Apps have become an essential and integral part of our daily life. Mobile Apps essentially gives you the capabilities to manage the different activities of your life through the use of fingertips.
Robin by Magnifis Inc is one such Android App that would surely make your life simple, easy and smart too. In fact, Robin puts voice control technology into your mobile handsets. If you were thinking "talking" to your mobile handsets was a distant realization, then just forget it. Robin has been chiefly designed to serve you with all kinds of driver related information.
Its main task is to serve you with answers related to navigation, real-time parking and traffic information, gas prices, weather updates, reminders and alarms, your Twitter and Facebook news, and lots more. So, Robin serves as a personal assistant to you. You can have a quick chat with Robin and see it furnish you with loads of driving related stuff. You can ask stuff like; "Find a burger place?" Or "Is it snowing in San Francisco?" On the lighter side, you can ask for a piece of advice or simply have a go asking, "Tell me a joke".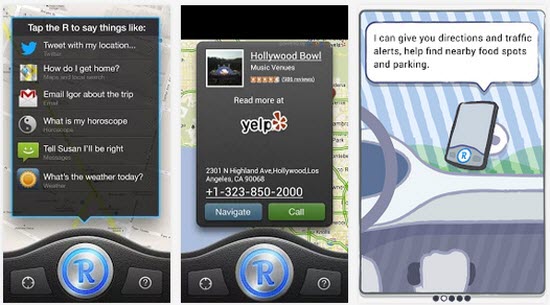 So when you need quick answers on the go and that too hands free simply turn to Robin. It is your voice assistant when you are on the go providing you local information, with GPS navigation, communication and fun. Thus with Robin, you Voice in, voice out. Simply speaking, Robin is one of the best voice app that you will ever have. Even when you launch other Apps, Robin is still available for you. You simply have to "wave hello" twice or tap it lightly.
Moreover, it is available on the Google Play for free. You can download and install it on your Smartphone whenever you feel like and test its various features for free. Currently Robin is in the Beta state of development so you can watch it evolve daily, and can even contribute your part in its further development.
In short, Robin can be perfectly described as your personal eyes-free assistant on the road. Robin assists you in driving by providing quick answers for directions, local places and landmarks, traffic information, real-time parking info, gas prices, Weather, Twitter news and much more.
Robin is designed in such a fashion so as to understand and respond to question and commands in these areas. It is a useful Android App that can also be a tremendous fun to work with. It is sensitive to your voice commands and can call you with whatever name you want.
At present, it supports the entire US region, and you can get to know the various directions of any locality in these regions easily. It also supports gesture response; though in practice gesture activation may differ slightly from one phone to another. Most of the times, it is just enough to wave in front and slightly above the screen, else you can also gently stroke the top brim of your phone to get the required response from the phone.
Currently Robin is in the Beta phase of development, so if you encounter any trouble or problem in its usage, you can surely report it to the Magnifis Team through email. You can contribute for further developing the experiment called Robin by giving your valuable comments and suggestions.
You can give commands to get to know places, parking, navigation, weather, traffic, gas prices, reminders, miscellaneous, etc.
So you see that Robin is a useful and powerful Android App, which can be easily used to find and locate directions of local places while you are driving along the roads of the cities and towns.