Data loss due to the system or hard drive failure can happen anytime.
As a result of break down or unexpected disaster, you can lose all your important data and files.
But can you afford this data loss?
Can you leave your important files unprotected?
Moreover, Can your business handle the implications of data loss?
What is the way out for you?
Well, there is no need to panic as we showcase to you Best Data Backup Software so that you can protect all your important data and files. It helps you to have proper backup and restore all your files and information.
All the Data Backup Software showcased hereunder have been carefully selected so that you get to have the best backup software which is easy to install, easy to use, fast to operate and provide comprehensive backup with the help of latest technology.
They are provided with an advanced and rich set of features.
Hereunder, we have featured free as well as premium data backup software.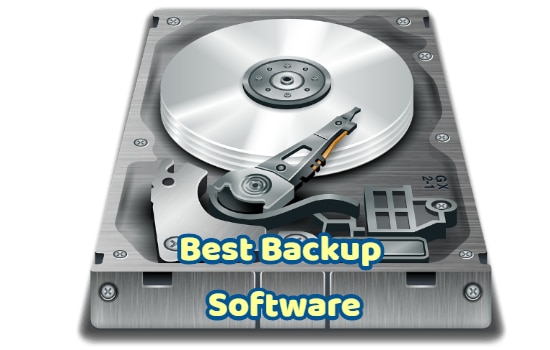 You can go through this list of Data Backup Software to find the most suitable backup, and restore software according to your needs, and requirements.
Well, you can never rule out the possibility of a hard drive crash or even an accidental file deletion. In such scenarios, the back up of your files or your entire hard drive is the most important maintenance task to do on your computer.
By using computer backup software, the task of backing up data becomes automatic. So, you can avoid the risk of losing your data by using the best backup software for your PC.
Some may argue that reliability of modern systems have increased and so go on to ignore data backup.
However, it should be understood that reliability has not reached the point where backup becomes unnecessary.
Yes, backing up data is not exciting, but it's certainly important.
It's no point to realize it when things become catastrophically wrong. A failed hard drive means that you have lost your important data files.
Well, you can take charge and prevent such a situation.
You can create a manual backup and copy your important files to a spare hard drive. Moreover, you can head over and use dedicated backup software for automating the process.
Here, we have listed top 10 best backup software.
Why it's Important to Backup Your PC?
Let me give you real-life example to bring out the importance of backing up your PC.
In August 2016, Delta Airlines computer systems went down, and they had to cancel over 1300 flights that cost them $100 million.
It's havoc caused by a sudden nosedive.
If such a situation can arise with Delta, don't you think the same can happen to you?
There is every possibility that the hard drives can crash.
Even a Ransomware can make a computer's contents inaccessible.
So, there's every possibility that you're PC and other tech hardware can become inoperable.
You need to safeguard your business assets – documents, plans, and financial spreadsheets. And there are personal assets, as well such as photos, music, videos, etc.
Thus, there is every reason to use backup software.
The Working of Backup Software
The concept of backup software is quite simple to understand.
It makes a copy of your files on storage that is separate from your main hard drive.
That storage can come in the form of another drive, an external drive, a rewritable disc, a NAS, or even online storage and syncing service.
In case you lose the files, you can simply restore them from the saved copies.
That said you need to update the copies of your files on a regular basis. The backup software can schedule scans of your hard drive for new or changed files. It can be done daily, weekly, or monthly.
The backups can be full, incremental, or differential.
In the first case, the data for backup is copied in its entirety.
Incremental backup goes on to save system resources as it back up only the changes in files from the last incremental backup.
With differential backup, you can save all changes from the last full backup.
You usually get security options such as encryption and password protection when setting up your backup.
Another option offered is versioning. It allows you to specify how many of the previous versions of your files need to be preserved, and for how long.
Restoring from Backup
The backup set up affects how you restore it.
In case you backed up your entire disk image, you need to start the system from bootable media like DVD or USB stick.
You also need to attach another external drive that contains the backup data with the boot media.
Most of the backup software listed hereunder let you restore data from one PC to another having different hardware.
It is useful when you need to migrate to new PC hardware.
For restoring individual files, you can choose previous versions of the files that you have saved.
Now, let us move to the backup software review wherein we feature top 10 Best Backup Software for you.
Here's the list for you:
10 Top Backup Software
Acronis True Image is a feature packed and one of the friendliest backup software for home users.
It provides full disk-image copies thereby proving the best in disaster protection.
So, Acronis True Image turns out to be a complete backup solution for your home computer.
You can back up the files of your choice or take a complete image backup of your whole PC, and save it to places like an FTP server or external hard drive.
It supports many advanced and unique features such as AES-256 data encryption, previewing files, and even Facebook backup and recovery.
It offers email notification of completed backups and 5 GB of free online storage for a year.
It has a hard drive eraser tool, mobile browsing for your backed up data.
It even offers a PC cloning utility, file verification, and real-time Ransomware protection.
It allows you to have dependable copies of your data so that you can restore your entire system or individual files.
You can capture all your data for disk migration or system recovery. It offers dual protection by allowing you to back up to a local drive and the cloud.
With Acronis True Image, you can quickly recover a specific file or whole system with confidence. The backup is equally good as the original.
The backup activity takes just two clicks. You can view all your data and backup information in one place.
Moreover, with Acronis True Image, safeguarding data is easy and quick. It offers a simple, intuitive approach to backup.
It's a solution that lets you safeguard your PCs, Macs, iOS, and Android devices. Plus, your social accounts too.
Acronis True Image protects everything. It creates a full image backup in just two clicks.
It offers visual dashboards that let you know the size of your backup, the types of files, and get to know how many Ransomware attacks are stopped.
It's one of those backups that detects and stops unauthorized encryption.
Acronis True Image is simply crucial to your backup strategy.
Acronis True Image is available for all major versions of Windows as well as MacOS. It is priced at USD 49.99.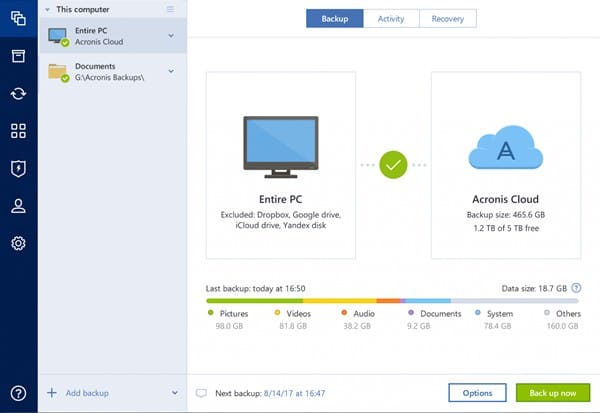 AOMEI Backupper Professional is a fully featured backup program. It can backup various types of data.
It supports simple file/folder backup, disk cloning, partition backup and whole disk backup.
The AOMEI Backupper Professional comes with easy restore wizard.
It has the ability to compress a backup, split a backup into smaller pieces.
It can even back up files that are being used currently.
It also offers a free version called AOMEI Backupper Standard.
It can be used in a commercial setting.
However, it does not has some of the features of the professional variation.
The AOMEI Backupper Professional has been priced at USD 39.95. It supports all the major versions of Windows including Windows 10 down to Windows XP.
AOMEI Backupper Professional is best at backup & restore and can rescue your computer from crashing or disaster.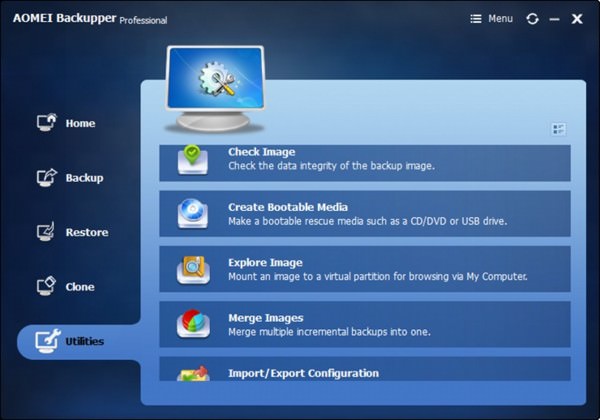 EaseUS ToDo Backup is a perfect balance of automatic protection and manual control.
It backs up individual files and folders, drives or partition, and is also useful for a full system backup.
You even get the option of using cloud storage.
You can schedule backups, and run incremental, differential, or full backups as required.
It even comes with a free version – the EaseUS ToDo Backup Free.
It allows you to run backups on a schedule. However, you cannot do backups triggered by various events.
It protects your system & data against damage. Moreover, you can recover fast when a disaster occurs.
It protects your PC/laptop from potential risks and restores everything (backed up) in case disaster occurs.
It saves your system and important information fast.
It restores when a disaster happens.
It keeps all your data safe when anything goes wrong with your computer.
So, EaseUS ToDo Backup Home is a good choice for backup software.
It backs up files & folders, mail, and documents, but even entire disks, partitions, and even Android devices.
Moreover, it's user-friendly and comes with a built-in wizard that allows you to create a backup job easily. It is studded with standard features like compression and email notifications. These are not included with the free version.
It can also be used for cloning data between disks with different sector sizes. It works with Windows 7, 8, 10, Vista, and XP.
The EaseUS ToDo Backup Home has been priced at USD 29.00.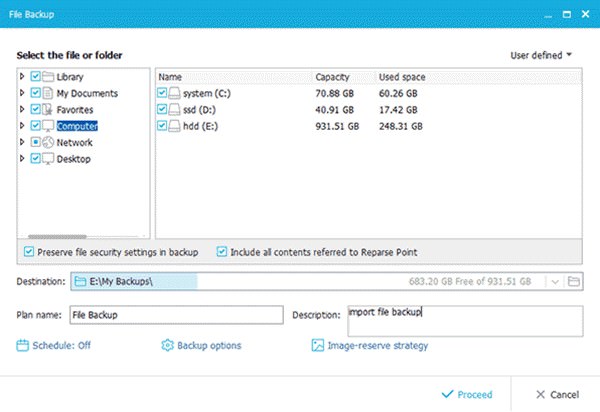 Genie Backup Manager Home comes as an excellent choice for your home backup needs. It enables you to backup your entire system, certain files, and folders.
You can even backup files like music, pictures, etc.
Moreover, you can backup whatever is important to you.
The backup and restore wizards keep your data safe and can restore it after an emergency.
The Genie Backup Manager Home comes equipped with compression capabilities, online backup options, and email notifications.
Its preconfigured backup sets make it a good value-priced for advanced users.
Overall, Genie Backup Manager Home is a comprehensive backup solution for home users. It offers features for flexible backups. You get three backup types such as full, incremental, and mirror. It has a backup scheduler. It can backup to virtually any media such as local, external, FTP/FTPS, Network, CD, DVD, and Blu-Ray. It can back up open and locked files.
It keeps your backup safe with military level encryption. It supports Zip password protection.
Moreover, Genie Backup Manager Home offers fast backups without causing slowdowns.
It backs up all system files, program files, user data and system state.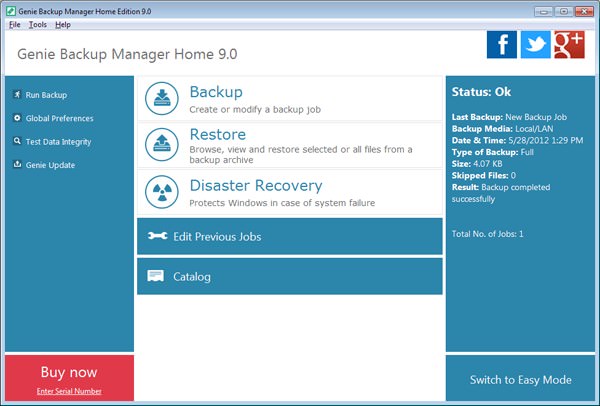 Paragon Backup & Recovery has a range of features to offer for keeping your files safe. It can handle backup of individual files and even the entire system. So, it's a complete package as far as backup is concerned.
Paragon Backup & Recovery comes with a Backup Job Wizard that handles all the backup tasks efficiently. You can filter your backups and store the files that you require.
It comes with a second 'Wizard' that can perform a single-time or one-shot backup. Moreover, you can even split up the backups into smaller portions and solve the problem of space in your backup destination.
Paragon Backup & Recovery excels in the sense of its raw speed. You can secure 170GB test system to a second local hard drive in about just 16 min with Paragon Backup & Recovery.
It even supports the backups of virtual disks.
Paragon Backup & Recovery comes in both free and paid versions.
The Paragon Backup & Recovery Free allows you to create backups of individual files, partitions, or even the entire Windows system.
It keeps your PC and data safe. Paragon Backup & Recovery Free protects you from threats of data loss at no cost whatsoever.
The paid version of Paragon Backup & Recovery is available at USD 29.95. It offers a full range of backup and recovery solutions. You get reliable recovery of individual files or entire systems.
It enables you to perform complex backup tasks with ease. Moreover, there is no need for advanced computing knowledge for protecting files, partitions, disks, and even the entire system. Paragon Backup & Recovery makes PC protection easy and fast.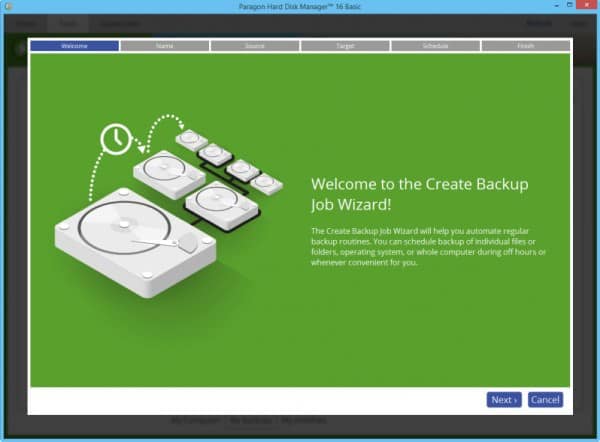 The most outstanding thing that we can put forward regarding O&O DiskImage Professional is the fact that it has been designed for the novice user.
It has been studded with an interface that makes it user-friendly backup software.
It can make a one-to-one copy of your data on an external drive. Moreover, it backs up your files automatically.
For restoration, you have to restore files manually. You have to copy them from the external drive that was backed up originally.
Plus, it is studded with many security features and advanced backup features that are not commonly found in other PC backup software.
Its backup process involves just four steps: What, Where, How, and When. You have to choose what you want to backup, where would you back it up, how you will define the backup, and lastly, when it will run.
Its interface puts forward symbols rather than text, so there's a little learning curve for you. You have to learn what the symbols mean.
Its backup speed is quite good – above average. It delivers a backup speed of 1.23GB per minute.
However, O&O DiskImage Professional lacks features such as encryption and compression.
And it doesn't restore your data.
You have to restore the files manually.
It can only make a one-to-one copy of your files.
So, you're backed up files are fully accessible.
Moreover, it allows you to backup an entire computer or single files easily even when the computer is being used.
It supports SSD drives and the latest UEFI system.
All in all, O&O DiskImage Professional is the safest and the easiest way to avoid losing important personal files. It saves all your personal files, hard drive information, and individual settings.
You can back up the selected files and folders automatically.
Restoring a backup is easy too. You just have to start the program, select the backup that you want to restore, and you're off.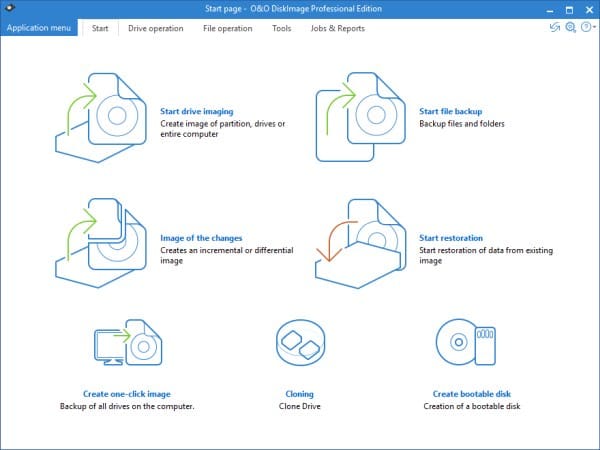 Like some of the above backup programs, NovaBACKUP Professional can also serve as disaster recovery software. It can backup hard drives, system partitions, and even specific files and folders such as movies and music.
It offers a simple wizard that helps to encrypt backups and for choosing the source/destination folder.
Plus, NovaBACKUP Professional can do virus scanning, send email notifications, and restore backup images on to the dissimilar hardware types and drive sizes.
It has been developed by NovaStor, and is designed to be the "backup for the rest of us."
The good thing about NovaBACKUP Professional is that it is not complicated data backup software. Moreover, it is one of the easiest data backup software for both the backup and restores phases. It even notches fast backup and restores speeds.
However, its data compression and CPU usage are just about mediocre.
That said its restore process is one of the easiest in our lineup. It has the fewest number of steps and little room for user error.
NovaBACKUP Professional is data backup software for everyone.
It notches a fast restore speed of 2.53 GB per minute. At this speed, you can restore 1 TB of data in just about 6.5 hours.
Moreover, NovaBACKUP Professional ease of use makes it splendid backup software during the backup stage.
Its backup speed is one of the fastest with a rate of 1.53 GB per minute. You can back up a 1TB hard drive in less than 11 hours.
It has a simple and elegant design.
Its advanced features make it an ideal solution even for IT managers. It offers all the backup schemes including full, incremental, and differential.
Plus, you can create full system images, disk images, and partition images. You can even backup to the cloud and ensure that your data is protected off-site.
Lastly, it offers a comprehensive help and support through a rich online knowledgebase. There's direct support by email, phone, and live chat.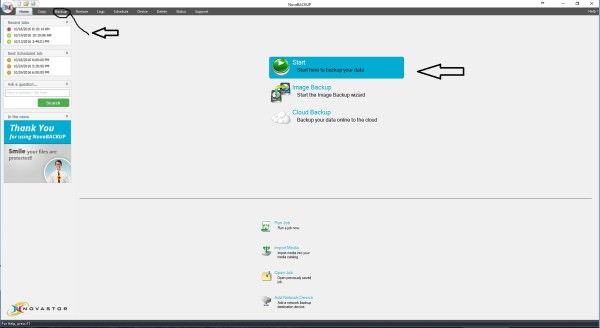 StorageCraft ShadowProtect data backup software comes in many versions, and most of them are aimed at IT professionals.
It is studded with a lot of advanced features. It is fairly easy to use and offers above average backup and restores speeds.
StorageCraft ShadowProtect is the best that you can get for reliable data protection and disaster recovery.
It's the most reliable way for recovering systems and data.
Its interface has not been designed keeping the novice user in mind. The backup process has plenty of steps making it difficult for the novice user to navigate.
So, the StorageCraft ShadowProtect is aimed for technical ones.
On a positive side, the StorageCraft ShadowProtect compression is excellent.
It notches a total compression percentage of six percent. Most of the other apps compress the same data by less than one percent.
So, StorageCraft ShadowProtect is best for saving storage space on the back end.
The restore speed is good.
It is studded with many advanced features and offers a lot of control on how your data is backed up. You will appreciate the control offered by StorageCraft ShadowProtect.
On the whole, StorageCraft ShadowProtect requires a high level of technical aptitude for navigating effectively.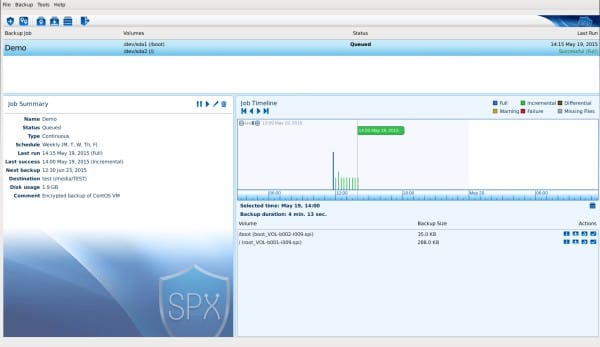 Ashampoo Backup Pro offers a simple wizard to backup an entire hard drive, single files, folders, and email.
Among its notable features, custom compression and file versioning are supported.
There's also provision for email reports, restoring single files and folders, and automatic pausing.
It is user-friendly and highly versatile backup software.
It takes the fear out of viruses, Ransomware, or hardware defects.
It offers various options for backing up individual files or entire disc partitions on any storage media or in the cloud.
It is user-friendly, fast, and intuitive.
Ashampoo Backup Pro 11 is priced at USD 15.99.
It works with all the major Windows versions including Windows 7, 8, 10, Vista, and XP, as well as Windows Server 2012, 2008, and 2003.
You can also purchase the family license extension for another USD 9.99. With this, you can extend the backup license to a total of six computers.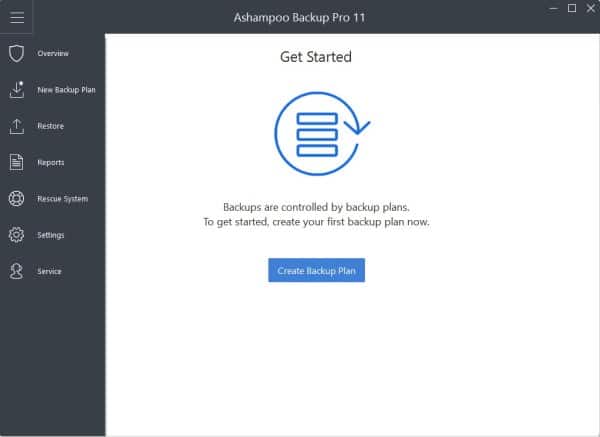 Veritas System Recovery offers image-based backup and disaster recovery for servers, desktops, and laptops.
It helps you to restore Windows and Linux systems in minutes.
You can restore a single file or email to an entire machine-physical.
With its image-based backup, you can protect data and systems quickly and efficiently.
It offers reliable recovery and minimizes the disruption of system failure. With its single interface, you can protect laptops, servers, and virtual machines.
Now, Veritas System Recovery offers public cloud storage including Amazon S3 and Microsoft Azure.
It even supports Enhanced Linux Environment.
Other notable features include AES encryption and offsite backup. It allows restoring to dissimilar hardware and creates a backup image of an entire computer.
So, Veritas System Recovery comes out as a business-class disaster recovery tool. It's a solid choice for a backup solution.
Moreover, it's a complete backup package and comes out as an excellent choice.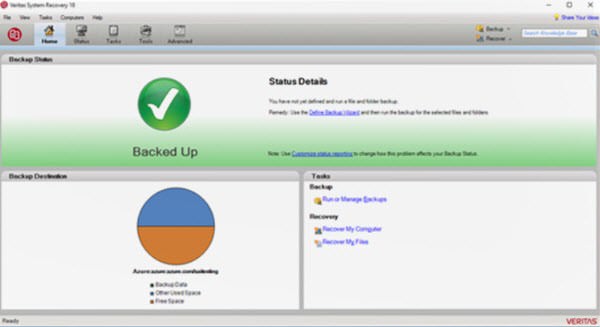 We hope that this post proves highly useful to you.
We have showcased top 10 Best Data Backup Software.
If you liked the post, please share it with your friends and colleagues. We welcome your comments and suggestions.