Not able to play video on your device, probably your device do not support that video format. To play your favorite videos on your device you may need to convert video to your device supported format. With video converter software, you can convert videos into your desired video format.
Wondershare Video Converter Ultimate is an amazing software which can do a lot of multimedia tasks. It is an awesome video utility that can be used by Windows users. Wondershare Video Converter Ultimate can convert videos to virtually any video format to make video run on your favorite device.
Not just that Wondershare Video Converter Ultimate is easy to use DVD burner, ripper, and video converter, which allows you to convert video/audio files to any other format. You can convert movies to WMV, AVI, FLV, MP4, MPG, MKV, 3GP and not just that Wondershare Video Converter Ultimate can also convert videos to 3D format. So the software is just not a file converter but is modeled on the lines of multitasking. It can function as a Web Video Downloader, Video Editor, Audio Ripper, 2D-to-3D Converter, DVD Burner, and also as DVD Ripper.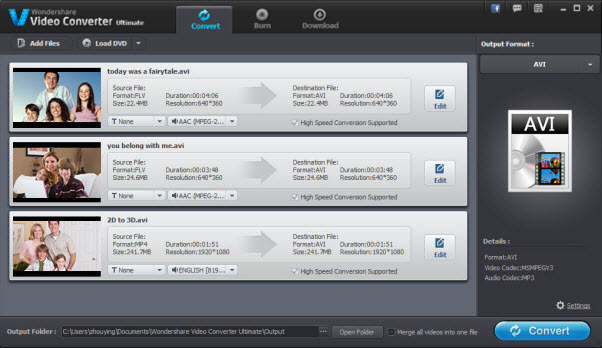 Wondershare Video Converter Ultimate is very fast video converter software which allows 6X faster conversion speed. With its fast conversion speed, you can burn videos to DVD disc, DVD folders or ISO files.
Another amazing feature of this software is that you can download videos from videos sharing website like YouTube, Yahoo, Google, MySpace, CNN, and many other video-sharing websites and convert those videos to your desire format.
Wondershare Video Converter Ultimate allows RIP DVD movies to any video format like MP4, MPG, WMV, 3GP, FLV, etc so you can play that videos on your iPhone/iPod/iPad or Android device.
Wondershare Video Converter Ultimate is extremely easy to use, and its user interface has been designed in a straightforward and simple manner. All its major functions have been set in icons format that you get to see at the top of the Window. It provides intuitive controls, and you can even drag and drop video files.
As its name suggests, Wondershare Video Converter Ultimate is perfectly ultimate in performance. It lets you quickly convert files between any kind of format. It provides tools so that you can crop videos, trim videos, add watermarks, change contrast, and can alter the brightness and as well as provides many other video editing features.
The Software even makes it possible to output to a mobile device. For this, you have to use its extensive menu to choose your device. The program then converts the video to the optimum file format. Moreover, the program comes with a multitude of conversion templates, which you can use for various handheld devices like Android phones, iPads, iPhones, and even Windows Phone. It even outputs optimized videos for social sites like YouTube and Facebook.
Some of the Salient Features of Wondershare Video Converter Ultimate
It provides 6X faster conversion than before!
It can convert video to every popular format
It can capture and as well as download web videos with just a click of a button
It has been equipped with a superb desktop player known as Wondershare Player
Burn videos to DVD disc, DVD folder, or to ISO files
Rip DVD to any video/audio format
Performs 2D video to 3D conversion
Burn videos to DVD disc, DVD folder, or ISO files
Equipped with enhanced editing features such as it can crop and rotate video clips, add watermark, Trim & merge clips, and as well as apply cool effects.
Extract audios
Wondershare Video Converter Ultimate comes for both Windows, and Mac supported version and so you can buy Windows or Mac version. Wondershare Video Converter Ultimate is one such powerful and feature rich video converter application with which you can meet every video conversion activity. Although it has some limitations with respect to its batch converting feature, but on the upside it is a thoroughly flexible tool that can handle virtually any type of video file. It is a swift, simple to use, and adaptable video converter application.
Save 25% on Wondershare Video Converter Ultimate for Windows
25% Discount on Wondershare Video Converter Ultimate for Mac