Looking for good DVD ripper software which can convert pile of DVD's which have been stacking up in your living room? Well, look no further as Aiseesoft DVD ripper software is the answer to your problems. Not only is it a top of the line software but also a great tool to convert your DVD's to AVI formats. The best thing about converting those hard DVD's into AVI formats is that, you can create backups of the important movies, edit the portions that you want to and also increase mobility.
It seems that the creators of this software have specifically created the interface so that anyone can easily maneuver through the options and get the task done in a jiffy, making it a suitable option for those geeks, and those who aren't.
Aiseesoft DVD Ripper software is one of the best DVD Ripper software, which can easily rip DVD to MP4, AVI, FLV, WMV, 3GP, DivX, etc. Not just that it can convert HD video like HD H.264, HD MPG, HD WMV, HD AVI, HD MPEG 4, HD MOV etc. Aiseesoft DVD Ripper software can also extract audio file from DVD movie.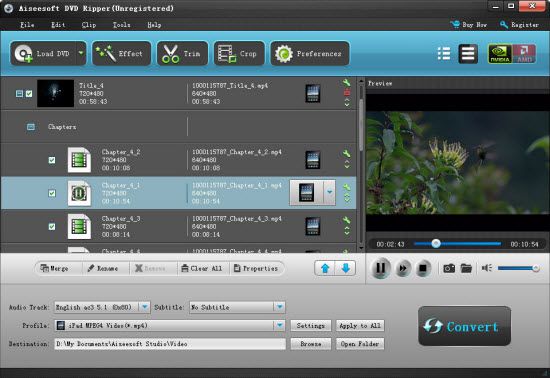 An ocean of AVI formats is offered by Aiseesoft DVD ripper software for you from which you can easily choose. You can convert your DVD's not only to regular AVI formats but you can also convert these in such formats that they can be played in your Wii, PS3, PSP or your Xbox 360. All the supported formats are neatly organized as per the product, so it becomes pretty easy to identify the format.
Choose the format you want, and the software automatically shows you the name of the entire output file with extension so that you can ensure it is the correct format for your device. Some settings to the format before conversion can also be changed like frame rate, aspect ratio and resolution. Once begin the conversion process, there is a preview window which allows you to see exactly which part of the video is being converted so that you may keep track on what is going inside.
Compared to other DVD ripper software, Aiseesoft DVD ripper has excellent speed. Of course, the speed of conversion will vary with the type of format you are converting to and the format which is input. A lot also depends upon the video and audio codec that you choose. Generally in default formats, a five minute video can be converted into a standard AVI format in just a minute.
One of the most powerful features of the Aiseesoft DVD ripper software is the editing tools which are provided by default in the software. You can perform one of the four functions like trim, effect, watermark and crop.
The watermark is an amazing feature which enables one to create a custom watermark on the video either on a picture or a text. What's amazing is that, unlike other similar rippers, Aiseesoft DVD ripper software allows traditional font editing while others are provided with limited options. The trim section by name offers to take a snippet from the movie just in case you need it for some presentation or just to carry around in your portable device. With the help of two sliders, which are provided, you can adjust the brightness levels of the video either throughout or at some sections of the video so that the output is exactly the way you want it. Additionally, the effect tool can also be used to vary contrast and saturation in a similar manner. The function for merging two or more files is also provided so that you may keep all similar type of videos together.
Aiseesoft DVD ripper software provides help and support option within the application. There is a small section at the bottom of the window which will give answers to almost all your queries. It gives required option about all the profiles and formats it can be converted.
The solution is also provided in the form of guide and FAQ's, providing all the general information about the software. The guide gives you various tips about how you can convert your DVD's into other formats easily with all required information about the features and their usage.
Not just that Aiseesoft DVD ripper software can also easily rip your DVD to iPod, iPhone, iPad (iPad 2) format which allows you to play your DVD videos on you iPhone, iPod or iPad device.
All in all, Aiseesoft DVD ripper software, is an awesome way to convert all you DVD's into one of the ten AVI formats available which can be flawlessly played in your portable device whether you are tech-savvy or not.
Aiseesoft DVD ripper software has just one problem that the list of all the output formats is given at a single place in the form of a long list which is difficult to sort.