Well, everybody wants that his or her computer system should deliver top performance at all times.
Though this is a desirable situation, however, one usually faces the problems of the slow working computer, program lock-ups, error messages, slow internet speed, system crashes, registry problems, slow system startup and other problems, as well.
What you need is powerful and advanced computer tune-up software that can safeguard your PC against all such problems and so provide you with an optimized working computer.
Iolo System Mechanic is one such powerful and all-in-one tune-up software that makes your PC run just like a new computer. It's easily one of the best PC system utility software delivering enhanced system performance, the best diagnostic consistency, and the best boot-up improvement. It works out to be leading PC maintenance utility software.
iolo System Mechanic comes with a comprehensive set of performance tools to boost up your computer speed and helps you to repair registry, performs disk defragmentation, helps to accelerate start-ups, optimize internet speed, help to recover memory leaks, and much more.
Moreover, iolo System Mechanic user-friendly and interactive interface makes it all the more easy for you to repair and optimize your PC quickly and effectively so that you can get a complete PC care. It comes with an exceptionally easy interface and many advanced tools.
Using iolo System Mechanic, you get to have a faster, more reliable, and much efficient PC performance. With its different PC care options, Iolo System Mechanic gives you the freedom to explore your PC and perform the repair and optimization tasks according to your convenience and requirement.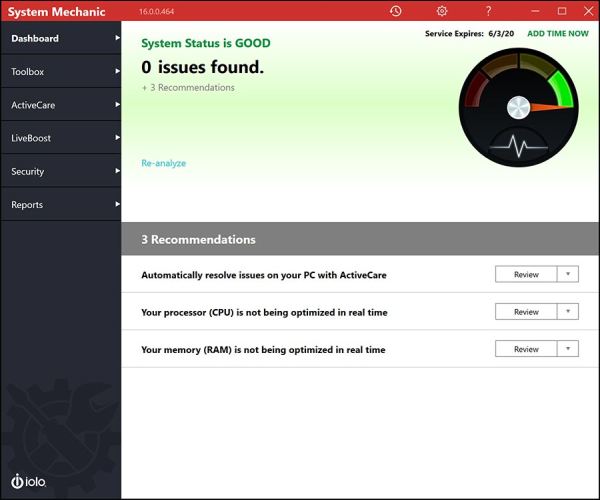 Here, we list down the main features of Iolo System Mechanic to bring out its varied benefits before you.
With Iolo System Mechanic, you can greatly enhance the speed of your PC, improve the start-up time of your Windows PC, boosts up your internet connection speed and can also accelerate the download times.
It further provides 3-level registry optimization which is much better than most of the other registry cleaning software.
Delete Junk Files and Fix Errors
iolo System Mechanic is capable of deleting junk files automatically and can fix various errors involving system components, hard drives, installed software, hardware, etc.
It even repairs the Windows security flaws to protect your PC from identity thieves and hackers. System Mechanic comes loaded with Patented Active Care technology to fix and optimize your PC for enhanced performance.
Easy to Use
Iolo System Mechanic is easy-to-use. When you run System Mechanic, you would get to see its Dashboard's, Overview Pane. You only need to click on the "Analyze Now" button, to detect the problems plaguing your computer system.
Once Iolo System Mechanic completes this analysis which typically takes less than five minutes, it shows you a graphical snapshot depicting the number of problems along with the security, health and overall condition of your PC.
You can then fix the problems quickly using "Repair All" button or can click View Problems button to get information before running any kind of repair on your system.
Automatic repairs and Monitoring
System Mechanic also provides for automatic repairs and monitoring through its Patented Active Care technology.
You have to use the Automated Tasks pane available through its Active Care Panel. If you desire any other fixes and optimization, you can use its Toolbox Panel.
iolo System Mechanic provides for All-in-one Tools as well as Individual Tools.
You can also get the status of your Internet Protection. Just use Internet Security and then click on Firewall or Anti-Malware. Through its Reports section, you can have the detailed statistics of the optimizations and repairs done by Iolo System Mechanic.
System improvement
You will see a marked improvement in system performance when you use System Mechanic. You get to see improvement in different facets of system performance covering areas such as web browsing and video chat.
There's also an improvement in graphics processing as well as data and word processing. In fact, Iolo System Mechanic makes your computer run like new again. You will witness excellent improvement in overall boot-up speed. All in all, Iolo System Mechanic helps to improve the overall performance of your computer system.
Convenience Features
iolo System Mechanic has a well-designed interface and provides collapsible descriptions for each of the tools. It provides the list of issues with details before you go on to fix them. It shows the priority level of start-up programs.
Moreover, it helps to defragment your hard drive. It even optimizes the internet connection settings to give you fast downloads. You can even close down selected background processes to get a system performance boost.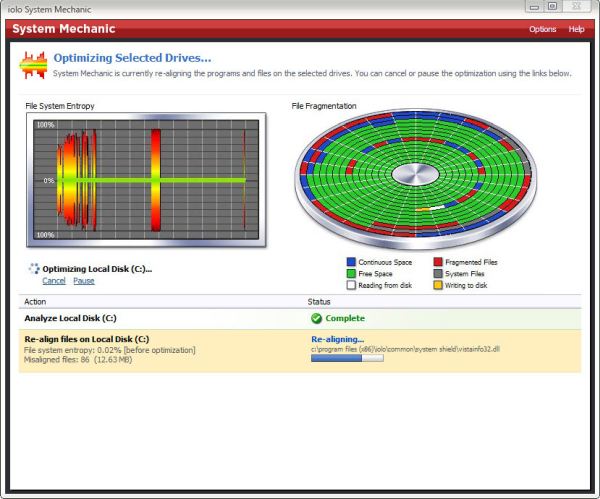 Advanced Tools
iolo System Mechanic comes with many advanced features. It provides tools to defragment and compact the Registry, enhance system security, repair hard drive problems, locate unnecessary duplicate files, optimize a solid-state drive, recover accidentally deleted files, as well as backup and restore your system. The System Mechanic even goes a step further. You get a complete antivirus and antispyware engine to detect and block any malware before it goes to damage your PC.
So you see that Iolo System Mechanic is all-in-one, powerful, feature-rich, and advanced PC repair and optimization software which helps to boost your PC performance making it faster, reliable and more stable.
iolo System Mechanic Discount Code
Now, it's time to know the great news.
Here, we have listed "discount code" using which you can avail a "big" discount on System Mechanic. It's the best opportunity to get System Mechanic at a "never before" price.
This is an exclusive offer available for our readers. So, make the most of it by using the discount code. The discount code has been listed below.
However, this discount offer runs for a limited time period and will expire soon. It gives you the opportunity to buy iolo System Mechanic at a highly discounted price.
Get going and save your hard-earned money through this discount offer on System Mechanic.
Simply use the discount code listed below.
[Valid till September 30, 17]
[A $39.95 value!] [Valid till December 31, 17]