If you are a frequent traveler or even an occasional one, you always need to plan, organize, book, or manage your trips. It becomes even more important if your trip is an official one or for business purpose. You need to have a proper trip plan in place before you start your all important travels. It may be information regarding the flights, hotels, transportation, meetings, conferences or any other travel services, you require them all. Now you have an amazing travel mobile app that will take care of all your travel related planning. WorldMate – The Free Mobile Trip Planner App; will make your travel planning easy like never before.
The mobile travel app, WorldMate organizes your trip, gives you real time flight alerts and many other travel related services. WorldMate is presently available for Android and iPhone users and is being used by over 9 million travelers around the globe. It gives you host of incredible and easy to use functionalities to make your travel planning smooth like never before. You can even purchase WorldMate's premium "Gold" services if you want a much higher level of services.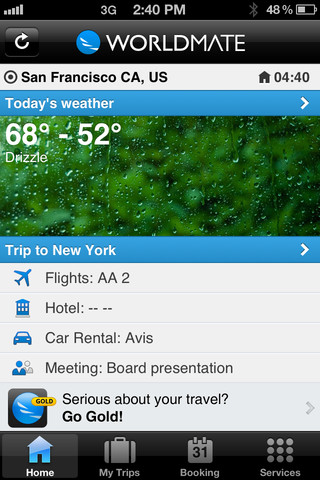 WorldMate – your mobile trip planner app; builds your travel program and displays it on your plan. It automatically synchronizes your whole travel plan with your mobile device. This includes all the travel bookings whether they are flights, hotels, transportation. It includes everything from wherever you have booked them. It also shows the details of the meetings and other conferences that you will attend during the trip. It presents all the information in the destination time-zone. You can click each item to get additional details like confirmation numbers, phone numbers, terminals, etc. Again as WorldMate is real-time any changes to your travel program are reflected on the mobile device and to the worldmate.com website too. So you always get updated information on the go.
WorldMate functions automatically by capturing the information from the confirmation emails you receive from airlines, hotels, travel agents, etc and creates the plan for your trip. You need to forward the travel confirmation emails to [email protected] and WorldMate will then automatically insert the information into your itinerary. You can also add the details of your meetings and conferences from your calendar using WorldMate's Outlook add-in.
Even you can add the meeting details in the WorldMate website. WorldMate displays the details of your trip plotted on a map. So you get to see where the meetings are scheduled, how you can get from one place to another and stuff like that. It also lists what events you have missed to schedule and that too exactly in the destination time, as WorldMate is aware of the time zones in which you would be travelling.
The other important features of WorldMate are that it provides flight search and reminders, you can share your itinerary details and keep your loved ones informed about your travel details by Facebook or by an e-mail. It also provides Car Rental Booking services with which you can easily book a car from hundreds of airports across the world. It has a built-in Currency Converter which gives you over 100 currency exchange rates that are updated daily. It comes with a Weather Forecast feature too with the facility to see weather forecast for the next five days. WorldMate has also come with a new version 2.5.11 which has lots of newly added features including Hotel Booking and Price Alerts, login to WorldMate with Facebook, etc.
So WorldMate is a must-have app for any Android or iPhone user who wants to plan and organize his trips in an easy, simple and efficient way. The WorldMate app is just perfect for tracking all your air flights, hotels information and booking, car rentals and much more. You can also update your itinerary by simply sending an email. It is easy to navigate and gives detailed information. Its synchronizing and real-time feature lets you have the updated information about your trip where ever you are. WorldMate basic license is available for free so you can try it out easily. With its extensive features, WorldMate can be your choice of a suitable mobile trip planner app.
Download WorldMate for iOS (iPhone, iPad, iPod touch etc)
Download WorldMate for Android