Fifty Three Incorporation's sketchpad and ideas app for iPad has found more than a million users in the very first two weeks of its launch. The app which we are referring is known as "Paper" app. Paper app is fast catching up with iPad users as a sketching or drawings application. You can draw or sketch your ideas and can also share them through email, Tumblr or other social networks. Already millions of pages have been created with the app. And what's more, it is available for free in Apple's App store.
From time immemorial, paper has been recognized as a medium where ideas originate. With Paper iPad app you can now give wings to your imagination and capture your wonderful ideas. It even allows you to share them with your friends across the web. Paper app enables you to sketch, draw and write using a variety of tools and colors available with it. While the app is available for free in Apple store but you need to buy in-app tools and brushes if you wish to give variety to your sketches and drawings.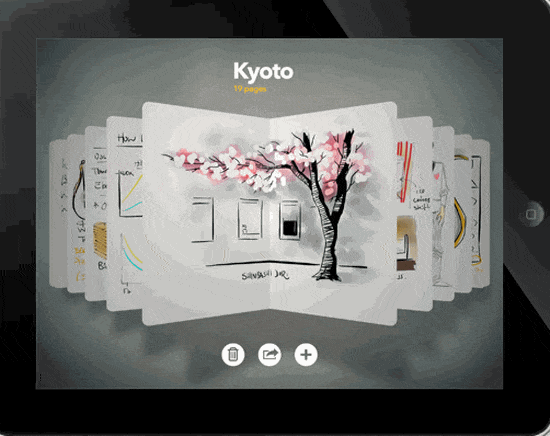 Mobile Creation Made Easy by Paper iPad
Creating on the Go…
Paper for iPad was basically designed with the purpose to fulfill your creative requirements on the move. And Paper successfully fulfills mobile creation on the go. It works like a notebook or is similar to a journal. Paper lets you compile all your ideas in one place.
Simple and Flexible
It is simple and effective with no confusing buttons, settings and no other distractions. Paper gives you the much desired flexibility in app usage. You just have to select a tool and then can begin your sketching or drawing without the need to do any kind of extra settings. It is so simple. Paper has five essential tools to offer to ease and optimize your creative process. They are Draw, Sketch, Outline, Color and Write. Draw comes for free while you can purchase the additional tools from the Apple store.
Other Highlights of Paper iPad
Paper app has been built so as to utilize iPad's brilliant display capacity. It gives retina resolution quality. It renders full 2048 x 1536 canvas to enable stunning display quality in your creations. It has expressive ink engine with which you can get a whole range of expressions from a single tool and that too without bothering about any prior settings.
The result is great handwriting, beautiful color patterns, fine sketching and detailed drawings. Paper also has a trademark "Rewind" feature which enables you to rewind to any past point in time without leaving the flow in case if you wish to make any sort of corrections. Paper also enables you to share your sketches or drawings through the web. You can use Tumblr, Facebook, Twitter or can even send them via the email.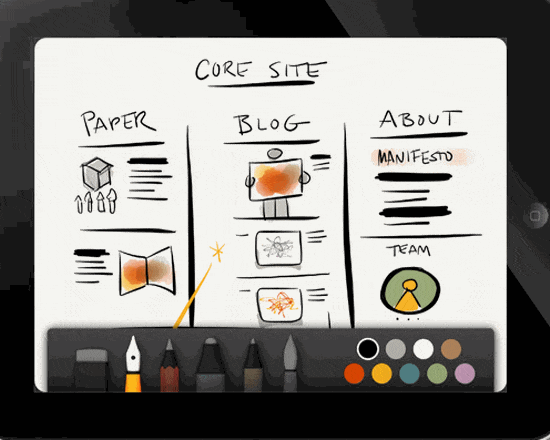 Conclusion
On the whole, the Paper for iPad is a beautiful application that can come handy for anyone who loves to sketch, draw or wants to capture imaginative ideas on to a notebook instantly. It comes for free but you need to have an iPad for it. Seeing its wonderful applicability, varied and easy usage and sharp features, Paper for iPad would be definitely downloaded by millions of more users.