Now it's turn to experience the power of the Best Mobile Photo App of 2012 on your Android Smartphones and Tablets. Yes, we are talking of the Snapseed mobile photo app which is now also available on Android platform.
Earlier Snapseed was only available for iOS supported devices, but after Google's acquisition of its maker Nik Software, it has launched it's Android version too.
Now Snapseed can be installed on Android and iOS devices. Moreover, Snapseed is available as a free application for both of these platforms. Snapseed is available as a free download for iOS as well as Android platforms. It also provides versions for Mac and Windows.
Snapseed is a powerful yet simple photo editing application which enables users to enhance the quality of their photos easily. Snapseed App offers a fine degree of photo editing control features and even provides the facility to preview the changes that you had made to your photos. You get to have an extraordinary photo experience using Snapseed. The mobile photo app is extremely advanced and easy to use. Snapseed not only lets you enhance your photos, you can also transform them and can even share your photos with your friends through Google+ or email.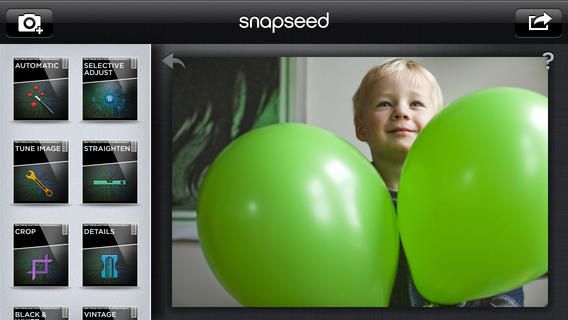 Talking about its interface, Snapseed has a very intuitive and easy to use interface. Its interface is really simple and clear. Snapseed interface provides a split screen showcasing types of available adjustments, each being displayed in their own visual icons. In the upper right corner, it has a button through which you can open a photograph. Snapseed gives you the option of taking a photograph using your device's camera or else take an image from your photo gallery or can even select an image from Dropbox. In Snapseed, you work on a single picture at a time as you move among different editing options to edit or enhance that picture or image.
Snapseed comes loaded with lots of powerful features. It provides as much as 14 editing options with each option clearly delineated in large graphical icons that clearly define what each option accomplishes. You just require selecting any editing option and can start making adjustments to a photo or image. Some interesting editing features include the addition of filters through which you give a vintage look to your image.
Snapseed major highlight is its ability to fine tune the results or enhancements you make for your images or photographs. Its Auto Correct feature analyzes your photo and automatically adjusts its color and exposure to make it perfect. It comes with U Point Technology so that you can quickly make selective adjustments and enhancements in the specific portions of your photographs.
Using Snapseed you can Tune Image by adjusting its White Balance, Contrast, Saturation and more. It provides gesture controls so that you can straighten and rotate photos. It can also crop images.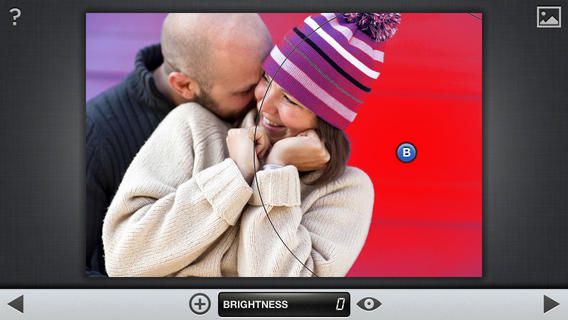 Besides the above basic adjustments, Snapseed also comes with many creative enhancements features too. Its darkroom-inspired filter gives you the Black & White classic look. You can also add subtle textures and artistic effects to give style and render custom effects to your photos. Plus you can add organic frames to your photos through stylized borders. You can even enhance the details of your photos, and with its Center Focus feature you get to focus the subject in your photo by blurring the surrounding area.
All-in-all, Snapseed is a fantastic free mobile photo editing application which you will definitely like to have in your Android or iOS enabled devices like smartphones and tablets. Moreover, Snapseed is easy to use and highly intuitive. It provides a number of high quality and rich editing and image adjustments features, as well.
Download Snapseed for Android Devices
Download Snapseed for iOS Devices