How many times you had wanted to take a photo collage and share it with your friends.
But now with the Pic Collage App you can easily create a photo collage and share it with your friends.
Pic Collage has been created by the team at Cardinal Blue and is a super cool app that be used on your Android and iOS devices. With Pic Collage, you can select photos, arrange them according to your choice; give formatting to your photos to create a great looking photo collage. It does the simple task of collating pictures really well.
The differentiating factor of Pic Collage stands out with its super cool and slick interface that makes taking photo collages really easy for anyone and everyone. With Pic Collage, you can easily create and share great looking photo collages. It is packed with features and makes super easy for you to take photo collages.
You simply have to tap the screen to take a photo collage. When you first launch Pic Collage you get to see a plain beige canvas. You just have to tap to add a photo. The photo can be from your iPad's photo gallery or taken from your device's camera, or it can even be imported from Facebook, or Instagram, and it can even be downloaded from the web. Wherever you take the photo from, it simply gets dropped onto the canvas with a small white border.
With your fingertips, you can move the photos around the screen. You can even alter the angle of your photographs and can make it smaller or larger simply by pinching in and out. When you want to add another photo simply click on the "+" sign and place it wherever, you like and repeat the process as discussed above. However, if you don't like any photo and want to remove it from your collage, simply flick it to the top of the screen, and it will go to the trash can.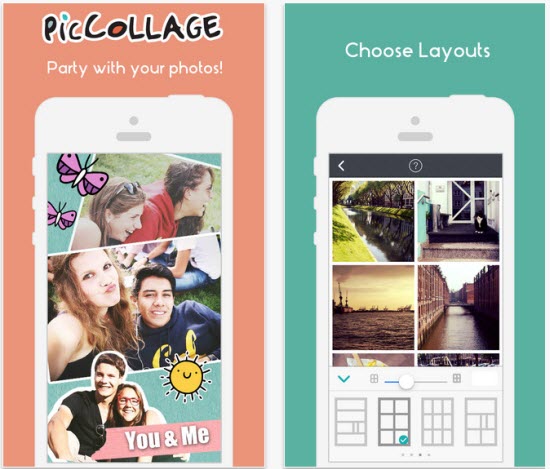 Once you have a photo collage ready with you, you can save it to the photo library. Else you can email it to your friend or post it to social media sites such as Facebook, Instagram, Twitter, or Tumbler. You can even create a 4×6 personalized postcard and send it to someone using the Sincerely service (. However; you do require an account for it).
However, the app doesn't provide the option to print, so you have first to save it to your camera roll and then use the Photos app to get it printed. And that's not all with Pic Collage as you can add text and decorative stickers such as lips and smiley faces. It even provides you the facility to edit borders and cutouts. You can even change the background art by color or design. Double tapping the photos in your collage provides you the option of editing them. You can change the brightness, sharpness, give enhance, effects and more. You can add shadows and colored borders and can even clip the photos using virtual scissors.
Apart from the option to print the collage from within the app, there's little complain you will get from Pic Collage. So, the Pic Collage free Android and iOS App is an excellent way to dress up your photo collection and share it with your friends.
Download Pic Collage App for Android
Download Pic Collage App for iOS