If you are an amateur and want to create 3D animations, but don't want to buy expensive software then there is an option for you. Software named Blender offers you the features of expensive 3D modeling software for free. So if ever you wanted to create awesome animations and were just not pursuing your desire because of costly animation software, then using free animation software Blender you can easily create superb animations. With blender, you can create computer generated movies, images, designs, 3d models and real time 3D game too.
Blender has all the animation essentials like Interface, Modeling, Rigging, Rendering, Animation, UV Unwrapping, Shading, Physics and Particles, Imaging and Compositing, and Real Time 3D/Game Creation. Some of the essential tools and functions you get to have in Blender include polygon meshes, edge rendering, collision simulation, 2D and 3D Procedural brushes. The software supports more than two dozen of 2D and 3D file formats. Talking about its interface, Blender has a thoroughly remarkable interface. Although it has been loaded with complicated tools, but in no way this interferes with the object being worked on.
Blender Tutorials: As Blender offers so many features at the same time it also offers you the tutorials so that it would be easy for you to learn Blender and Let you make most out of imagination with Blender.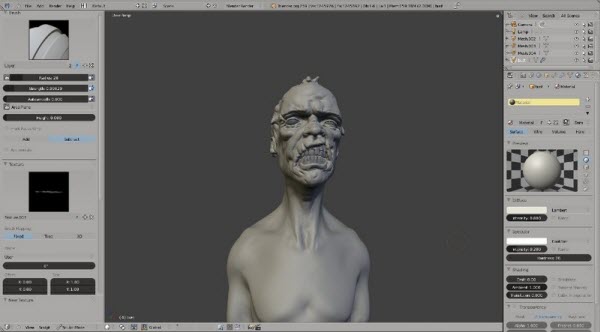 Blender tutorial are there in their website, which offers you step-by-step guide to learn Blender like in their tutorial category Getting "Started with Blender", "Introduction to Blender", "Create a bunch of balloons", "Modeling a Subway Tunnel", "Model a Realistic Tree" etc. There is Online Blender Community these Guys are always there to help you.
You may find Blender difficult because almost all of the controls are hidden in keyboard shortcuts and mouse gestures so, you cannot go through with Blender you have to read the tutorials to get started with Blender but after the tutorial it is not that difficult. Our overall experience with Blender is quite good in first look we find it difficult but after going through with some tutorials is good.
Pros:
Blender offers you most advanced tools for animation and 3D modeling for Free.
It has so many short-cut keys and mouse gesture which helps you to complete the task prettily fast.
Almost support all the platforms.
Cons:
Difficult to get started with it. All of the controls are hidden in keyboard shortcuts and mouse gestures.
You have to read the user guide or to watch the video tutorials before using the Blender.
Blender Support Almost all the Operating System. As Blender is a Comprehensive 3D Modeling and Animation Suite, it requires pretty High Graphic Card to work smoothly although it works on all Open GL compliant cards.
Conclusion: All the Features, which Blender offers, makes it comprehensive tool for animation and 3D modeling. Blender is limitless you can go beyond your imagination and create something new Blender. One cannot offers thousand of features with simplicity.
Blender is bit difficult, but you can learn it without any pain if you go through with its step-by-step guide, video tutorials and you can even connect with the vast community of Blenders (available in Blender website) this is live community, which helps the user across the world.
Well, the few words for Blender it is quite good software for free if we compare it with expensive animation and 3D modeling tool available in the market. You can start with it. You may find some difficulty in the beginning, but it will not remain there after some time of experience with it.