Graphic design software is a must have tool for most people, especially the ones who are into graphic and content marketing.
You need to be skilled working with images and graphics if you are serious about leveraging the benefits of content marketing.
Every now and then you are required to come up with blog post images, beautiful posters, infographics, and social media images.
So, if you have access to graphic design software that makes designing photos, collage making and photo editing easy for us, then nothing like it.
Today, we present you with one of the best, lightweight, intuitive, and easy-to-use graphic design software – FotoJet Designer.
FotoJet Designer will not only make designing photos, collage making, and photo editing very simple for you; it will also be an enjoyable experience for you.
What is FotoJet?
FotoJet comes as a free and powerful photo editor, collage maker and web graphic designer software to help you transform images into a sensation.
FotoJet Designer is available as desktop software for Windows PC. It is compatible with Windows 10/8/7. At present, FotoJet does not have a mobile version. You simply have to go to their website Fotojet.com and download the application. When you have finished working, save the work to your computer. The images can be saved as a JPG/PNG file, or even as a PDF file on your computer.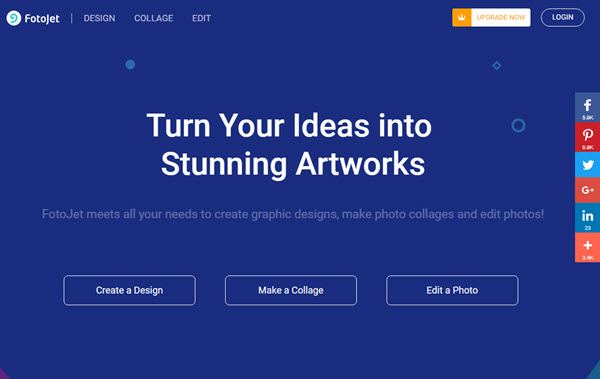 You get three sections in FotoJet Designer online version.
Photo Editor
Collage Maker
Graphic Designer
These three sections are loaded with numerous functionalities and allow you to do just anything with your photos. With FotoJet, you can easily transform your photos into beautiful artwork.
What all you can do with FotoJet Designer?
FotoJet Designer can help you create beautiful flyers, Facebook posts, Instagram post, posters, cards, invitations, magazine covers, and more. It also allows you to choose the custom size of the design. For example, banner size, blog graphic, etc. Plus, you can even load a previously saved project.
FotoJet Designer goes on to categorize the type of designs for you so that you can easily get the particular type of design that you are looking for. It provides plenty of customization options so that you can create professional looking graphic designs, printable, and digital marketing posts.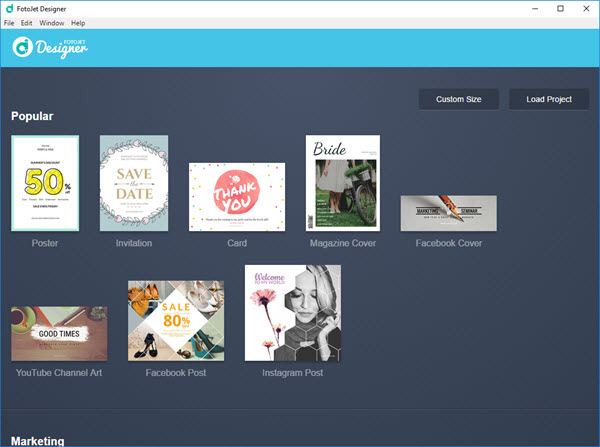 Using FotoJet Designer
FotoJet Designer provides more than 900 templates for different use. Once you have the right template with you, you can go on to customize every aspect of it, including colors, text sizes, fonts, and images. When you are finished, you can save your project. You can use JPG or PNG format for saving the final output together with DPI ranging from 96 to 300.
FotoJet also provides custom tools that can be used to enhance the quality of your designs.
There are Layout tools that can be used to arrange the images in the back as well as front layers. You can move the Clipart on top of the images. There is the Clipart feature with numerous clip art like icons, shapes, celebration, travel, and 10+ more categories.
Fonts give tremendous customizations with over 30 preset styles, and more than 80 text fonts. There's also Margin, Overlays, and Alignment available with FotoJet Designer for achieving professional quality printable and digital graphics.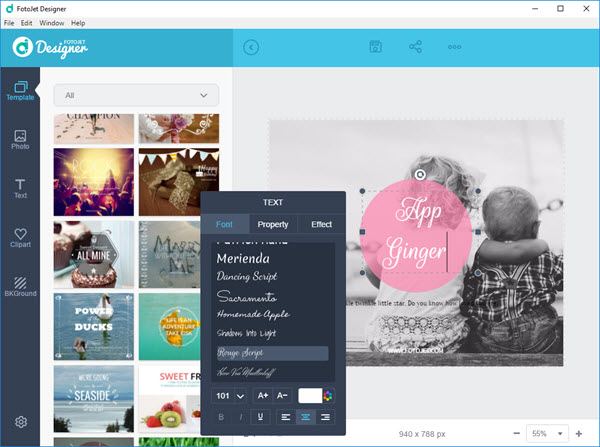 It would go in place to mention the features of FotoJet online version. So, here is a brief overview of the sections that are present in the online (browser based) FotoJet version.
Graphic Designer
The graphic design section has many amazing features.
It provides scores of templates arranged in categories. You can even use a custom blank template when you wish to start from scratch. You also get text fonts, stock photos, backgrounds, effect, etc.
The graphic designer allows you to design cards, posters, promos, banners, brochures, etc.
You get ready-made design templates.
Simply drag and drop your image into a design you choose, replace color, change text, change design sample, and you're done. You can save your work or share it on social media.
Collage Maker
With the FotoJet's Collage Maker, you can create photo collages in various ways. It presents you with scores of different templates, photos, effects, layouts, and backgrounds.
Uploading images is made simple and easy.
You can upload images from your computer or from your Facebook profile.
The drag & drop feature enables you to place your images on appropriate areas on the collage maker.
It is a worthwhile experience working with the collage maker.
Photo Editor
The Photo Editor allows you to resize your photos, crop them up, rotate & flip, and sharpen. It also provides several other advanced options, such as overlays, clipart, photo effects so that you can fix lights and colors.
Some of the photo effects that are available include the following:
• Limo Effects
• Vintage Effects
• Black and White Effects
Using the photo editor, you can add text on photos, photo frame, and lots more.
FotoJet makes it possible for you to work on a variety of images all at the same time.
The Pros of FotoJet
• FotoJet is simple, intuitive, and easy to use. It requires no prior know-how of photo editing. You get quickly comfortable with the tool.
• It provides many easy-to-use photo editing tools.
• It is rich in resources. It offers templates, clipart, effects, background patterns, overlays, frames, etc.
• It provides the option to upgrade to the premium version allowing you to access advanced opt ions and resources.
The Cons of FotoJet

There are hardly any weaknesses to point out as such about FotoJet except the fact that you cannot send edited photos to collage tool directly. Other than this, FotoJet is simply a remarkable graphic designing and editing tool.
Final Thoughts
FotoJet is a very handy tool for photo editing and creating collages/designs. It is best for ones who want quick results. The best part of using FotoJet is that it doesn't require you to have prior knowledge of graphic editing.
It is a perfect graphic designing and editing tool for everyone who wants to edit photos or want to create collages quickly. It is a tool that requires minimal effort. FotoJet can be a very useful tool for bloggers, vlogger, and graphic designers. It delivers quick results, in an easy, creative and fun way.