Managing your business operations involves efficient handling of day to day tasks and functions.
Your business is important to you, and you want to make it sure that you carry out in the best possible way.
One of the important business operations is the invoice generation. However, the manual invoice creation is a daunting task. You must have experienced it yourself.
So, today we share with you invoice generator software. We have listed out 10 Best Free Online Invoice Generator that makes it easy for you to create invoices.
Invoice Definition
An invoice is a document which is submitted to a customer and identifies a transaction for which a customer has obliged for payment to the issuer. It represents an asset of the issuer and a liability of the customer. It serves as a demand for payment. An invoice is also called a bill of sale or contract of sale. There are various types of invoices such as commercial invoice, customs invoice, consular invoice, and a pro forma invoice.
Typically, an invoice holds the following information:
The invoice number
The name as well as the address of the seller
The name as well as the address of the buyer
The shipment date
A description of the items purchased
The quantities as well as the total cost of the items that were purchased
It lists out discounts (if any)
Sales Taxes
The Grand Total
Payment Terms
So, we see that invoicing is one of the most important functions of any business. Detailed invoicing is required for keeping a record and managing your accounts. Without proper invoicing, it becomes impossible to manage business accounts.
However, if you create invoices manually, it can consume hours as you have to come up with a perfect format and fill in all the details. All thanks to online invoice creator tools, things become very easy for you.
With the help of invoice generator software, you can create and send invoice online. You simply have to fill in the details of your services. Rest of the work is handled by the invoice generator software. The free online invoice generator software can create an invoice, send it to the recipient, and even track payments for you.
They allow you to create invoices within your web browser. They follow a template all ensure that you include important details while filling out your invoices.
Here, we have listed 10 Best Free Online Invoice Generator Software that is simple to use and help you to create an invoice for free.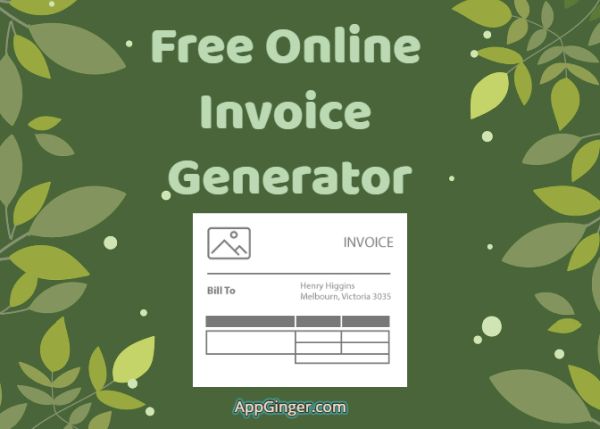 So, let's see the Best Free Online Invoice Generator Software.
Here's the list for you.
10 Free Online Invoice Generator
Free Invoice Generator by Invoiced is a simple and useful tool for creating and sending out invoices. It provides attractive invoice template which lets you quickly make invoices straight from your web browser. The invoices you create can be sent and paid online or downloaded with no signup required.
They do not store your invoice data in their servers. So, it turns out to be a good option if you are concerned about privacy. All the data is stored in your web browser and can be deleted with a simple click using the delete button available on the Free Invoice Generator website. Most importantly, it is free and unlimited.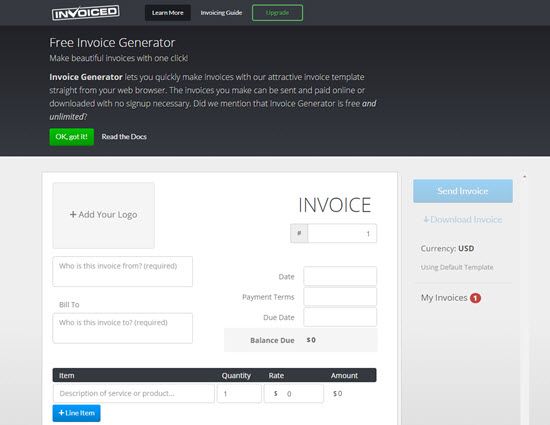 InvoiceToMe is very simple and highly effective online invoice creator software. It provides an invoice template which has an old design, best suited for companies that like to use simple tables to include information. The focus is on the products and services used and makes it easy to keep a tab on them.
InvoiceToMe provides you the space to add a personal message right in the middle of the invoice which helps you to get paid on time. It also supports features such as tax calculation and changes currency. You can download the invoice as a PDF file when you are done filling it.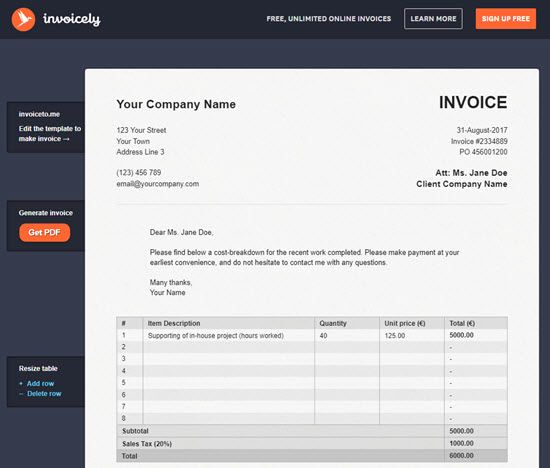 If you want fast and easy invoicing then, you must surely check out Shopify Free Invoice Generator. The free online invoice generator tool makes it easy for you when it comes to billing and collecting money. It provides the invoice template that you need to fill out to create an invoice on the spot.
The Shopify Free Invoice Generator provides a professional layout and includes all the necessary details for clean, accurate billing practices. You can save the invoice, print it, or email it directly to your clients. It is available free for both personal and commercial use. It is a simple tool for generating an invoice, without having to sign up for anything.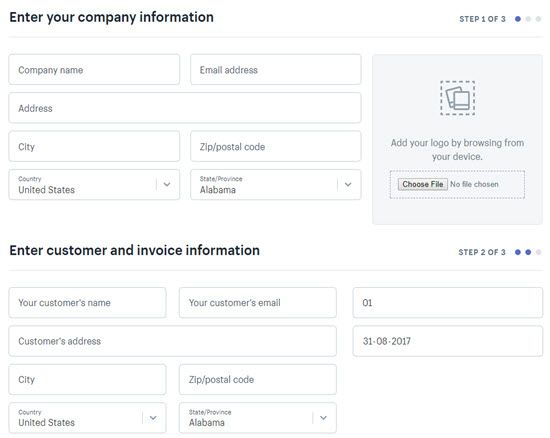 Zoho is a well-known software company offering reliable, powerful, and advanced business solutions. Zoho offers Free Invoice Generator for creating invoices online. It provides an easy to follow template which can be used to create invoices.
You can provide details about your company, your client, item description, tax information, and generate an invoice as per your requirements. You can save your invoice, print it, or email it. You can also have a PDF copy of your invoice.
However, you have to sign up for Zoho services. Signing up will enable you to manage all your invoices, get notifications of payments as well as invoices due date.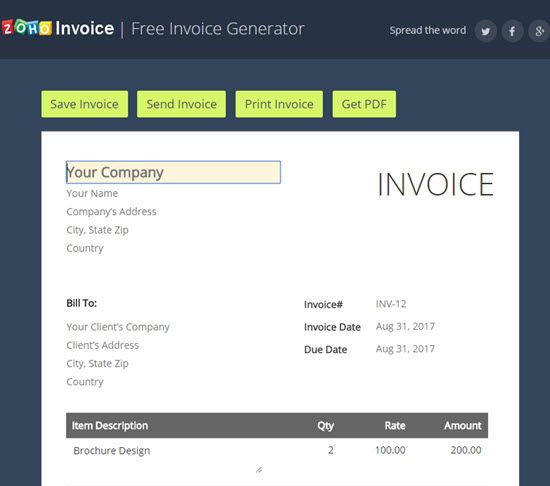 Online Invoice Generator is a simple, easy, yet effective tool for creating and managing invoices. It provides numerous free templates for preparing your invoices easily. The templates are based not only the industry but also on country standards and various languages. It makes easy for you to generate an invoice according to your requirements.
Examples of invoice templates include Solo Trader Invoice Template, Blank Invoice Template, Sales Invoice Template, Photography Invoice Template, Construction Invoice Template, and much more. The templates are quite intuitive and advanced. They allow you to calculate the discount, change currency, and tax.
You can save the invoice, email it, or download it as PDF. Paid services are also provided under Gold, Silver, and Platinum Plans. Besides the free invoice templates, Online Invoice Generator also provides complete accounting solution.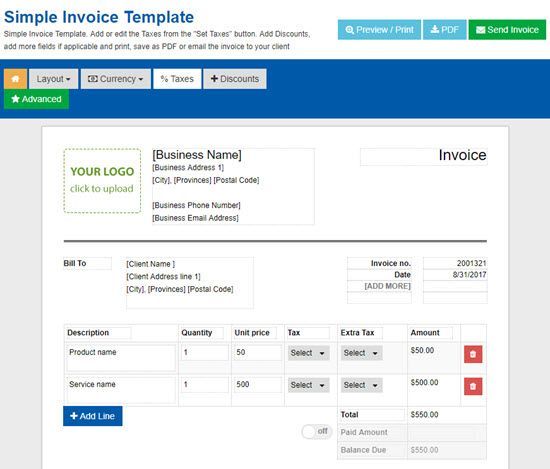 FreshBooks Free Invoice Creator is one of the easiest ways to make online invoices. The online invoice creator enables you to create, download, and send professional invoices using its free invoice template. The invoice generator is ideal for freelancers, consultants, and small companies.
It makes easy for you to get paid for your services. It's a reliable and professional free invoice creation cloud service. So, if you are looking for free and powerful online invoice generator tool, then FreshBooks Free Invoice Creator comes out as an ideal choice.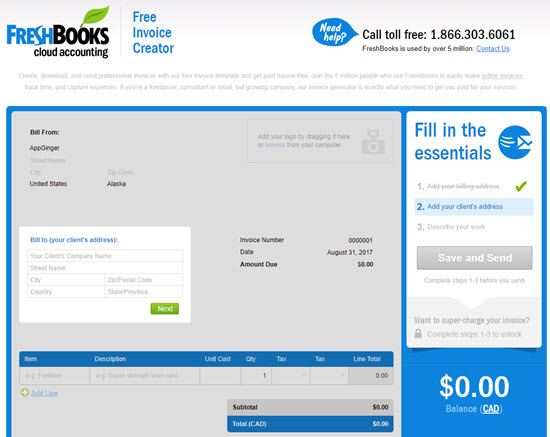 TopNotepad Online Invoicing Software is a simple yet powerful tool for creating and managing invoices. With the help of this online invoicing software, you can manage clients, create invoices, log payment against invoices, track unpaid invoices, and much more. You simply have to enter invoice particulars and you are done.
It allows you to download PDF copy of all your invoices. It provides an invoice dashboard wherein you can track total invoices, payments, profitability to business. You can even track summary of all invoices and payments at the client level. You can also attach an additional document or zipped folder along with the invoice. It is available in both free as well as paid options. You need to sign up and log in to use the services.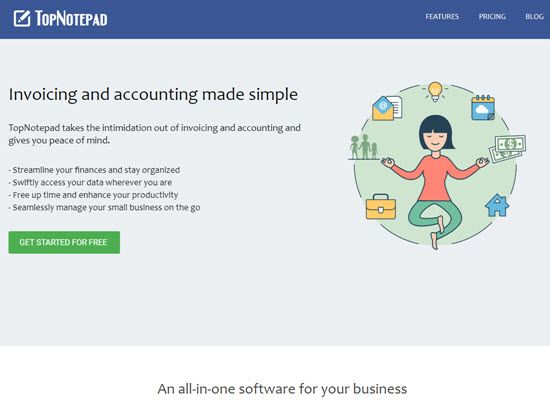 If you are looking for an easy and effective online invoice generator tool, then you must check out Free Invoice Generator. It is one of the best online invoice generator software. Free Invoice Generator is available for free.
One of the highlights of Free Invoice Generator is that it doesn't store any data on their web servers. In fact, the data is stored in your web browser using its HTML5 feature called as Web Storage.
So, there is no need of external web servers and databases. The invoice details are retained, and you don't need to start over. It provides a free editable template for creating invoices. Once you create your invoice, it can download easily.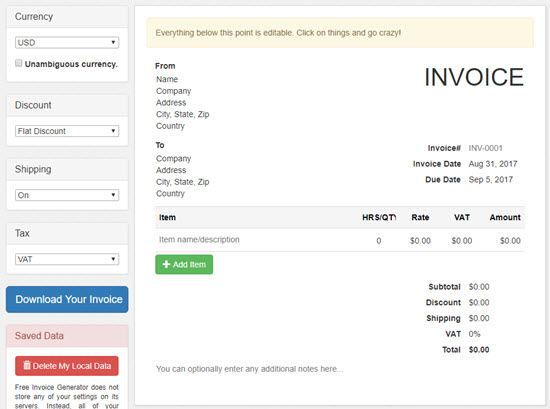 Free Invoice Maker is easy to use online tool for creating invoices. You need to fill in your company name, your customer's name, and add at least one item to the invoice. The Free Invoice Maker then calculates the totals for you with any taxes and discount that you had set. It provides the preview of the invoice that you have made.
You can send the invoice using email or can download a PDF copy. You can even print it or use the Link button for sending a link. It is free and allows you to make any number of invoices for free. You can even put a logo on the invoice. It supports JPEG and PNG images. You can also change the currency with the settings panel.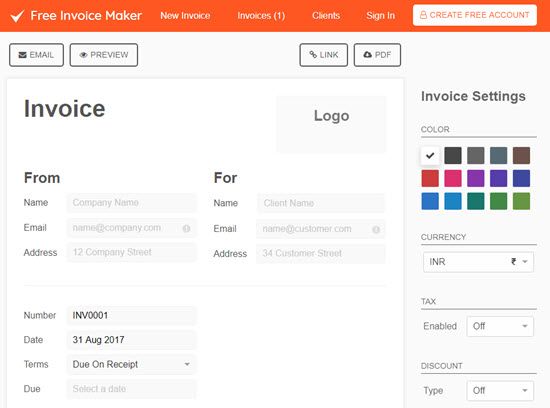 Invoice-o-matic is simple yet features rich online invoice generator tool. It provides a professional and easy to use invoice template, which is thoroughly customizable. You get options for specifying your work, including hours, quantity and unit price. It provides a section for entering payment details so that you can easily receive payment. It also provides an option for entering tax details. You can even change the currency type if you want.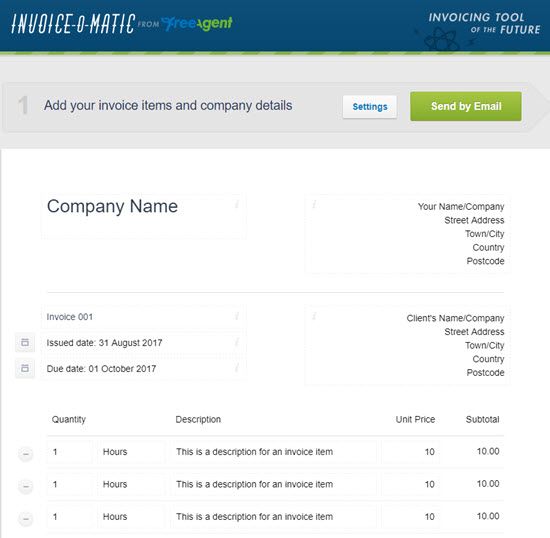 We hope that this list of 10 Best Free Online Invoice Generator proves immensely helpful to you. Don't forget to share your comments and suggestions with us.