Wanna live a luxurious life where all your work are done automatically with some simple clicks and touches, so here are Garage Door Opening Apps. These apps not only make your life automated, but also provide full safety to your luxurious car.
These Garage Opening Door works with the help of device that is installed near the garage door and these are linked with your Smartphones and tablets via internet connections, Bluetooth and some by Wi-Fi also.
Garage Door Opening Apps can be operated from anywhere in the world with just some clicks.
Eg. You were in a hurry and left for office without closing the door of the garage so you can close the door of the garage from your office with just some clicks. Sometimes you do not remember whether you have closed the doors or not, with Garage Door Opening Apps you can monitor your garage door from anywhere.
These apps not only control and monitor your garage doors, but some of these also operate your other gates, lights & fans.
From the security point of view, these apps are well known as whenever there is an activity took place you automatically get a notification via SMS, mail or push message. The app in your Smartphone can also be password protected, and data between the device and your garage and password is encrypted which cannot be easily decrypted.
Some of these apps can be downloaded free with the devices.
The devices range from $50 to $200.
Here, we have made a list of 5 Best Garage Door Opening Apps:
5 Garage Door Opening Apps
MyDoorOpener Elite is an iOS app that has easy to use interface and inexpensive hardware, which helps in opening closing and monitoring the door of your garage from your Smartphone. This app is not limited to garage door only, but many other devices also.
All your need is a device (Aurdino Controller) to open, close or monitor your garage door. This app MyDoorOpener Elite needs internet connection to control device that is close or attached to your controller.
Both the app and controller are linked using the password to open the garage door. There cannot be double key to control a single operation avoiding theft.
MyDoorOpener Elite send SMS, email, push message when by mistake the door is left open or is open for a longer duration.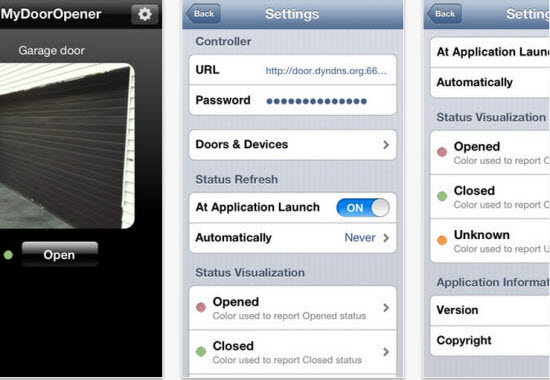 Craftsman Garage Door is another app that connects you with a device at your garage, which helps in opening, closing and monitoring your garage door.
This app checks whether the door of your garage is closed or not, you don't have to run back home just to check the doors. With the help of this app you can close the door from anywhere if you left open by mistake. Even you can open the door of your garage for your family member, relative from anywhere.
With Craftsman Garage Door App, you can turn the on/off the lights of your garage.
Some of the additional feature of this app are alerts can be created and managed easily, default security option is set to off you need to login manually to operate, fast login, responses faster on commands and sends a descriptive text to your Smartphone or tablet.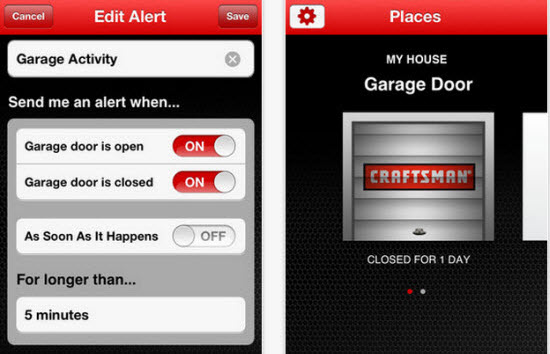 LiftMaster MyQ Home Control is an app that helps you in controlling and monitoring your garage door, gate opener and light of your house from anywhere in the world.
This app is perfect for those who by mistake have left the doors of their house or garage open or they wanted to turn on the lights of their house when they are out to show that there is someone in the house.
To run this app on your smartphone you need an internet connection on your iPhone, iPod or iPad which will connect you to the device which is fitted near the doors and lights.
With one LiftMaster MyQ Home Control app, you can control and monitor many gate door openers and many lights and fan. User can increase the security by adding a password to the app and can change the password anytime enhancing the security level.
You will also get a notification on your Smartphone or tab when a door is open and when light is left on. User can customize the alerts option as per his requirements.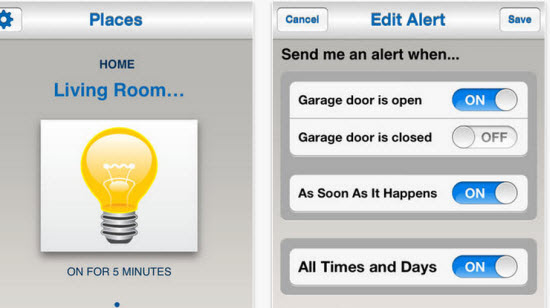 SecuRemote is an app that connects your Smartphone or tablet via Bluetooth or web access with the device which is fitted near your garage door, electric gates or door locks to control and manage these through this app.
This app provides you all control, convenience and security.
SecuRemote is an easy to use and install app that can be accessed by your Smartphone in parallel with your current remote control. You can even control many devices from one single app.
The password is encrypted in 128 bits so that no one can trace the password easily providing full security, and no key is required to monitor or lose.
This app works on Bluetooth technology, web based but does not require home networks and receive alerts when the gates are opened or closed.
SecuRemote is available for all 3 platforms iTunes, Android market and Blackberry App World.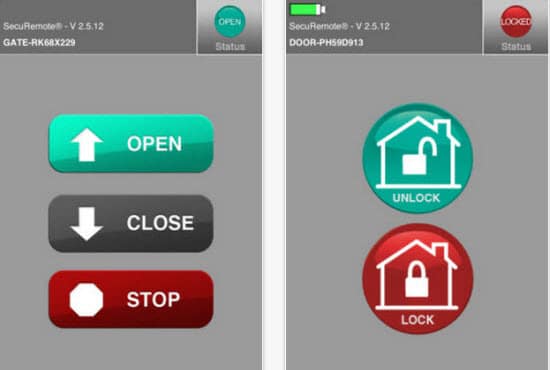 NiOGarage is an iOS app that works with your existing garage door opener, to control the garage door. For the device of this app you don't need to get new chains, doors and clickers, the device will work on those old things only.
The app is free with the NiOGarage device.
With this app, you can control your garage doors from anywhere in the world and can monitor the current open or close state of the doors.
NiOGarage app is very easy to install and operate you do not require any technical skills to operate this app. The installation process of this app is easy as compared to other related apps.
As this works parallel with your old electronic door controller this app cost less in relation to other garage door controlling app and devices. NiOGarage works on Bluetooth connectivity and WiFi making it more affordable.