Do you know how secure you are with your Smartphones, and I do not want to start with any privacy issues, I just want you to show you the level of information one can access from your Smartphone. We just find out one freaky application which could open your eyes about your privacy in your Smartphone.
Yes, you might have guessed it. I am referring to Mobile Monitor App.
MobileMonitor is a cell phone tracking application which allows you to track and fetch information from any iPhone or Android device. You just need to install this application on that Smartphone, and you will able to know Call history, SMS history, E-mail history, Address Book, Browser History, Installed Programs, GPS Locations, Area Tracking, Images Stored, Videos and phone information like IMEI, Model Number, Device Information, OS version, and many other cell phone information, as well. This means you can intrude almost all the information of that Smartphone.
MobileMonitor satisfies all your need of tracking, monitoring, protecting and keeping back up of all data with you. So, it's up to you to decide in which way you want to use MobileMonitor. For example, you can use Mobile Monitor to monitor your kids Smartphone, track your employees, or backing up the Smartphone data.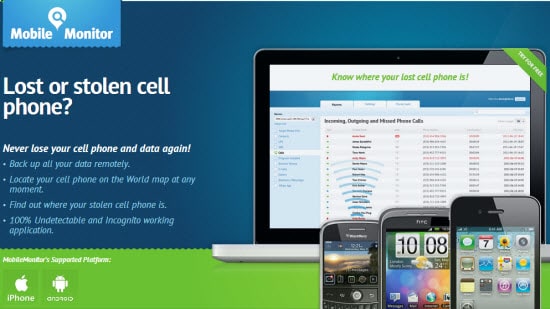 MobileMonitor Features:
Mobile Monitor gives you the Detail of Call History, SMS History, GPS Location, E-Mail History, Address Book, Images, Video Files, Audio Files, Browser History, Browser Bookmarks, Sim Change Notification, Events Calendar, Memos/Tasks/Notes, Block Device, Remote web control, Installed Programs, Device Info that means MobileMonitor covers almost every information of Smartphone in which the application is installed.
Coolest feature is that the MobileMonitor is totally Undetectable and incognito so another person will not able to know that you are tracking or monitoring them. Mobile Monitor remains totally hidden, and it sends the data remotely onto your dashboard. So if you ever lose your Smartphone, and if you have Mobile Monitor App installed in it, it would accurately pinpoint its location immediately.
Using the Mobile Monitor package you can also do real time tracking. You can exactly know where your mobile is and when it has been in real time. Through this fantastic tool, you can track your kids location such as you can know where they have been and for what length of time they stayed at each location and what routes they took.
Once the application is installed, you will be able to access the Smartphone data remotely from MobileMonitor.com. You need to sign in to the cell phone tracker. You then get access to a private area where all the data gets saved. The data is fully encrypted, and those with an email address and password details for the dashboard get to see the data.
The only thing I don't like about this application is that it is not available for Symbain, Blackberry and other Smartphones. So, MobileMonitor is just limited to iPhone and Android users. There are chances they might add support for others OS too, but for now you can use it in just your Smartphones having Android or iOS platform.
In these types of mobile monitoring applications, one thing is pretty obvious. Your privacy is no longer maintained as your cell phone data can be accessed. Important thing is that if you are concerned about your privacy in your Smartphone you should not let any application access your phone data. You should always read the license agreement of application before installing it on your Smartphone and do not allow those applications which want to use your personal data.
Having said that, Mobile Monitor is overwhelmingly recognized as one of the best cell phone tracking and monitoring tools. It can be used for multiple purposes such as for tracking kids, by business professionals, for tracking employees and can also be used for backing up your Smartphone data.