When we talk about the best Internet browsing software Mozilla Firefox, just cannot be afforded to be missed out at any cost. Mozilla Firefox is one of the most popular Internet browsing software in the world. Millions of people around the world are using Mozilla Firefox Internet browsing Software and the list just keeps on increasing each day. Mozilla Firefox, web browser comes with great features and provides users with super fast and secure browsing experience.
Mozilla Firefox comes with many enhanced features which makes it the one of the top-most internet browsing software. It's convenient features make browsing easy, enjoyable and quick. Mozilla Firefox comes with synchronization feature and enables you to access bookmarks, history, passwords, and much more on desktops and mobile browsers.
One of the salient features of Mozilla Firefox includes tabbed browsing facility which lets you quickly switch between web pages in a single window. You can also reorder tabs, have customizable groups, provides you with redo function when you close tabs by mistake. The browsing software supports find-on-page function and comes with various add-ons such as voice interaction.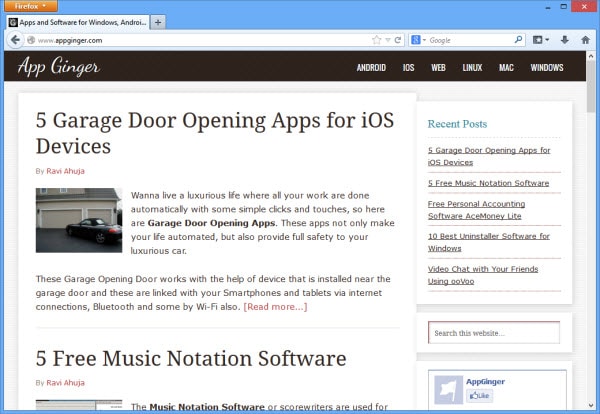 Mozilla Firefox comes with various other unique features such as virtual sticky notes which enable you to add notes to web pages. Through its "pin an app tab" enhanced feature you can save your favorite or frequently browsed websites. Some of its other prominent feature includes drag-and-drop functionality, pop-up blocker, password manager, Smart Location Bar and has great parental controls too.
Another add on in the feature list is Facebook integration. Now, users can directly access their Facebook account from the browser itself. There is a share button on the Firefox toolbar through which user can directly share their content from the browser.
Mozilla Firefox gives you one of the most secured browsing experiences. It protects against malware, viruses, spyware, pop-ups and phishing sites, as well. It even provides for private browsing with no noticeable change in the interface. It also comes with the one-click site information security feature. You can easily clear history, delete cookies, passwords, web form entries, etc. It is thoroughly interactive and easy to use and furnishes super fast browsing speed.
On the whole, with Mozilla Firefox Internet browsing software you can be sure of having a wonderful online browsing experience.